In honor of the 100th anniversary of Master Lock, a company founded in Milwaukee, we're sharing this history and tour that originally appeared in 2017. For details on the company's year-long celebration, visit masterlock.com/100-years.
Year founded: 1921
President: David Youn
Number of employees: About 2,700 worldwide, including about 700 in Milwaukee and Oak Creek
There are many sites around Milwaukee that were once home to large, buzzing industrial centers, employing hundreds, sometimes thousands of neighborhood folks, and we lament their shuttering and the effect of that loss on our city and its economy.
Most days, however, I drive past one of these sprawling factories that, despite its outward serenity, is anything but quiet inside. Behind the gates is Master Lock, founded in Milwaukee in 1921.

Founder Harry Soref. (PHOTO: Master Lock)
Master Lock employs about 400 people – most are members of UAW Local 469 – at its Center Street factory, which I visited recently. Another 400 or so employees work at the company's new headquarters and research and development center in Oak Creek. About 1,900 work in an assembly plant in Nogales, Mexico, and a warehouse across the border in Arizona. Some jobs that had moved to China in the early 1990s were moved back to Milwaukee in 2011.
Master Lock's roots date to World War I when, in 1919, Russian immigrant Harry Soref, then a traveling locksmith working as a military consultant, was inspired by the kind of laminated steel used in bank vaults and battleship hull construction to create a padlock using the same method. His lock was designed to safeguard wartime military equipment.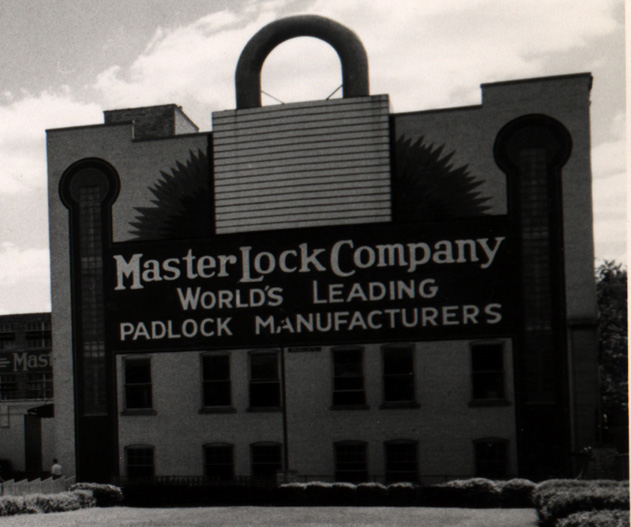 (PHOTO: Master Lock)
Back in Milwaukee two years later, Soref enlisted his friends Philip Yolles and Samuel Stahl, and according to an official company history, they "rented a one-room workshop, purchased a grinder, a drill press and a punch press and hired another of Soref's friends, Hans Peterson – this is the founding of The Master Lock Company."
Soon Master Lock – headquartered initially on Plankinton Avenue in Downtown Milwaukee, and later near the Pabst Brewery – was so respected in the business that Appleton's Harry Houdini sought out Soref to pick his brain on how to escape the locks he used in his world-famous act.
At the height of Prohibition, T-men ordered nearly 150,000 locks to aid in shuttering booze-pouring bars and pubs all across the country. In 1935 Master Lock created its first combination lock – which it also still makes today. You might remember the combination from the one that swung on your high school locker.

The Fuller Warren factory in 1891. (PHOTO: Courtesy Milwaukee Public Library)
The company grew quickly and needed more space. So, it bought the old Fuller Warren Company stove and furnace factory on a five-acre chunk of land bordered by Clarke and Meinecke, 30th and 32nd Streets, where it has remained – and continued to grow – ever since.
"We've been at this site for over 75 years," says Facilities Engineer John Ballogh. "When we moved here originally we thought this site is so large we'll never be able to fill it up. Since then we've had multiple expansions that have gone up. They purchased some of the other buildings that were here (on adjacent land) ... one of them used to make bridles for horses. There was a foundry that was here."
One of the old facades is covered up, though you can still see the oversized novelty lock that adorned the roof above. Fortunately, an Art Deco update to what is now the main entrance survives, though you can't see it from Center Street (you might be able to spy it from 32nd).
(PHOTO: Master Lock)
This place is always a hive of activity, because six days a week Master Lock runs three shifts around the clock. On the seventh day, there are two shifts.
"All of our parts manufacturing is here," says Ballogh. "Depending on the product, we ship approximately 3 million parts a day to be assembled at our operation in Nogales."
There is one type of lock that is entirely manufactured and assembled in Milwaukee, and I bet you have at least one floating around somewhere in your house right now. It's the iconic model 1500D.
"You probably had one on your locker at school," says Ballogh.
Donning a neon vest, a hard hat and earplugs, Ballogh takes me into the factory and we walk for more than an hour. And we walk. And we walk. And we walk. Near the end, I ask if we've passed anything twice and Ballogh says no. The place is indescribably huge.
And it is indescribably busy. There are machines and workers everywhere. Brass bars are fed into machines. Other contraptions suck wire off big spools. An open flame tempers steel. Nimble hands do subassembly work. Stamping machines spit out keys and other parts. One machine shoots out laminated lock parts like a slot machine hitting jackpot.
The sounds mingle to create a symphony that any industrial noise band would covet.
It is truly an amazing sight.
Though Harry Soref died in 1957, his company had already become the largest padlock manufacturer in the country. Master Lock has continued to grow, acquiring American Lock in 2003 and Canada's largest combination lock manufacturer, Dudley Lock, the following year. And it still calls Milwaukee home.
"It's extremely important for us to continue to support our local economy," says Dan Franklin, Master Lock's VP of manufacturing operations. "I think it's great that we have not only a headquarters in Oak Creek, but a manufacturing facility in Milwaukee when others chose to vacate. It means that we are a part of the community and I think we're looked at as such.
"Essentially, we're responsible for this economy, we're responsible for this state and we're proud of that. It means a great deal for us. There are a lot of folks that are out there that are just as invested as we are, 96 years of manufacturing. There are people on the (factory) floor that are working 51, 53 years in this facility. To me, that means a lot. So if they've got that level of commitment, then we've got to have that level of commitment back in return.
"So it means a lot, but in turn, we've got to continue to stay competitive, continue to move the business forward. So all those nuances that are part of driving a successful business, we think we still have the ability to do it here and be vital."
One big challenge for a company like Master Lock is finding qualified people.
"In the trades area, that's a gap not just here in Milwaukee, but if you look across the country, trades as a whole become very difficult, skilled trades," says Franklin. "We have to lean into the schooling systems – into MATC, into the high schools, into the grade schools, to make sure that people recognize that manufacturing is still a great way to learn and earn a good living."
One of the ways Master Lock leans in is to donate bike locks to the Milwaukee Police Department. Another is by looking a block east to MPS' Clarke Street School, where it has a tight relationship.
"For several years now we've been supportive at Christmas time at Clarke Street School," Franklin says. "We bring them here. We give gifts out to the second grade group. We're also providing them an opportunity for to visit us, talk about what we do, and then share. We've been fortunate to be successful here. We'll give school supplies for back-to-school.
"With every student that comes through Clarke Street School there's hope, there's a chance, and we've got an opportunity to really give back. There are 400-plus people in this factory. Think about that. What better way to help? Those are all parts of making the community better, because you've only got a finite number of people out there, so if we all lend a hand, we can do a much better job."
Born in Brooklyn, N.Y., where he lived until he was 17, Bobby received his BA-Mass Communications from UWM in 1989 and has lived in Walker's Point, Bay View, Enderis Park, South Milwaukee and on the East Side.
He has published three non-fiction books in Italy – including one about an event in Milwaukee history, which was published in the U.S. in autumn 2010. Four more books, all about Milwaukee, have been published by The History Press.
With his most recent band, The Yell Leaders, Bobby released four LPs and had a songs featured in episodes of TV's "Party of Five" and "Dawson's Creek," and films in Japan, South America and the U.S. The Yell Leaders were named the best unsigned band in their region by VH-1 as part of its Rock Across America 1998 Tour. Most recently, the band contributed tracks to a UK vinyl/CD tribute to the Redskins and collaborated on a track with Italian novelist Enrico Remmert.
He's produced three installments of the "OMCD" series of local music compilations for OnMilwaukee.com and in 2007 produced a CD of Italian music and poetry.
In 2005, he was awarded the City of Asti's (Italy) Journalism Prize for his work focusing on that area. He has also won awards from the Milwaukee Press Club.
He can be heard weekly on 88Nine Radio Milwaukee talking about his "Urban Spelunking" series of stories.