Ah, aging is a beautiful thing they say. Well, I truly believe it is. But I also believe in doing what makes you feel good – and that includes things such as Botox, skin treatments, etc.
So, when I got the opportunity to work with Aesthetics 360 on a long-term treatment plan for my now 40-plus skin and body, I jumped at the chance.
Medi-spas can be an intimidating place. And you really require a crap-ton of trust – this is your face and body after all. But Charlotte Fairburn and her team made me feel relaxed and welcome from the first moment I walked in the door of their relatively new medi-spa in the Historic Third Ward.
Just because their location is new doesn't mean the team at Aesthetics 360 is. Most of the staff has been in the treatment and medical field for a decade or more. Plus, they have worked around a variety of offices and centers, allowing them exposure to a lot of different methods and practices.
My initial consultation included photos. Ick. Honestly, I've never been an insecure girl – and damn, I generally look good! – but getting your true-age of skin is pretty nerve-wracking and exciting all at once.
My results? I was old. Well, older than I am anyway. So … what can I do to help reverse or stop this deep-dive into aging?
While there are plenty of options to consider at A360, I really wanted to start this foray into medical-spa world with as light of a touch as possible. What did I do for the past few months that I felt made the largest difference in my skin? I've laid them out below.
Salt facials
It really isn't a facial. But you really, really should get one. The salt facial is actually a treatment, and though you may think, "Oh, let's go get this amazing facial," you may want to know exactly what this buzz-worthy trend is first.
The salt facial is really a three-part process that includes natural sea-salt skin exfoliation, followed by a deep penetrating ultrasound that delivers hydrating antioxidants and finally healing your skin with high-intensity LED light therapy.
While I do find it relaxing, it certainly isn't your typical facial. The instant results of the salt facial was really something that amazed me. So, when Charlotte told me, "This isn't really a facial; this is a true treatment," she was 100 percent right. You should also 100 percent try salt facials if you want a treatment that exfoliates, soothes and builds your skin all in one. ($250)
Botox
That's right, I did Botox. When I chatted with A360 about wanting to try it but wanting it to be natural, flattering and not at all fake looking, they listened. Honestly, I wish I'd done it earlier in life – you know, what they call preventative Botox (or baby Botox) now – but here I was. My goals were to help to get rid of my lines above my nose bridge and between my eyebrows, get a tiny lift in my forehead and help soften around my eyes.
Botox isn't something you, or I, should take lightly. You need to find someone who has experience, is willing to really listen to what you want and then you need to be able to trust them with your face. A360 made me feel my concerns of the "fake" look were valid and they delivered.
The thing with Botox that most don't realize is that even the best injector must also learn your face, your muscles, reactions etc. My Botox is working great – but you have to be careful of who you trust with your face.
So, find someone you feel comfortable with, and please don't think just one treatment is going to fix it all. Start with a smaller amount and move it up if you'd like the next time. But your first time is really a starting place, and you will continue to get treatments though the amounts may get less or more depending on your goals. ($660)
Medical grade products
My base facial products have been the Rhonda Allison line from Lula Mae Aesthetic Boutique. I couldn't recommend these products more. But if you find yourself wanting a bit more for your skin, you should consider some medical-grade products as well. I incorporated a few strategic products from Aesthetic 360 to best treat the skin issues I feel insecure about.
My favorite of all these products is actually from A360's own private label brand. I saw a huge response from my skin with the "Brighten & Renew Skin Pads" that are made in-house. Next I added a professional grade retinol product from Skinbetter called AlphaRet. This combination product is an alpha hydroxy acid (AHA) and a retinoid that leaves skin looking rejuvenated - which is just how it makes my skin look!
Last but not least, A360 recommended the RMS beauty oil to add to my nightly (or sometimes day if I feel parched) regimen. This oil … amazing. Just trust me. I've added these products into my nightly routine with products I've used from Rhonda Allison, such as Growth Factor, and I have seen great results. (A360 products $289.50)
Remember I mentioned we started my first consultation with those pictures that scared me so much? Well, at my most recent appointment, we ended with those as well. And my skin age dropped by MORE than a decade. A decade! And others can see it too.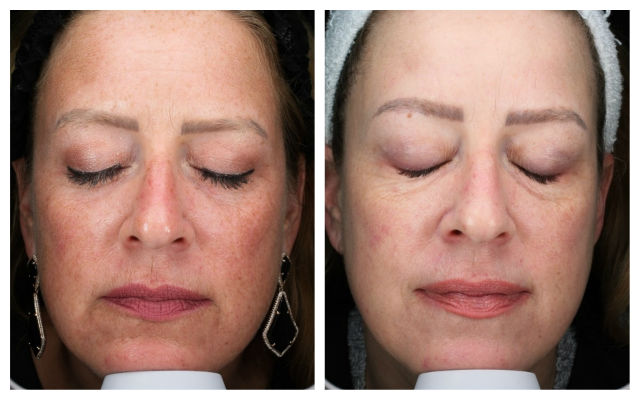 I didn't do anything drastic, over-the-top or blow-up my face with Botox. But what I've been doing with Aesthetics 360 has surely made a huge difference. And I'm going to keep it up! So, stay tuned.
Carolynn Buser is one of Milwaukee's loudest and most adamant cheerleaders (don't dare try to disagree). She's the primary voice behind much of OnMilwaukee's social media and content direction, and apologizes in advance if she can be too sarcastic at times.
What else? She's a wine lover, closet trashy novel reader, beauty supplies addict and devourer of cheese (shocker for a Wisconsin born and bred girl, right?). She's also a bit of a foodie, which is a word most of you hate, we know. She works as hard as she plays - and that includes in the gym! So, you've probably seen her at one of the area's newest restaurant openings (and yes, she will share her opinions good or bad) or enjoying a cold one at a local pub.
All in all, Carolynn's a believer in positive thinking and will do her best to smack down your negative ones while writing about her city, her loves, quests and more.