In the 1996 film "The Cable Guy," Jim Carrey and Matthew Broderick go to Medieval Times – a dinner theater featuring medieval-style games set in the 11th century – and Broderick's character asks the "wench" (server) if he can have a knife. The wench, played by Janeane Garofalo, informs him, "There were no utensils in medieval times, hence there are no utensils at Medieval Times."
My family and I decided to head to Schaumburg, Ill., this past weekend to visit Medieval Times, one of nine locations in the chain, to find out – among other things – what would happen if we asked for a fork.
"We use our God-given eating utensils, m'lady," wench Sarah Heitman, who has worked at Medieval Times for three years, told me when I asked. "If you demand cutlery, we might have some in a dusty corner somewhere."
Luckily for diners, the four-course meal served during the two-hour performance features all finger-friendly foods and two wet naps – one of which is pleasingly hot and steamy. The meal includes a slab of garlic bread, tomato soup (called "dragon's blood," of course), a king-sized chicken leg, a half ear of corn, a baked potato and an apple turnover. There's also all-you-can drink Pepsi products and a cash bar.
("There were no utensils in medieval times, but there was Pepsi?" Matthew Broderick asked the server wench later in the film.)
The food was, overall, very good. The tomato soup was flavorful and full-bodied – not of the watery variety – and the chicken was really moist. The corn on the cob was mushy, but the apple turnover was warm and flaky with a cinnamon-y apple filling. There is a vegetarian dinner available if a guest prefers.
All of the Medieval Times are located inside a replica of a massive 11th century Spanish castle. The show features a cast of roughly 75 actors, 20 horses and one incredible falcon. Interestingly, most of the male performers – particularly the knights and squires – have long brown hair and a beard or goatee.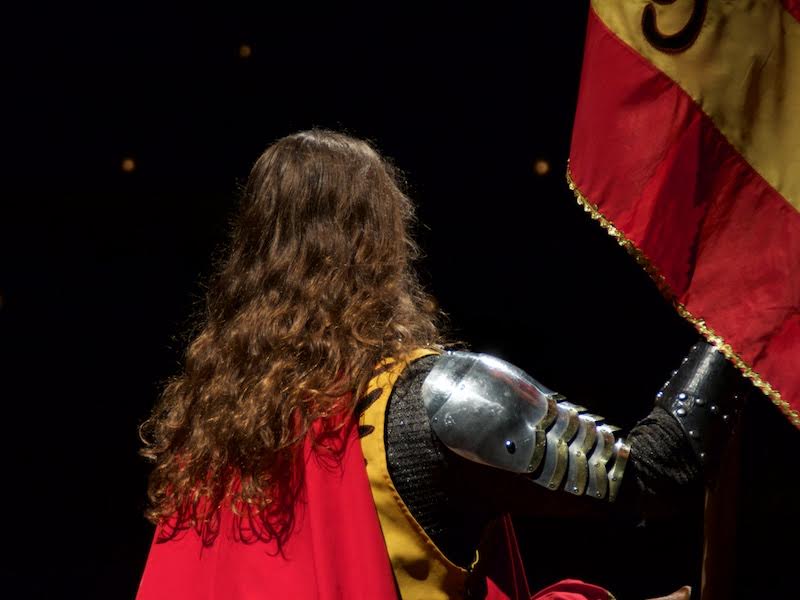 Basically, the show consists of a series of tournaments between six knights on horseback who play games, joust and sword fight, and one knight emerges as the champion knight. The audience is divided into sections based on the color of their seating area and encouraged to cheer for "their knight."
Robert Idrizi is the head knight at Schaumburg's Medieval Times, which means he trains the other knights, as well as the horses. Idrizi started in 2002 as a squire and, at the time, had never wielded a sword or ridden a horse. However, because he was in good physical shape, was committed to learning and realized he had some previously-untapped talent, he was quickly promoted to a knight, and eventually, head knight.
"Most of the guys who walk through the door here, like myself, have no previous experience," says Idrizi. "Skill is obviously important in this job, but even more so, it requires someone with a lot of focus and drive who's able to get through intense practices and maintain a non-traditional work schedule."
We stopped in early and caught the knights training before the show. It was interesting to see how intense the practices were and Idrizi was commanding yet compassionate as a trainer.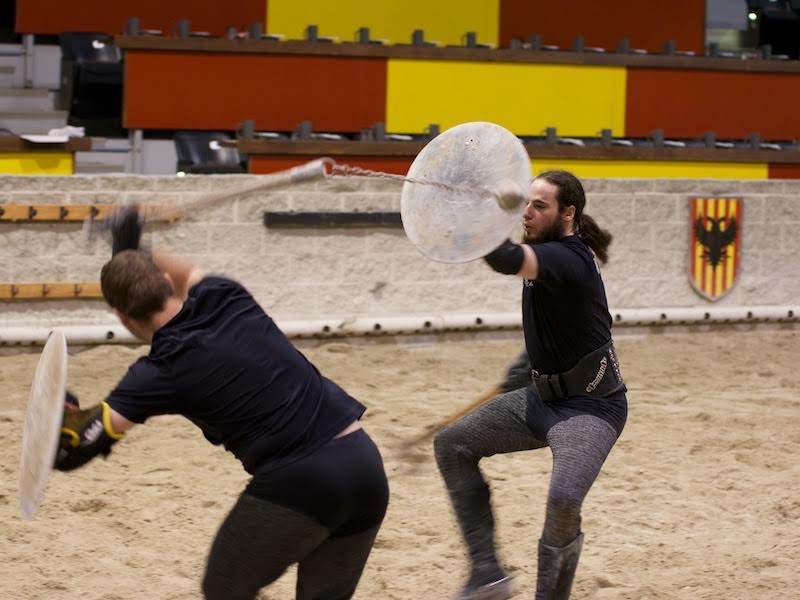 We did wonder about the treatment of the horses in the show, but a Google search did not unearth negative articles or accusations of mistreatment. According to Idrizi, the horses have their own stables, land to roam outside and are under 24-hour supervision and, if need be, veterinary care.
"I consider myself very lucky to work at a place where the animals are treated very well," says Idrizi. "We put a lot of stock in our horses."
Medieval Times also features a shopping area, a bar and a fascinating medieval torture museum complete with a chastity belt and other horrifying torture mechanisms like "breast rippers" and grotesque and painful-to-wear bridles that women who spoke out against the "male power structure" got locked onto their heads and were forced to wear in public where they were humiliated and tortured.
Performances are offered once or twice daily, depending on the day – go here for a schedule. The cost of tickets is $61.95 for adults and $39.95 for kids. Discounts and Groupons are available.
For individuals and families who like history, ren faires, large pieces of meat, princesses, horse tricks and swords, Medieval Times is going to appeal. We dig all of these things, so it was very entertaining for us, and moreover, something different and interesting to do on a Sunday afternoon.
I attended Medieval Times on my birthday, not realizing beforehand that it's a popular destination for birthday parties and celebrations. Luckily, no one disclosed it was my birthday on the day we visited; otherwise, I might have found myself getting a zealous hug from a part-time queen or princess home from college for the summer. Not that there's anything wrong with that.
Here are 13 more photos from our jaunt to Medieval Times:
1. King-sized

2. Two-legged horse
3. Flag it
4. Behind-the-scene squire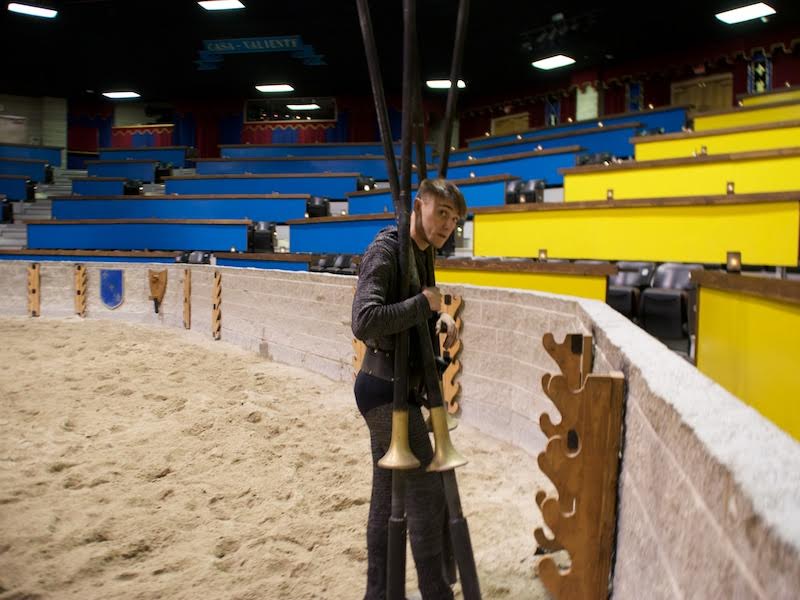 5. Focused falcon
6. Birthday boy
7. One must die
8. Pre-show set up
9. Drink, shop and be merry

10. Sharing the wealth

11. These guys armor fun than you'd think
12. A flower for m'lady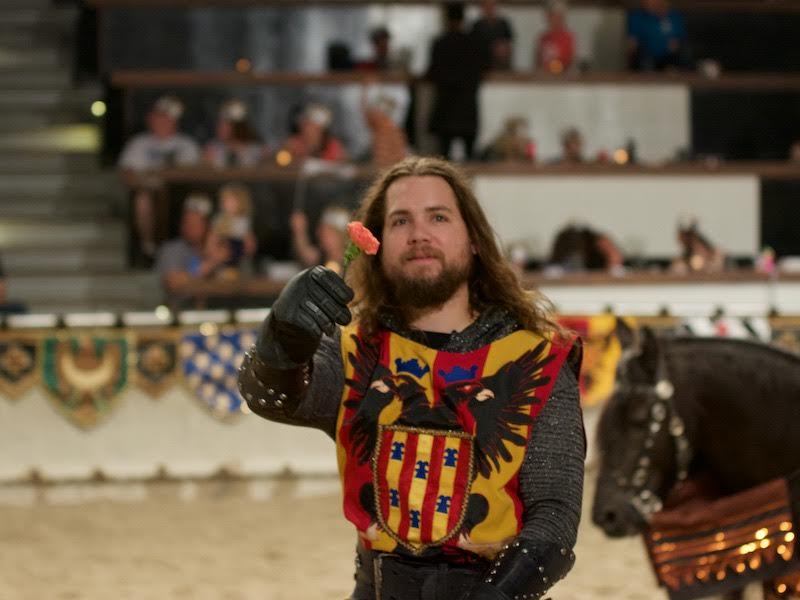 13. In drag

Molly Snyder started writing and publishing her work at the age 10, when her community newspaper printed her poem, "The Unicorn." Since then, she's expanded beyond the subject of mythical creatures and written in many different mediums but, nearest and dearest to her heart, thousands of articles for OnMilwaukee.

Molly is a regular contributor to FOX6 News and numerous radio stations as well as the co-host of "Dandelions: A Podcast For Women." She's received five Milwaukee Press Club Awards, served as the Pfister Narrator and is the Wisconsin State Fair's Celebrity Cream Puff Eating Champion of 2019.