We're in the golden age of grocery stores.
So many options, sizes, locations, shapes and forms. Plus, the way we all shop is constantly changing. More grab and go, more delivery, more organics and more, more and more of everything.
I love it. And I love talking about grocery shopping because everyone has an opinion. Some just love "their stores." Some swear by Costco, Walmart or Target. Others can only handle Amazon Prime/Pantry or Peapod, while still others stick to Pick 'n Save or only will shop at places like Whole Foods Market, El Rey, Fresh Thyme, their neighborhood Sendik's or the corner independent.
Whatever your grocer of choice is, let the store know what you like and dislike about it. Competition and price wars are tough, and stores need to continue to be creative in their presentation, loyalty programs, parking and other amenities to keep you away from the place down the street.
All this said, I'm really enjoying the new store that's close to my home, Metro Market in Shorewood. Patterned after the Mariano's brand in suburban Chicago, it's a really nice, large-concept store that's upscale but not too upscale. It's a massive change from the old, crappy Pick 'n Save that rotted just north of it, and while many people are too quick to cry, "It's too big," it is a great development that has spearheaded additional growth, density and dollars for the area. I still really love the Whole Foods on the East Side, but convenience drives many decisions, so a large portion of our grocery budget goes to Metro Market.
Now that we're a few months in, here are my general observations – and six things I'd change about this store now. Employees at the store have probably heard my cries for music already; please know that all of these suggestions are presented in a positive, let's-get-better manner. The better you are, Metro Market, the more of our money you get!
Let's go.
1. Pop local corn
Freshly popped popcorn works. Right? It smells great, is a good profit center, excites kids and is healthy. But Metro Market, yours isn't that good. Sorry, but it's true. Maybe it's the oils or perhaps the corn itself? So let's pop local. Go north a few blocks and talk to the wonderful people at Goody Gourmet. They make amazing popcorn and in all flavors. Hire them, consult with them, learn from them. You're all about local, so prove it. Pop your corn with the best in the area.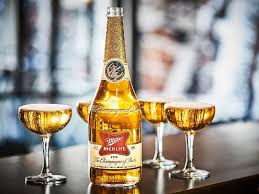 Everyone loves popcorn. Good popcorn, though.
2. Play some music, please
Music matters, and while I love the piano in the bar area, the rest of the store has no vibe. Pipe in some Spotify or Pandora. Kick the old school pop like Whole Foods does. It works, and it makes for a much more inviting shopping experience. Music makes us happy and, in turn, spend more. Until the speakers flow with tunes, I'll keep the earbuds in and listen to my podcasts.
3. Continue to engage the street with better patios and outdoor selling
The scale of the building makes it a bit hard to create amazing outdoor space, but it can be done. And kudos for the landscaping, furniture and sidewalk stalls that currently exist. But adding design elements, shrubbery and consistent vendors outside will help, too. Design matters, even on the sidewalk. The urbanists will say that the main entrance should have been on the corner of Oakland and Kenmore. This may be correct, but you're probably not going to change it now, as it would drastically affect the bar/sitting area. Add a grand corner entrance where the curved glass is; excellent design helps create long-term success. Something like this would be amazing. And look at this Safeway corner design.
The Petworth Safeway in Washington D.C., via greatergreaterwashington.org
No matter what, continue to embrace the street at this corner and landscape it well. For inspiration, take a look at El Rey's outdoor area, the Milwaukee Public Market or any Colectivo Coffee location.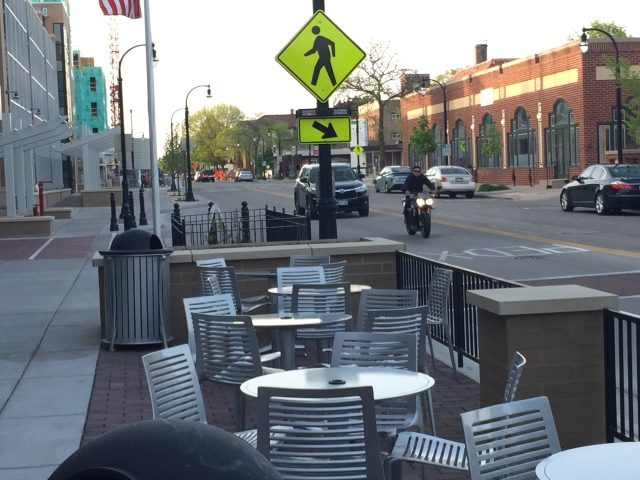 Umbrellas, trees, color, plants. Continue to design outdoor space that we want to sit at.
4. Get a Bublr bike station
Get your bike on! Add a Bublr station. It will do great, Shorewood will embrace it and it'll pair with the bike repair station you already have (kudos on that, by the way).
5. Paint the parking garage's inside
Everyone – well, nearly everyone – forgets about the inside of a parking garage. Research shows people generally hate them all, so you gotta spice 'em up, light 'em up and color 'em up. Paint it. Bright, bold. Color matters. Use it. Kudos on the flower bed use on the garages. They look great!
Nice flowers as a design touch, @mymetromarket Should paint inside of garage too! pic.twitter.com/CYbcmiqqjf — Jeff Sherman (@ShermanJeff) May 30, 2016
The garage is dark, gray and uninspiring.
6. Consider closing off the beer/liquor area
This is a "problem" at many grocery stores. The liquor store within it isn't a store at all, rather a section, aisle or area. Sure, there's a small walk-in cooler and the selection is good. Consider, though, making it a store within a store. Half-wall the entire area. Seems weird that wine sampling is so close to the toothpaste section. Petty? Maybe. But, again, I think design matters and better designs makes us all buy more.
The existing beer cooler area.
Finally, many have wondered why the two-story store didn't include escalators. It's really fine without them, but also different and new for many shoppers. The company responded with this:
"As we went through our Shorewood Metro Market store planning meetings, our retail design team of architects, contractors and other parties spent a significant amount of time analyzing the incorporation of escalators in the design of the new Shorewood Metro Market.

"After much analysis, it was determined that the use of escalators did not give us the space we desired to offer the diverse merchandising selection that you see today at the Shorewood store. Escalators take up a great deal of floor space due to the angle of inclination required and they also require adequate queueing space at each loading and discharge point. Installation of escalators would have required two escalators (up/down), two companions known as "Cartolators" (up/down shopping cart escalators) and a stairway at the Shorewood Metro Market.

It should be noted that we have two Mariano's stores in Chicago, our New City Mariano's and our Lake Shore East Mariano's that are also two-story locations where we do not use escalators due to the projected loss of merchandising space available."
Thanks for listening, Roundy's – er, I mean Kroger. I love your new Shorewood Metro Market. But let's keep making it better.
A life-long and passionate community leader and Milwaukeean, Jeff Sherman is a co-founder of OnMilwaukee.
He grew up in Wauwatosa and graduated from Marquette University, as a Warrior. He holds an MBA from Cardinal Stritch University, and is the founding president of Young Professionals of Milwaukee (YPM)/Fuel Milwaukee.
Early in his career, Sherman was one of youngest members of the Greater Milwaukee Committee, and currently is involved in numerous civic and community groups - including board positions at The Wisconsin Center District, Wisconsin Club and Marcus Center for the Performing Arts. He's honored to have been named to The Business Journal's "30 under 30" and Milwaukee Magazine's "35 under 35" lists.
He owns a condo in Downtown and lives in greater Milwaukee with his wife Stephanie, his son, Jake, and daughter Pierce. He's a political, music, sports and news junkie and thinks, for what it's worth, that all new movies should be released in theaters, on demand, online and on DVD simultaneously.
He also thinks you should read OnMilwaukee each and every day.