You're probably familiar with the Manhattan. The traditional cocktail is known for its strong flavor profile and an ingredient list that represents the city's 212 area code, consisting of two ounces of white rye whiskey or the whiskey one's choice, an ounce of sweet red vermouth, two dashes of Angostura bitters and a Maraschino cherry to garnish.
While this distinguished cocktail may be good, it could do with a little more Milwaukee-centric flair. Well, wait no more – as Great Lakes Distillery, Experience Milwaukee and Bittercube will introduce you to the Milhattan, a local twist on the classic cocktail, this weekend.
The Milhattan features the strength of the rye whiskey, a pop of rich unique flavor from Bittercube's root beer bitters and the sweetness of cherry liqueur, all married together to give you an intriguingly addictive Milwaukee-inspired sipper that tastes both new and familiar.
So how did this Cream City concoction become a thing? The Manhattan has long been the go-to cocktail for Steve Glynn and Adam Derus of Experience Milwaukee – but now they wanted one with a twist.
"Adam has been annoying me for a year about wanting to create an Experience Milwaukee cocktail," Steve Glynn, Experience Milwaukee's co-host and chief officer, said jokingly of his co-host. "Finally, I said let's sit down to talk about it. He told me his vision: Instead of us yahoos creating something, let's partner with a respected expert in the area of that topic. I came up with the idea of the Milhattan, a cocktail inspired by the classic Manhattan."
So Glynn and Derus teamed up with Great Lakes Distillery to craft a maturely sweet cocktail packed with a punch.
"We went through a couple of options," said Great Lakes Distillery Mixologist Brendan Cleary, "but the one they really loved is how we have it built currently: with our Still & Oak rye whiskey, Good Land cherry liqueur and Bittercube's root beer bitters."
At first, the Milhattan might sound daunting – but the marriage between all of the ingredients, simultaneously classic but also each bringing something new and local to the table, comes together beautifully.
"It's fun to have the root beer bitters in there," Cleary said, "with our Sprecher history being here and really launching some of the craft soda in this country. It's fun to have that flavor in there. We are a beer city; I won't throw beer in here but root beer has that really nice flavor that combines with the cherry and all that grain from the Wisconsin rye."
"When you think rye whiskey, cherry liqueur and root beer bitters, to me, it's very Wisconsin-y with that ingredient concoction," Glynn said.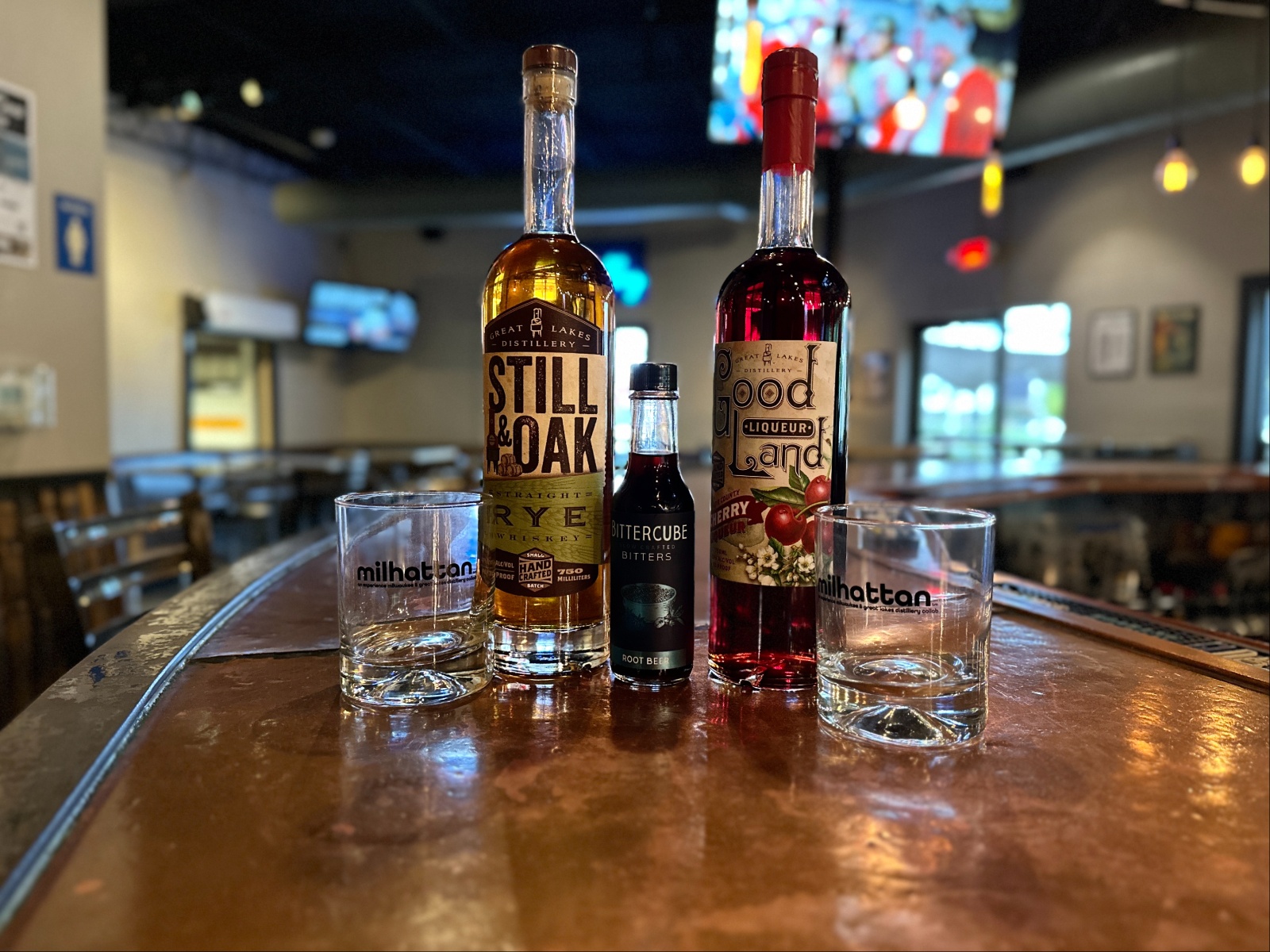 Who knew cocktails and community could blend together to create the perfect match, especially for Brew City.
"Adam's original seed of the thought was: How do we make a cocktail?" Glynn said. "The more we talked about it, it became: How do we create more community in the city and we could all rally around one of the awesome distilleries around here?" said Glynn.
Now on the menu, Great Lakes Distillery is still determining if the new concoction will be a permanent fixture in its tasting room, found at 616 W. Virginia St., or a special seasonal item. However, you can have one no matter its menu status with the help of a limited-time Milhattan drink kit at Great Lakes Distillery. Perfect for the holiday season, the kit features a bottle of GLD rye whiskey, a bottle of GLD cherry liqueur, a bottle of Bittercube root beer bitters, two Milhattan-branded rocks glasses and of course the recipe and instructions – all for $125. For more information, click here.
"If you like a Manhattan, you should try a Milhattan," said Glynn.
Courtney Bondar is an adventurous Multimedia Journalist at OnMilwaukee, covering all things Milwaukee. Born and raised in Greendale, WI, Courtney has a deep-rooted connection to her hometown and a strong desire to explore and showcase the vibrant city of Milwaukee.
You can often find Courtney all over Milwaukee, attending exciting events - documenting her experiences on her Instagram stories. Her genuine enthusiasm for her work shines through in her posts - as she strives to capture the beauty of the city and shares it with her followers.
Courtney's passion for writing is evident in her engaging and heartfelt articles. While she covers a wide range of topics, she particularly enjoys delving into the intricacies of dating culture and the art of mixology. Her insightful and thought-provoking pieces offer a unique perspective on these subjects, captivating readers with her authenticity and wit.
After dedicating herself as an intern at OnMilwaukee, Courtney's hard work and dedication paid off when she earned her well-deserved diploma. Now, as OnMilwaukee's first full-time multimedia journalist, she is fully committed to continuing her journey - bringing her distinctive voice and storytelling skills to the forefront.