Regardless of whether you know me in real life or simply through OnMilwaukee and social media you are probably aware of my penchant for Halloween – I take it extremely seriously (I am already thinking about my costume for 2021). And you also might be aware of my ongoing penpal-ship with Milwaukee legend, The Milverine.
Thus, it should come as no surprise that this year I dressed up as The Milverine for Halloween. Or the "MOLverine" to make the look even more my own. It was also my first Halloween costume that I dressed up as a man since one-armed drummer from Def Leppard, Rick Allen, in 2017, so that was an added bonus.
For the past three years, my friend and stylist, Al Oldham of Taylor & Burton, has been integral to my costumes, providing the perfect hair and makeup. This year was no exception. He created a short-haired mullet wig and an impeccable smattering of stubble. I couldn't have pulled it off without him.
I also owe Stevie, my 5-pound Chihuahua mix, for being an elemental part of the costume. The Milverine sometimes walks with a tiny white dog, so dressed in a fuzzy white sheep costume, midnight-black Stevie nailed the look.
2020 was finally the best year for something. It was, indeed, the ideal year to adorn myself as The Milverine because it required me to walk around – mostly up and down Kinnickinnic Avenue and First Street in Bay View and Walker's Point respectively. On a sunny afternoon during a global pandemic, speed walking in the fresh air was the safest activity I could have imagined and exactly on brand for my costume. Plus, all the waving, hooting and honking from people driving by brought an unexpected element of joy to the wonderfully ridiculous experience.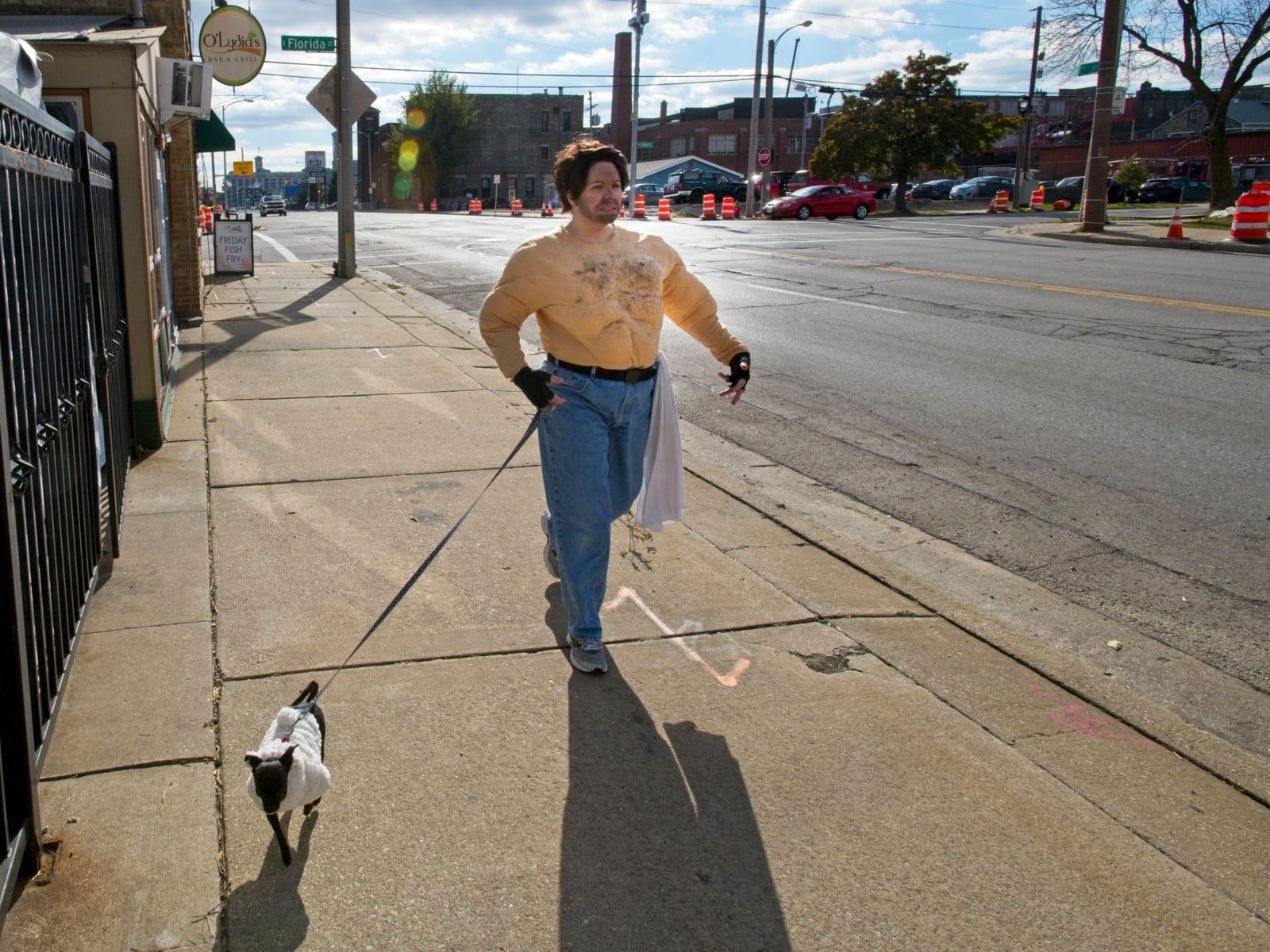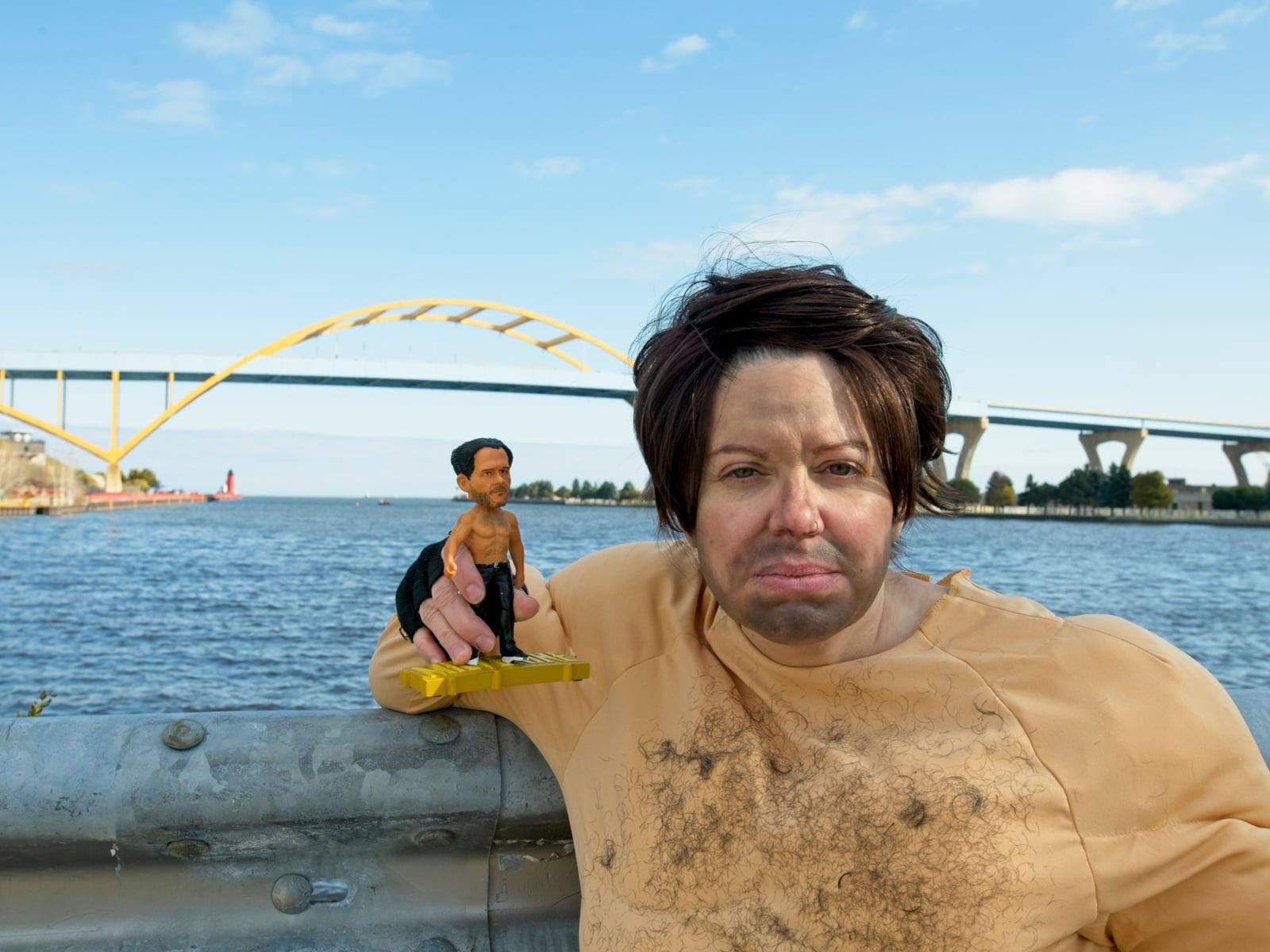 It's important for me to note the relationship I have with John Hamann, aka The Milverine. I am truly a longtime fan of his and as a resident of Walker's Point have seen him shirtless and strolling with purpose for years. And as penpals of sorts, the numerous postcards and letters we've exchanged provided him the opportunity to point out that I looked like "a scarecrow getting hit by a tornado" during my weekly segments on WISN-TV.
I took the strange comment with humor, but I admit dressing as him for Halloween was my way of dishing it back – all in good fun. But truth is, I love The Milverines of the World. These colorful individuals exist in every neighborhood and make communities truly unique. Hell, my own father was well on his way to becoming one of these folks and he knew it.
From the bottom of my heart beating behind my faux muscle-y, hairy torso, I hope everyone had a safe and fun Halloween. Keep Mil-walking, y'all, no matter how much scary, spooky stuff you encounter this year.

Molly Snyder started writing and publishing her work at the age 10, when her community newspaper printed her poem, "The Unicorn." Since then, she's expanded beyond the subject of mythical creatures and written in many different mediums but, nearest and dearest to her heart, thousands of articles for OnMilwaukee.

Molly is a regular contributor to FOX6 News and numerous radio stations as well as the co-host of "Dandelions: A Podcast For Women." She's received five Milwaukee Press Club Awards, served as the Pfister Narrator and is the Wisconsin State Fair's Celebrity Cream Puff Eating Champion of 2019.