During a historic year for sports in Milwaukee, the Milwaukee County Historical Society announces our 2018 feature exhibition, "Back Yard to Big Leagues: Milwaukee's Sports and Recreation History."
Exploring Milwaukee's exciting and extensive sports and recreation history, the exhibit will be on display from Jan. 18 to April 27 (with a smaller version through the summer) at the Society's Historical Center, 910 N. Old World Third St., Milwaukee. Featuring rare photographs and artifacts from the collections of the Historical Society, private collectors and major league sports teams, the exhibit is sure to score with people of all ages and interests.
There is significant evidence that engagement in sports and recreational activities can build stronger communities, and in Milwaukee this has been the case for generations as it is today. Whether it is playing sports, participating in recreational activities, or cheering on our local teams, Milwaukeeans love sports of all types.
Curator Ben Barbera named the exhibit "Back Yards to Big Leagues" to recognize the fact that Milwaukee has a deep history of sports and recreation from the neighborhood level through to major league sports. "This exhibit certainly covers the major professional sports teams we love today, but also looks at college sports, amateur and youth sports, and active recreation," said Barbera.
People will be able to immerse themselves in Milwaukee's sporting history through artifacts, photographs, documents, and audio and visual media. And, importantly, there are ways to actively participate in the exhibit through interactive components making a visit fun and informative.
"When choosing the exhibits that we offer, we choose topics that are relevant to Milwaukeeans today," said Mame McCully, executive director of the Milwaukee County Historical Society. "What better year to feature Milwaukee's sports and recreation history than the year our new arena opens, as we say goodbye to the Bradley Center and as our Milwaukee Bucks celebrate their 50th anniversary," she continued.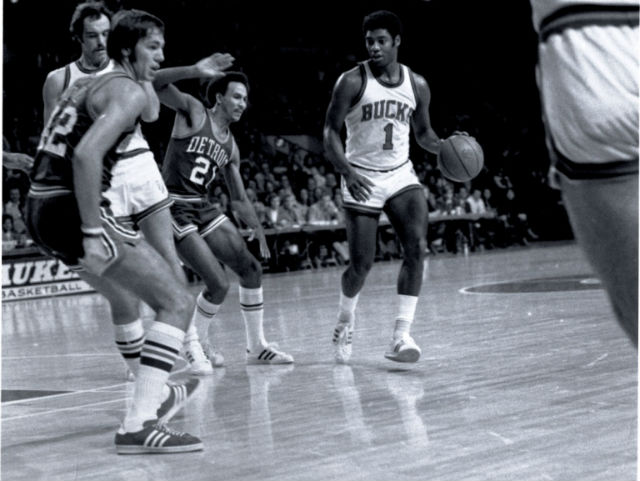 It is a time where Milwaukee sports and their future are at the forefront of people's minds. This exhibit will connect visitors with the past through a topic that is very relevant to them now and in the years to come.
"Back Yards to Big Leagues" will be available to the public Monday through Saturday, 9:30 a.m. to 5 p.m. and will be on display until April 27. Admission for adults will be $7 per person and children 12 and under are free. A variety of special events related to the exhibit will be open to the public including happy hours, lectures and book talks, a family day, and other sports-focused events.
The exhibit was made possible through the support of sponsors including Aurora Health Sports, Milwaukee Admirals, Milwaukee Bucks, Milwaukee Brewers Baseball, and the BMO Harris Bradley Center.