There is nothing like the holidays in Milwaukee. VISIT Milwaukee is here to share your top shopping destinations, must-see holiday shows, where to meet Kris Kringle and local gifts you can't resist. Tune in all month long and 'tis the season!
With the holidays just around the corner, your calendar is likely filling up quickly with events to attend and people to see. Looking at a packed calendar and realizing you have to find four or five different outfits for family outings and cocktail parties can unfortunately evoke feelings of consternation.
Whether you're planning a low-key stroll down Candy Cane Lane or a champagne-filled evening in a limousine en route to the Young Milwaukee Holiday Gala, we have six outfit ideas for you at every price point.
Look One: A Performance of "The Nutcracker" by the Milwaukee Ballet
For an evening performance of "The Nutcracker," we've found an outfit that's festive and bright. This gorgeous black dress from Stephanie Horne Boutique features just the right amount of sparkle. Since this dress stands so well on its own, we have paired it with modest jewelry and a simple pair of black heels.
August is wearing a Yoana Baraschi ombre dress ($339), hoop earrings ($69), heels ($199), a long necklace ($69) and a short necklace ($99) from Stephanie Horne Boutique.
Stay warm (and still look cute) in a cozy sweater, blanket scarf and hat from Lizzibeth. This outfit is completed by Alo motorcycle leggings, known for being incredibly smooth and worn by fashion-forward celebrities like Olivia Palermo and Gigi Hadid. This outfit is as comfortable as it is adorable.
Emily B. is wearing Alo moto leggings ($110), a gray sweater ($64), a sleeveless coat ($134), a blanket scarf ($42), a beanie hat ($68) and a necklace ($26) from Lizzibeth.
Look Three: A Holiday Ride from Milwaukee Coach and Carriage
Look darling without spending a fortune or losing feeling in your arms from frigid Milwaukee temperatures. We've found the perfect cold weather look for a charming December evening. And yes, this entire outfit is from Target!
Clarissa is wearing pleather leggings ($12), a cabernet knit dress ($27.99) and a coat with faux fur trim ($79.99) from Target.
Get ready for Milwaukee's most entertaining gala by elevating a little black dress with statement jewelry. This black dress from Stephanie Horne Boutique features a fun and fashionable off-the-shoulder look. Pockets (who doesn't like pockets?) will allow you to keep your hands free for more important things, like holding a cocktail.
Natalie is wearing a black Trina Turk dress ($299), earrings ($49) and a statement necklace ($119) from Stephanie Horne Boutique.
Look Five: Holiday Tea at Watts
Many of us are rushing to Watts Tea Room before it closes. If you're meeting Aunt Judy for tea, it's time to dress little bit more conservatively while still looking delightfully sweet. This long sweater and black statement necklace from Lizzibeth make for a fabulous teatime. Bonus points if you wear the brooch Aunt Judy gave you last Christmas.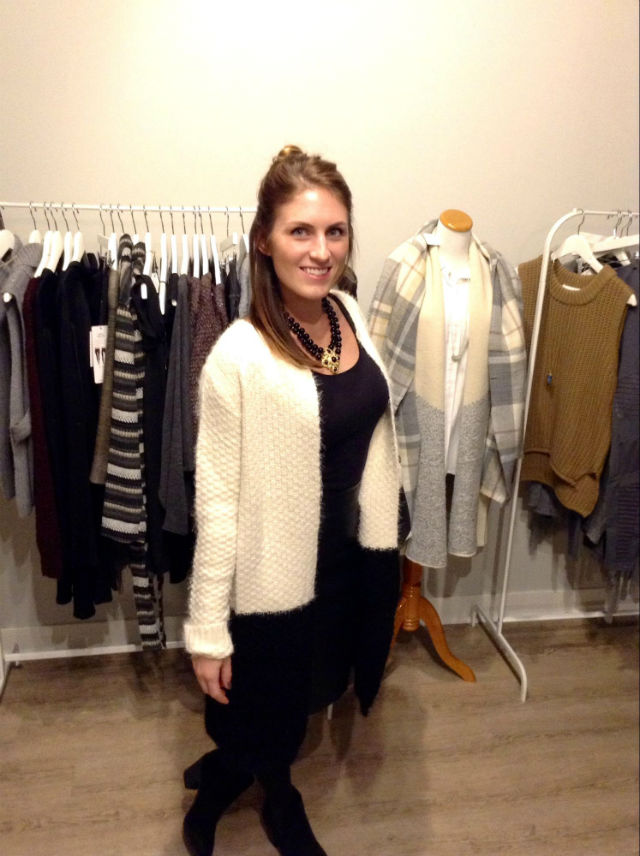 Emily T. is wearing a long sweater ($104), black handbag ($68) and statement necklace ($44) from Lizzibeth.
Look Six: New Year's Eve
Since it's the most appropriate time of the year for glitter, you can rock a sequined or beaded dress from Luci for a memorable New Year's Eve. We didn't want to take away from the intricate patterned beadwork on this dress, so we skipped the necklace and opted for a stack of crystal bracelets instead.
Emily B. is wearing an Art Deco inspired dress ($110), crystal bracelets ($12-18) and crystal bracelet stacks ($24-36) from Luci.
Now, who wants to go shopping?