Despite the fact that hundreds of thousands of Milwaukeeans once visited the city's seven natatoria annually for many years, these days the word seems to conjure only one thing for Cream City citizens: dining next to a dolphin pool.
Yes, the South Side Natatorium was briefly home to a restaurant that ultimately went bankrupt and threatened the life of a dolphin named Soda, but the history of these public buildings goes so much deeper.
Discussion of public baths in Milwaukee pre-dates the city charter.
"Perhaps the earliest mention here came in 1844, two years before Milwaukee became a city," wrote Russell Zimmermann in 1976. "A newspaper editor, repeating a proposal made by the mayor of New York, asked, 'Would it not be a profitable enterprise if someone would construct a good bathing establishment in Milwaukee?'"
(PHOTO: Courtesy of OldMilwaukee.net)
However, serious talk didn't seem to happen until the 1880s, when the city appropriated $25,000 for a facility that would provide not only an indoor swimming hole but also a personal cleanliness center with showers and baths for folks whose homes – at a time when most had to head out to a backyard privy to do their business – typically lacked such extravagances.
In the end, however, the state legislature authorized a bond issue in the same amount so that the city could use its money toward a river flushing tunnel project.
In 1888, the search for a location commenced and turned up a number of potential spots all in the area between 7th and 8th Streets, State Street and Juneau Avenue. A site on 7th and Prairie Streets (later 709 W. Highland Ave.) was selected – at a cost of $4,000 – and architect Herman P. Schnetzky's neoclassical design was chosen. The finished building would cost $21,000.
On Aug. 14, 1889, Milwaukeeans were free to dive into their first public pool – which a 1935 city report would claim was also the first such pool indoors in the entire United States – though some notable citizens opted not to...

The Prairie Street (Highland Avenue) Natatorium as it initially appeared (above) and after renovations
in the 1920s (below). (PHOTOS: Historic Photo Collection / Milwaukee Public Library)
In an article bearing the headlines: "No Bath for Them: Aldermen Look Upon the Water, but Stay Out of It. Verdict on the Public Natatorium. The Temple Dedicated to Cleanliness by the City of Milwaukee Today," a Milwaukee Journal reporter wrote:
"In Milwaukee cleanliness is not only next to godliness, but it is also directly across the street from music and education. In other words, the new natatorium building, on the corner of Prairie and Seventh streets, has a kindergarten and Liedertafel (a vocal music society) hall for neighbors.

"The building was pronounced complete today, and was formally inspected by members of the board of public works, aldermen, officials and the usual sidewalk committee of idlers which can always be relied on to assemble and volunteer advice on all subjects."

"The natatorium is a handsome brick building, 40 feet in height from the water line to the sky-lights, which give it so bright a look. It occupies 48 feet front and runs back 140 feet, including the boiler room and a smokestack 80 feet high. The swimming tank is 80 by 30 feet, 2 feet 6 inches deep at the north end, and sloping gradually until it reaches 9 feet 2 inches. It is built of English cement and backed by heavy brick walls and pounded clay. Cold water runs in direct from the hydrants, while the mammoth boiler will supply a constant stream of hot water to regulate the temperature.

"There are 108 dressing rooms in the two galleries, 16 shower baths and necessary places for the safe deposit of valuables, together with other conveniences. In the front end up stairs there is a pleasant suite of rooms for the janitor's family.

"Owing to the fact that the lake is rough today the water when let in did not present a very inviting appearance, which probably accounted for the fact that none of the aldermen took a swim, as they had previously agreed on the motion of Ald. Brand."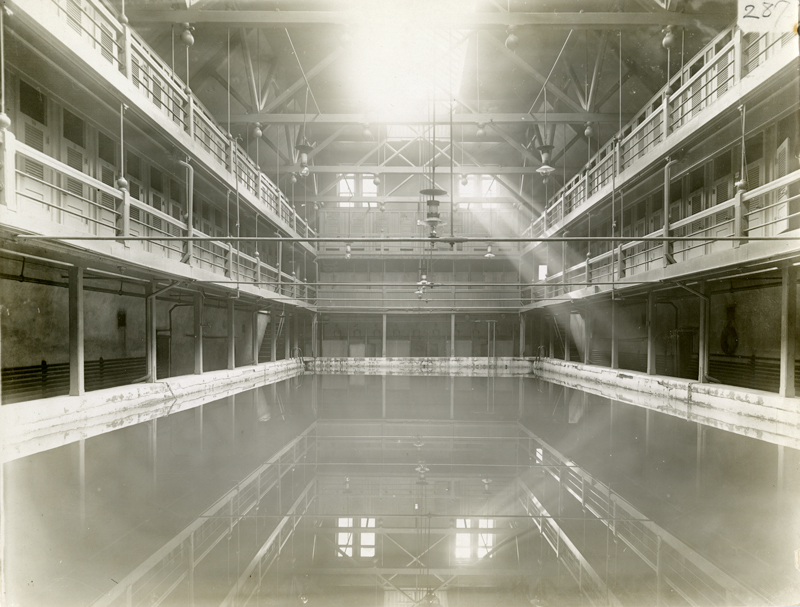 Inside the Highland Avenue Natatorium. (PHOTO: Historic Photo Collection / Milwaukee Public Library)
Buoyed by the building's success, plans for a South Side location were immediately hatched and Schnetzky and his then-partner Eugene Liebert designed another natatorium – a lovely building in what Liebert called "Italian Renaissance" style – for Greenbush (now 4th) Street.
The building at 1646 S. 4th St., opened in 1894, with a pool flanked by 15 shower baths and 20 bathrooms on the first floor, and dressing rooms in a balcony overlooking the tank.

The South Side Natatorium. (PHOTO: Ray Szopieray, courtesy of Adam Levin)

Repairing the tank at the South Side Natatorium, 1940. (PHOTO: Milwaukee County Historical Society)
After wading into the natatorium idea, the city dove in head-first, opening five more.
The West North Avenue Natatorium opened in 1902 at 1609 W. North Ave. in another neoclassical building, this one drawn by Charles Lesser with an portico dotted with Ionic columns and outfitted – uniquely among Milwaukee natatoria – with a public library (pictured below).

(PHOTO: Milwaukee County Historical Society)

(PHOTO: Milwaukee Public Library)
Six years later, the North Side Natatorium, 243 E. Center St., opened in – wait for it – a neoclassical building designed by H. Messmer and Son. This was the final natatorium designed by a private architect.
Another South Side bathhouse, the Southwest Side Natatorium, 1645 W. Greenfield Ave., was built in 1911 (pictured below).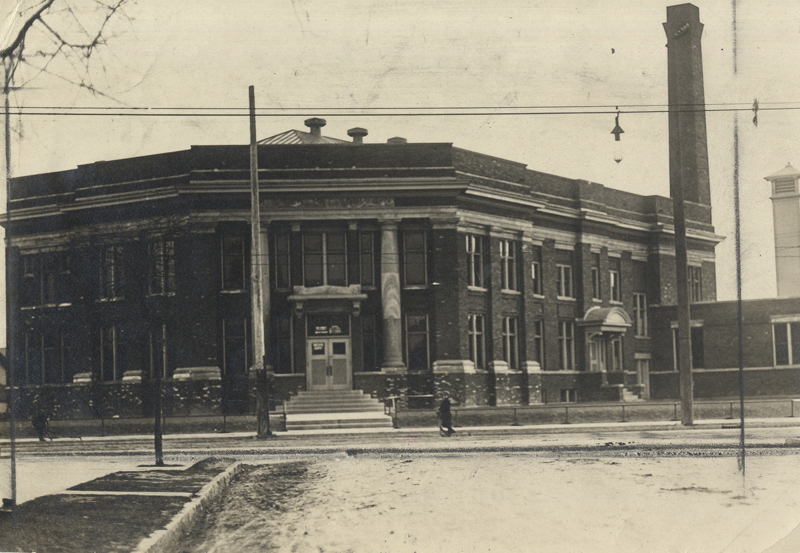 (PHOTO: Milwaukee County Historical Society)

(PHOTO; Ray Szopieray, courtesy of Karl Bandow)
After an architectural competition failed to result in a design that caught the city's fancy, the public buildings bureau likely turned its newly hired staff architect Charles Malig. I'd guess Malig was tapped to design this neoclassical building and the ones that would follow.
A sixth natatorium was built adjacent to Detroit Street (later Andrew Jackson) School in the Third Ward in 1915, and the final one, the Fifth Avenue Natatorium, 2361 S. 10th St., went up in 1917. This one had some collegiate Gothic elements, too. See the photo below, courtesy of Wisconsin Historical Society.
These red brick buildings were also neoclassical in style, and, in fact, all seven of the bathhouses had more or less the same interior design too, with first floor pools and balcony-level changing rooms.
The earliest natatorium – the one on Highland Avenue – was, according to OldMilwaukee.net, "was plagued with settling problems after the first years of being built," and it was remodeled and rededicated in 1925. A plaque from the building turned up in a church basement in 2016 and a photo of it was posted to social media.
(PHOTO: Jill Amrhein/Facebook)
The buildings were incredibly popular among Milwaukeeans. According to a 1949 newspaper article, attendance at the pools in 1921 was a whopping 686,996!
But Milwaukee was changing and city budget supervisor George C. Saffran told the paper that the natatoria were meant to "provide bathing facilities for those people who did not have bathtubs in their homes" and that the focus had since gradually switched from bathing to swimming.
In 1948, only (!) 492,722 used the natatoria. At the same time, the cost of running them was skyrocketing – from $65,275 in 1921 to $154,648 in '48.
Snarky pool attendants weren't helping, either, according to Saffran, who added that "peremptory attitudes in their dealings with the public" on the part of natatoria staff had led to a "a lack of feeling on the part of the public that the natatoriums are conducted entirely for the convenience" of city residents.
So, the city suggested closing the 4th Street natatorium, which was the only one in less than sparkling condition, giving the Highland Avenue pool to the Vocational School (now MATC) and offering Jackson Street to the school board. If MPS didn't want it, the city suggested closing that one, too.

Painting the Jackson Street Natatorium, May 1940. (PHOTO: Milwaukee County Historical Society)
And that's what happened. Jackson Street was the first to go, closed and demolished by 1958. Highland was razed five years later.
But 4th Street got a reprieve, for a while, remaining open until 1977, when it was closed, along with the others. The Fifth Avenue (by then long called 10th Street) location was transformed into a scuba diving school. Center Street became a latinx community center and school, later renamed for Aurora Weier, who was murdered there in 1985, and is now a private school.
And 4th Street, famously, got a restaurant, which opened in 1979.
A pair of dolphins caught off the coast of Florida – Gypsy and Star – were brought to the pool by owners John and Margaret Garlic, who also ran JJ Garlic's on 11th and Wells Streets, and had bought the natatorium from the city for $4,000.
Renting the dolphins ran to $60,000 annually, and they had planned to bring in 300 parakeets, too. The Garlics spent nearly $50,000 to enclose the 144,000-gallon pool in glass. Another $18,000 went to flowers, and each water glass cost $28.
As I've noted in the past, 20 percent of the water in the pool had to be changed daily and the water required 10,000 pounds of salt. Then there were weekly water sample tests, purifying chemicals, daily pool cleaning, smelt to feed the dolphins, medicines, veterinary bills and more. An expensive proposition for a restaurant without even taking any staff- or food-related costs into consideration.
But when the recreated tropical paradise opened November of '79, the public and the media swooned.
In 1981, trainer George Gray was working with two 9-foot porpoises named Belinda and Angel. All three were on loan from Florida's Gulfarium for a few months, while Milwaukee worked to get its own swimming talent.
An ad for "Milwaukee's most unusual restaurant" showed a couple toasting with bubbly over a table laden with delicacies – the restaurant served wild boar chasseur, lobster, Porterhouse steaks among its 43 entrees, though it also sold sandwiches and other lower-priced options, too – the exterior of the building, the glass-enclosed pool and a scene from one of the five daily dolphin shows.
By 1984, according to news reports, the restaurant was swimming in debt and facing bankruptcy, and in January '85, the dolphins' trainers testified in Federal Court that Soda, the dolphin was sick with a viral infection, that the water in the pool was 7-17 degrees too cold and that Soda wasn't getting enough food, either. A judge demanded the conditions be improved.
On Jan. 31, 1985, the Journal reported that the restaurant was "closed in the wake of a bankruptcy action, but the dolphin, Soda, and two sea lions are on the premises and a deal is being negotiated to sell them."
Early in February, Soda and her sea lion pals were headed to a California theme park.
"She was a little stiff at first, from the flight," bankruptcy trustee Russell Long told the newspaper. "But trainer Dan Cartwright swam around with her in the pool for a few hours and she was all right."
And the sea lions?
Long said they were fine, adding, "They just didn't seem to care."
Born in Brooklyn, N.Y., where he lived until he was 17, Bobby received his BA-Mass Communications from UWM in 1989 and has lived in Walker's Point, Bay View, Enderis Park, South Milwaukee and on the East Side.
He has published three non-fiction books in Italy – including one about an event in Milwaukee history, which was published in the U.S. in autumn 2010. Four more books, all about Milwaukee, have been published by The History Press.
With his most recent band, The Yell Leaders, Bobby released four LPs and had a songs featured in episodes of TV's "Party of Five" and "Dawson's Creek," and films in Japan, South America and the U.S. The Yell Leaders were named the best unsigned band in their region by VH-1 as part of its Rock Across America 1998 Tour. Most recently, the band contributed tracks to a UK vinyl/CD tribute to the Redskins and collaborated on a track with Italian novelist Enrico Remmert.
He's produced three installments of the "OMCD" series of local music compilations for OnMilwaukee.com and in 2007 produced a CD of Italian music and poetry.
In 2005, he was awarded the City of Asti's (Italy) Journalism Prize for his work focusing on that area. He has also won awards from the Milwaukee Press Club.
He can be heard weekly on 88Nine Radio Milwaukee talking about his "Urban Spelunking" series of stories.