Sports seasons come and go, but for coming up on almost four decades, Dennis Krause has stayed a constant across them all, telling and sharing the story – win or lose – of Wisconsin sports.
Save for a trio of years working after graduation in Peoria, Illinois, Krause's kept his roots planted in Wisconsin. He was raised in Hartford – where he's a 2021 inductee into the Hartford Union High School District's Hall of Fame – and went to school in UW-Oshkosh before venturing deep into Cubs and Cardinals territory. After that three-year journey, he returned to his homestate and to the teams he cheered for as a youth, becoming an iconic figure around Sconnie sports ever since – whether that be as a fulcrum in TMJ4's sports coverage between 1987 to 2003 or as one of the key voices of the Milwaukee Bucks Radio Network for 25 years. That's not even including his current positions, helping set the table for exciting football Sundays with the Packers pregame radio show and serving as the longtime face of the sports department at Spectrum News 1 Wisconsin, hosting its Packers postgame show with LeRoy Butler and Gary Ellerson as well as "The Roundtable" on Mondays and Thursdays at 7 p.m. and 11 p.m.
Between the start of a new era for the Packers, the Brewers' playoff chase and the Bucks hunting another championship (or at least some more time with Giannis), we couldn't imagine a better time to catch up with Krause to discuss this arguably unprecedented moment in Wisconsin sports – as well as to chat about what he's all seen during his esteemed tenure as a sportscaster, staying sane in this new sports media climate and the health scare that changed his outlook on it all.
Enjoy this Milwaukee Talks with Dennis Krause:
OnMilwaukee: When was the moment where you started to realize sports could be a career? When you were watching sports and thought, "I want to be a part of that"?
Dennis Krause: I probably knew I wanted to be a sportscaster at like age five. That's not an exaggeration. I grew up listening to Jim Irwin and Eddie Doucette and those people – I was in Hartford at the time – and I knew that it was unlikely that I would be a good enough athlete to be in professional sports. But I thought: That's a cool job. And I'd listen to Jim do the morning sports on TMJ, and I just imagined being in that role.
Was there a sport that you played as a kid that was like, "…maybe I could be good enough"?
I was a very poor athlete who quit football. I ran cross-country and track, and I was cut twice from basketball. The coach was Bob Halsey, who was later the girls coach at Hartford. I did a live shot with him for Channel 4 after they won a game in Madison, and I started it with, "You know you cut me, right?" (laughs)
Cut you the first time, the second time or both?
He was the second time, not the first time.
Says something about you that you went back to try out a second time!
You know, I figured that cross-country had gotten me in shape; I'm ready to go. Didn't even last as long the second time. (laughs)
Then you went to UW-Oshkosh and worked at WRST. What was the biggest story, or perhaps the biggest memory, of your time there?
I don't know if I can say a big story other than the baseball team was very good, and they were always in the national playoffs, so that gave me the chance to do extra games on radio and TV. Russ Tiedemann was the coach there at the time; Gantner had been through there already. They had a great tradition of baseball at the time, so that was a lot of fun.
And also, during my tenure at Oshkosh is when the Wisconsin Flyers CBA team was playing in Oshkosh, so that gave me a chance to do pro basketball in Oshkosh while I was going to school. It was great experience.
Any memorable games from that?
I remember one time that the visiting coach for Albany was Dean Meminger, who obviously I grew up watching at Marquette. So I thought that was really cool.
As somebody who grew up in Wisconsin and grew up loving Wisconsin sports, how do you kind of close out that fan side of your brain when you're covering games? Or can you weave it in?
I think you have to divorce yourself a little bit from, "Oh gosh, I'm so honored to be here." You have to ask tough questions sometimes; if they're losing 42-0, you can't say, "Oh well, they took it on the chin today." You have to look at it critically. For me, it wasn't a hard adjustment. You kind of just know. They even announce it in the Packers press box: No cheering in the press box and we'll take your credential away if you do.
It sounds very selfish, but what you start to do is you say, "OK, how does this affect my life?" In other words, if this team goes to the Super Bowl, I'm going to have to be gone for ten days. That's a terrible way to look at it, but that's the way you do look at it as a sportscaster.
After Oshkosh, you went to Peoria for three years – the only time you worked outside Wisconsin. What was your Peoria time like?
Peoria was fantastic. I met my wife there, so I'll start with that. But also, the Cubs had a Class-A minor league baseball team there, so Greg Maddux, Mark Grace, Rafael Palmeiro, all those guys went through there while I was in Peoria, so it was a great experience. And actually, the manager there for the first year I was there was Joe Madden. And my boss was – and still is – the voice of Bradley basketball: Dave Snell. So I just had a great experience there. Most people, when they graduate from college, have to start at a TV station and shoot. I worked at a TV station and a radio station, which was perfect for what I wanted to do, so I would do the 6:00 sports, walk across the hall and do a sports talk show. It was great experience.
How have you stayed afloat in this constantly changing sports media landscape and media landscape in general for around 40 years?
Sheer luck. (laughs) I think you have to adjust, obviously, and you have to be lucky. I'm not kidding about that: You DO have to be lucky. You have to have someone that's willing to pay you to do what you're doing. I'm not saying that you don't have to have some talent and that you have to have perseverance, all those things. I had a stroke in 2012, and that was certainly a point where things could've went two ways, so I was lucky to come back from that and still be doing what I'm doing.
How much do you still think about the stroke?
I don't think about it that much, other than I had to change how I do things. I think I took things too seriously – not that I don't want to do a good job now, but you have to lighten up on yourself a little bit. Because I was literally making myself sick, and that led to the stroke because of high blood pressure. After that, it's like: I'm honored to be in this business, I still want to do a great job and I'm appreciative to the viewers and listeners that have given me this forum for this many years, but I also can't let it destroy me. And I think I was going down a path where it might've.
You were still in your 40s when that happened.
Yes. So I didn't know anything about strokes when I had one. I had to do speech therapy and physical therapy and occupational therapy and all that, because I couldn't even speak a sentence right after the stroke. I can remember one of the doctors saying, "How many NBA teams can you name?" When I was functioning fine, I could name them all – I could only name five or six. I lost a lot of that, and then you get a lot of it back. I don't know that I would say I'm 100 percent back, but 99 percent probably back.
I imagine there's a lot of life reassessment with something like that.
I mean, you have to consider: Do you still want to do this, and can you do it the way you want to do it and be successful? Because I want to get things right and take it seriously, but at the same time, nothing's worth destroying yourself over.
How do you feel where sports media is right now? You've got the ESPN/"First Take"-ification of everything and now players doing podcasts and so much change.
I would say this: I'm disappointed that the local sportscast is disappearing, because that's where I made my living for so many years. So I'm disappointed to see that. Twitter – or X or whatever – in some ways has been good, because if you see a story that's interesting, you don't have to wait until the 5 o'clock or 6 o'clock news to comment on it. I don't get involved in all of the back-and-forth on it, but just from a breaking news perspective, it's advantageous because you don't have to sit on a story. I remember, when I worked at Channel 4 for years, having a story at 1 in the afternoon and just being scared to death to sit on it until 5 o'clock, thinking who else was going to get it between now and then.
You say in your Spectrum bio that the Packers '96 Super Bowl was your favorite moment you covered, the one sports memory that stands out the most. Is that still the case?
I would say so. Because I grew up a Packers fan, and in the window when I was growing up, they weren't good. My kids were born in '92 and '93, so all they've known is contending. So, in the '96 season, to do what they did – to me – was remarkable. And then to be at Lambeau for the NFC Championship? I've covered three Super Bowls, but when you get to the Super Bowl, it's more of a corporate crowd. The fans at Lambeau that day were the Packers fans that had stuck with that team for years, so that's what made that event even bigger, in my mind, than winning the Super Bowl two weeks later in New Orleans.
On the flipside of that, what's the worst sports moment that you've covered in your career?
I'm not going to say any moment was bad, other than what's the worst feeling is when you know you've made a mistake. And it's out there. That's the one thing about what we do: If you make a mistake, it's public. And I hate that feeling, because there's always something I think I should've done to have gotten that right. So that's the worst feeling: knowing something you said wasn't entirely accurate and you just can't wait to get on again to correct it.
And it's written in pen now with the internet.
And that's the downside of Twitter/X. I've experienced that: You put something down there and you're trying to get it first, and you get something inaccurate there. That's a terrible feeling. It's like why weren't you thinking more before you were typing? That's an awful feeling too.
I was reading an interview with you about how you prep for Packers games, and you talked about how you make a file for each opponent – a physical file. Do you still make a physical file?
I do! I've got a physical file of the Chicago Bears sitting on my desk right now at home. Through the offseason, I collect little stories that might be worthwhile on the show, stick them in the file and then when that team comes up, it's there in the file. Now, I know you could do that by computer if you were of this century, but I still do it that way. And I find that writing it rather than typing it helps me remember it. I, in fact, did try several years ago to do it by computer, and it didn't feel as right to me. There's something about writing it by hand, scribbling it in my own writing – sometimes so bad that I can't even read it on air – it helps me when it comes to that show.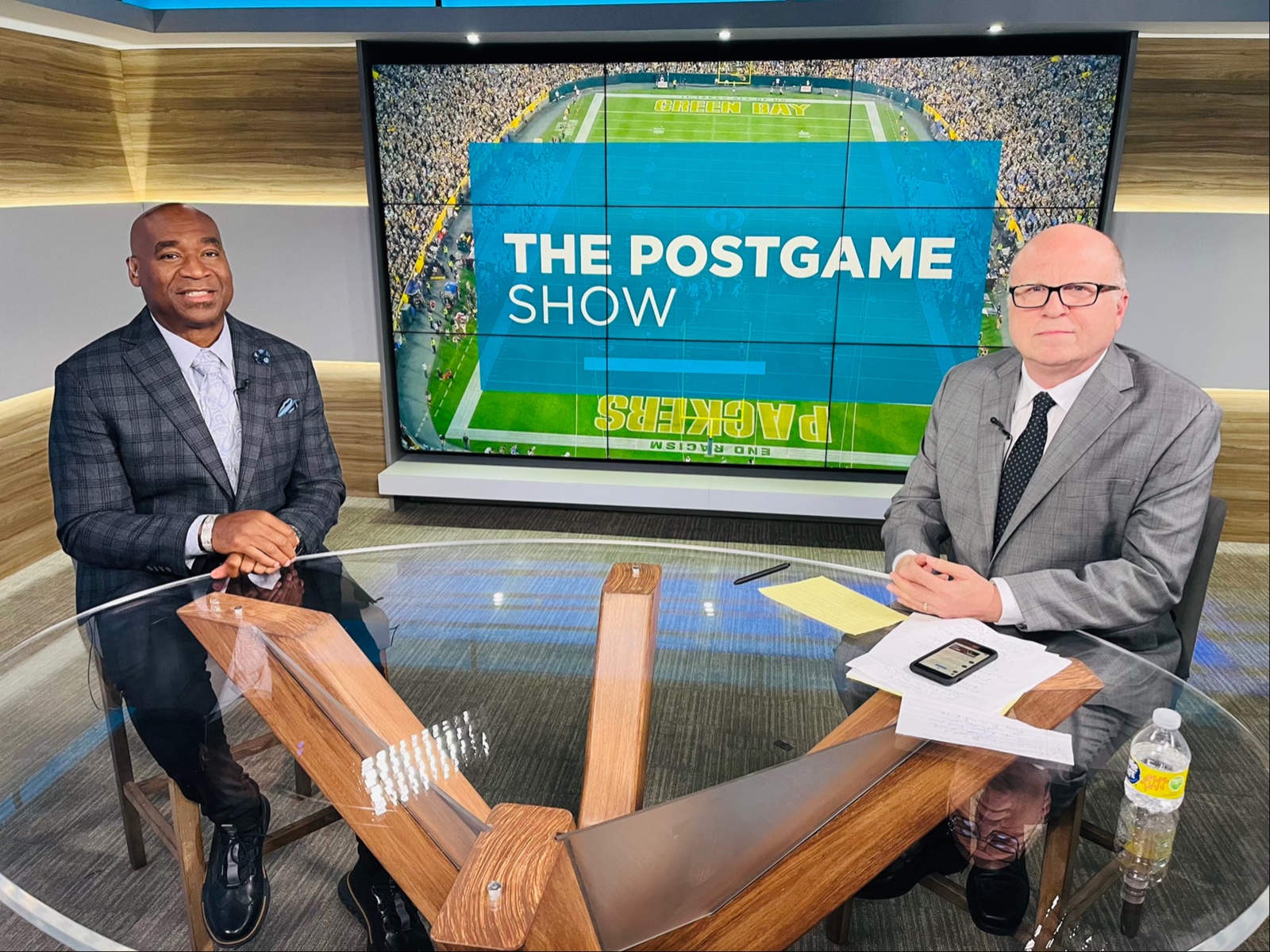 What is your prep work like for a Packers game?
To put in a plug for Spectrum News 1, doing the two shows a week with Gary and LeRoy helps me tremendously and being in Green Bay on a Wednesday, being in the locker room, hearing what the coach has to say. You don't have to write down every single word of that; it kind of just seeps into you. You know what the mood was; you know what he said about this. It helps me a lot to prepare for the pregame show. So how many hours do you spend on the pregame show? I don't know, because it's all week long and a continuous process. Plus, even in the offseason, you're adding things.
I'll give you an example: Several months ago, I remember reading that the Packers first-round draft pick Lukas Van Ness dates the sister of the Bears tight end, Cole Kmet. That's the kind of thing I'll write down and stick in the file – and then, when it's game week, it's there.
I'm always in search of the little interesting nugget. Whether it's the Packers pregame show or what I do on Spectrum News 1, what can you give them that they don't already know? So part of my routine is probably spending an hour a day on ussportspages.com; I don't read everything, but I'll probably go to like 40 different cities' newspapers, see what's there and if there's an article that might pertain to something I'm doing in the future, I'll make a note of it. That's very valuable to me.
Is it harder to do a Bears game or, like, a Jaguars game?
That's an interesting question. I think it's harder to do a Bears game, because Packers fans are incredibly knowledgeable. We talked about longevity earlier; I'm proud of that because if you don't know who the back-up guard is for the Packers, you're in trouble. Some fanbases don't know that; Packers fans do. So you better have your stuff together. So I'm proud that I've lasted that long in that regard.
But to your question, I think it's more fun for me to do a Jacksonville game because nobody around here is going to know all that much about Jacksonville.
Wisconsin and Milwaukee can be defensive or territorial about media figures, about outsiders who don't really know here or the culture or how to pronounce things.
Absolutely. When I came back here from Peoria – and I was only in Peoria for three years – one of the things I felt really good about was I knew how to say Waukesha or Oconomowoc. There wasn't going to be this sense of "who is THIS guy?" I'm not saying you have to be from here to be effective as a broadcaster. But I'm saying, in my case, it helps me because if someone talks about the Packers 1972 division title, I lived it. I watched it as a kid. I can tell you the coaches were wearing snowmobile suits in Minnesota for the clinching game. I just know that because I saw it.
Looking back, how do you feel about the Aaron Rodgers era of the Packers? Now with hindsight and retrospect, how do you view that tenure?
I guess I get a little upset when I see a lot of criticism about how they only won one Super Bowl. Super Bowls are hard to win, you know? Mike McCarthy is pictured as some buffoon. He's not a buffoon. He led them to a Super Bowl, and he deserves credit for that. We can all look back and say, "They had Favre and Rodgers; they should've won more than two Super Bowls in that 30-year stretch." Maybe so – but they won two. And there are a lot of cities that haven't won any. So that bothers me a little bit.
I think the Patriots skewed a lot of perspective on how we view greatness in the NFL.
And Boston as a city has been really spoiled with a lot of championships in a short period of time – but in their defense, they went a long time without championships too.
You talk about Boston's golden age. Would you say this is a Wisconsin sports golden age – and are we at risk of falling out of it? The Packers going through a lot of change, Giannis is hinting about maybe leaving in interviews …
I'm not about to say that we're heading out of it, but I do think you have a valid point. The Brewers have been in the playoffs more in recent years than they have in their entire franchise history. The Packers won the Super Bowl 13 years ago now but have been competitive since. The Bucks won the championship two years ago. The Badgers have been perennial football winners. Marquette has been in the NCAA tournament and was in the Final Four as recently as 2003. So you could certainly make a case. I think there were so many years of losing, so I think people actually appreciate it. I hope they do, because it's not always that good.
I remember the Brewers' opening seasons in Miller Park, losing 100 games, and now we're complaining about them not getting over the hump or being a "true contender" in the postseason. And I know some people think Packers fans are spoiled. Do you think Packers fans can be spoiled?
I would include myself in that group, because we've had it so good with the quarterback. In the NFL, it all comes down to the quarterback, and they've had either Favre or Rodgers since 1992. So that's a pretty darn good stretch. So, in that sense, yes. Because if you turn on Sunday Ticket or RedZone or whatever and you look at quarterback play around the NFL, it's not very good in a lot of cities. And we've had masters of their craft that we've been able to enjoy. What is Jordan Love going to be? I don't know.
But to your question about being spoiled, I think it's very important that fans don't get spoiled or jaded. Because it's not easy to win. In my mind, Craig Counsell is the best manager the Brewers have ever had. Ever. Is he perfect? No. But he's the best one they've ever had. And I think sometimes that gets lost. People are only focused on that particular game or that move, but if you look big picture at what he's accomplished – and I'm using him as an example – I think he's the best manager they've ever had.
Is this the most intriguing Packers season of your lifetime?
(Laughs) I would say it's the one with the most questions. When Rodgers was there, you thought they were a contender every year. Now you literally don't know what they're going to be. Are they going to be 4-13 or are they going to be 13-4? You don't know for sure. And I don't think even the Packers know at this point. I tend to think they're going to be pretty good. But they've had a long run of success. And there's a lot of teams out there to get them.
What are your expectations for this season?
I would say that my expectation is 10-7 and win the division. Now, will I be shocked and horrified if they don't? No. But to me, that's doable. I think Jordan Love's going to be very good. I think there are going to be bumps in the road, like there are for any player, but I think they're going to be good this year. And I also don't think the division they're in is super strong, so that gives me reason to think they can contend for the title. In that division – I don't think they're a Super Bowl team.
Obviously everyone's eyes are on Jordan Love, but is there a player that you're excited to see this season that could be a linchpin player?
I would say several, actually. I'm excited to see what Luke Musgrave is as a tight end. I'm excited to see what Romeo Doubs is as a wide receiver. I'm excited to see if Rashan Gary can continue the ascent that he was on. Those are just the ones off the top of my head where I'm really interested to see what they do, in addition to Jordan Love. Anders Carlson is another one.
The most stress-inducing person on Packers Twitter.
It's a tough spot! To be a rookie kicker, kicking in Lambeau when the winds are gusting in November and December? Hey, I loved Mason Crosby – but he wasn't perfect either. I mean, he had some bad games. But what we all do is we romanticize the past and only remember the game-winners he hit – which he did. But he also had some tough days. So I hope we can all kind of take a breath and say, OK, this is just a part of the learning curve that kickers – or, in Love's case, quarterbacks – go through.
I'm interested that you have eyes on Doubs over Watson in terms of impact receivers.
Just because from watching in the offseason practices and training camp, Love and Doubs seemed to have a real connection. When Love needs a default guy to go to, it might be Doubs.
Talking about expectations, what does the future look like for you?
I don't know. First of all, I love it at Spectrum News 1. The people are great, and the people are great to me. They gave me autonomy and respect and all that, and I enjoy the people I work with. I'm more toward the end of my career than I am at the start of it – that's just the reality of it. How long that goes, I don't know.
What's your favorite sports movie?
Do you consider "Caddyshack" a sports movie? Then I'd put that one. If no, either "Bull Durham" or "Field of Dreams" probably. I like "North Dallas Forty" very much – although Mac Davis as a quarterback was a little bit of a stretch. But I thought as a movie it was interesting, and Nick Nolte was really good in it. Those are the ones that come to mind.
If you could only go to one Wisconsin sports event – any sporting event, anytime in your lifetime – what would you choose?
A Homestead High School baseball game with my son in it. That to me would trump all that other stuff. It's bigger than that. That was just a different feeling; I was there as a dad, not as a reporter.
As much as it is a gigantic cliché to say that one has always had a passion for film, Matt Mueller has always had a passion for film. Whether it was bringing in the latest movie reviews for his first grade show-and-tell or writing film reviews for the St. Norbert College Times as a high school student, Matt is way too obsessed with movies for his own good.
When he's not writing about the latest blockbuster or talking much too glowingly about "Piranha 3D," Matt can probably be found watching literally any sport (minus cricket) or working at - get this - a local movie theater. Or watching a movie. Yeah, he's probably watching a movie.