Milwaukee musician, filmmaker and activist Ray Nitti is one inspired man who simultaneously works through myriad channels to create more opportunities for the city's creative class.
This year alone, the internationally recognized hip hop artist returned from a five year break from recording with a new single, "Reintroduction."
In a partnership with real estate developer Que El-Amin, Nitti has worked tirelessly on transforming the former Briggs and Stratton building on 32nd and Center into a creative corridor in the heart of the city that offers affordable housing and community space. The buildings have been vacant since the mid-1980s.
The corridor will include 197 residential units and 35,000 square feet of community service space for creative programming, basketball courts, chess space, community meeting rooms and a playground.
Nitti – whose birth name is Rayhainio A. Boynes – moved to Milwaukee with his mother from the Virgin Island of St. Thomas in 1997 when he was 13. The mother and son left the Virgin Islands to escape an abusive environment and found support in Milwaukee where Nitti attended Riverside University High School. During this time, he met mentors Kwabena Nixon and Muhibb Dyer who inspired him to release inner frustrations and anger through writing poems and later music.
In 2005, Nitti performed for first lady Laura Bush, and later traveled with fellow Milwaukee musician Cincere with Armed Forces Entertainment (AFE) to uplift the spirits of American troops.
When Nitti recorded the single "Bow" in 2009, it generated a buzz at Milwaukee radio stations and landed him a record deal with Next Plateau Entertainment. Nitti also wrote an R&B song for Rico Love, who is signed to Usher's record label, US Records.
OnMilwaukee: You recently released a single, "Reintroduction," after a four or five year hiatus from recording music. What were you focusing on during that time instead?
Ray Nitti: I was still writing, just not as much, during this time. But in place of recording, I was focused on the corridor project.
Why is the corridor project so important to you?
I want to do what I can to help retain creative talent in Milwaukee. I've given this my all to see it come to fruition.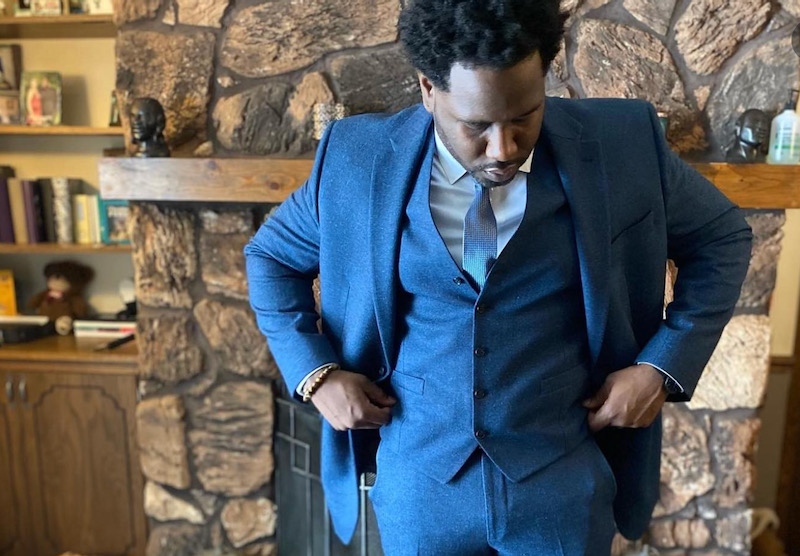 Tell me more about the corridor project.
It's the largest affordable housing development in the city, in the heart of Milwaukee between 29th and 33rd and Center Street. Milwaukee needs more affordable housing, and I care about Milwaukee so I saw this as an opportunity to provide something Milwaukee really needed. I was inspired by Tulsa's Black Wall Street that flourished in the early 20th Century and then was destroyed by White residents. I'd like to recreate something like Black Wall Street here.
Milwaukee is one of the most creative places I've ever been to – and I've traveled all over the world. The corridor will create affordable living space that will give creatives the opportunity to stay here to learn, earn, network, create and be a part of change.
I want Milwaukee kids' truth to be "I can go to Center Street in Milwaukee and get connected with everything I need to be a creative success."
And moving to the next level of the corridor project led you back to music?
Yes. After finally achieving everything I needed – credits, permits, etc. – I felt an incredible amount of relief and finally felt like I had my creative capacity back. Rap is a sport for me, and it felt good to get back in the game. And because I was away from recording for a while it was a way to literally reintroduce myself and to show my growth. And I had some things I wanted to talk about.
Like what?
The influence the creative culture has on Milwaukee's political landscape and the power we have behind our voices. The trajectory of our voices will reach the next generation.
This spring you also released a song musicians called "Mask On It." What was the mission of this song?
It was a partnership with the Medical College of Wisconsin and the Creative Health Collective. I recorded the song with 14 other musicians as a way to raise awareness of the high statistics of Black and Brown people with COVID. We wanted a creative message that would really get through.
What else do you have on your plate for 2021?
I have more creative projects. I wrote and presented a film, "Champion Style," that was part of the Milwaukee Film Festival. And I'm gonna keep writing and making music while working towards the corridor's opening next summer.
Anything else you'd like to say to Milwaukee?
It's time Black and Brown people win. We have been handed so many losses. I am OK with us having to create our own wins. I know it takes a lot of hard work and help from others. I believe that when Black and Brown people are finally doing better in Milwaukee, it helps all of Milwaukee County and eventually all of Wisconsin, the Midwest and so on.

Molly Snyder started writing and publishing her work at the age 10, when her community newspaper printed her poem, "The Unicorn." Since then, she's expanded beyond the subject of mythical creatures and written in many different mediums but, nearest and dearest to her heart, thousands of articles for OnMilwaukee.

Molly is a regular contributor to FOX6 News and numerous radio stations as well as the co-host of "Dandelions: A Podcast For Women." She's received five Milwaukee Press Club Awards, served as the Pfister Narrator and is the Wisconsin State Fair's Celebrity Cream Puff Eating Champion of 2019.