"Bar Month" at OnMilwaukee.com – brought to you by Stoli Vodka, Altos Tequila, Fireball, OR-G, Jim Beam, Plymouth Gin and 2 Gingers – is back for another round! The whole month of February, we're serving up intoxicatingly fun articles on bars and clubs – including guides, the latest trends, bar reviews, the results of our Best of Bars poll and more. Grab a designated driver and dive in!
There are no shortage of cocktails to try on any given weekend when out for brunch. I tend to gravitate towards the traditional Bloody Mary when trying a place for the first time -- if they can't do a Bloody right it could send the whole brunch into a tailspin!
Luckily, most Cream City restaurants can make a pretty good Bloody -- here are Milwaukee's Best Bloody Marys -- but have you ventured past the traditional brunch partner?
Here are 5 to die for:
1. Pizza Man, House Bloody Mary (made with gin)
I realize many don't think of Pizza Man for brunch. I mean -- why would you when you can go for some of the best pizza in town for dinner? While you can certainly order your traditional Bloody Mary -- you should try the house version with gin. Gin has grown on me in recent years -- and the Pizza Man Bloody Mary only made me like it more. Plus, that ball of mozzarella!
2. Movida, Bloody Maria (made with tequila)
Headed to brunch today? Try MOVIDA or these other three great spots! http://t.co/XLen7Ih1mO @onmilwaukee pic.twitter.com/u7sTUlKHBH — MOVIDA (@MovidaMke) December 14, 2014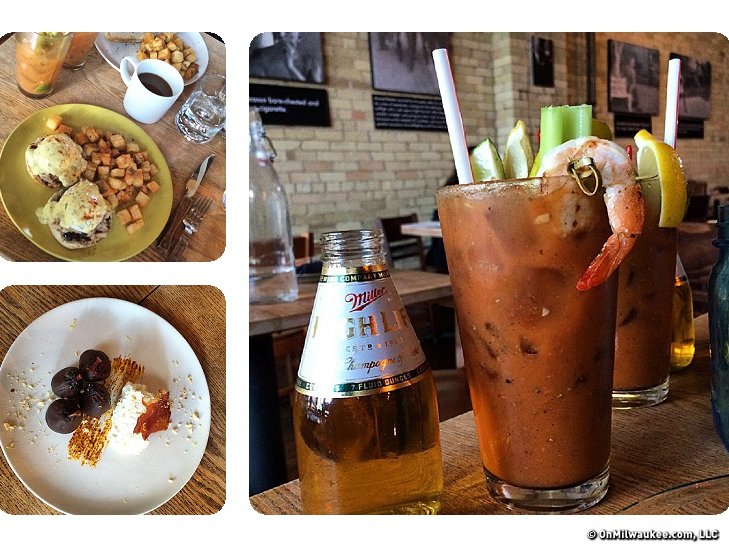 Movida has its own spin on the traditional bloody too -- here comes the Bloody Maria. This version is different because it is tequila based -- but also because it is made with their house-made Gazpacho instead of a traditional tomato juice base. I loved the slight smokiness of the drink and the marinated shrimp didn't hurt!
The Beermosa mixes your classic orange juice with beer instead of champagne -- very Milwaukee. Benelux's version includes their own High Speed Witbier with it -- which is one of my favorite beers in the city.
You can get a mimosa at just about any brunch -- we all know that. What I love about the Hi Hat Garage version is that it is served on ice. Simple, I know. But a warm mimosa is nasty and the addition of ice makes all the difference -- especially in the summer when sitting in the beautiful Milwaukee sun.
On a cold wintry morning when you are craving something to warm your heart, head to Story Hill BKC for the Chocolate Orange. What doesn't sound delicious about Grand Marnier, Indulgence Chocolate, espresso, milk and cream? I'll take another one.
What are your favorite non-traditional brunch cocktails? Chime in on social media or below!
Carolynn Buser is one of Milwaukee's loudest and most adamant cheerleaders (don't dare try to disagree). She's the primary voice behind much of OnMilwaukee's social media and content direction, and apologizes in advance if she can be too sarcastic at times.
What else? She's a wine lover, closet trashy novel reader, beauty supplies addict and devourer of cheese (shocker for a Wisconsin born and bred girl, right?). She's also a bit of a foodie, which is a word most of you hate, we know. She works as hard as she plays - and that includes in the gym! So, you've probably seen her at one of the area's newest restaurant openings (and yes, she will share her opinions good or bad) or enjoying a cold one at a local pub.
All in all, Carolynn's a believer in positive thinking and will do her best to smack down your negative ones while writing about her city, her loves, quests and more.