A little over two weeks ago, OnMilwaukee.com reported that the owners of the Milwaukee Bucks were negotiating to purchase the Journal Sentinel buildings, a block commonly known as Journal Square, with the intention of using the space as the site for a new multi-purpose arena.
While news is coming – Bucks co-owners Wes Edens and Marc Lasry have both said a site will be named by the end of the year – we're still waiting for official word.
So, we had our good friends at ScopeBridge LLC help us visualize what an arena could look like in the Journal Square area – and show that a multi-use stadium could indeed fit within that area just off the Milwaukee River and Pere Marquette Park.
The view looking northwest from the corner of Kilbourn Avenue and North 3rd Street:
The view looking southwest from above the Milwaukee River, showing the green space of Pere Marquette Park:
The view looking east on Kilbourn just west of 4th Street:
One feature of the Journal Square block that may be appealing to Bucks management is the idea of setting the court and some seats below street level.
Here are some views of what an arena could look like from the inside: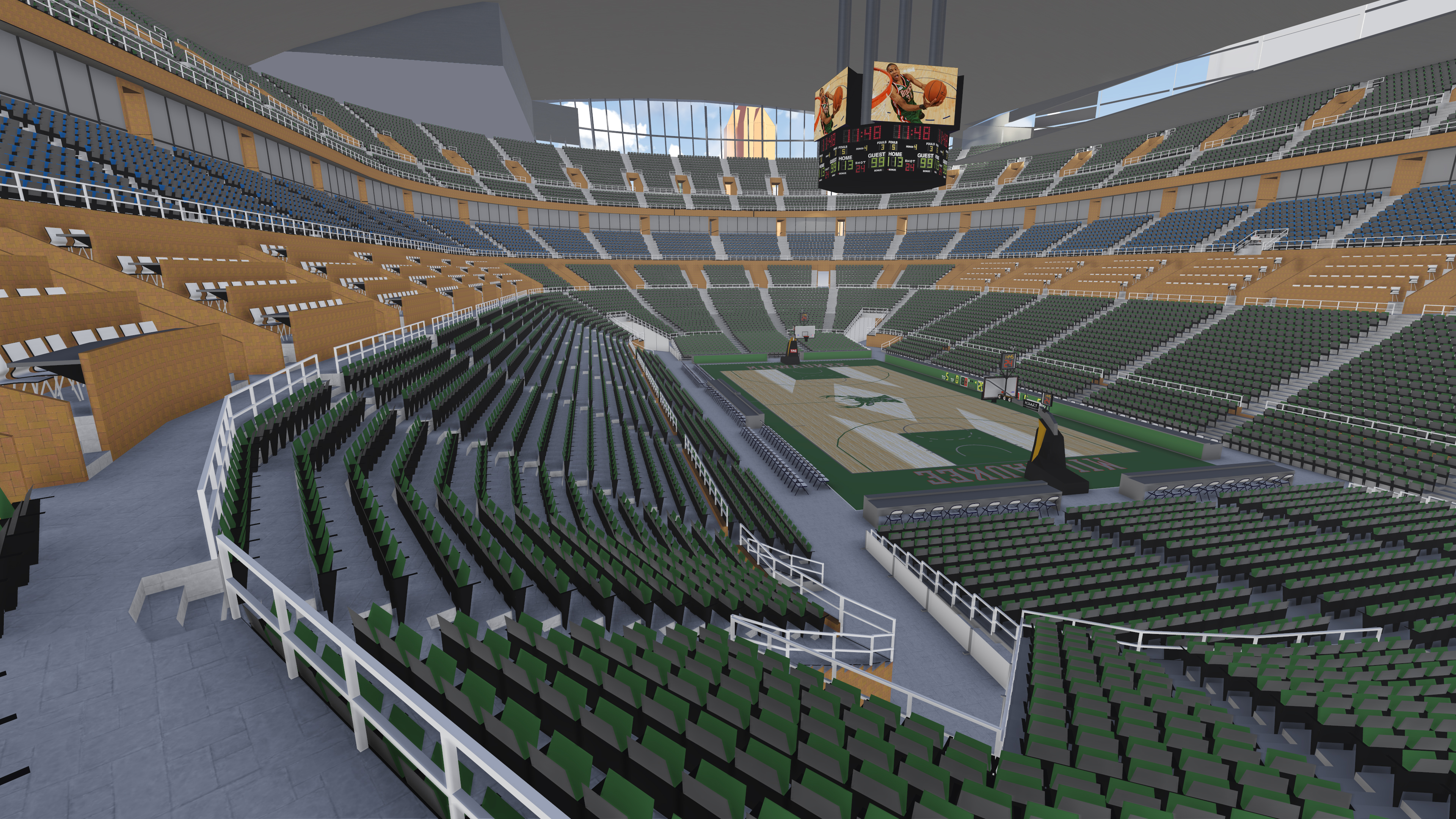 Such a design could allow for natural light to be part of the interior of the arena:

And here is a cross section the lower bowl:


ScopeBridge LLC is a Milwaukee-based integrated design and construction consulting firm focused on utilizing technology to add value for its clients with services that include architectural design, space planning, 3D renderings and BIM consulting. The company also provides design and construction consulting services for the corporate and industrial, healthcare and government sectors. ScopeBridge received the 2014 Rising Star Disabled Veteran Business award at the Governor's Marketplace Wisconsin 2014 Conference.
Jim Owczarski is an award-winning sports journalist and comes to Milwaukee by way of the Chicago Sun-Times Media Network.
A three-year Wisconsin resident who has considered Milwaukee a second home for the better part of seven years, he brings to the market experience covering nearly all major and college sports.
To this point in his career, he has been awarded six national Associated Press Sports Editors awards for investigative reporting, feature writing, breaking news and projects. He is also a four-time nominee for the prestigious Peter J. Lisagor Awards for Exemplary Journalism, presented by the Chicago Headline Club, and is a two-time winner for Best Sports Story. He has also won numerous other Illinois Press Association, Illinois Associated Press and Northern Illinois Newspaper Association awards.
Jim's career started in earnest as a North Central College (Naperville, Ill.) senior in 2002 when he received a Richter Fellowship to cover the Chicago White Sox in spring training. He was hired by the Naperville Sun in 2003 and moved on to the Aurora Beacon News in 2007 before joining OnMilwaukee.com.
In that time, he has covered the events, news and personalities that make up the PGA Tour, LPGA Tour, Major League Baseball, the National Football League, the National Hockey League, NCAA football, baseball and men's and women's basketball as well as boxing, mixed martial arts and various U.S. Olympic teams.
Golf aficionados who venture into Illinois have also read Jim in GOLF Chicago Magazine as well as the Chicago District Golfer and Illinois Golfer magazines.