An ethereal sculpture that combines a mix of new, re-used and recycled material has landed in Green Bay, floating out of the creative mind of Brandon Minga.
According to a press release, "the larger-than-life jellyfish, a midwestern industrial-inspired creation, will offer the impression that it is floating within the vacant greenspace in downtown Green Bay."
Minga had started work on the jellyfish back in late 2020 when he first began work on opening The House of Rad.
"The underpinning of most of the work I create is based on the idea that humans know not what they do, and how what they create long outlasts them," said Minga. "More specifically, it's an exploration of the machines/robots created, and the relationships between them, their creators and their surrounding natural environment.
"The 'Salva-Jelly,' is no exception, exploring what a mechanically evolved jellyfish might look like collecting plastic bottles for its bioluminescence ... I love jellyfish and octopuses, and I've made smaller jellyfish-like creatures in the past, so I was super stoked at the opportunity to create a giant one."
When I was first analyzing the work, I was coming at it via the Latin translation of "Salva" – to "save" – which would make sense from a climate change point of view; while increased jelly fish populations point to rising ocean temperature, a hero jelly who comes via recovered waste materials to collect plastic bottles out of the ocean makes sense.
But I missed perhaps the more obvious the play on words.
"Essentially 'Salva,' is short for 'salvaged,'" said Minga. "Salva-Jelly was constructed from a mix of recycled, reused and new materials. 25% of the steel has been reused from the drops of the "Together Feathers" sculpture I created for the Uptown Crossing pocket park on 56th and North in Milwaukee. The plastic bottles were collected from our studio mates and neighbors at the House of RAD."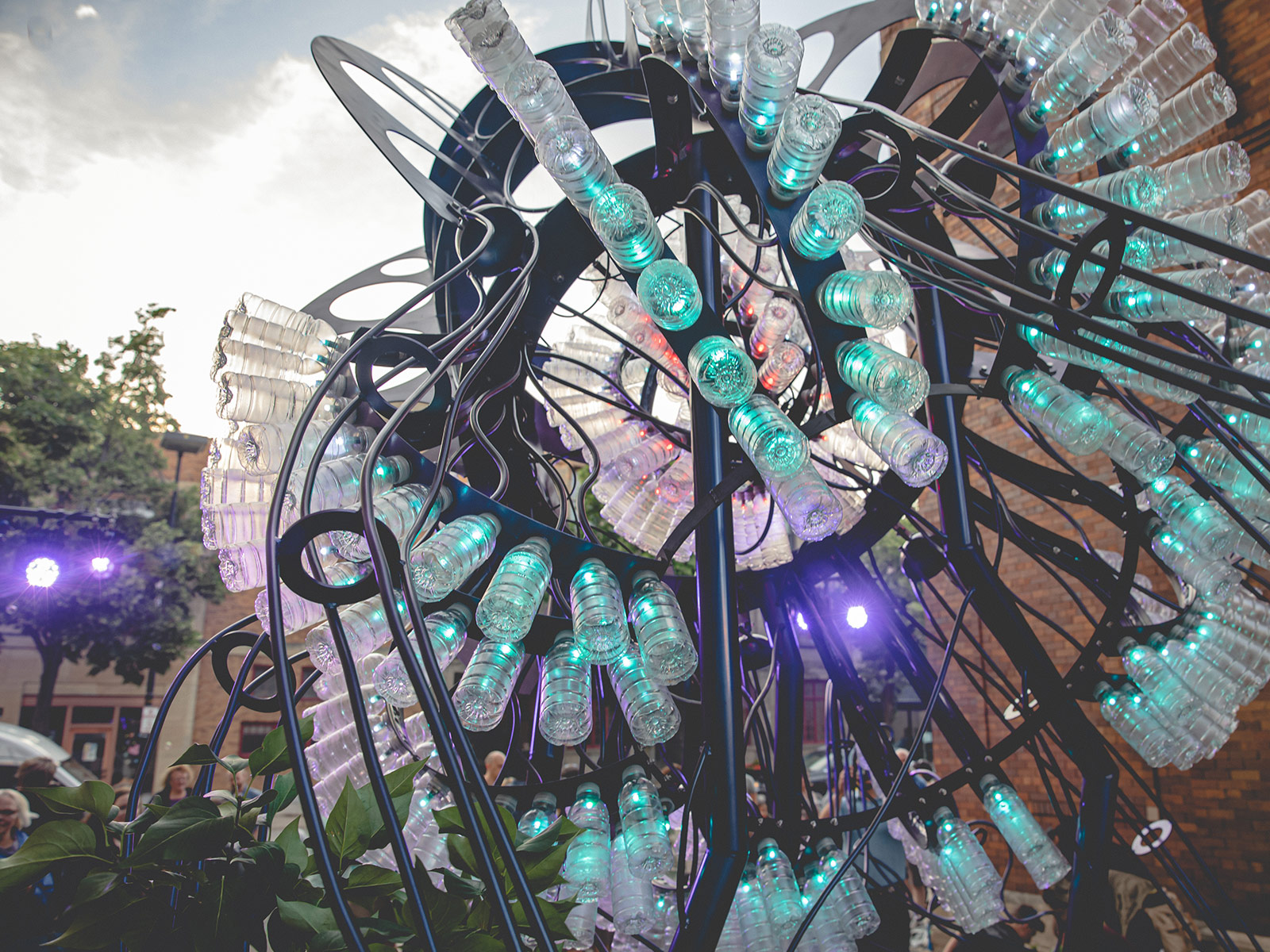 The large-scale, complex and multi-discipinary piece, with its huge form, arcing tendrils and programmable LEDs, required a bit of problem solving to get into its final form.
"How to hide all the electrical was one of those complications," Minga said. "We came up with a caulk and automotive tape solution that hides the wires and is barely noticeable. The height of the sculpture was also challenging, as we maxed out our ceiling height building the thing.
"In solving how to attach the Vitamin Water bottles to the sculpture while still having room for the lights to be wired and fit inside the bottles we discovered rivet nuts; they are pretty amazing. This being our second adventure with solar power we upgraded our hardware and process and in doing so the programming became rather complex. We had to figure out how to go from DMX programming to Raspberry Pi Python. Turns out there is a third-party converter that will let you capture and trigger events."
Transportation was also an issue.
"In order to transport the sculpture, it needed to be built in two sections: the cap or head, and the base," he explained. "Everything else is attached to the underside of the cap. Having maxed out our height limit, it was very tricky to get the sculpture apart for finishing and delivery. On the way up, we drove straight into a pretty wicked storm pushing us onto the rumble strip on the interstate. However, when we arrived on site, the sky cracked and it stopped raining altogether; it was amazing."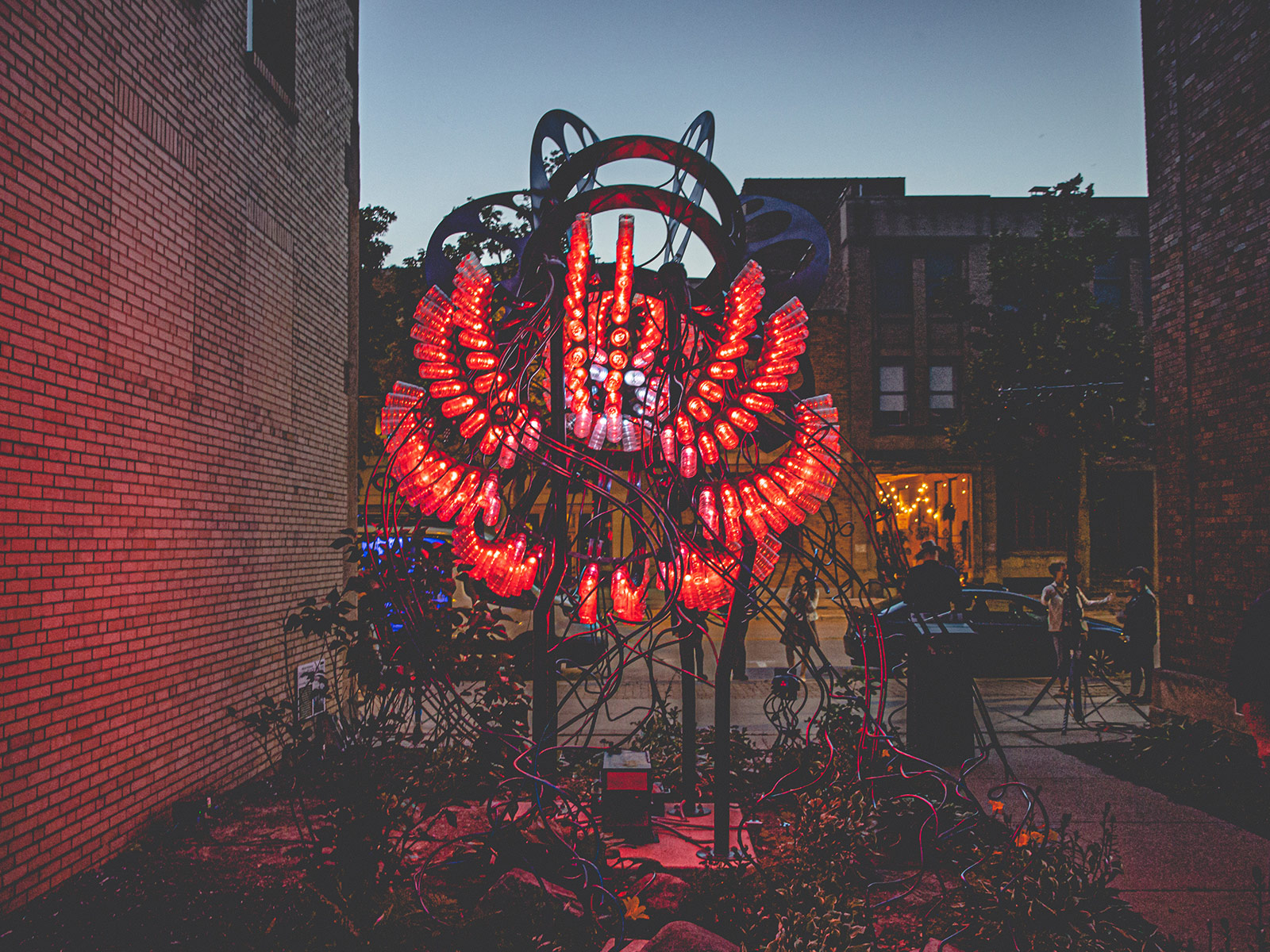 The permanent piece was brought about by the Green Bay Public Arts Commission and funded through the Community Development Block Grant funds from the Redevelopment Authority of the City of Green Bay.
"The Green Bay Public Arts Commission and Redevelopment Authority were looking for something out of the ordinary that would draw people to the downtown area," Minga said. "I submitted my giant solar-powered light-up jellyfish and by popular vote, I won."
So what's next?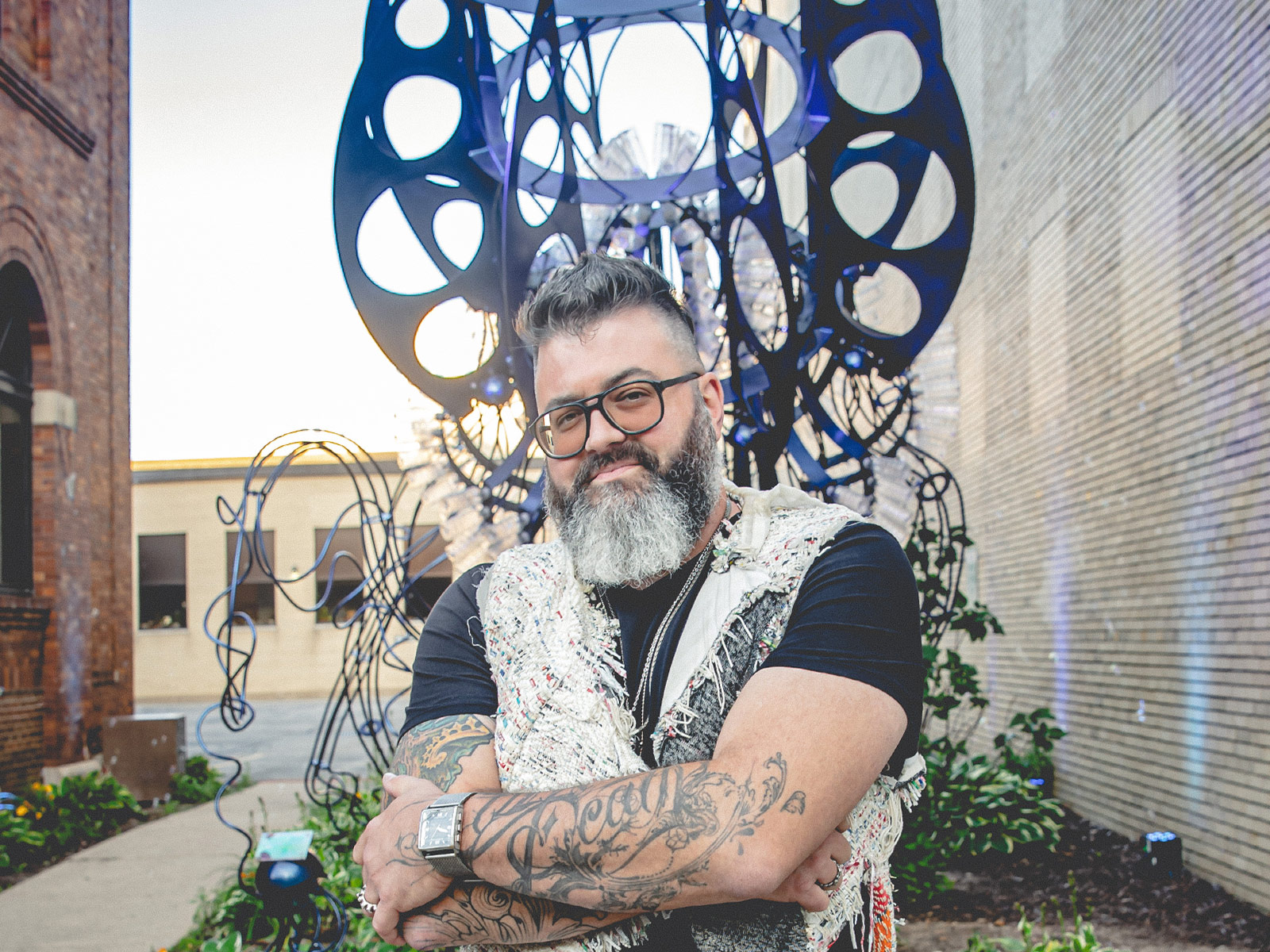 "I'm always hustling looking for my next project so I've got several things in the queue. I'm working on a dancing figure public sculpture to be installed at Bayshore Mall in the Yard. I'm collaborating with Saint Louis Studios on a neighbor marker project for the Near West Side Partners that has seven, three-sided, twelve-foot tall sculptural signage pieces. I'm also working on a 20' by 30' mural for the NWSP in the Coldspring Park neighborhood.
"I'm also a chair on the committee that meets year-round planning for our largest event, Feed Your Soul (FYS). FYS is a one-of-a-kind annual live art benefit that the House of RAD will host on Nov. 5, which has raised over $900,000 – or 2.7 million meals – for Feeding America of Southeastern Wisconsin. We are also expanding the House of RAD by another 15,000 square feet this fall adding room for more artists, musicians, makers, creators and like-minded individuals.
"There's a lot going on but I wouldn't have it any other way; it's feast or famine out here for all independent creatives."
Jason McDowell grew up in central Iowa and moved to Milwaukee in 2000 to attend the Milwaukee Institute of Art and Design.
In 2006 he began working with OnMilwaukee as an advertising designer, but has since taken on a variety of rolls as the Creative Director, tackling all kinds of design problems, from digital to print, advertising to branding, icons to programming.
In 2016 he picked up the 414 Digital Star of the Year award.
Most other times he can be found racing bicycles, playing board games, or petting dogs.