"For years, if anyone bothered to think of it all, the gay community in Milwaukee was thought to consist of some guys hanging around Juneau Park restrooms or sitting in a seedy little tavern across from the Arena." – columnist Joel McNally, Milwaukee Journal, August 7, 1977
When I was a child, my family made an expedition to the Holiday Folk Fair every November. The ritual was the same every year: My family would drive Downtown in one very packed vehicle, park in the seemingly endless surface lot on 4th and State, and walk down 4th Street to MECCA.
Every year, I'd catch a glimpse of people standing outside the Mint Bar, 422 W. State St. I'd always wonder what was going on inside this oddball little tavern. I'd hear Folk Fair patrons making rude and confusing remarks under their breath as they hurriedly walked past in judgment. Somehow, the Mint Bar had a mysterious power to terrify and thrill people.
Years later, my mother revealed something hilarious to me: As a teenager, she and her friends had gone Downtown and gotten "dolled up" at the Boston Store with cosmetics, wigs and fancy dresses. After their shopping spree, they went over to the Mint Bar for drinks. They thought they were mighty cool, being served underage, until they had a moment of clarity.
"There were no other women in the bar," my mother said, "and the only man who approached us was more interested in our wigs than our age. When the bartender complimented us for being 'convincing queens,' we suddenly realized we were in a gay bar, and everyone thought we were female impersonators."
I may have been 12 years old, but the Mint Bar suddenly sounded amazing.
During the great Downtown reinvention of the 1980s, dozens and dozens of buildings disappeared from the heart of Milwaukee. One year, the Mint Bar vanished too. Thirty-one years after its demolition, there's no evidence the Mint Bar even existed. There's no tribute of any kind to one of the earliest and brightest-burning beacons of LGBTQ Milwaukee or the kind and generous owners who made it all possible.
And that's really a damn shame.
PHOTO: Collections of the Milwaukee Public Library
Today, the Mint Bar would be considered a dive bar. There was absolutely nothing fancy about it. The building was only 51 by 50 feet in size – far smaller than the average Starbucks – and its linoleum floors and faded walls had barely been remodeled since its days as an A. Gettleman Brewing Company tavern. What it lacked in size and statute, the Mint Bar made up with enthusiastic heart and soul.
At the same time, the Mint Bar would be considered a local historic landmark. For a full generation before the Stonewall Riots, owners Angelo and Bettie Aiello were creating a safe and harassment-free haven for Milwaukee's emerging LGBTQ population. Between 1949 and 1986, the Mint Bar openly operated as a gay-friendly bar within walking distance from the police station and courthouse.
The bar's twelve counter stools were occupied by every possible walk of life: police officers, judges, attorneys, journalists, city officials, vagrants, conventioneers, brewery workers, educators, drag queens, streetwalkers, rock stars, grifters, circus performers, strippers and, as it's rumored, a closeted celebrity or ten.
PHOTO: Wisconsin LGBT History Project
The Mint Bar witnessed Westown at its best and at its worst, weathering postwar blight, urban flight, Downtown vice and superblock-style renewal. It "came out" as a gay bar at a time when homosexuality was still classified as a criminal act, a mental illness, and a source of shame and rejection. Along the way, its owners fostered the future of LGBTQ Milwaukee in a way they never expected.
Secret origins
The Mint Bar property was constructed around 1902, when the Milwaukee Common Council first issued J.L. Gaines a saloon license for this address. At the time, State Street was still lined with wooden farmhouses. The business changed hands at least ten times in its first three decades. After Prohibition, Fritz Gettleman acquired 35 Milwaukee taverns – including the Mint property – as brewery-tied taverns. The popular Bowlers Club Tavern opened here in 1933 and operated until at least 1947.
After World War II, Milwaukee officials resurrected their long-lost City Beautiful vision for a central Civic Center. Dozens of historic buildings between Wells, Highland, 4th and 6th began to fall for the construction of the Milwaukee Arena. Almost everything on the north side of State Street was razed for Arena parking, including a building that originally wrapped around and above the tavern property.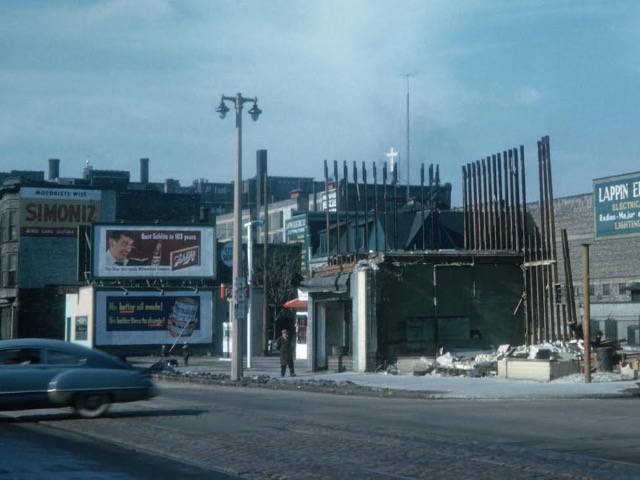 PHOTO: Milwaukee County Historical Society
Although the Bowlers Club Tavern had been scheduled for demolition, it somehow escaped its death sentence. Inexplicably, the "little tavern that could" overcame the "everything must go" mindset of the times to live another day.
Restored to life, the Mint Bar debuted at 422 W. State Street in 1949. Originally operated by businessman Christ E. Mares, the bar and grill served Milwaukee Arena customers from day one. It seems to have quickly attracted a red light reputation, since two of its bartenders were sent to the House of Correction on "morals charges" in the 1950s. The exact nature of these charges is lost to history.
LGBTQ elders remember a "Legion Bar" on N. 6th Street between Wisconsin and Wells where gay men could somehow meet discretely in a backroom area "just behind the jukebox." Historical records point to this bar being the Nicholas Marmigas tavern at 743 N. 6th Street, next door to the original Hellenic Post 419 of the American Legion. Both the Mares and Marmigas families were members of Milwaukee's Greek community and the Hellenic Post, and there seems to have been some crossover between their businesses and intermarriage between their families. Ultimately, the Marmigas tavern was razed for Civic Center renewal between 1948 and 1950, along with most of the adjacent buildings.
Angelo Aiello, who had worked at the "Legion Bar," moved over to the Mint Bar. He quickly became the heart and soul of the business. When Mares retired in 1961, Angelo took full ownership, and the bar was often known as "Angelo's" or "Angelo's Mint" no matter what name was on the sign out front.
PHOTO: Bunny
Although the Mint spent most of the 1960s camouflaged in billboards, it made no attempt to hide who it was or what it embraced. Everyone was welcome – no matter what race, gender, expression or identity. As early as 1963, the Mint Bar was already listed in national mail-order gay guides, like the Lavender Baedeker. It became the anchor of a pre-Stonewall gay loop that included the Clifton Tap (336 W. Juneau Ave.), Sally's/GayTime Pub (731 N. 4th St.), the Belmont Coffee Shop (751 N. 4th St.), the Royal Hotel Bar (435 W. Michigan St.) and Castaways (424 W. McKinley Ave.), the first place in Milwaukee where men could dance together in public.
In 1971, the Mint Bar started publicly promoting itself as a "male bar" and later "Milwaukee's original gay bar." Angelo Aiello's long-term success inspired everyone from upstart Walker's Point bar owners to the Balistrieri crime family, who unsuccessfully sought to duplicate Angelo's model at other venues. By the 1970s, over 36 known gay bars had already opened and/or closed in Milwaukee, but the Mint Bar still developed a fiercely loyal following. For many years, the Mint didn't even have to advertise. Everyone just knew where it was and what it was.
PHOTO: Wisconsin LGBT History Project
"People who worked at Johnnie Walkers, or Chapman's, or Boston Store always thought they were holier than thou," said Bunny, a Milwaukee LGBT History Project contributor connected to the Mint Bar as far back as 1949, "and they tended to hang out at bars that tried to impress people. The Mint Bar didn't care if you were impressed, and neither did the people who went there. It was a come-as-you-are party, every day of the year, except New Year's Eve when everyone dressed up in their finest and stayed out all night!"
"The Mint was the first gay bar I ever went to," said Larry, another Wisconsin LGBT History Project contributor. "After finals at MATC, a group of us decided to go there. I was just a country boy who liked boys and never knew such places existed. It was like going to a candy store!"
"In 1976, This Is It was for men in suits, and the Mint Bar was for men in jeans and sweatshirts," said longtime community member Paul Toonen. "I worked and lived Downtown, so I gave the Mint Bar a try. There were about 10 guys in there over the noon hour. One was sleeping on the bar. The guy next to me was so drunk that he wet his pants at the bar. Nothing a bucket of bleach couldn't take care of. The bartender didn't mind, because they knew life was hard outside those doors."
PHOTO: Bunny
While the Mint's close-knit family feel built a strong and consistent culture, some feel it worked against the bar's long-term sustainability. Whenever a stranger would walk into the bar, everyone noticed them immediately. As longtime patrons aged into their senior years, the Mint became known as the "granddaddy of the gay bars," which made it difficult to attract the next generation of customers. During the disco era, night clubbers were more likely to choose the Factory, Park Avenue or Red Baron experience than the corner taverns of the 1960s.
Looking back, it is amazing that the Mint survived almost forty years in the heart of the Civic Center. Patrons share that the Mint was rarely, if ever, raided. There were several reasons: It was too small to enable the dancing and cabaret violations that other gay bars were busted for; it drew a more mature crowd which reduced the risk of underage drinking charges; and bartenders could supervise everything happening in the space – and they took that job very seriously.
Most importantly, the Aiellos had an outstanding relationship with the Milwaukee Police Department, and the police treated them very well.
"Beat cops could see right into the bar from the street whenever they wanted to," said Bunny. "Think about it. Anybody who leaves their blinds open doesn't have much to hide."
Changing times
Angelo Aiello passed away on February 7, 1978, leaving his widow Bettie, two children and four grandchildren. Bette, Rosie and Tracy kept the business going for nearly a decade. Even now, the original Mint Bar is warmly remembered for its cast of colorful characters.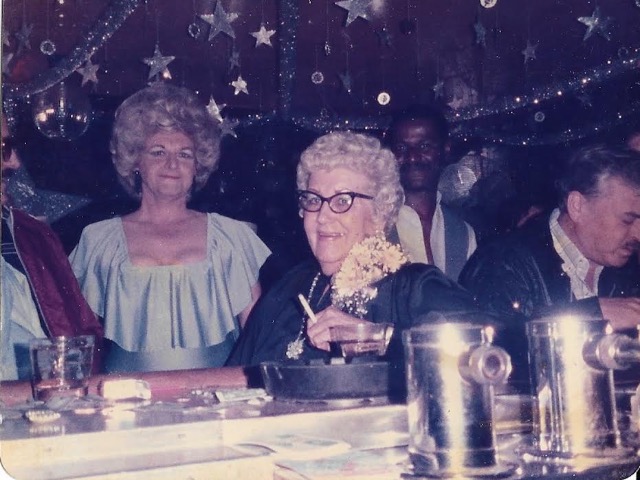 PHOTO: Bunny
"Any time you went to the Arena or Auditorium, you just had to pay homage to the Mint Bar," said Karen Valentine, a drag performer and hostess in the area. "It was just a tiny, corner tap, but it offered a feeling of comfort and safety. The Mint also served up personality plus behind the bar, including little Rosie, who was an inch taller than the bar itself. She was a true character! There was also the glamorous Tracy, the first and most visible trans woman working in a Milwaukee bar. The Mint Bar was her beehive – if you will!"
"When Rosie was bartending, it would set her off if you left your empty drink glass closest to you on the bar, because she was too short to reach it," said Jamie Taylor, curator of the History of Gay Milwaukee Facebook group. "She was a tough cookie. Trust me, she would read you the riot act if you pissed her off."

"We would stop and buy 'package goods' and have shots before shows at the Arena," said local designer and stylist Bjorn Olaf Nasett. "The bar had a certain smell, like old cigarettes, stale beer and a certain timeless perfume. Déjà vu!"
When the $53 million multi-block Bradley Center project was proposed in 1985, the Mint Bar was one of seven properties acquired for the site. The 83-year-old tavern sold for just $92,900. On June 28, 1986, the Mint hosted a wake for its State Street location, complete with black wreath, black balloons, tombstones and a "rest in peace" banner. Although the bar's maximum capacity was only 50 patrons, more than 300 attended the ceremony in black armbands.
Bradley Center construction began on Oct. 20, 1986. By the time the facility opened on Oct. 1, 1988, the Mint Bar had been so effectively erased that most people forgot it ever existed.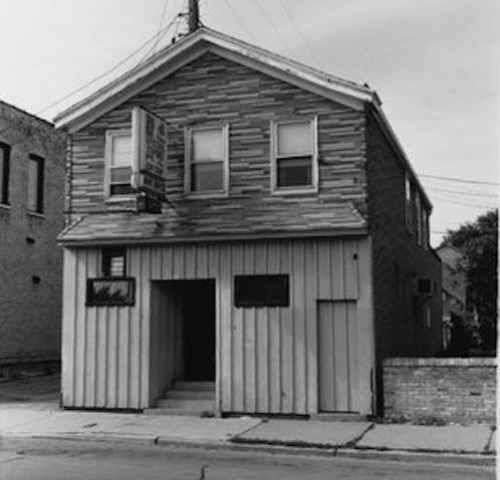 PHOTO: Wisconsin LGBT History Project
Bettie promised a resurrection party when the Mint Bar reopened as its new address, 819 S. 2nd St. The Decision, an early Walker's Point gay bar, had briefly operated at this address in the mid-1970s. The Mint's rebirth was similarly short-lived. After the Mint's 40th anniversary party in May 1989, the bar's popularity dwindled. The bar, which thrived in the heart of a 24/7 Downtown, now lacked the foot traffic of a Civic Center location. Its devoted following was destabilized and began to disperse to other bars. Many of its older patrons simply stopped going out.
PHOTO: Courtesy of Jamie Taylor
"After the Mint moved, it lost its cache," said Karen Valentine. "Maybe they didn't change enough with the times, but back then, there was just so much competition. After all, there were over two dozen gay bars in the city in 1990!"
"It just wasn't the same," said Bunny. "The space was different, the neighborhood was different, the people were different. Everything that made the Mint the Mint was lost in the move. People stopped coming – even Bettie and Rosie stopped coming as much as they used to."
When Bettie Aiello finally retired in 1991 at age 69, the Mint Bar held a 42-year record as the longest-running gay bar in Wisconsin. The bar was renamed BJ's Mint Bar to reflect new ownership. However, Bettie passed away in April 1992, and the Mint Bar name was formally retired for the first time in 43 years. BJ's, as the bar became known, closed a year later. Fluid, which opened at this location in July 1998, continues a successful two-decade run to this day.
Rosie, who retired after serving the Mint Bar for 19 years, passed away in 2004.
The Mint Bar was truly the last of its generation of gay bars. It had the potential to be Milwaukee's Stonewall Inn, serving as a visible and accessible landmark to who we were and how far we've come. It could have become a living museum, whose walls would talk and teach future generations about the importance of their history and heritage.
Instead, we're experiencing a strange sense of cultural amnesia as we slowly lose not only all sense of this place, but also everyone who actually experienced it. As Milwaukee continues to lose its LGBTQ landmarks and elders, the need to document, preserve and celebrate our history only becomes more critical.
Want to learn more? Explore nearly 100 years of local LGBTQ heritage at the Wisconsin LGBT History Project website and the new book, LGBT Milwaukee. And what memories do you have of the Mint Bar? Share them with info@milwaukeepride.org.
Growing up in a time of great Downtown reinvention, Michail Takach became fascinated with Milwaukee's urban culture, landmarks and neighborhoods at a young age. He's been chasing ghosts ever since. Michail, a lifelong Milwaukeean, dreaGrowing up in a time of great Downtown reinvention, Michail Takach became fascinated with Milwaukee's urban culture, landmarks and neighborhoods at a young age. He's been chasing ghosts ever since. Michail, a lifelong Milwaukeean, dreams of the day when time travel will be possible as he's always felt born too late. Fearlessly exploring forbidden spaces and obsessively recording shameless stories, Michail brings local color to the often colorless topic of local history. As an author, archivist and communications professional, Michail works with community organizations (including Milwaukee Pride and Historic Milwaukee) to broaden the scope of historical appreciation beyond the "same old, same old."