To watch a rehearsal of "Mirror Mirror," the Milwaukee Ballet's dark and shadowy retelling of the classic Snow White fairy tale, is to watch the impeccable assembly of the world's most elegant and beautiful machinery.
Before the music, the dancers are like separate gears, gathered in different groups practicing their immaculate movements – featured dancer Marize Fumero, playing Claudia the evil stepmother, working center stage with fellow Claudia dancer Lahna Vanderbush shadowing her moves just behind; a group of male dancers upstage, working on the perfect way to gracefully climb a gaunt silver tree; Nicole Teague-Howell, one of the show's Snow Whites, quietly discussing the timing of an exit downstage. Quietly they churn on their own, the only soundtrack the whispered clack of toe-shoed feet hitting the wooden floor and hushed direction.
Renowned artistic director Michael Pink – the oil for all of these individual gears, moving from each piece to help make them work as smoothly and as gracefully as possible – then cues the actual soundtrack from a laptop, and these individual components link, unite and interweave together into perfect gliding, fluid unison in that most uniquely human of inventions: a story.
Then something gets tripped up or needs a quick inspection, the music stops, and the process begins again. The fluidity – of each individual dancer, melding into each group of dancers, melding into the whole operation – is breathtaking.
And, to quote Allen Iverson, we talking about practice.
Starting June 1, the leg warmers and draped sweatshirts will be replaced by ornate costumes, the setting relocated from the Ballet's cream brick rehearsal space to the Marcus Center. And in case you were thinking about missing the fairy tale retelling's return to the Milwaukee stage, here are four reasons why "Mirror Mirror" is worth a glance.
1. Rave reviews
(PHOTO: Mark Frohna)
Michael Pink's work at the Milwaukee Ballet has never been a stranger to rave reviews – both just in town and globally – and his world premiere of "Mirror Mirror" in 2014 was no different. Our own review of the original show, which raved about everything from the costumes to the lighting and, of course, the dancing, capped itself off with this statement:
"It's rare for me to suggest that something on a stage in Milwaukee is something an audience should not miss. 'Mirror Mirror' is one of those rare occasions."
Luckily, for those who didn't heed that review's advice three years ago, it's back – and with many familiar faces from that acclaimed run. Teague-Howell, for instance, will return to the role of Snow White for the Thursday and Saturday night shows, while Milwaukee Ballet mainstay Davit Hovhannisyan – on his thirteenth year with the company – plays her love interest Gustav after last time playing Snow White's bewitched father.
2. A special vision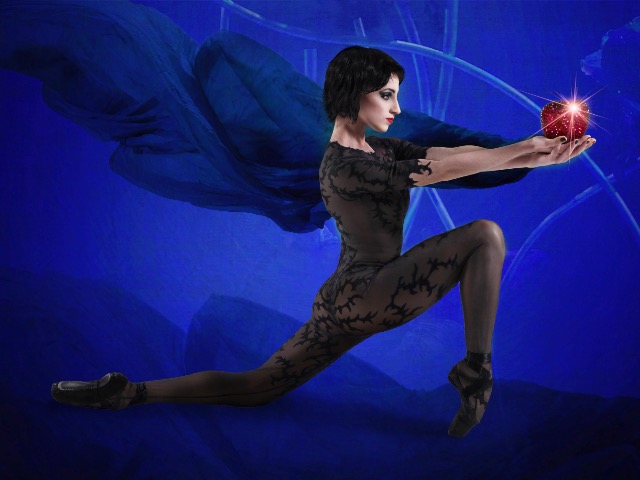 Why yes, it does seem like an oxymoron to say a returning show is unlike anything you've seen before. And yes, for anyone who's looked at the movie or television listings in the past decade, the premise of a dark retelling of a classic fantasy tale won't be completely foreign.
And yet Michael Pink's storytelling and vision – as proven throughout his lauded career in Milwaukee – is always one of a kind, always finding new cracks and crevices to explore in centuries-old stories while still maintaining the characters and essences that made those classics beloved in the first place. In the case of "Mirror Mirror," the dark shadows of the famed fairy tale creep more into the story with wicked stepmother Claudia flying into a more center stage role – quite literally thanks to her crow-like costuming – and invading poor Snow White's life.
But even merely watching an unadorned rehearsal, the retelling still maintains the childlike wonder that grabbed and captivated us all as kids first discovering the story.
3. A world of wonder
(PHOTO: Matt Mueller)
A big part of creating that sense of imagination is the set and costumes, which Milwaukee Ballet showed off in a brief pre-rehearsal fashion show/parade earlier this week.
The dressing, both on the dancers and on the stage, comes from Todd Edward Ivins, whose incredibly creative mind has invented worlds in the past for the Milwaukee Rep ("Cabaret," "The History of Invulnerability" and last year's reimagining of "A Christmas Carol"), the Milwaukee Ballet ("Dorian Gray") and theater halls beyond the borders of Wisconsin.
His costumes for "Mirror Mirror," first imagined for the 2014 premiere, rise to his reputation. The fashion show noted he was inspired by designer Alexander McQueen, and looking at just a few of the intricate pieces, there's plenty of couture to be found – as well as some playful classic Disney, Burton and "Beetlejuice"-looking nods. But there's more than just stylish showing off here; the outfits smartly convey character – from the roped wings and crow's beak of Claudia to the ying-and-yang designs of Snow White and her nemesis' signature outfits.
4. Moving movement
Style is nothing without a story – and Michael Pink's ability to weave those two elements together to make the most of both has been a signature of his tenure at Milwaukee Ballet. "A ballet is like a play," Pink told OnMilwaukee back in 2014 before the show's premiere. "When a playwright writes a play, he uses words. In ballet, the steps are the words."
Few are better at that than Pink, a skill on display as the company rehearsed the scene where Claudia ensnares Snow White's father under her spell. Pink made sure the movements communicated not just beauty to the audience, but the emotions of the scene. You could see it clearly as Marize Fumero's Claudia, dangling amidst the sleek tangle of a silver tree – her henchmen tied into the above branches, holding her up – beguilingly turns and twists out of her wings and crow, exquisitely dancing her way across the stage before and after.
Who could blame Snow White's father – and the audience – for being entranced?
"Mirror Mirror" will run at the Marcus Center for the Performing Arts from June 1 to 4. For more information on tickets and showtimes, visit Milwaukee Ballet's website.
As much as it is a gigantic cliché to say that one has always had a passion for film, Matt Mueller has always had a passion for film. Whether it was bringing in the latest movie reviews for his first grade show-and-tell or writing film reviews for the St. Norbert College Times as a high school student, Matt is way too obsessed with movies for his own good.
When he's not writing about the latest blockbuster or talking much too glowingly about "Piranha 3D," Matt can probably be found watching literally any sport (minus cricket) or working at - get this - a local movie theater. Or watching a movie. Yeah, he's probably watching a movie.