After a recent late-season victory at the BMO Harris Bradley Center that gave them points in their 13th straight game, matching the franchise record set 23 years ago, the fun-loving Admirals were in full-on freak mode, which is to say they were being themselves.
Canadian center Felix Girard, one of the team's so-called French Fries, declined media requests and strode out of the locker room in a three-piece suit and fedora, looking like a well-coiffed Prohibition-era gangster, albeit at the age of 21. Inside, one player rapped along to the Drake song blaring throughout the room, while another player danced – both players naked.
Frederick Gaudreau, like Girard a center from Quebec, tried to persuade 19-year-old Russian rookie Vladislav Kamenev, an adopted Fry, to speak French in front of reporters. And Swedish forward Max Gortz, 23, explained with a laugh how much he (drunkenly) loved singing karaoke, even though he said 19-year-old Swiss teammate Kevin Fiala ruined their Bieber duet.
So it is – presumably at all times like this – inside the Admirals' amusingly youthful locker room, this concocted clubhouse of cultural incongruousness, a melting pot (or mélange, for the French Fries) of seven different countries, about that many languages and myriad distinct personalities.
Two dozen players, most in their early- to mid-20s, who've found their way to Milwaukee through the AHL's many avenues into professional hockey – some drafted, some signed and some acquired via trade; some out of college, some out of junior leagues and some from overseas, all of them hoping, ultimately, to be called up to the NHL's Nashville Predators and many shuffling back and forth between the two teams.
They've coalesced into a tight-knit and high-spirited group that helped the Admirals capture the Central Division title this season for the first time in five years and enter the Calder Cup Playoffs this weekend gunning for the AHL championship, which they haven't won since 2004.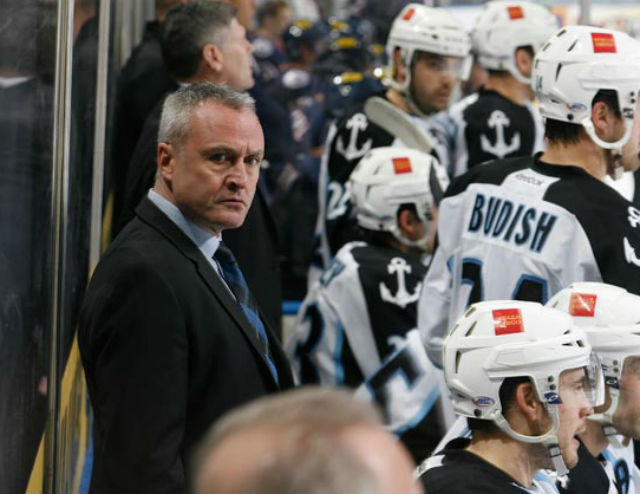 Head coach Dean Evason, when asked after the Admirals' April 12 win over the Chicago Wolves if there were unique characteristics of this squad and its chemistry that could explain how it had found such a late-season rhythm, earning points in 13 consecutive games down the stretch, thought for a moment and then was candid.
"This group, without getting into a lot of details, is – I don't even know how to say, what kind of words – they're a bit of a misfit group," Evason said, minutes after jokingly scolding 20-year-old defenseman Trevor Murphy for taking too much time during an interview. "There are a lot of elements in that dressing room, and they're a little bit messed up at times, but I think it's a good messed up."
Evason went on to mention players who hadn't been "on our radar" at the start of the year, others that joined the team mid-season and some that were getting unexpected opportunities to play, all of whom had made valuable contributions.
"Any time you have a group, there has to be a dimension somewhere. Our leadership has been so good about bringing the group together as a team," he said. "We've talked about it before, that coaches can talk until they're blue in the face about being a team and coming together and all of that, but it doesn't happen by talking. It happens by going through situations and living through different things.
"Our guys have done that this year, and we've done a good job of coming together in all those situations, positive and negative, so it's a credit to the leadership, for sure."
The Admirals' finished with a 48-23-3-2 record but disappointingly dropped their final two games, including the last-ever regular-season game at the Bradley Center (they'll move to the UW-Milwaukee Panther Arena next year).
"They're a team. It's a process, the season. And they've gone through a process of adversity, and obviously a lot of positive things, but they're a team," Evason said. "We've had ups and downs, and people leave and what have you, but they prepare to play every night. And it's a nice feeling for the group, certainly, to have success, but they're doing it together."
One of the leaders has been Gaudreau, an All-Star this year in his second professional season after signing an AHL contract out of a Canadian junior league. The 22-year-old Québécois was third on the Admirals in points, with 42, and emphasized the team's unity and absence of factions as reasons for its success this season after a last-place finish in 2014-15.
"I feel like sometimes there might be some groups – a little group there, another little one over there – but we don't have that here," Gaudreau said. "There's no country groups; everybody's together, no matter where you're from. It's just a good team.
"Everybody likes each other. There's a big focus on having fun and working hard at the same time. I feel like everybody has that same focus, and it's just easier to come to the rink like that and be good."
Gaudreau said Milwaukee has "a good mix" of young and old players, and 24-year-old teammate Max Reinhart, a center from Vancouver, acknowledged the team's youth, as well.
"I think everyone's right around the same age, so it's easy to relate to each other," said Reinhart, who scored a goal against the Wolves. "I think the misfit thing comes from – we have, like, seven different countries represented, four or five different languages going on, and somehow it works for us. It's funny how chemistry works; sometimes it just clicks."
Evason pointed to Reinhart as another of the team's leaders, noting that, although he was young, he brought a "veteran presence in there."
The Admirals begin the postseason with home games on Friday and Saturday in their best-of-five series against the Grand Rapids Griffins. They'll hope to regain the momentum they had during their late 13-game points run, rather than continue the uninspired play of the final two contests.
Gortz, the Admirals' second-leading scorer (47 points) behind Fiala, said he didn't think players were doing anything different or "special" this season to achieve cohesion.
"But we are not getting angry against each other and we have so fun and nice times and stuff like that, it builds good chemistry in the team," he said. "So when we go to practice we can go hard and also laugh at everything."
At that, Gortz was asked about a particularly laugh-worthy moment from this season: the Admirals' holiday party, where he did karaoke. It took a couple of initially anxious attempts, including singing Westlife's "Something Right," which he said he performed well, but eventually Gortz "loved" having the mic.
"We rookies had to do some song, and I was so nervous the first one so I had to be drunk," he said with a laugh. "Sorry for saying this now, but I was drunk and I was so nervous, but then after the first song I went like three times more."
They weren't all smash hits, though.
"The worst was me and (Fiala) trying to do the Justin Bieber 'Sorry.' We were so bad. It's really tough to hit those notes," Gortz said. "When I did it myself I was good. But I think Kevin sucked. So it was his fault."
Indeed, a harmonious season for the Admirals – on the ice, at least, if not the stage.
Born in Milwaukee but a product of Shorewood High School (go 'Hounds!) and Northwestern University (go 'Cats!), Jimmy never knew the schoolboy bliss of cheering for a winning football, basketball or baseball team. So he ditched being a fan in order to cover sports professionally - occasionally objectively, always passionately. He's lived in Chicago, New York and Dallas, but now resides again in his beloved Brew City and is an ardent attacker of the notorious Milwaukee Inferiority Complex.
After interning at print publications like Birds and Blooms (official motto: "America's #1 backyard birding and gardening magazine!"), Sports Illustrated (unofficial motto: "Subscribe and save up to 90% off the cover price!") and The Dallas Morning News (a newspaper!), Jimmy worked for web outlets like CBSSports.com, where he was a Packers beat reporter, and FOX Sports Wisconsin, where he managed digital content. He's a proponent and frequent user of em dashes, parenthetical asides, descriptive appositives and, really, anything that makes his sentences longer and more needlessly complex.
Jimmy appreciates references to late '90s Brewers and Bucks players and is the curator of the unofficial John Jaha Hall of Fame. He also enjoys running, biking and soccer, but isn't too annoying about them. He writes about sports - both mainstream and unconventional - and non-sports, including history, music, food, art and even golf (just kidding!), and welcomes reader suggestions for off-the-beaten-path story ideas.