Milwaukee is poised to get a new and rare iconic structure in the building that the Milwaukee Public Museum has been calling the Future Museum.
The unique new museum building that will rise on the northeast corner of 6th Street and McKinley Avenue, adjacent to the Deer District, is inspired by sandstone rock formations at Mill Bluff State Park in Juneau County, but really has its roots in a seven-day "Wisconsin Wonders Tour."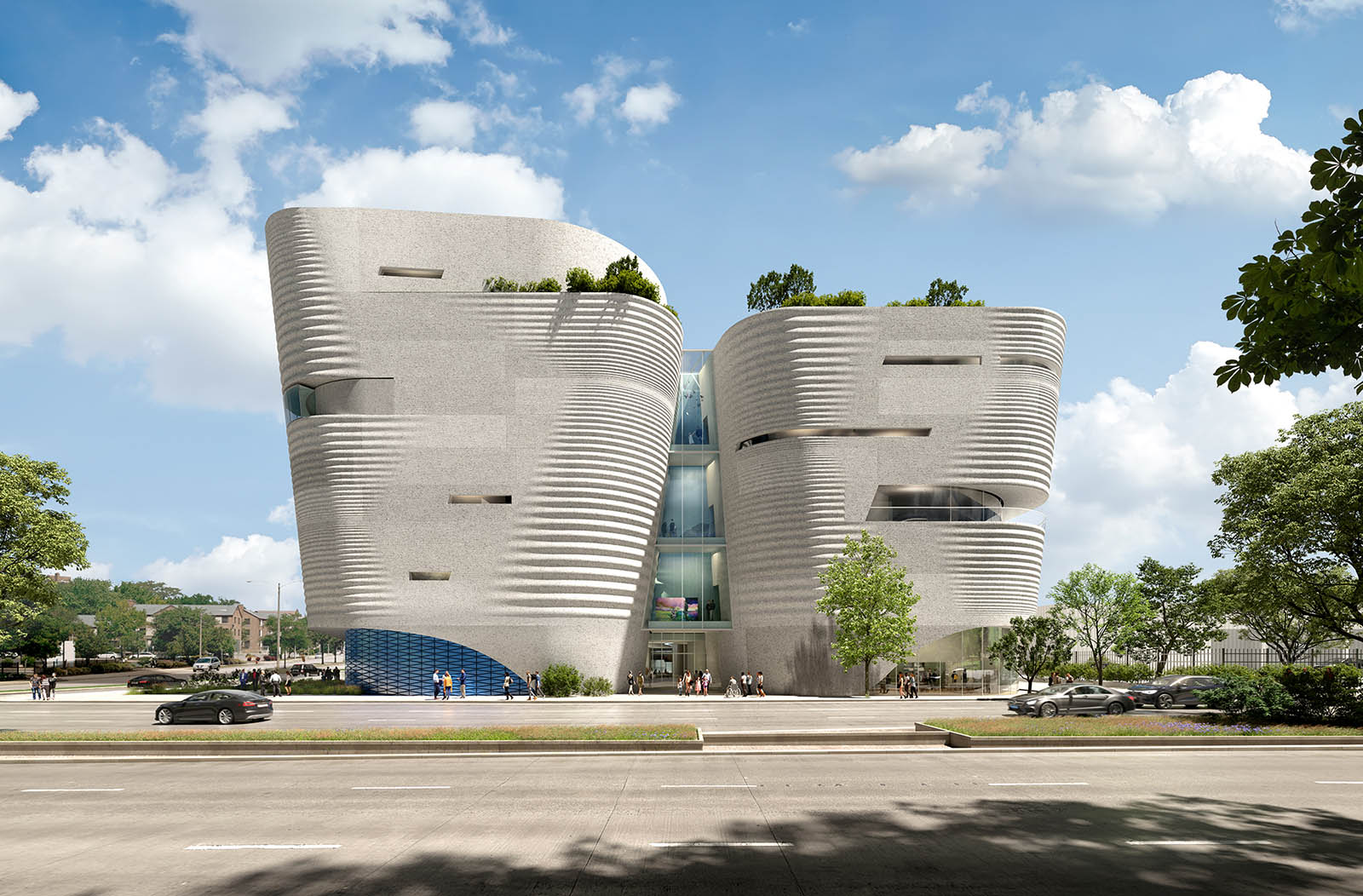 That state-wide jaunt in September 2021 included members of the teams from the museum, architects Ennead and Kahler Slater, exhibition designers Thinc Design and landscape architects GGN.
"Designing the Future Museum began with a physical journey," reads the introduction to a book the museum put together documenting that physical – as well as the philosophical – journey. "The people and places of Wisconsin inspire this design through stories, landscapes and cultures. The result promises to be an awe-inspiring institution housing wonder and unique experiences for generations to come.
"To learn from the many places of Wisconsin, its peoples and their values, the Future Museum design team from Kahler Slater, Ennead Thinc, GGN and others embarked on a journey, 'The Wisconsin Wonder Tour,' across the state of Wisconsin in late September 2021. At every stop on this tour, the design team saw evidence of the intersections of nature and culture."
The trekkers came to see and understand how glacial action created Wisconsin's landscapes; visited an arboretum, a landmark building and a children's museum; met with members of Indigenous tribes, geologists, farmers and historians; held a community conversation, and more.
"That interplay between nature and culture was nowhere made more clear than our trip to Mill Bluff State Park," the intro notes. "Mill Bluff became emblematic of our entire journey. Here, what we learned crystallized to inform our approach to the design of the Future Museum experience. It was here where a very clear relationship between nature and culture became manifest.
"We took inspiration from the remnant bluffs that are left over from when Glacial Lake Wisconsin covered the central region of the state. We were inspired by their presence, their image, and their story. We were inspired how they – like many of the landscapes in the state – were formed by water. It evoked a sense of awe where stories of the place unfolded at different scales."
The bluffs seemed to encapsulate so much of what the team what hoping to capture in a new museum building.
"The design team's experience of the bluffs and the multi-layered way in which we came to appreciate them inspires the visitor experience of the Future Museum. That feeling we can only describe as 'wonder' – the sensation of surprise and admiration, caused by something beautiful and unexpected.
"It's this sense of wonder – which is something that we felt throughout our trip – a moment of awe, inspiration, and curiosity, and the process of understanding the depth and complexity of what we were seeing. We were given a deeper insight, a realization that there's much more than what's on the surface, there's much more to see as you explore time and time again, there's always something to learn.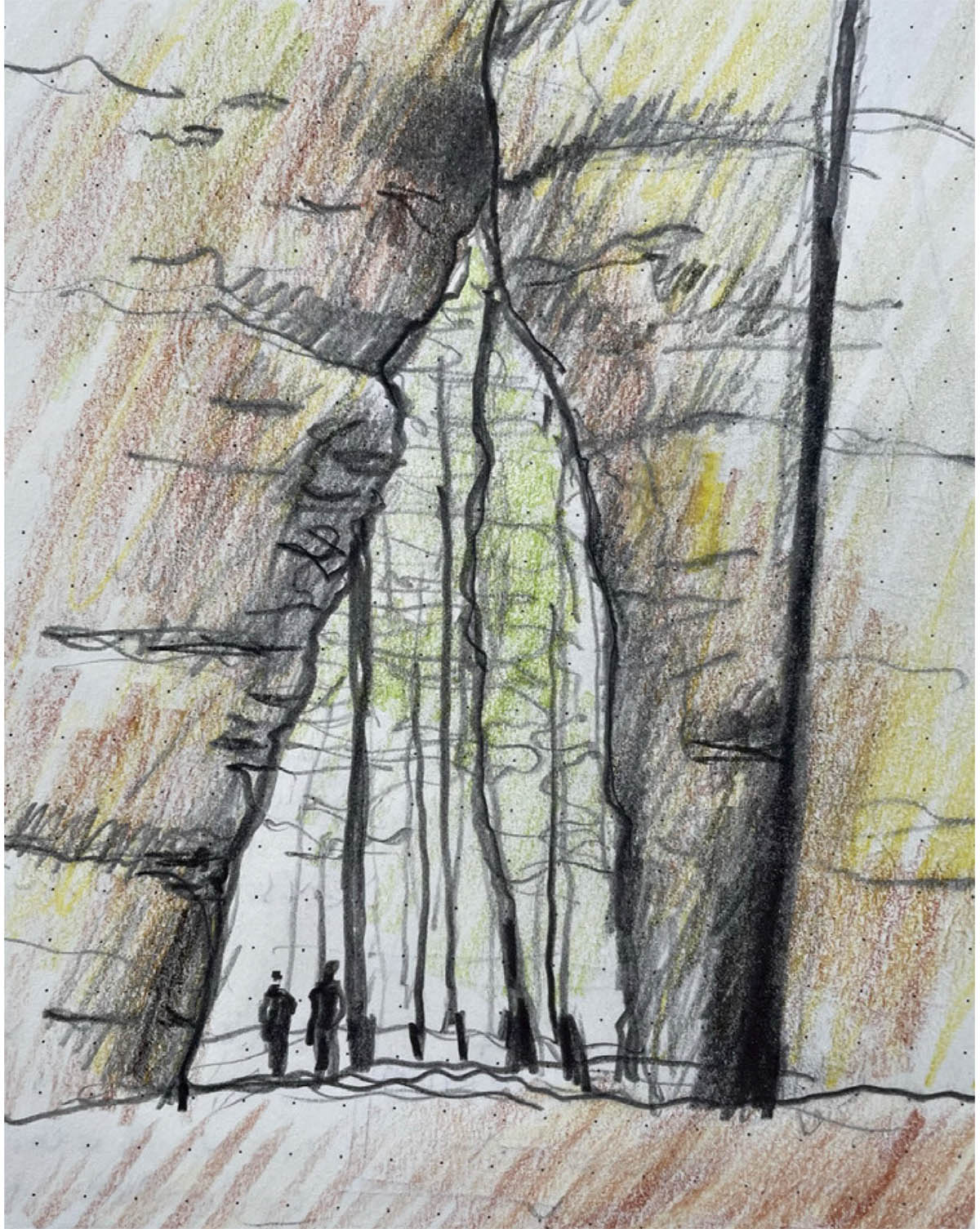 "That layered sense of wonder is the inspiration for the building, its form, its shape, but also its experience that there are these layers, that there's a base, and there's a moment where you're inspired, and curious, and intrigued about what's happening. And finally, there's a journey, that is about a path and experiencing a place."
On my own journey to dig deeper into this inspired and inspiring piece of architecture, I sat down with MPM's Chief Planning Officer Katie Sanders, and architects Jarrett Pelletier of Ennead and Chris Ludwig of Kahler Slater to ask about the journey that led them to the Future Museum design.
Here's our chat.
OnMilwaukee: I wanted to hear from you a little bit about some of the other things you were looking at in terms of potential inspiration and how the rock formations at Mill Bluff became the focus or main inspiration for the Future Museum design?
Jarrett Pelletier: One of the things that we saw a lot on our seven-day trip across the state and was kind of set out for us by the museum, was trying to understand the intersection of nature and culture and what does that look like, what does that feel like and how do you start to understand the intersection?
So I think one of the things that we saw, really, throughout the state and throughout our trip, whether it was in the Driftless Region or at Mill Bluff or up on Lake Superior, was the kind of the nestling between those two parts, culture and nature.
And were looking to try to find a way to create an identity for that initiative and that ambition to really tell that story about how those two things are inextricably tied together. We actually explored many concepts with the museum, multiple concepts, and each of them took inspiration from different places we visited, but also different people we spoke to and different things that we saw. But they all tried to look at how how does nature intersect with culture.
At Mill Bluff that intersection was very, very apparent to us, and it actually became more apparent as we explored the bluff itself. One of the hearts of the experience that we took inspiration from is this idea of the base, the middle and the top, which is really about tracking our experience around the bluff.
Being at the bottom, looking up, being inspired, being curious about what it is you're seeing, how it got there. And then, as we're hiking up the bluff, exploring it, looking at the mushrooms and vegetation and seeing out, peeks into the sky and starting to understand where you are. Then getting to the top and really seeing how that place is situated among all the other places around it.
But also, I think when we got up there, it started to come together for us a little bit. At the base we saw the materiality of the bluff, and it was made with this kind of sandstone that was a very light, warm color. And when we got to the top, you could actually start to see manifestations of that. You could see sand lines, for example. And we started to talk to (MPM President and CEO Dr.) Ellen (Censky) and others about the history of sand mining in that area.
We got to the top and we started to understand that in the early part of the century the bluffs were used to create shot from lead by essentially throwing it down from the bluff. So it became very apparent, or it unfolded to us as we explored the place because we learned about how mankind utilized the land through time and how that informed who came to settle there, what kinds of people came there and what kinds of businesses and economies were built around it.
So that story was fairly similar – the aspects were different – as we traveled the state. If it was in the Driftless Region, it was about farming and, and the culture that came around that was based on the land that was there and how that shaped the place. And the same with the other places throughout the state that we saw.
So that was just one example, but that's one of the things that we (dug) into is how to tell that story about how those two forces are related to one another through your experience. And what we hope the Future Museum offers to visitors is really a chance to have a similar experience where they walk away and say, "oh, you know what? I am the way that I am because of how I arrived here and how my culture developed around this land, and how that land in turn informed my culture."
So in practical terms, did the museum start with a list and say, "here's some places we think might be inspirational?" Presumably you didn't all just hop in a van and go, "well, should we go west or should we go north? What are we looking for?" (Laughs)
Chris Ludwig: I would say it was a crafted journey. We had spoken not only with the museum but polled colleagues and others to figure out which places we felt would be most inspirational on the journey. We definitely took a whirlwind tour through the state, heading west.
First stop was Aztalan, which that morning was just absolutely beautiful. It was one of those days where there was really cool, crisp air. And we had an amazing experience starting out, understanding how important that spot was to Wisconsin and the history of this place where the Indigenous people had settled for only a few hundred years.
But we worked our way all the way around. I think Aztalan, Mill Bluff, the Apostle Islands – some of those stick out to me as being probably the most (representative) of that idea of the connection of nature and culture, and how the stories of them impress upon who we are today and what Wisconsin is today and kind of the journey that it's been on.
Going back to the Mill Bluff experience, I would say was probably the most impactful and memorable. And I think to your point, Bobby, we had a series of places that we visited, but I think what was fortuitous about Mill Bluff specifically was we ascended to the top – as Jarrett was explaining – and experienced the kind of the wonder and the nature and seeing the vista.
But then what was unique or maybe unexpected is the tour guide from the DNR, when we were pointing in the distance to some of the other formations, said, "hey, are you guys interested in actually going to see the base of that one? And we were like, "we have time," so we loaded back up in the cars and we went and visited, I think it was called Ragged Rock.
So we actually had two experiences, one where we were on Mill Bluff, which is a larger formation with a flat top, kind of a butte, but then we also saw Ragged Rock, (and) everyone was really quiet on that part of the experience.
It was very humbling to be standing next to this formation that's been there for so long and actually seeing it and touching it and experiencing the texture and the qualities. I think the interesting dichotomy of that site is the formation's been there for a very long time, but it's also made of sandstone. So you see that inherent weathering, and I took a picture of Katie's hand because there were some little pieces, some rubble on the ground; perfect little marbles, these smooth pieces of sandstone.
It wasn't until then that you realized just how fragile really that formation is and how in the grand scheme of things, temporary it is, even though it looks like something that's been there for so long.
So it, it had a lot of layers to it, and to Jared's point, that kind of heightened that experience for us. Everyone was together. We had the landscape team there sketching and the architects, and it was just an amazing experience that had the largest impact, I would say, of the many of spots that we visited.

Was Mill Bluff an a-ha moment, then? Did you all look at each other and think, "this might the place"? Or did you still have to come back and kind of work through all of them to get to that point?
Chris Ludwig: Well, that was partway through our journey, so I think we were still doing our information gathering and dreaming. To Jarrett's point, when we came back and we would discern what we discovered, we would share our personal experiences and what had an impact on us as a team.
But that one in particular, reflecting back on it, definitely had one of the biggest a-ha moments, I would say. But there were other schemes that we definitely investigated to make sure that that felt appropriate.
Katie Sanders: One of the things I think is important to remember through all this is that we did a lot of this with community engagement. So we had small focus groups where we would talk about some of these ideas and then get people's feedback to say, "yeah, that resonates. No, that doesn't."
So, while this design rose to the top, it was also a combination of some of the other design ideas.
Chris Ludwig: Part of the journey, too, was with the entire team. So the exhibit designers were along on the journey, as well. So, for the whole team to be able to see the state and the sites and engage with these individuals to get a deeper understanding, that is also going to have impact on the total project. It was building-centric, but it was also thinking about the stories and the themes and some of the exhibit stuff, as well.
Thinking bigger picture.
Jarrett Pelletier: I think, just going back to where you kind of left off Bobby, Mill Bluff was sort of early in our week-long tour. So, while I think we all realized that we had a very special experience there and were kind mesmerized by that, I don't think we knew that that was the answer until we had actually taken the whole trip.
And really, because the whole time I think we were all trying to put together the pieces to figure out what it is that we wanted to say about nature and culture and how that could be manifested in the design. It wasn't always about the landscape itself. Sometimes the ideas were a little bit more abstract.
We looked at other aspects that we had seen, whether it was from the Apostle Islands and this idea of a kind of remnant landscape that has been impacted over time, we looked at some of the thematic things that we heard from many of our conversations with some of the Indigenous tribes about kind of round shapes and the kind of circle of unity.
We looked quite hard at the Driftless Region and more the kind of shaping of the topography and the kind of understanding of the sort of preciousness of the earth, and how that sponsored culture in that area and brought different kinds of people to its place and they developed there.
So, I would say it wasn't always about the physicality of the monument. A lot of the ideas that we explored were more abstract notions about what that intersection looked like. To Katie's other point, we did do quite a bit of community engagement.
We developed all of the concepts to a certain level (and) we showed renderings of them, we explained the inspiration, we started to articulate how they worked on that site. Each of them had a different kind of entry experience, a different interior experience. The concept that we've developed was the one that rose to the top. I think that was the one that people's immediate reaction to it was, "this is Wisconsin, that's of this place. This looks like home to me."
That's what we wanted. We wanted people to look at it and say, "you know what? That's the building that creates this memory of this place, in my mind and in my heart." That's really the kind of reaction we were looking for.
So that's why we chose to develop that design and it has gone through iterations and will continue to go through some more probably. But I think that the spirit of that experience and that kind of idea is going to stick with us.
Well, you've anticipated my next question, which was about iterations, and how do we get from from that philosophical moment to where you ...
Jarrett Pelletier: Create a building?
Yeah, also in practical terms, the collaboration in that sense.
Jarrett Pelletier: Sure. So, I would say the abstract ideas were kind of bubbling in our heads. We understand that the museum had a desire for certain target programs, certain square footage, they had their site.
The site informed a lot of what we were able to do. And that was, I think, the first thing that we studied with the team, in concert with our construction manager Mortenson, to make sure that we were collectively making the best value decisions on the site. That was very, very important.
That informed a lot of the decisions about the building's height, its bulk, some of the aspirations of what we wanted to do with the landscape. How it met the different streets and the different ways of thinking about how the building addresses the greater context of the Deer District. Locating the massing on the southern edge of the site, so it has a kind of strength at that corner on McKinley and North 6th Street. That was very important to everybody.
Stepping the building down towards the more residential neighborhood to the north. Trying to keep some of the natural landscape at grade was also very important for the museum to feel like it belonged to everybody. It doesn't have a wall around it or a fence. We really wanted it to feel very transparent and open at the base.
So a lot of the beginnings of some of those more practical issues were born out of analyzing the site.
Chris Ludwig: The other piece is the entry sequence, as Jarrett started to allude to. As the team was looking at the first floor and how the primary entries would address the greater city and how each entry could actually serve a very unique function – whether it be a ceremonial entry, or something that has a bit more function to it when you have large groups of students, kids arriving – the three entries became important, which became analogous to the three rivers (Milwaukee, Menomonee and Kinnickinnic) and the confluence theme, which really strengthens this idea of that it's born out of a place which is Milwaukee.
Then the architecture, not only the entries serve that function, but it brings people together, brings Milwaukee together. So, that became a very fun thing to be able to develop and continue to develop with the team.
So can you guys talk a little bit more then about how, how you guys worked together to realize this?
Jarrett Pelletier: Absolutely. We're a very collaborative group here. Kahler Slater is the architect of record and Ennead is the design architect from New York. But we also have other specialists, from GGN Landscape Architects and Thinc Design, our exhibit architects.
Us architects, Kahler Slater and Ennead, would meet and talk and sketch a couple times a week. What we also have a weekly call with our landscape and exhibit design partners, because their feedback and their impression of what we were doing is important.
So I would say the Ennead team, once we worked with Kahler Slater to figure out the site logistics and some of those more practical issues about making sure this building fits in Milwaukee, we came up with the inspiration, but we needed feedback.
So we worked together, we bounced ideas off of Chris and his team to see what resonates. They're from the area; they know the place better than we do. So it is a collaborative effort. And I would extend that collaboration to GGN as well.
Because, even though the site doesn't have a lot of landscape, just how the building meets the street, how that landscape space meets the street, how accessible it is, the kind of moves there, it's all informed by their input. How the parking garage is situated to try to maximize parking efficiently. But also the idea of the landscape space, how the landscape threads through the three entrances that Chris mentioned, and defines itself on the roof of the building is all important.
The stories that that all comes to tell we think is really critical to engage with the exhibit designers. At Ennead at least that's our approach with these kind of museums. We don't want it to feel like our architecture or our style supersedes the message. We are here to steward the message.
And, actually, that's what makes something really beautiful and unique and bespoke to the place is, we're here to help shape that and give form to that. But the meaning and the message comes from the site and the stories that are trying to be told and the experiences that we had together.
My last question for you is, since the release of the design, do you feel like the city's embracing it or will come to embrace it? You've presumably heard all the wacky descriptions of what it looks like. Any thoughts on, on all of that?
Jarrett Pelletier: Everything looks like something and our hope is that it looks like something that people find beautiful.
Chris Ludwig: I actually think that's what is cool about it, right? That there's this opportunity for people to interpret it with their own lens.
I think that's what good architecture does. It allows people to really find inspiration from it on their own and interpret what it means to them.
So, yeah, Bobby, seeing some of the very creative interpretations ... that's good. I think that the architecture will be refined and it will have a level of abstraction that allows for that. It's no different than looking at clouds and having people discover things about how that evolves and changes.
I'm excited about it. The themes that I'm hearing from people are that they're genuinely really excited about it, that it sets a new trajectory, it creates a new chapter, it creates a new sense of place. It also creates a sense of pride. So, there's a lot of really good that's coming from this.
I think that our museum has such strong history, people are very passionate about it, those of us who have grown up here. I can understand; I appreciate that people are sensitive to it, because there are memories. But I think that this offers an opportunity for new memories to be generated for the community. So, it's a powerful move.
I think when you have a building that's going to be landmark building – like the Quadracci Pavilion (at Milwaukee Art Museum), people say, "that looks like a bird, it looks like a boat"– the fact that they're talking about it means that you've created something that's something worth talking about. Memorable. There are plenty of buildings going up in Milwaukee that nobody says much of anything about because they just look like, well, a building.
Jarrett Pelletier: (The Art Museum) is a beloved institution in the city, and it's emblematic and iconic. That's what people think of when they think of Milwaukee. That's what we want the the Future Museum to also be.
Born in Brooklyn, N.Y., where he lived until he was 17, Bobby received his BA-Mass Communications from UWM in 1989 and has lived in Walker's Point, Bay View, Enderis Park, South Milwaukee and on the East Side.
He has published three non-fiction books in Italy – including one about an event in Milwaukee history, which was published in the U.S. in autumn 2010. Four more books, all about Milwaukee, have been published by The History Press.
With his most recent band, The Yell Leaders, Bobby released four LPs and had a songs featured in episodes of TV's "Party of Five" and "Dawson's Creek," and films in Japan, South America and the U.S. The Yell Leaders were named the best unsigned band in their region by VH-1 as part of its Rock Across America 1998 Tour. Most recently, the band contributed tracks to a UK vinyl/CD tribute to the Redskins and collaborated on a track with Italian novelist Enrico Remmert.
He's produced three installments of the "OMCD" series of local music compilations for OnMilwaukee.com and in 2007 produced a CD of Italian music and poetry.
In 2005, he was awarded the City of Asti's (Italy) Journalism Prize for his work focusing on that area. He has also won awards from the Milwaukee Press Club.
He can be heard weekly on 88Nine Radio Milwaukee talking about his "Urban Spelunking" series of stories.