In this new series, OnMilwaukee shines the spotlight on the artists who created the many new murals in our area. Enjoy!
Justin Suarez, aka "Aerosol Kingdom," was just finishing up his massive mural at 546 S. Water St. in the Harbor District when we arrived shortly before 11 a.m.
Suarez had been working on the 15-by-90-foot mural for 10 days.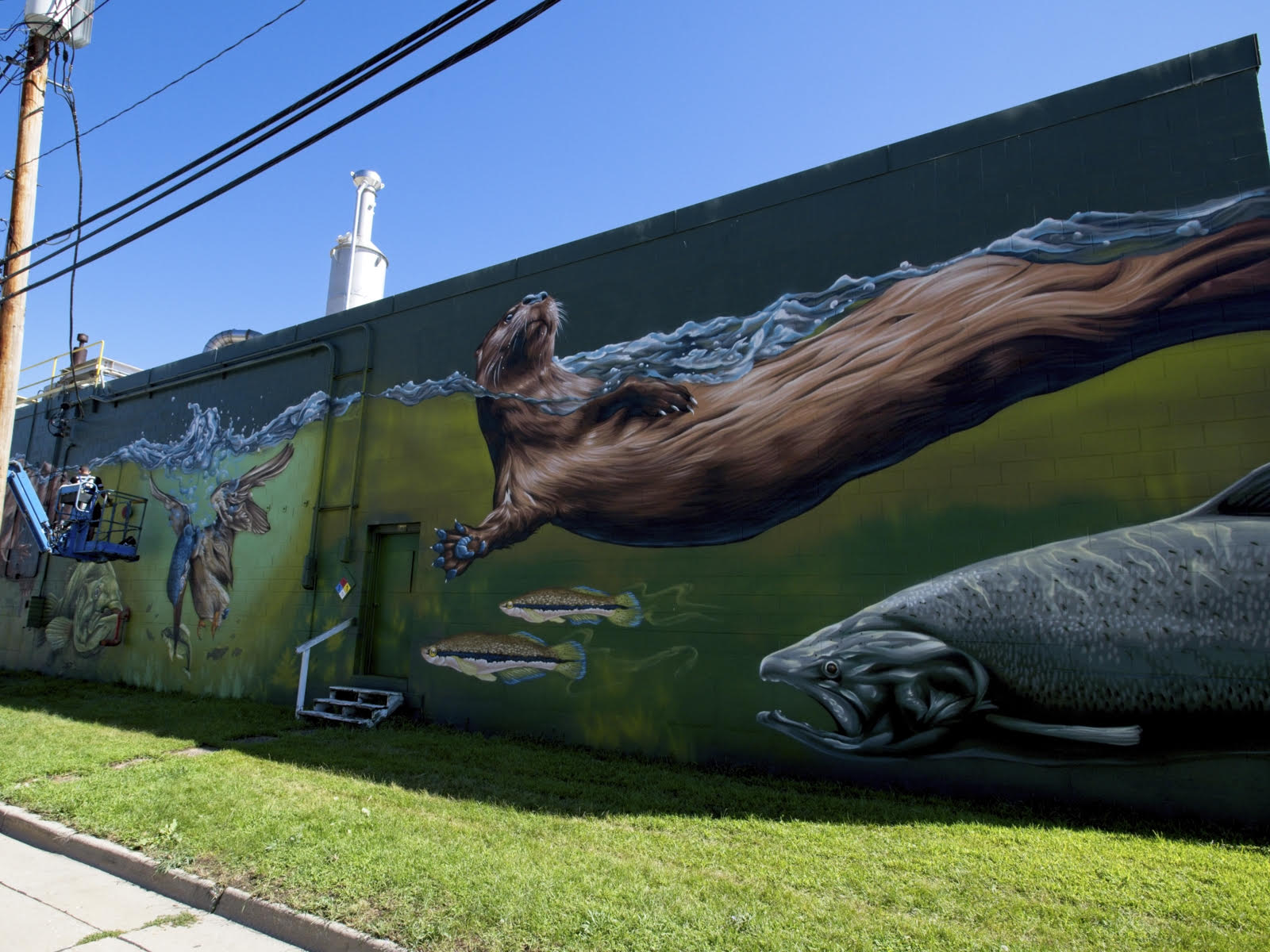 The mural depicts a river scene featuring an otter, beaver, small mouth bass, belted kingfisher, black stripe minnow and chinook salmon. Some of these species left the river more than 100 years ago, but have recently returned thanks to the revitalization effort of the Milwaukee River watershed.
The mural is part of a series of projects by BID 51 and Harbor District, Inc. meant to enliven and activate Milwaukee's industrial working waterfront. Coordination and logistical support for the project provided by Wallpapered City, Harbor District, Inc., and Wisconsin Lift Truck.
The first mural commissioned by BID 51 was painted in 2017 by local artist Nova Czarnecki and can be found on the railroad bridge over Greenfield Avenue near Barclay Street.
Suarez was kind enough to set down the spray paint can for a few minutes and chat with us from the lift about his life, art and passion for wildlife.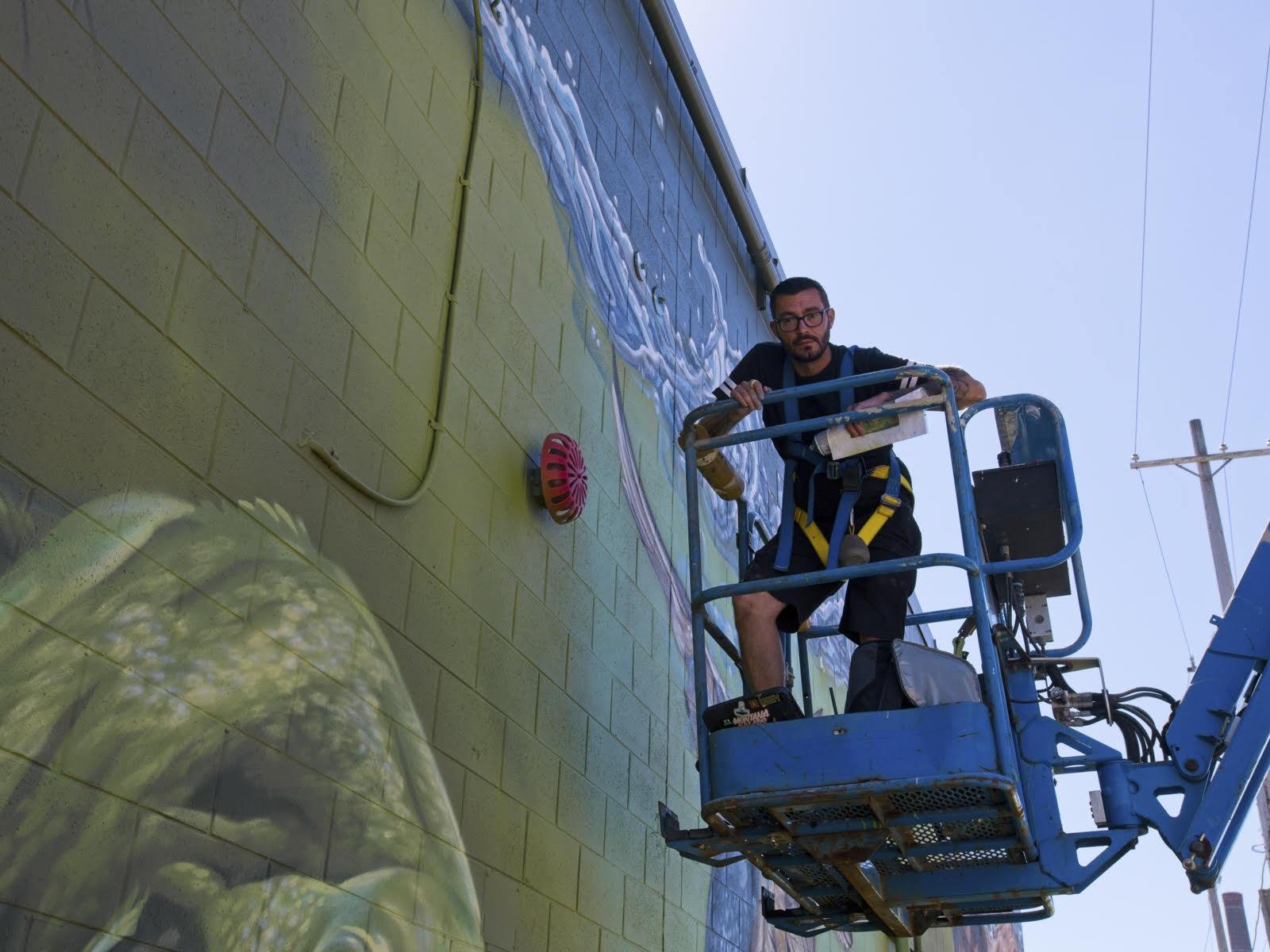 OnMilwaukee: How many murals have you painted before this one and are most of them of animals and wildlife?
Justin Suarez: I have painted tons of murals, mostly of wildlife, all over the United States as well as in Mexico and Berlin, Germany.
Where are you from and how did you get this gig?
I am from Rochester, New York. I was contacted by Wallpapered City about a year ago. They had seen my work on Instagram and my website and knew I had a passion for painting wildlife and thought my work would pair well with this project.
Did your upbringing inspire your passion for art and wildlife?
Yes. I grew up on a family farm in Upstate New York and I think that seeded my passion for the outdoors in general.
As an adult, in my spare time, I volunteer as a bird handler for Wild Wings, a not-for-profit organization that takes care of permanently injured birds of prey which are unable to survive on their own in the wild. We have more than 30 different species there.
Working with animals fuels my passion for painting them.
Were you the kid who was always drawing?
Totally. I spent a lot more time drawing on my tests than writing on them.
Is this your first mural in Wisconsin?
It's my first mural in Milwaukee. Last year, I caught a small wall in Pewaukee. My cousin lives there and while visiting her I got the urge to paint so I made it happen.
How did you choose these particular creatures to paint?
The Harbor District paired me up with a scientist from the Water Institute and they helped me learn which species are currently present in the Milwaukee River. Some of these species had left 100 years ago because the river was so dirty and polluted, but have recently returned.
Why is the water green instead of blue?
The water is blue on top – it's a reflection of the sky – but the river is constantly flowing and getting stirred up so it's not pristine blue beneath the surface. I wanted my mural to reflect that.
What's next for you?
I'm headed back to Rochester for a project and then to Ft. Wayne, tentatively Denver and then Niagara Falls for murals after that. I'm keeping busy.
How does one learn to spray paint murals?
Right, there's not spray painting school – not yet, anyway. I have an associate's degree in illustration, but I learned how to paint murals through experimentation and the wisdom of other muralists.
Have you named the mural?
I haven't completely settled on a name, but I'm thinking about calling it "Current Events."
Are you happy with the outcome of the mural?
Very much so. Not only the mural, but the location is perfect, super appropriate by the boat launch and, of course, the river.
For more stories from this series, click here.

Molly Snyder started writing and publishing her work at the age 10, when her community newspaper printed her poem, "The Unicorn." Since then, she's expanded beyond the subject of mythical creatures and written in many different mediums but, nearest and dearest to her heart, thousands of articles for OnMilwaukee.

Molly is a regular contributor to FOX6 News and numerous radio stations as well as the co-host of "Dandelions: A Podcast For Women." She's received five Milwaukee Press Club Awards, served as the Pfister Narrator and is the Wisconsin State Fair's Celebrity Cream Puff Eating Champion of 2019.