Now based in Iowa City, Nathan Timmel is a cross-genre entertainer/artist.
While he and I played in different Milwaukee bands at the same time, he went on to become a standup comedian and the author of numerous nonfiction books.
A UW-Milwaukee graduate, Timmel got into comedy at Stooges on Layton Avenue and was often seen onstage at The Comedy Cafe on Brady Street.
Now, he's published his first work of fiction, called "We Are 100."
I caught up with him to ask him about his varied career – or various careers – his books, in general and his new book more specifically.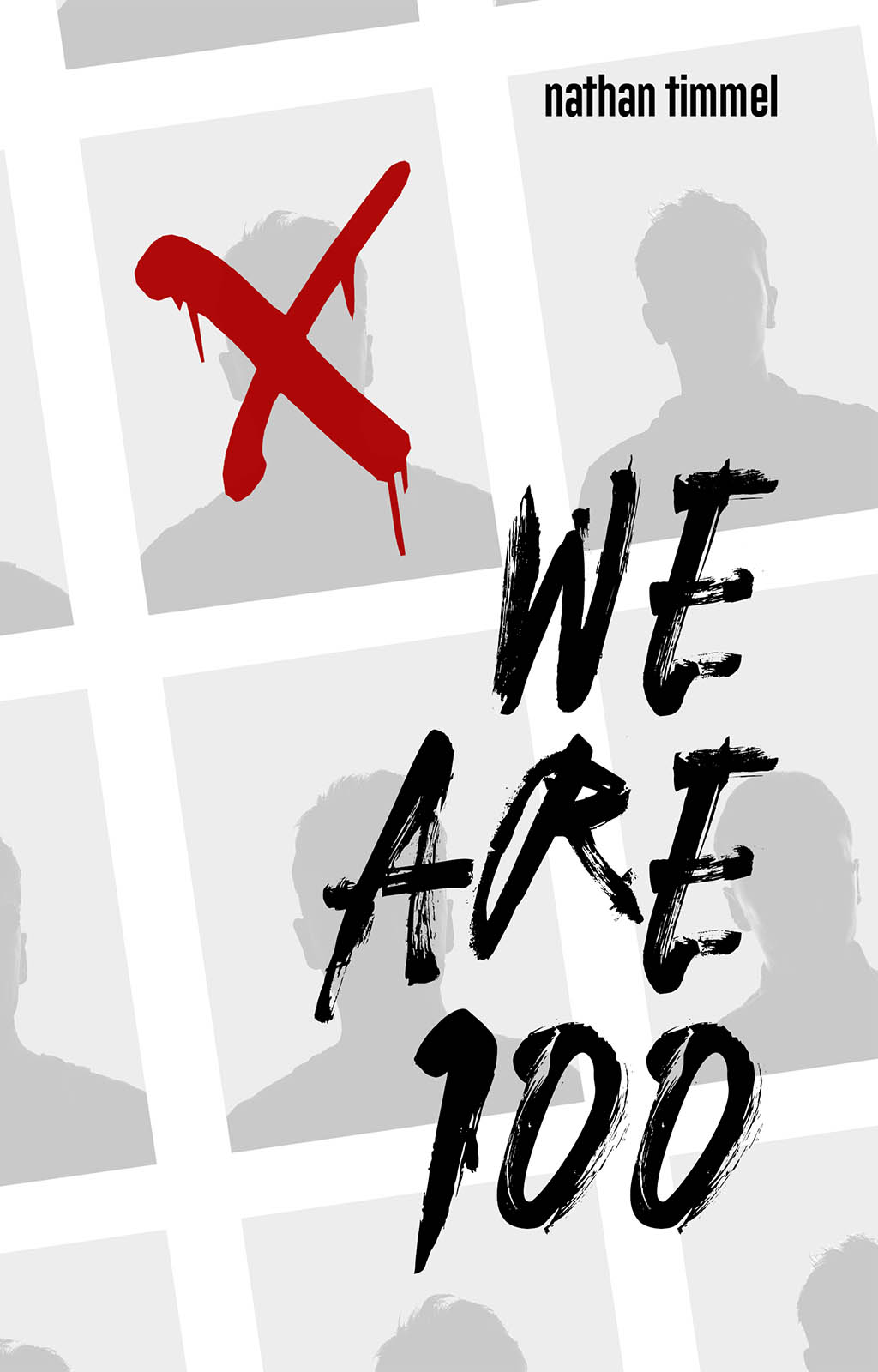 OnMilwaukee: I know we're here to talk about your new book, but tell me first about your career as a stand-up comedian.
I got started at The Safe House and Stooges Comedy Club, which used to exist on Layton Avenue. I'd just graduated from U.W. Milwaukee with a degree in English, and didn't know what to do with that, or my life. Then I heard that The Safe House had an open microphone every Thursday night, and decided to check it out.
When I was a kid, I loved George Carlin and Richard Pryor, and going to the open mic brought back all those childhood dreams of being a comedian. Suddenly, it was right there in front of me, the opportunity to get up on stage myself and yap my thoughts into the ether. I signed up for the very next session, and haven't looked back.
Since then, I've released seven albums, performed everywhere from A-list comedy clubs to am-I-getting-stabbed-in-the-parking-lot dive bars, at high school after proms, for corporate events, and traveled overseas to sling jokes at American soldiers stationed in Iraq and Afghanistan.
And you were in bands in Milwaukee, too, right? Which ones?
Only one band, and man, we saddled ourselves with the worst name possible. Gethsemane. Can you pronounce it?
Gethsemane is the garden where Jesus meditated before being taken away for crucifixion; it's defined as "any place of great pain." Our joke was, "Hey, anyone listening to us is in great pain, right? Ha-ha!"
Except no one could spell it, no one knew what it was, it looked horrible on a poster...
And people who did recognize the name thought we were the next coming of Stryper: a band doing the Lord's work. So, yeah. When your band can't decide on a name, keep fighting. Don't just all decide to go with the worst option you all throw up your hands and agree on with a, "Fine!"
The thing I remember most about my days in a Milwaukee band was getting to hang with Helena Handbasket. Man... they should have gone the distance. They were so good.
Anyway, it was actually the band breaking up that sent me down the path to comedy. I was a bass player, and took a nice, long look in the mirror. I'm no Sting, I can't sing and play like Geddy Lee ... what's left?
Hey, I can talk! I can tell jokes. Thus, another comedian was born.
As an author you've written three previous books. Tell us a bit about those.
I've always written. Since I was a kiddo and could hold a crayon in my right mitt, I've written short stories and tales of my life. I was a blogger before blogging existed. When blogging became a thing, I started posting my nonsense online, and, cliche alert, started hearing, "You should publish these!"
Instead of doing that, I decided to focus my efforts and write something more long-form than a series of blogs.
My first book was a sort of memoir; "An Uncommon Memoir," is the tag. It bounces around in time, telling tales of my youth and path to becoming a comedian, interspersed with tales of performing in Iraq, Japan, South Korea, Afghanistan, Kuwait.
The other two books are compilations of letters to my wee ones.
When my daughter was born, my wife saw a letter going viral; a celebrity had written a letter to his baby daughter. It was something for her to read when she got older.
Liking that, my Mrs. said I should write a series of letters to our newborn daughter; tales from my hotel rooms. Why I wasn't home with her, what we did that week before I left... that sort of thing. So I did.
When my son was born, I didn't want there to be a sense of favoritism toward his sibling, so I wrote a series of letters to him, too.
And when I was done, my wife said, "You should publish these." So I did.
But now this one is your first work of fiction. Have you always wanted to write fiction?
Yes, but I never knew how to. I'm always so busy writing jokes, I never took the time to sit down and flesh out an idea.
But, since my job literally is to write jokes, I needed an outlet for... I guess the best way to put it would be, "I needed an outlet for my not funny ideas." "We Are 100" is a way of getting thoughts out of my head that I can't say into a microphone, because my job as a comedian is to get an audience laughing. I can't stand on stage reciting character development or backstory, because, while – hopefully – interesting, it's not funny.
So, I started tapping away on a keyboard, and a little over a year later, had a book.
"We Are 100" centers on a group of people who are angry at institutions that seem above the law. Like the man who goes after the pharmaceutical company that jacked up the cost of his wife's medications. What led you down this road?
A combination of outrage, and a sense of powerlessness, I guess. Every day the news hammers us with horrible stories: the Sackler family making billions off people's addictions, laws designed to protect lions at the expense of sheep, government institutions that do absolutely nothing in the face of crisis.
"We Are 100" became a sort of sick fantasy, I guess. A way of writing about the justice we so rarely seem to see in life. I wanted to find the gray area between black and white.
So many "crime" books are good guys vs. bad guys, but my thought was: what if the bad guys were doing bad things to worse people? Does that make them truly bad?
I wanted readers to root for the antagonists; I wanted to toy with your moral compass as you turned each page. "I know I should be rooting for the FBI agents... but I kind of want the 'bad guys' to succeed." That sort of thing.
From what I've been seeing in reviews, that's the case, which makes me super happy.
It's not that people dislike the FBI agents – I didn't make it biased toward the "bad guys" – I just wanted to find some space between right and wrong, or good and evil. Life is fluid, yet we want to pretend everything fits inside a neat box. That just isn't the case, and I wanted to explore the idea of "good" bad guys.
Hopefully I succeeded.
Are you thinking about or working on a new book? Fiction or non?
I have a non-fiction book bouncing around my noggin, but all the feedback I've gotten so far about this book has been along the lines of, "When's the sequel coming out?!?" Which is scary.
I thought "We Are 100" was a one and done, but I've gotten messages – and reviews – asking for more stories involving the FBI characters. So, if I come up with an idea, great! But right now I'm not there, and I don't want to just barf something up for the sake of trying to cash in.
My immediate future, though, involves my next comedy album. I have most of the jokes written, now it's a matter of fine tuning and recording.
Where can folks buy this book and your others, too?
Everything I've written is available on my Amazon Author Page.
I know Amazon is the big bad these days, but they really make it easy for independent – read "Not Stephen King" – authors to sell their wares.
Everything comedy related can be found at nathantimmel.com, and most of my albums can be found on Spotify, Pandora or anywhere and everywhere you stream your comedy/music.
Born in Brooklyn, N.Y., where he lived until he was 17, Bobby received his BA-Mass Communications from UWM in 1989 and has lived in Walker's Point, Bay View, Enderis Park, South Milwaukee and on the East Side.
He has published three non-fiction books in Italy – including one about an event in Milwaukee history, which was published in the U.S. in autumn 2010. Four more books, all about Milwaukee, have been published by The History Press.
With his most recent band, The Yell Leaders, Bobby released four LPs and had a songs featured in episodes of TV's "Party of Five" and "Dawson's Creek," and films in Japan, South America and the U.S. The Yell Leaders were named the best unsigned band in their region by VH-1 as part of its Rock Across America 1998 Tour. Most recently, the band contributed tracks to a UK vinyl/CD tribute to the Redskins and collaborated on a track with Italian novelist Enrico Remmert.
He's produced three installments of the "OMCD" series of local music compilations for OnMilwaukee.com and in 2007 produced a CD of Italian music and poetry.
In 2005, he was awarded the City of Asti's (Italy) Journalism Prize for his work focusing on that area. He has also won awards from the Milwaukee Press Club.
He can be heard weekly on 88Nine Radio Milwaukee talking about his "Urban Spelunking" series of stories.