On June 23, both Henry Ellenson and Diamond Stone are expected to be chosen in the first round of the NBA Draft.
Assuming that happens, it would mark just the second time in the 66-year history of the draft that two players born and high-school bred in Wisconsin were first-round picks in the same season. (Before 2016, you'd have to go all the way back to 2015, when Sam Dekker and Kevon Looney were the initial pair of first-rounders from the state; talk about a golden age of hoops happening here!)
Ellenson and Stone were dominant prep players, earning All-American honors and sharing the Wisconsin Mr. Basketball award, and both were consensus top-10 recruits. Ellenson, from Rice Lake, elected to stay in state and attend Marquette, while Stone, from Dominican, left the city to play at Maryland. The two players had different experiences and differing levels of success – Ellenson starred for a mediocre Golden Eagles squad; Stone played a supporting role for a talented Terrapins team – but both showed enough skill and promise to decide to leave school after one season.
Now, with the NBA Draft Combine beginning on Wednesday in Chicago – where they'll get measured and start the interview process but, as top prospects, probably not play – Ellenson and Stone are both considered likely first-round picks. Most mock drafts project Ellenson being selected in the top 10 and Stone going somewhere in the 20s, in advance of the important individual workouts with teams.
Because of a new rule instituted this year, players will have until 10 days after the Combine to withdraw from the draft and maintain their collegiate eligibility. Ellenson and Stone, however, have both hired agents – the former signed with Roc Nation Sports, the latter with Tandem Sports & Entertainment – so neither is just testing the waters.
Ellenson (6-foot-10, 245 pounds) this season averaged 17.0 points, 9.7 rebounds and 1.5 blocks in 33.5 minutes per game. He shot 44.6 percent from the field, 28.8 percent from three-point range and 74.9 percent from the free-throw line. Ellenson was named to the All-Big East First Team and won the conference's Freshman of the Year award. For his part, Stone (6-11, 255) averaged 12.5 points, 5.4 rebounds and 1.6 blocks in 22.6 minutes per game. He shot 56.8 percent from the field, 76.1 percent from the line and didn't attempt a three-pointer.
With so much area sports attention focused on the pair of high-profile local products – as well as Badgers forward Nigel Hayes, who's also at the combine – OnMilwaukee recently reached out to an NBA executive to get an in-depth scout's take on Ellenson and Stone. The executive, who requested to remain anonymous, has more than two decades of NBA experience in personnel evaluation and college scouting. He saw both players compete multiple times during the season.
In a candid, 30-minute interview, the personnel man discussed Ellenson and Stone's strengths and weaknesses, personalities and draft prospects, NBA-readiness and player comparisons. His responses have been edited slightly for clarity and conciseness. Here is what he had to say:
Strengths
Ellenson: Henry is a guy who has a high basketball IQ, he's got tremendous hands and can actually be a playmaker at his size. His best attribute is his ability to rebound the basketball and advance it up the floor and make a play for himself or a teammate.
He's a really skilled offensive player. He can shoot the three, he can make it from the mid post, he can put it on the floor in the half court, he can score on the block, especially against smaller defenders. His game is more facing up than it is with his back to the basket – not that he can't score that way. He's unselfish.
And he plays with a lot of confidence for a freshman. A lot of guys, depending on how the game goes, they can be up and down with their confidence. I thought, every game he went into, he knew he was the man and everybody was there to see him play and he was the guy that had to perform for (Marquette) to win. And he put up incredible numbers for his team and for himself. I'd say those are the positives.
Stone: You're talking about a guy who has NBA size. He's got good hands and he does have good size. He sees himself as an offensive player; he is a good free throw shooter. He wants to be more of a face-up jump shooter, rather than a back-to-the-basket player – that's the only way he scores. Now, he can score in the low post, but I think he likes to get it in the mid post, even at the high post, and be a guy that wants to score from the mid post out to about 17 feet.
He's a decent runner of the floor, but I think he runs for opportunities to score more than up and down the floor. Like, most guys will run back on defense and offense kind of at the same pace; I think he runs the floor, but he's a better runner when he's running to the offensive end.
He's a really good offensive rebounder; he has a nose for the ball. Down in the low post, one thing he does have is the ability to use his left around the basket, which I think is key, and a lot of these big guys today don't have the ability to use both right and left around the basket at such a young age. So those would be the things that I think, offensively, stand out about him.
Weaknesses
Ellenson: His biggest area of concern, and it's with a lot of guys coming into the NBA, is at the defensive end of the floor. He's got to be able to guard physical players; he's going to be asked to guard quicker players than him. He's got to work on his lateral quickness, he's got to learn how to be able to defend out on the floor, especially in pick-and-rolls, switching, rotating out, doing those kinds of things.
That's his biggest area of weakness: He does not close out well and he does not have good lateral quickness. He's smart enough to figure it out and he'll figure out how to defend certain players based on their scouting reports, but there are going to be times where he's a mismatch situation and he's going to have to use his length and his smarts to figure out how to defend these guys.
Stone: He has to play with more consistent effort and energy; there were times during the college season where that waned. Like if he wasn't getting the ball offensively, he didn't really rebound. There were games where he finished with one rebound (Nov. 17 vs. Georgetown and Feb. 13 vs. Wisconsin; he had zero rebounds Nov. 24 vs. Illinois State and Jan. 19 vs. Northwestern). And that's just maturing as a player.
He's going to have to learn to be more active and better with his feet in pick-and-rolls. That's mainly what the NBA is about – isolation and pick-and-roll basketball – and he'll have to be able to learn how to come out of that post and be able to defend pick-and-rolls against quick (players), whatever he sees. He's got to learn how to move his feet, defend against pick-and-rolls. He's got to work on his athleticism, especially around the basket. He doesn't have a real quick second-jump. At times he has poor body balance, he's off balance, and I think that may have to do with his strength and his core development. He's definitely got to get stronger; he's got to be more physical.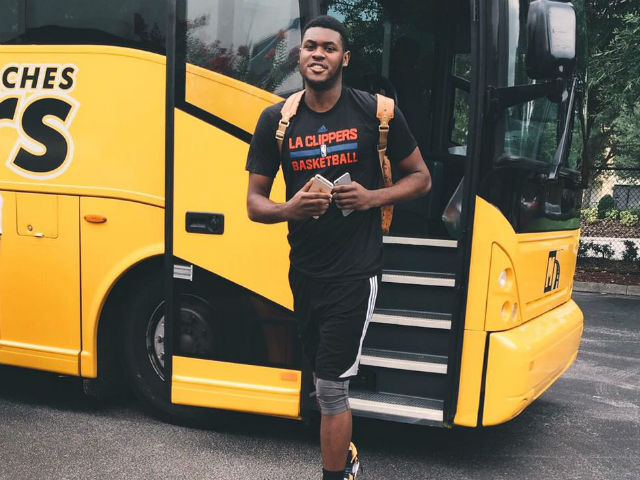 The one thing that was probably more glaring than anything else was, as big as he was in college, he never really set a screen. Now, he went and set screens, but he never hit anybody. And in the NBA, you look at a lot of these big guys, one of their main jobs is to go punish a guy that they need to go get a guy open for. I'd say more often than not (Stone) screened a lot of air. In the NBA he's got to want to hit people, he's got to want to be physical, and, as a center – especially at his size – he's got to be willing to do that.
The other thing is he has to be a more dominant rebounder. He averaged five rebounds a game. I mean, there's no reason that guy shouldn't have averaged eight or nine or 10 a game. And though you look at his stats and you would label him a shot-blocker, I thought at times he was very inconsistent with that. He would go in waves where he'd block some shots, but he wasn't a guy that was a consistent rim protector, which is what I think he needs to become. And lastly, you realize he only had 15 assists in 35 games. So there was one thing on his mind. That's not to say he can't pass, though, I actually think he can.
Most NBA-ready skill
Ellenson: Just his ability to make a play with the basketball, whether that's as a scorer, as a passer, as a handler. Looking at all the big guys, I think he's probably the most skilled big in the draft, offensively. And obviously, there's some physical things. I'm just saying he has the ability offensively; he's just more skilled than probably any big in college coming into this draft at his size.
I don't think there's anyone else that can take it off the rim and advance it, make a play in the half court for himself or a teammate, shoot the three, shoot the mid post, score in the low post and have that ability to feel like, you know what, I'm going to make the next shot. Even if I miss this, I'm going to make the next one. He's just got a confidence about himself that makes me believe he has a chance to be really good.
Stone: I think he's got two big things: his hands and his size help him. Everybody's looking for big guys – whether they're a backup or a third center – that can come in and bang around on the inside and make a shot. He can shoot the basketball, he makes free throws. He's a guy you can at least leave on the floor, assuming that he does all the things he needs to do to improve his game. You put him on the floor, he can bang around and do some things and, all of a sudden, spot up and make a shot. That's where I think he could help a team.
Leaving school early to turn pro
Ellenson: Certainly (it was a good idea for) Ellenson, because he's going to go much earlier in the draft than Diamond is. And that really is because he's much further along offensively and he's just much more skilled. To me, of the two players, Ellenson certainly fits the skillset of what an NBA big is looking like today.
I'm a big proponent of staying unless there's a financial situation, unless you're destitute and you are the breadwinner for your family. I think (players) should stay in school at least two or three years. It's better for them physically, mentally, emotionally, and I think it's a better product for the NBA. But that's just my own opinion.
Stone: You know, obviously he's going to get drafted in the first round – his progression may take a little bit longer only because his game has got to mature a lot more. And it's going to be very interesting to see where he gets drafted. Does he spend any time in the D-League? Is he always going to be up with that (NBA) team? How deep is the team he gets drafted by?
Right now, it looks like he's going to get drafted somewhere in the mid-20s. Not to say that he can't move up, but that looks like where he may end up being, where Ellenson is going to be in the top-10.
Personality and attitude
Ellenson: He just plays with a lot of confidence and moxie. That's probably the thing that stands out about him. I got to see Ellenson practice, which is always good when you get a chance to see how a guy interacts with his coaches and his teammates. The biggest thing was he was very coachable. I can tell you that he certainly was a presence in every drill. He brought a lot of enthusiasm and energy to each drill they were doing.
Stone: It appears like he's a good teammate, appears like guys enjoy playing with him. He got in foul trouble during games, was foul-prone early, like a lot of freshman, especially big guys, and there were a lot of times when he looked frustrated out on the floor. But I think that had a lot to do with the makeup of the team and where he played and foul trouble – maybe shots weren't going, he thought he got fouled and they didn't call it.
Size and physical ability
Ellenson: Certainly, he's going to have to get stronger, though he has a good frame. I think he's got to get tougher. (Opponents) are going to go at him in the NBA game and try to knock him off his spot and they're going to test him, and he's got to be stronger, more physical, and that's both at the offensive and defensive end.
Stone: He doesn't have the same look that Ellenson has because (Ellenson) has the broad shoulders. You look at Diamond Stone, he's got narrow shoulders. He definitely has the ability, there's no question about it. What we call it is he needs to "tone up," he needs to tighten up his body. His athleticism – I mean, they can work on it. But I think more than anything else, he's going to be a guy that – right now, he struggles to score in traffic around big guys' arms, legs, those kinds of things give him problems because he doesn't have a second jump.
It's one thing to catch it on the run, go up with two feet and dunk it. He can do that. But it's once you catch it and you don't have any momentum anymore, how do you score? And that's the difference. He doesn't have a second jump, which means he can jump the first time but once he gets it back he's not jumping right back up again. I would say his freshman year at Maryland, he had to learn how to play at that level, at that pace, against that strength; his second jump in traffic, he struggled a lot more than you would have ever seen in high school. It was because he doesn't have that elite athleticism, that quick second jump. I'm sure he's working on that, and it's an area he does need to improve on.
My understanding is that ever since he left Maryland he's done a good job of working on his body, being in the gym early, being one of the better workers down there (at the IMG Academy) in Florida. I've heard he's done a really nice job, so it looks like he's taking it very serious.
Three-point shooting
Ellenson: Even though he shot what some would consider not a real high percentage from the three-point line, I think his stroke is good enough. With the fact that he can dedicate his whole time to just playing basketball, I think that 29 percent will improve. Obviously he's got to improve his three-point percentage, which I think he will.
You know, with his ability to shoot the ball and the way the game is played now in the NBA, I wouldn't be surprised if people had him slated as a center. Depending on if he plays with a player that is more of a low-post scorer, he can also play as a 4. You know, where he can play away from the basket, and the bigger guy or the low-post threat guards more of the 5, and he moves around as a 4. But it's going to have to be a unique situation. But my point is, he has the ability to play both away from the basket and around the basket, that will allow whatever team he goes to to be able to use him in a lot of different situations.
Stone: It's not what (Maryland) did in college. I don't have that down as something I'm looking to see if he can develop, I can tell you that. Developing that skill as a pick-and-pop big, to be able to stretch it to the three is great; but to be able to make it at 17, 18 feet still opens up the floor enough. Convince me you can make an open 17- or 18-foot jump shot around the elbow area or mid post, then you can step out to the three and shoot 'em all day long if you want.
But to me you've got to be proficient there before you can go out and start making threes. The distance between the top of the key in college and the top of the three in the NBA is a distance; it's not as easy, and not to say you can't develop it. But I would like to see him – and I believe he wants to be a face-up jump shooter – be a guy that can knock down that 17- to 19-foot jump shot consistently.
NBA player comparison
Ellenson: I can tell you, he has similarities, qualities, because of his frame and the way he moves and shoots the ball, there are Dirk Nowitzki comparisons. He's not Dirk. If you look at him, he fills out the physical attributes of what Dirk looks like because he's tall, he can shoot the ball, and it's a good-looking stroke. But you're talking about a Hall of Famer and a guy that's going to come into the NBA as a rookie, so there's a little bit of a difference.
I can understand a little bit more of the Kevin Love (comparisons). Now, Kevin was a tremendous rebounder; that guy got just a slew of rebounds in college, as well as in the NBA, and Henry hasn't rebounded at that level every night, the way Kevin did. But as a person who's 6-10 or bigger, the fact that he can play with the ball, rebound and advance, throw it ahead, do those kinds of things, he has some similar offensive skillsets to what Kevin Love has.
Stone: Not really with him. I don't have anything written down that would remind me what he's like. He's absolutely a 5 (center). He's a bigger guy that can score a little bit on the block that wants to be a face-up shooter, has a decent-looking stroke. I don't know if he reminds me of anybody right now.
Overall
Ellenson: You can just tell his gift with the basketball – whether it be passing, dribbling or shooting – at his size and his skill level, you're just like, you know what, if he can figure out the defensive end of the floor and get stronger, this guy's got a chance to be a really good NBA player.
Stone: Overall, (Stone) is a project, in the sense that it's going to take some time for him to figure out the physicality of the game, the speed of the game, the athleticism of the game and how to get his offensive skillset to translate to the NBA.
Born in Milwaukee but a product of Shorewood High School (go 'Hounds!) and Northwestern University (go 'Cats!), Jimmy never knew the schoolboy bliss of cheering for a winning football, basketball or baseball team. So he ditched being a fan in order to cover sports professionally - occasionally objectively, always passionately. He's lived in Chicago, New York and Dallas, but now resides again in his beloved Brew City and is an ardent attacker of the notorious Milwaukee Inferiority Complex.
After interning at print publications like Birds and Blooms (official motto: "America's #1 backyard birding and gardening magazine!"), Sports Illustrated (unofficial motto: "Subscribe and save up to 90% off the cover price!") and The Dallas Morning News (a newspaper!), Jimmy worked for web outlets like CBSSports.com, where he was a Packers beat reporter, and FOX Sports Wisconsin, where he managed digital content. He's a proponent and frequent user of em dashes, parenthetical asides, descriptive appositives and, really, anything that makes his sentences longer and more needlessly complex.
Jimmy appreciates references to late '90s Brewers and Bucks players and is the curator of the unofficial John Jaha Hall of Fame. He also enjoys running, biking and soccer, but isn't too annoying about them. He writes about sports - both mainstream and unconventional - and non-sports, including history, music, food, art and even golf (just kidding!), and welcomes reader suggestions for off-the-beaten-path story ideas.