Northridge Mall is not the first place you'd think of to find Christmas cheer this holiday season. Closed for over a decade, the ghost mall is now home to broken glass and shattered memories for people like Paul Leys.
"This was the mall we drove to," Leys recalled, who grew up just 30 minutes away in Sheboygan. "When I was a kid, we didn't have Walmart or Target or anything, so if we wanted to go shopping, we came to Northridge Mall. This is where I saw 'Home Alone' with my brothers; this is where I spent every Christmas, watching movies while my family went Christmas shopping.
"It was weird for me being back in here, because I was familiar with it. I remembered where the movie theater was, and some of the store signs were still there. There was broken glass all over the place – I think that was the craziest part, there was literally broken glass all over every single part of the floor, but you couldn't tell where it'd come from. So it was really surreal coming back in here.
"And now imagine what we've turned it into."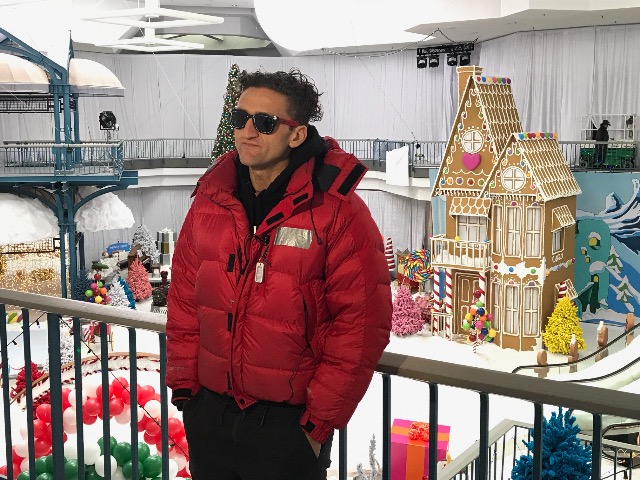 That surreal image of a desolate mall hosted a completely different kind of surreal image last Wednesday, as among the empty halls popped up a "winter wonderland," thanks to Leys – now senior director of creator engagement for Samsung – as well as famed YouTuber Casey Neistat and a crew of dozens. For a few blissful hours, dust, glass and ghosts were no longer the only tenants of the long-shuttered mall, replaced by gingerbread houses, snowboarders spinning through the air, Santa Claus and the beaming smiles of children brought in to enjoy the one-day, one-of-a-kind show.
The burst of merriment inside Northridge Mall was created as a part of Neistat's annual holiday video, sponsored and supported in part by Samsung. Last year's video featured the YouTube celebrity building a "human flying drone" strong enough to pick up a person and using the technological marvel to snowboard around a snowy Finland village. For this year's installment, however, Neistat and company wanted to go in a different direction.
"The premise of this is we wanted to be able to give a special experience to a group of kids from the Boys and Girls Club who may not have otherwise had a special holiday experience," Neistat explained amid the Christmas chaos inside Northridge Mall.
Leys added, "When we first talked about it – this was about a month or so ago – we didn't want it to be as focused on, 'Hey, look at Casey doing this amazing thing.' It was, like, let's give back and demonstrate something that ends up being a really good thing for kids."
The next question, after coming up with the concept, was where would be the perfect place to host the special winter wonderland. Neistat determined they needed some key components, namely a Boys and Girls Club within proximity to an abandoned shopping mall, the perfect setting for their snowy spectacle.
"This is us tapping into this notion that, when I was a teenager, shopping malls were the social gathering place for all of my peers – and that's no longer the case," Neistat said. "There's some irony in the fact that it's completely empty. And we thought we could leverage that to once again make it a gathering place for young people – but do it in a different way."
Said Leys, "You've probably seen online photographers who break into those abandoned malls, and some of them are crazy – they have vines growing all over and trees and they're just overtaken by nature – so that was really a fascinating idea. That was our playground."
After doing some research, combined with Leys personal knowledge growing up in the area, Milwaukee landed the part. And so, after more than a decade sitting dusty and dormant, Northridge Mall all of a sudden became the perfect setting to make dreams come true once again.
"The mall was in surprisingly, almost hauntingly good shape," Neistat recalled. "It looked like somebody closed the door, locked it behind them and left 10 years ago. And if you peek behind any of these curtains, you'll see what looks like a shopping mall that somebody forgot about."
Emerging from the dark ruins of a former mall, however, was a burst of light within Neistat's curtained-off set. Giant gingerbread houses towered over snowy Christmas chaos, as old defunct escalators were turned into a snowboarding ramp and sledding hill, jugglers skated around on a small rink, a festive train trekked its way across the living snowglobe and, of course, Santa sat in the middle of it all, ready to hear wishes among a Christmas fairy tale turned to reality, a dead concrete husk suddenly filled with life.
"It is unbelievable," Leys laughed, looking around his former stomping grounds turned into a snowy haven. "I never, ever would've thought we'd be up to something like this. And that's sort of how it is with Casey; he's just a very creative and inspiring person. So you expect the unexpected."
And yet Neistat's winter wonderland was only part of the transformation the YouTube star brought to Milwaukee and its next generation last week. The night before their Northridge Mall makeover, Neistat and 18 fellow YouTube creators arrived at the Boys and Girls Club of Milwaukee with some early Christmas presents: phones with HD cameras, laptops, hard drives, microphones and other Samsung gadgets to inspire the next generation of creatives and potential social media icons to bring life to unexpected places.
"This is all temporary and this will go away and this is just about a singular special experience, but what is meaningful and what is lasting is what happened last night at the Boys and Girls Club," Neistat said. "Long after we're gone and long after this is cleaned up, this group of young people will have the tools that they need to share their stories and share their experiences. They'll have the same tools that I built my entire career with.
"So this is temporary, but that lasts and that has a much deeper meaning – and is much more important to me – than a couple of really fun hours in a shopping mall turned into Willy Wonka's snow factory."
As much as it is a gigantic cliché to say that one has always had a passion for film, Matt Mueller has always had a passion for film. Whether it was bringing in the latest movie reviews for his first grade show-and-tell or writing film reviews for the St. Norbert College Times as a high school student, Matt is way too obsessed with movies for his own good.
When he's not writing about the latest blockbuster or talking much too glowingly about "Piranha 3D," Matt can probably be found watching literally any sport (minus cricket) or working at - get this - a local movie theater. Or watching a movie. Yeah, he's probably watching a movie.