NASHVILLE, Tenn. – If you love history and whiskey, the intersection of these two things can make for really interesting stories.
Like Louisville's Kentucky Peerless, where a descendant of the original family restarted the distillery and was able to use his great-grandfather's original Kentucky DSP license number. And like nearby Michter's, which pairs a historic company with its original equipment in a landmark Louisville building. Then there's Milwaukee's Central Standard, which opened recently in a 19th century building with ties to distilling and brewing.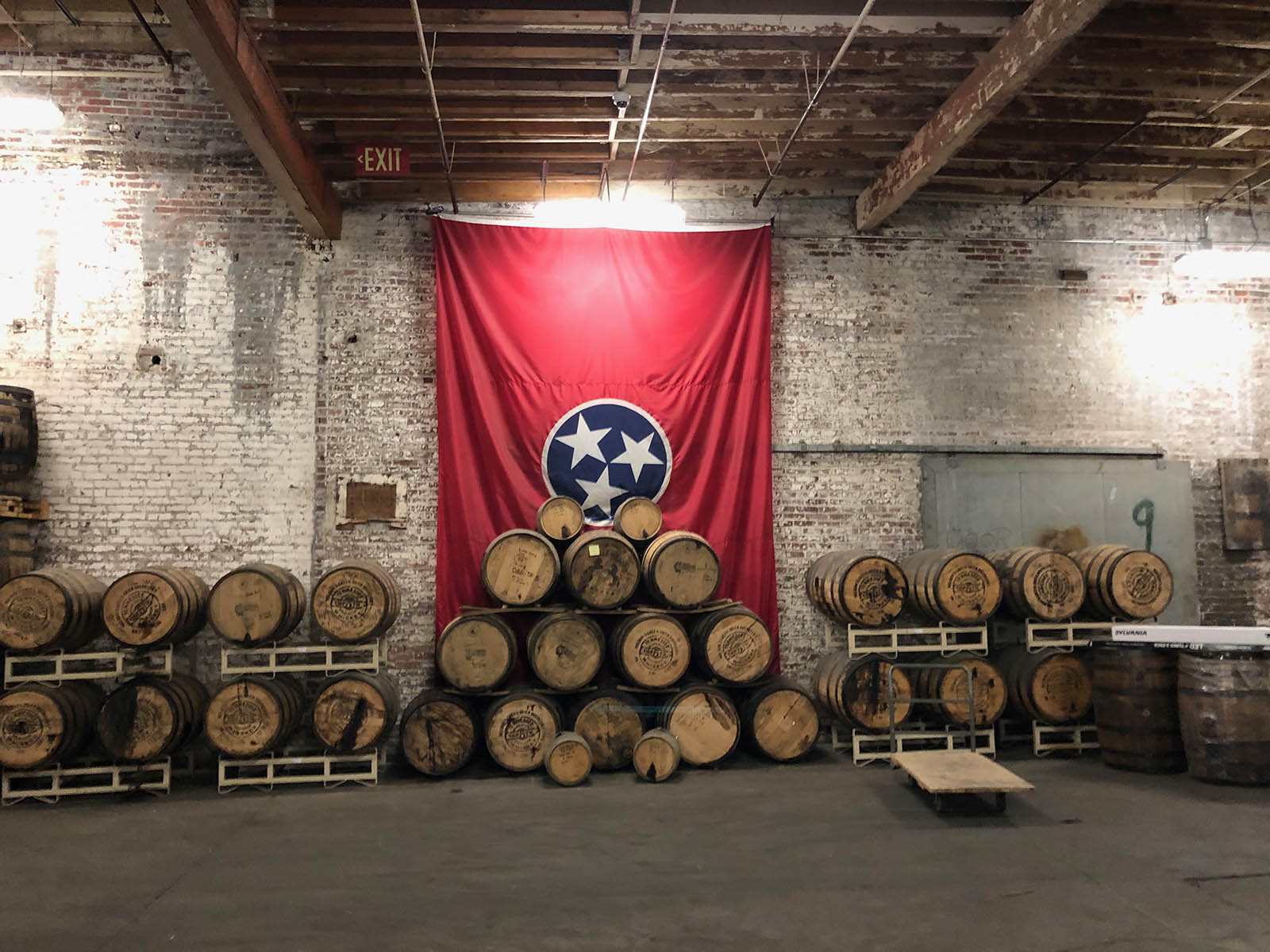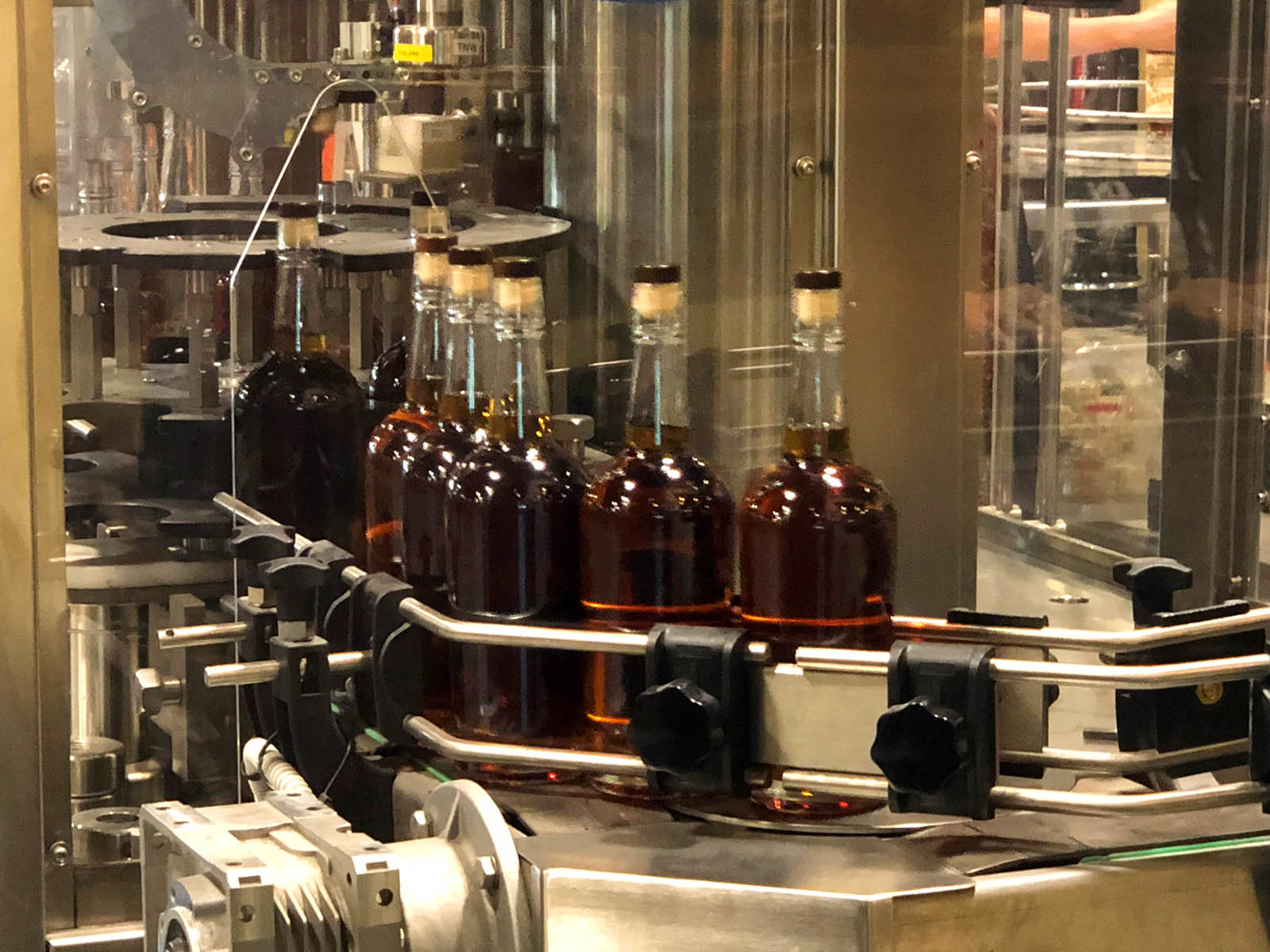 In Kentucky, there's Uncle Nearest, which celebrates the important contributions – in fact, key contributions of Nearest Green, the enslaved man who taught Jack Daniel how to make whiskey – and, in Nashville, there's Nelson's Green Brier, at 1414 Clinton St.
The distillery's history goes back to the 1860s, but, at the same time, it only just recently released its first house-made whiskey produced in its Nashville home, located inside a historic former Marathon Automobile factory.
Wait, what?
Let's start at the beginning.
Charles Nelson was born in Hagenow, German – in the state of Mecklenburg-Schwerin – in 1835.
"He was the oldest son to John Phillip Nelson who owned a soap and candle factory," says Nelson's Green Brier's Rachel Ramirez.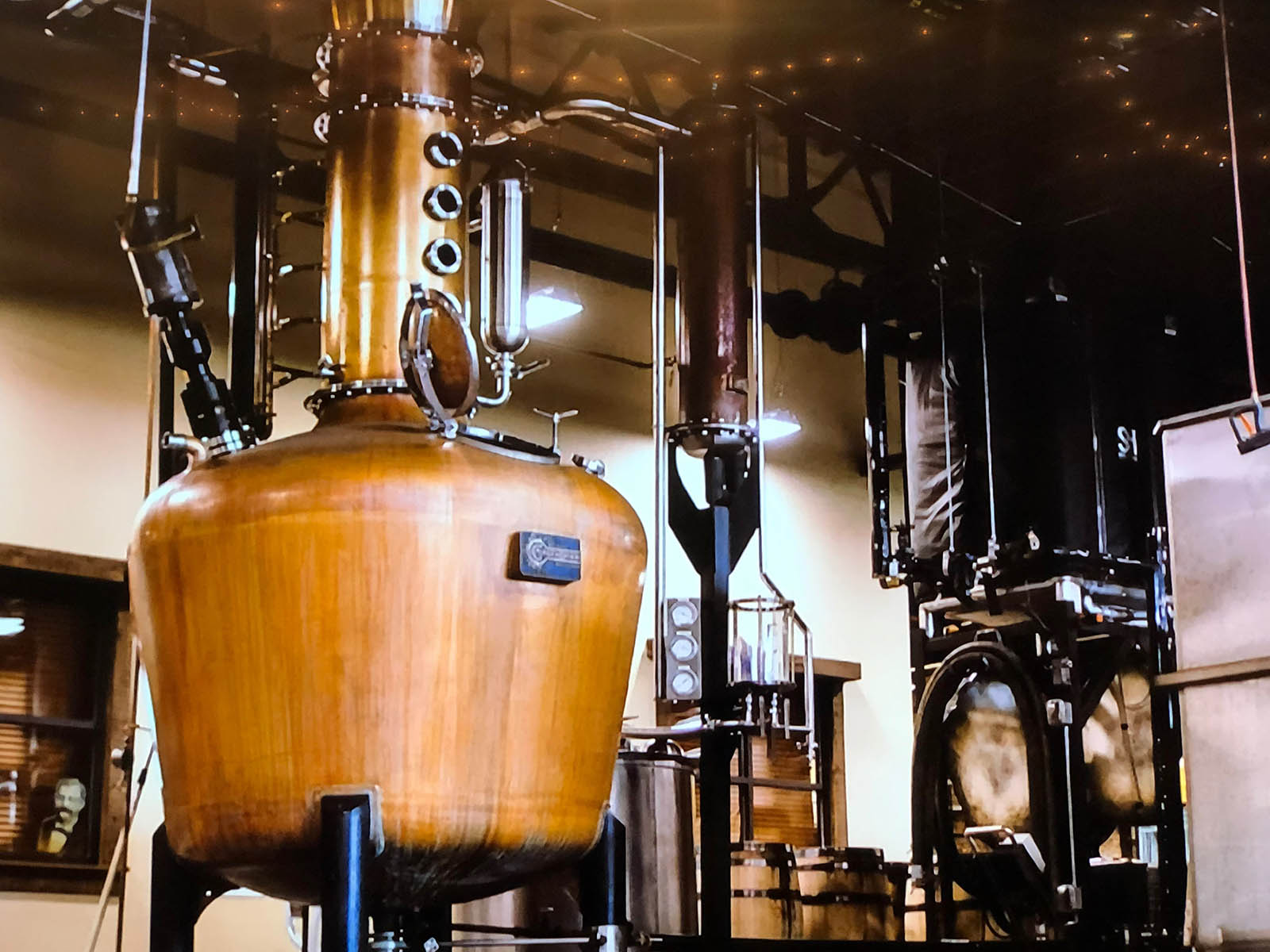 "In 1850 when Charles was about 15 years old, his father decided to move the family to the States in search of a new life, sold off the family estate and had all of that wealth converted into small gold bars.
"To transport all of that wealth to America, he actually got a tailor friend of his to custom make a suit for him. And he sewed those gold bars into that suit jacket and belt."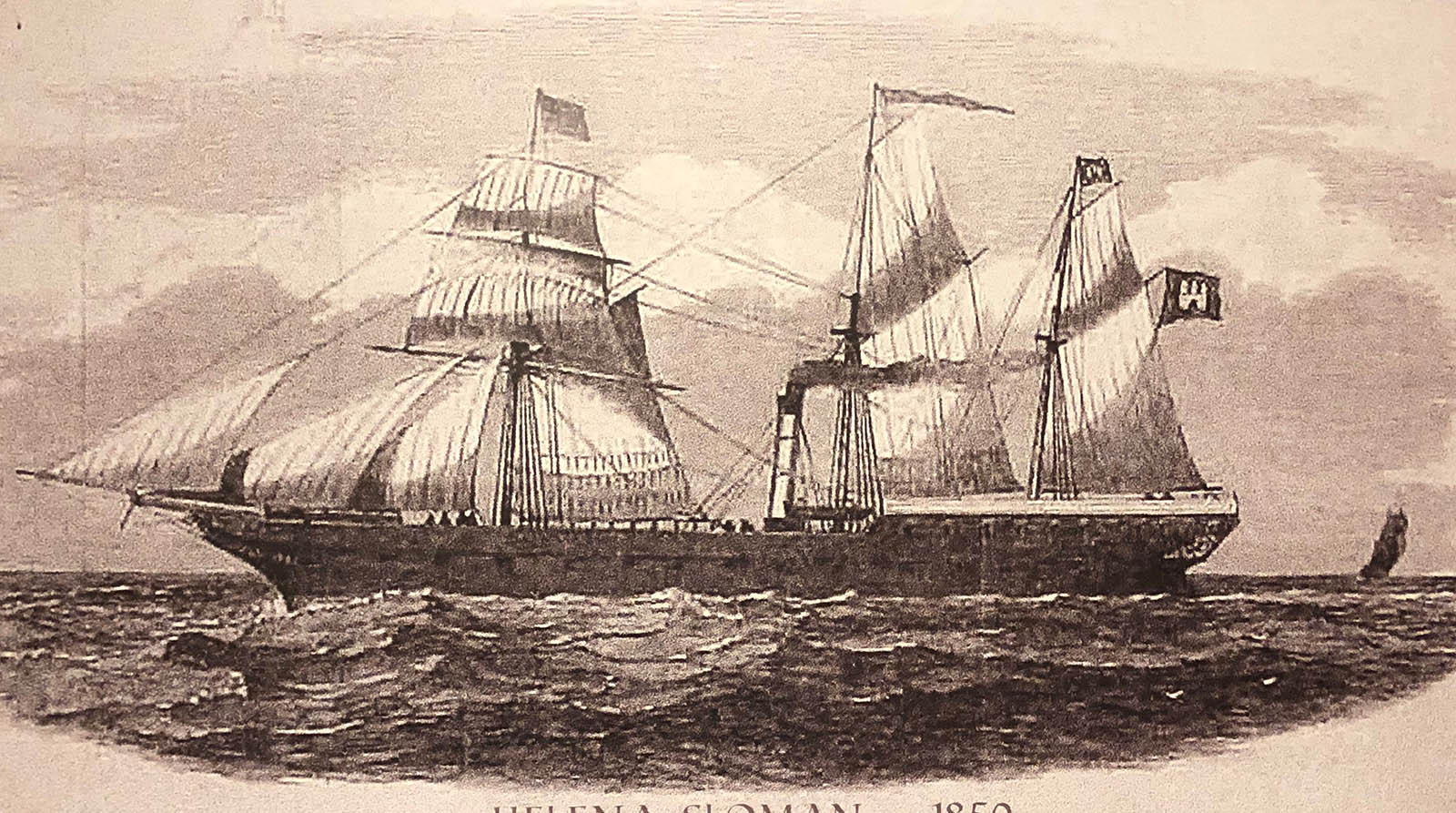 The family boarded the Helena Sloman, the first German steamship to undertake an overseas passage, sailing between Hamburg and New York, reportedly carrying both the Heinz and Steinway families to America.
"We can thank the Sloman for ketchup, pianos and Nelson's whiskey," Ramirez quips.
Alas, on just her third voyage, the Sloman hit storms, took on water and foundered. Although another ship heard the mayday call and arrived to help rescue some on board, nine did not survive.
One of those was the patriarch of the Nelson family, whose weighted jacket likely dragged him down, killed in part by his own wealth.
Once in New York, young Charles took a job working in a soap and candle factory. But within two years, the family relocated to Cincinnati, which boasted a large German population, and Charles entered the booming butcher industry that led the city to become knows as Porkopolis.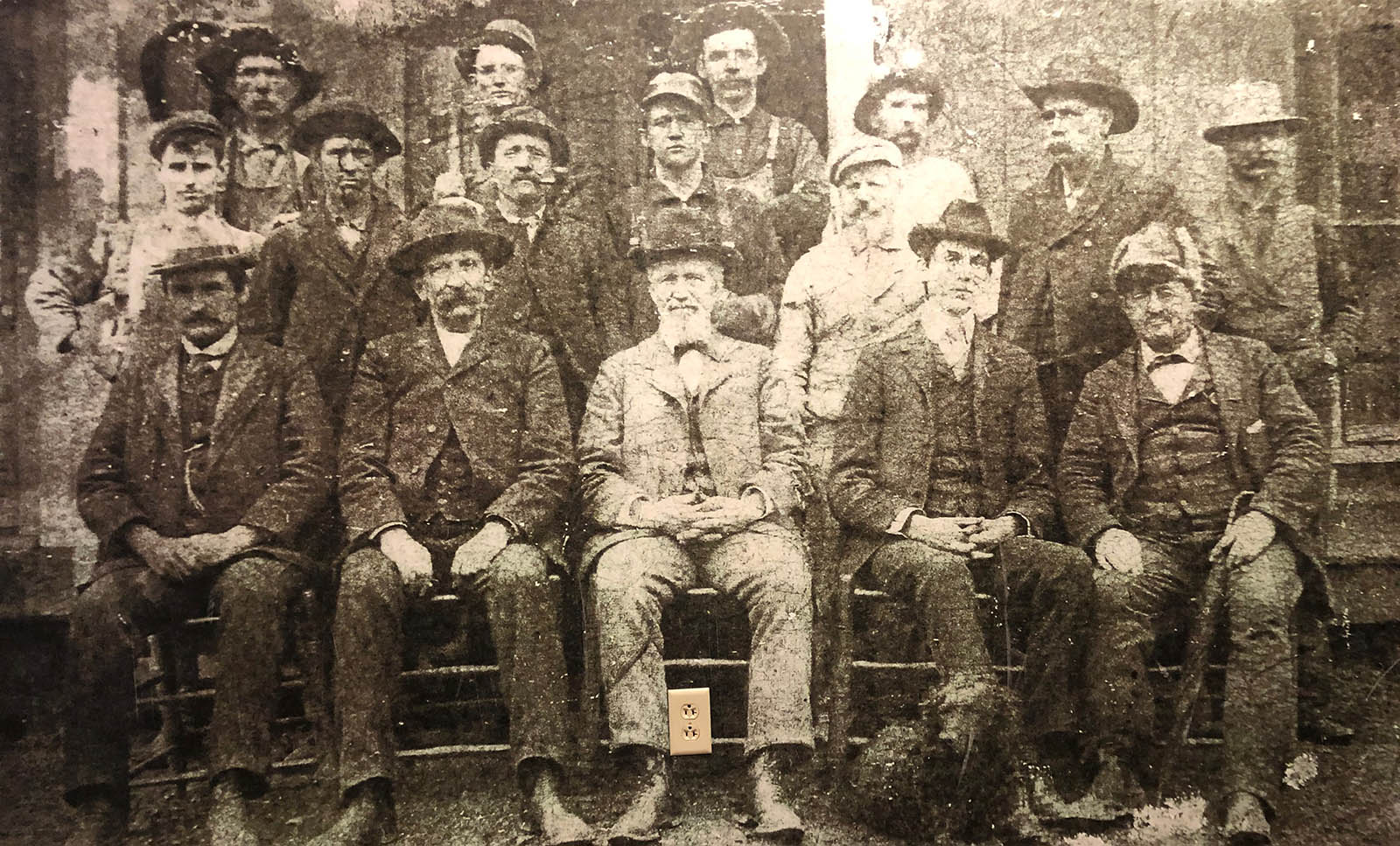 There, he learned how to make spirits and after marrying his wife Louisa, they moved to Nashville and set up a whole grocery store on Market Street (now 2nd Avenue), focusing on coffee, meat and whiskey.
"Whiskey sales in particular are really, really taking off because Charles is very much embracing all the technologies available to him at this time," says Ramirez. "And one of those techniques was to put his whiskey into a clear glass bottle.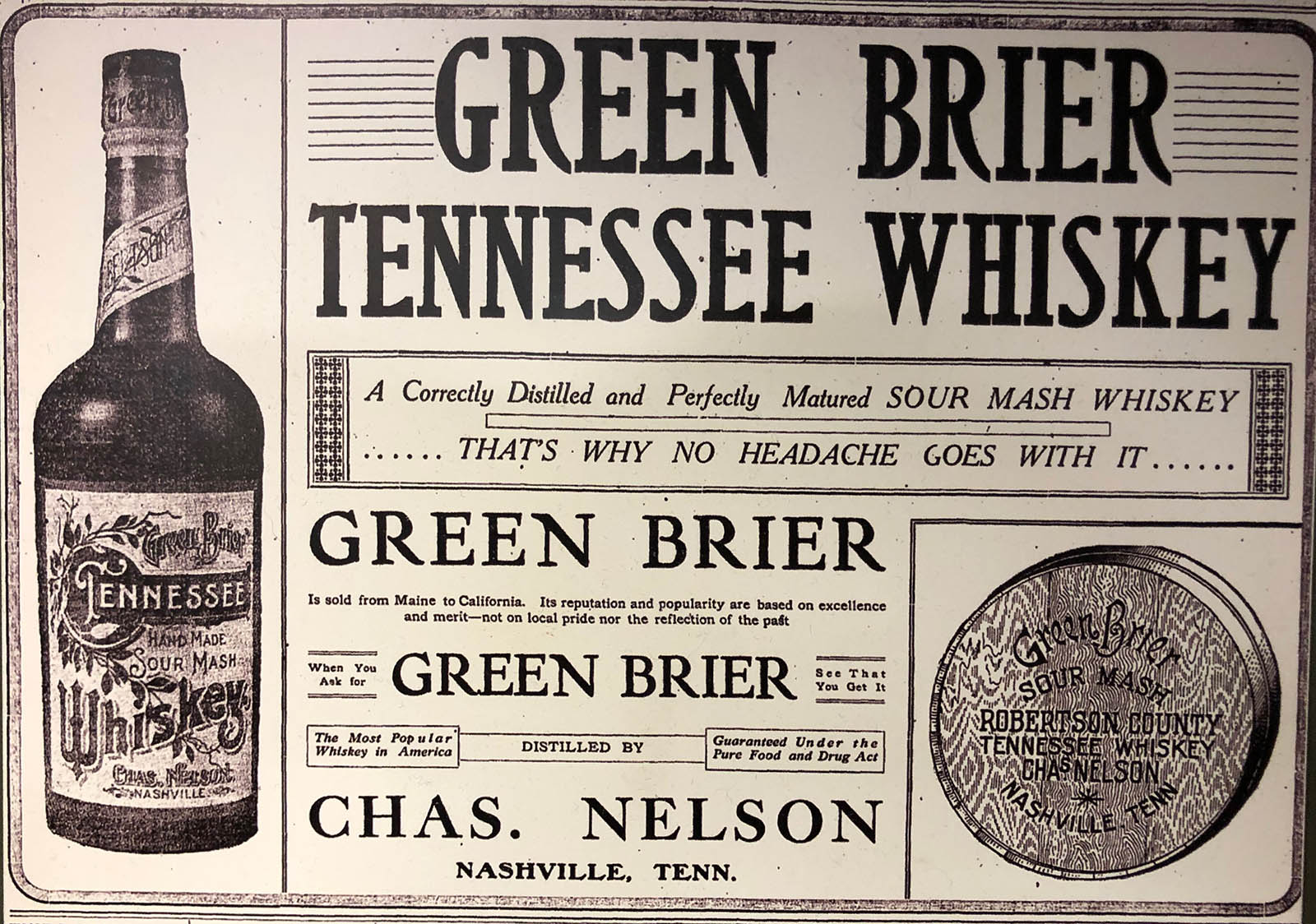 "If you look at one of our older advertisements, there was a lot of emphasis placed on the purity of the product. He wanted people to know that this is not something that had been touched by rectifiers. This was something that was safe for the public to drink."
With whiskey sales skyrocketing, Nelson struggled to keep inventory and so he hit upon the idea of buying the distillery in Greenbrier, Tennessee, that supplied him, in 1870.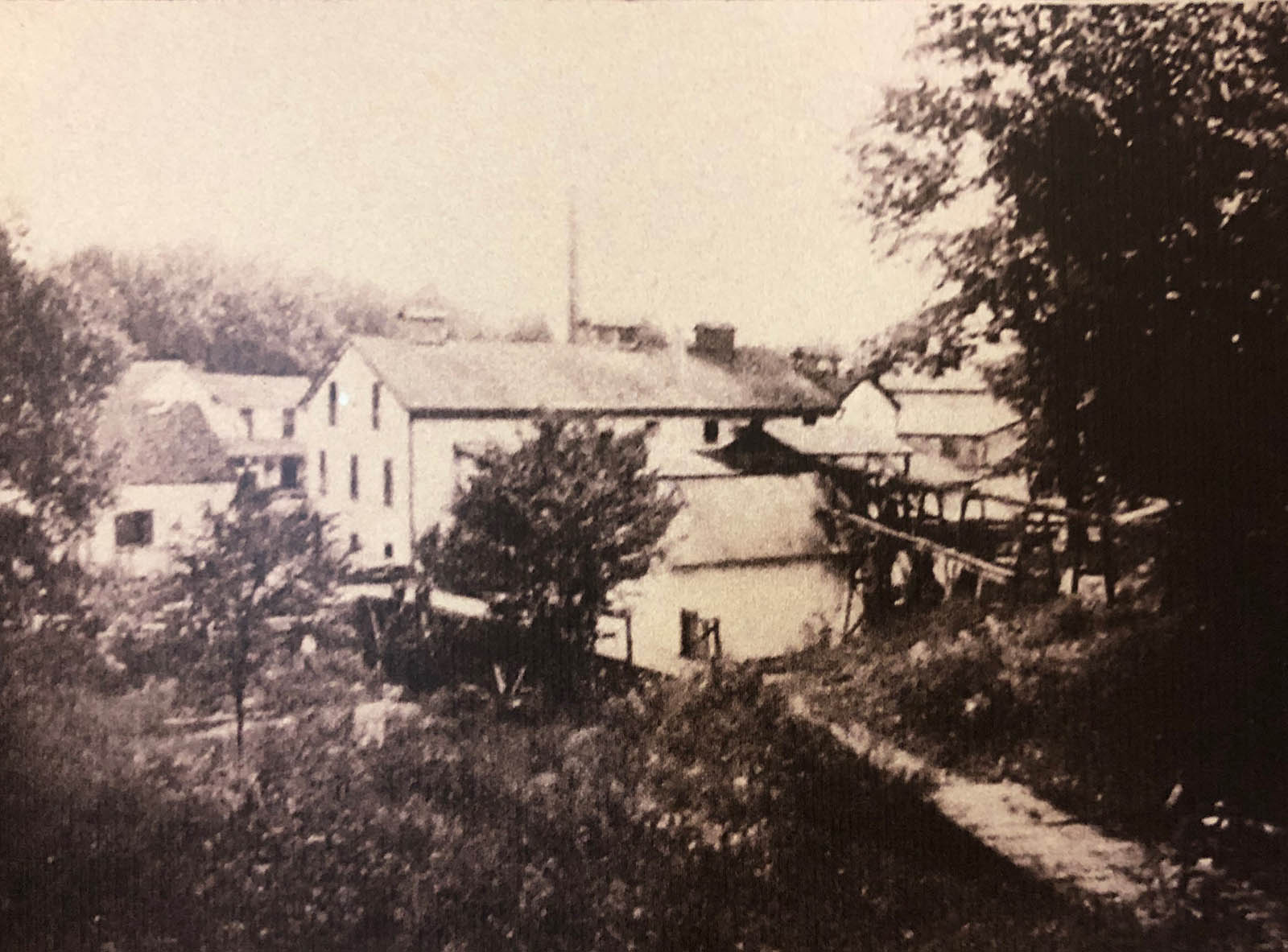 The Market Street building became his barrel house and bottling plant. Business was so good, he opened a second barrelhouse in Louisville.
When Nelson died in 1891, he left everything to his widow Louisa, who ran the whiskey business.
"She runs it at its highest level," says Ramirez. "I'm talking like distribution to Spain, France, the Philippines. At its height, Green Brier was outselling its closest competitor about 16 to one."
In 1885, Nelson's produced 380,000 gallons of whiskey, compared to Jack Daniel's annual capacity of 23,000, Ramirez adds.
Then, in 1909, it became illegal to produce alcoholic beverages in Tennessee and that was the end of Nelson's Green Brier, although its existing whiskey continued to be sold in other states until supplies ran out in 1915.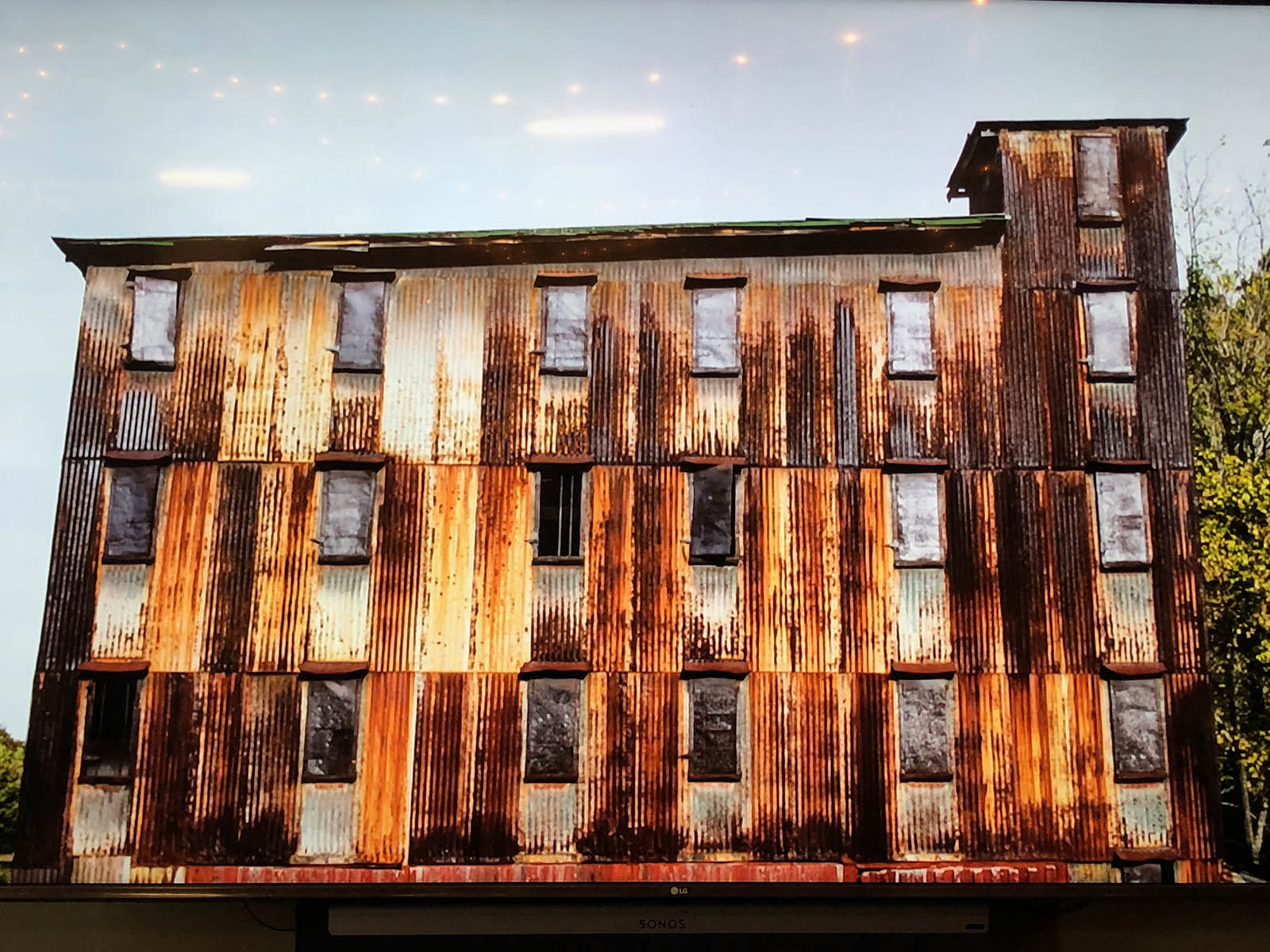 Meanwhile, up in Greenbrier, the buildings were crumbling, though one rickhouse remains and the property is a listed landmark.
Jump ahead five generations to Nelson's great-great-great-grandsons Charlie and Andy, who, in 2006, were home on break from college, where they were studying philosophy and history.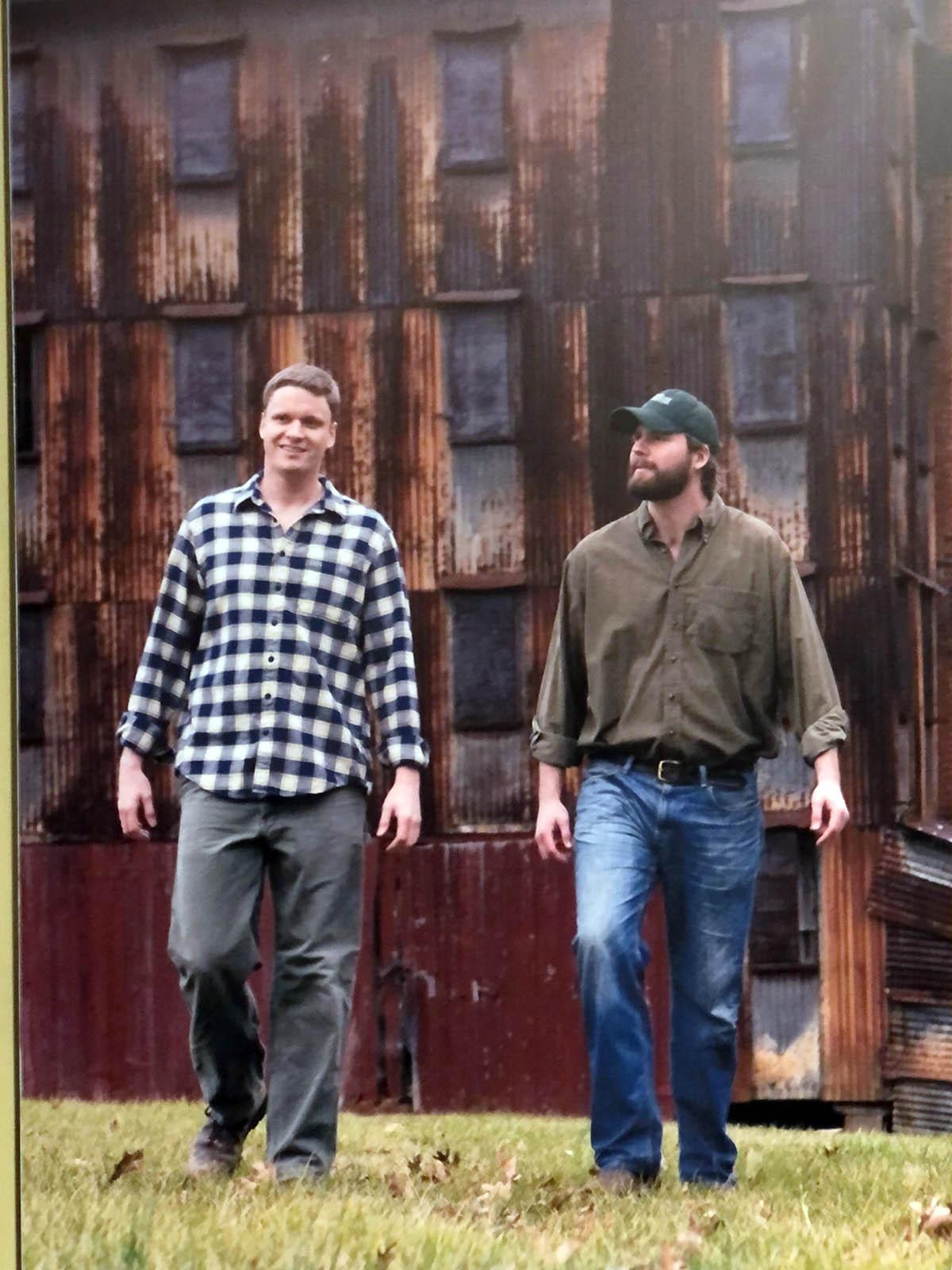 "They went up to Greenbrier with their dad pick up some meat from a local butcher," says Ramirez. "They stop at this gas station along the way, get out, stretch their legs, and look across the street and they see this historic marker sign for Nelson's Greenbrier distillery.
"Charlie sees his own name, Charles Nelson, printed on the sign. So you see your name on a road sign, you take another look at it. And they're asking their dad, do you know anything about this? So they go to the butcher, who'd lived in Greenbrier all of his life and he directs them down the road to the original barrel warehouse."
Walking around the site, they were bitten by the bug and began researching the family connection to the distillery. At the local historical society they got to see two unopened bottles of the original Nelson's Green Brier Tennessee Whiskey.
"Charlie's just sitting there holding this bottle with his name on it," says Ramirez. "It's just lightning at that point. He's looking at his brother Andy thinking, 'yeah, this is it. This is what we need to be doing with our lives.'"
And so Andy learned the art of distilling from no less than the late Dave Pickerell, who had just left Maker's Mark to start his consulting business and Charlie took on the business side.
They launched the Belle Meade Bourbon brand first. Based on an old Nashville whiskey label – produced at the Belle Meade mansion, which still stands – it was one of Charles Nelson's distributed products.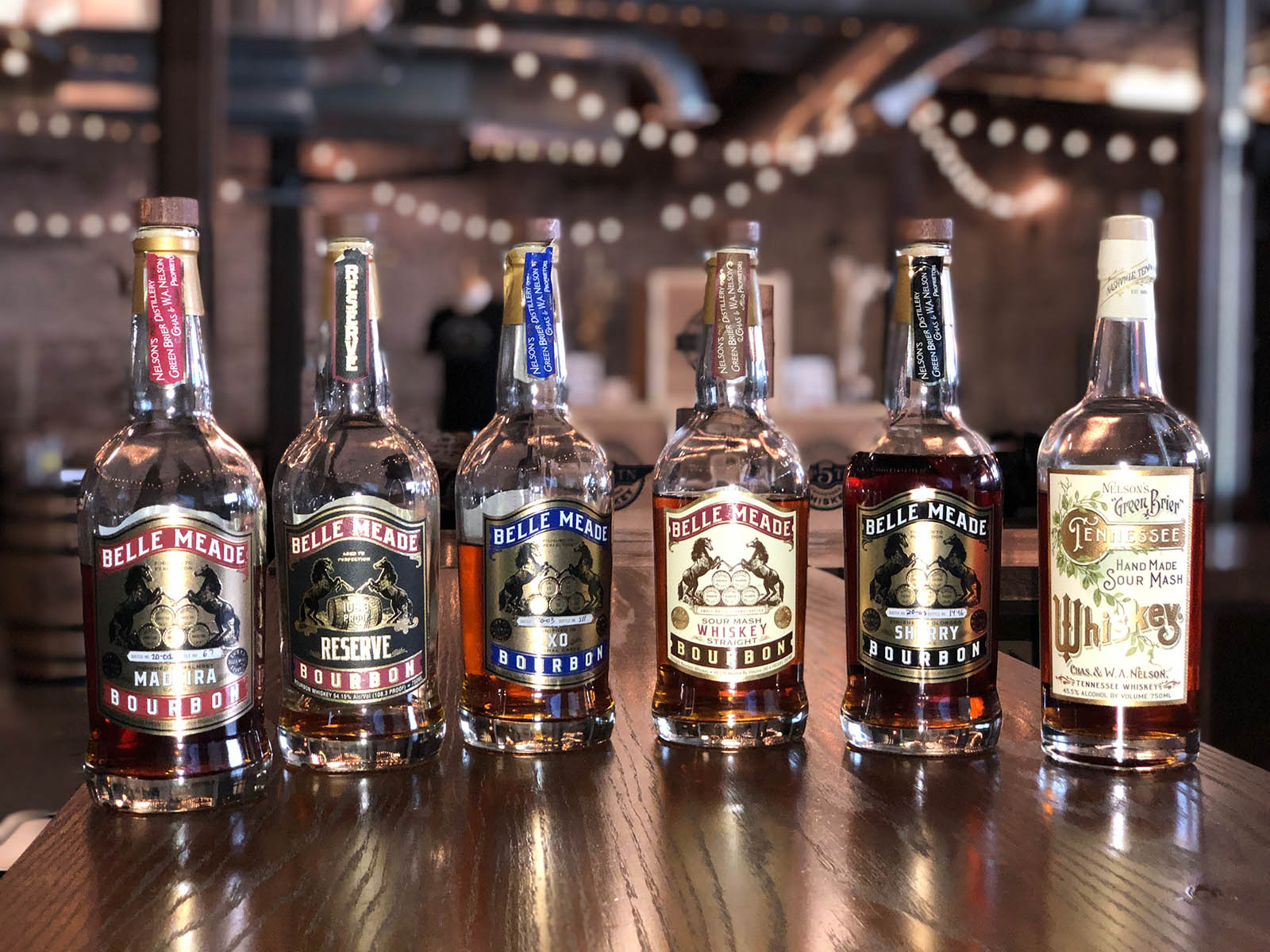 Belle Meade is made with whiskey sourced from MGP, with the guidance of Pickerell.
That whiskey – a blend of two mash bills and two yeast strains – was launched in 2012 to help get the business going.
In 2014, they opened their Nashville distillery and immediately began laying down Tennessee whiskey.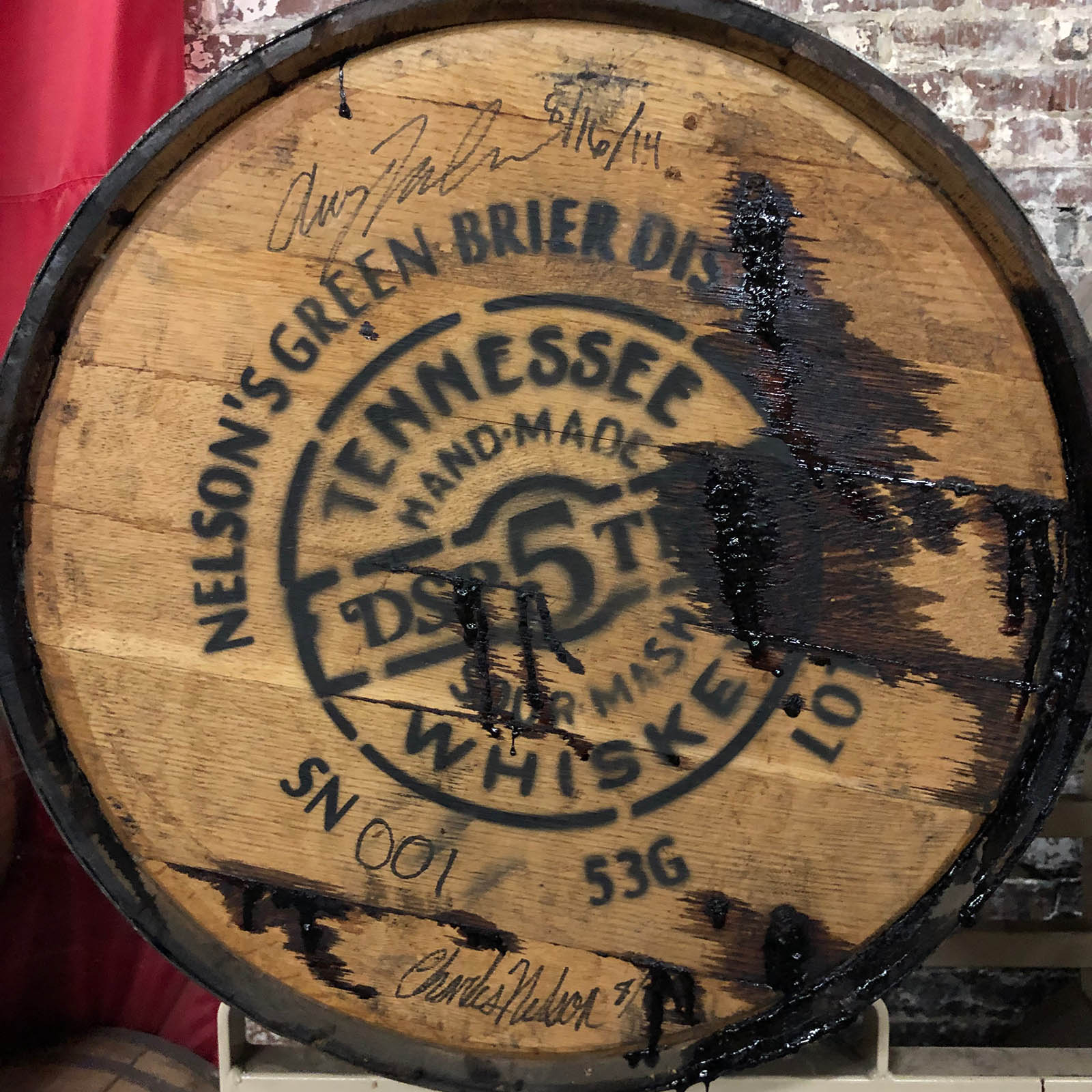 By 2019, they were able to launch the revived Nelson's Green Brier Tennessee Whiskey, with the same label and the same DSP their third-great-grandparents used.
Though they won't disclose the exact mash bill, I'm told it is "overwhelmingly majority corn," with wheat and malted barley.
It is, of course, made using the Lincoln County charcoal mellowing process, though the chunks of sugar maple charcoal through which the whiskey is filtered are much larger than what you'll find at, say, Jack Daniel's, which uses dime-sized bits, and Dickel, where the charcoal is about the size of a nickel.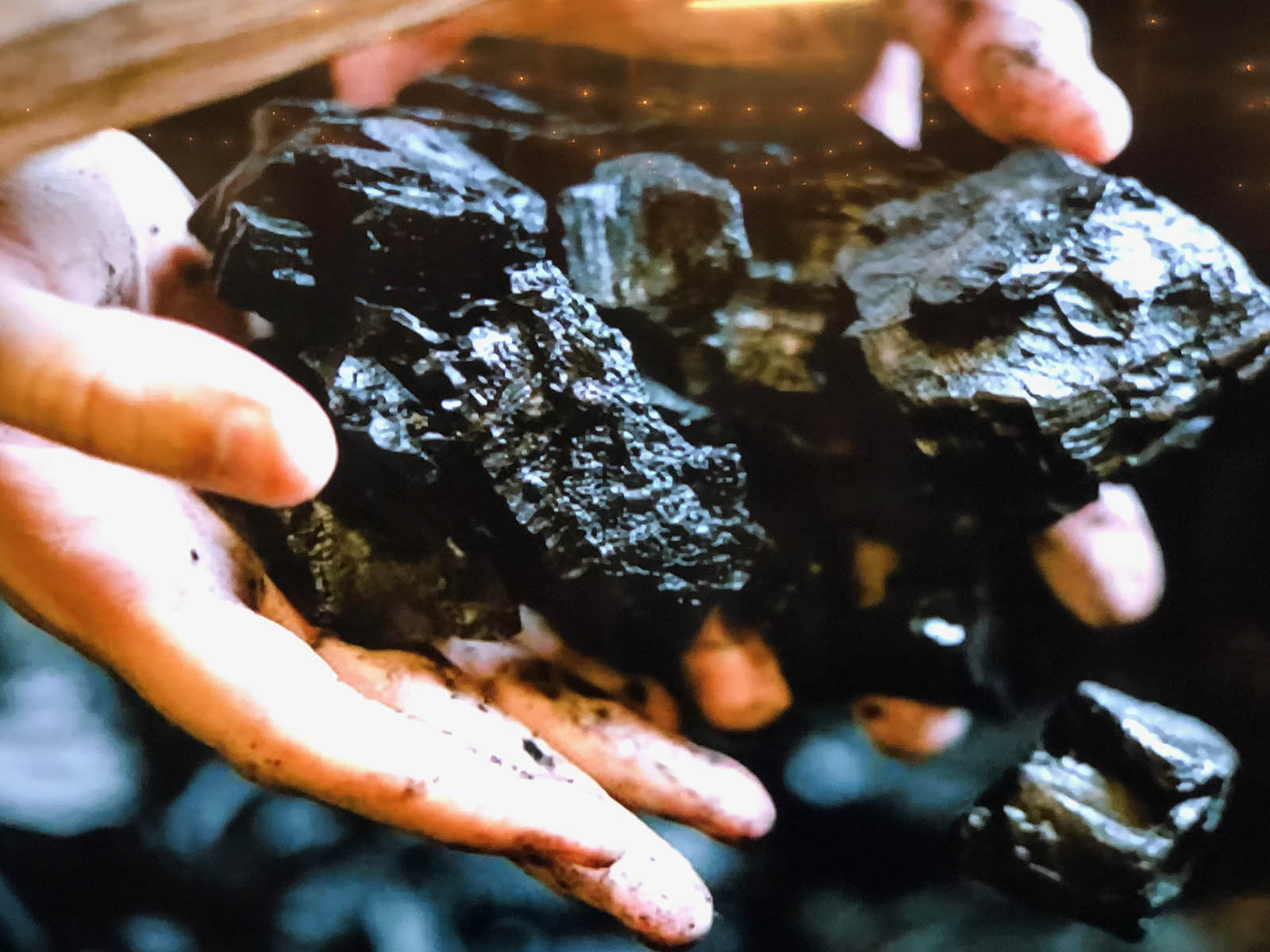 There's also a wide variety of barrel-finished Belle Meades as well as a Belle Meade Reserve available in 49 states, including Wisconsin (though the barrel finishes can be a little harder to find).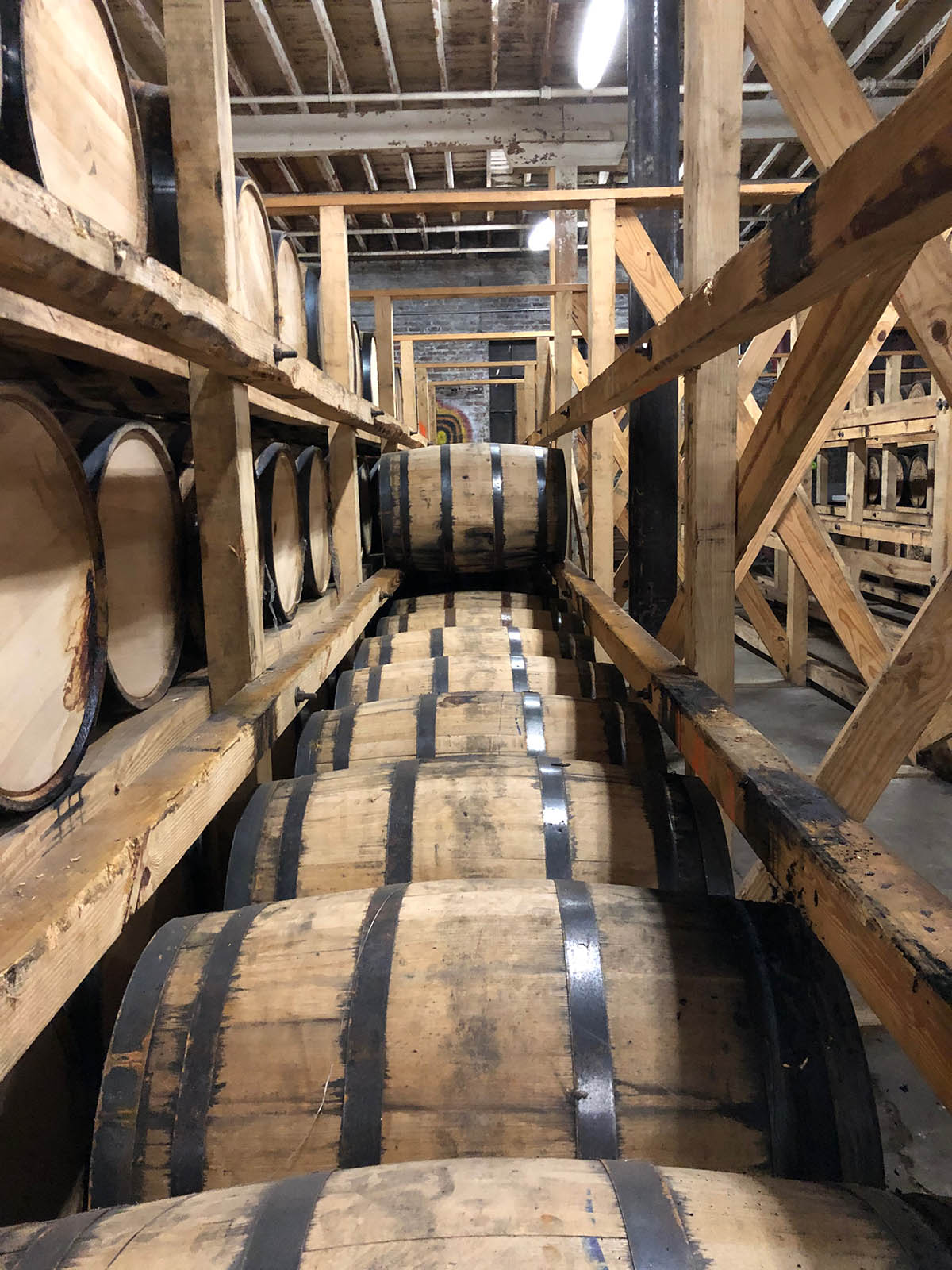 These days the distillery offers tours (although the production area is off-limits during Covid), has a big events space with windows into the barrelhouse, a shop, a beautiful tasting room with a window opening into the production space, where guests can see the Vendome copper hybrid pot still and historic photos and documents about Nelson's Green Brier history hanging everywhere.
The building is part of a blocks-long row of industrial buildings on Clinton Street that were built in 1881 for the Nashville Cotton Mills, and later housed the Phoenix Cotton Mills from 1894.
It's got great exposed brick walls and ceiling joists.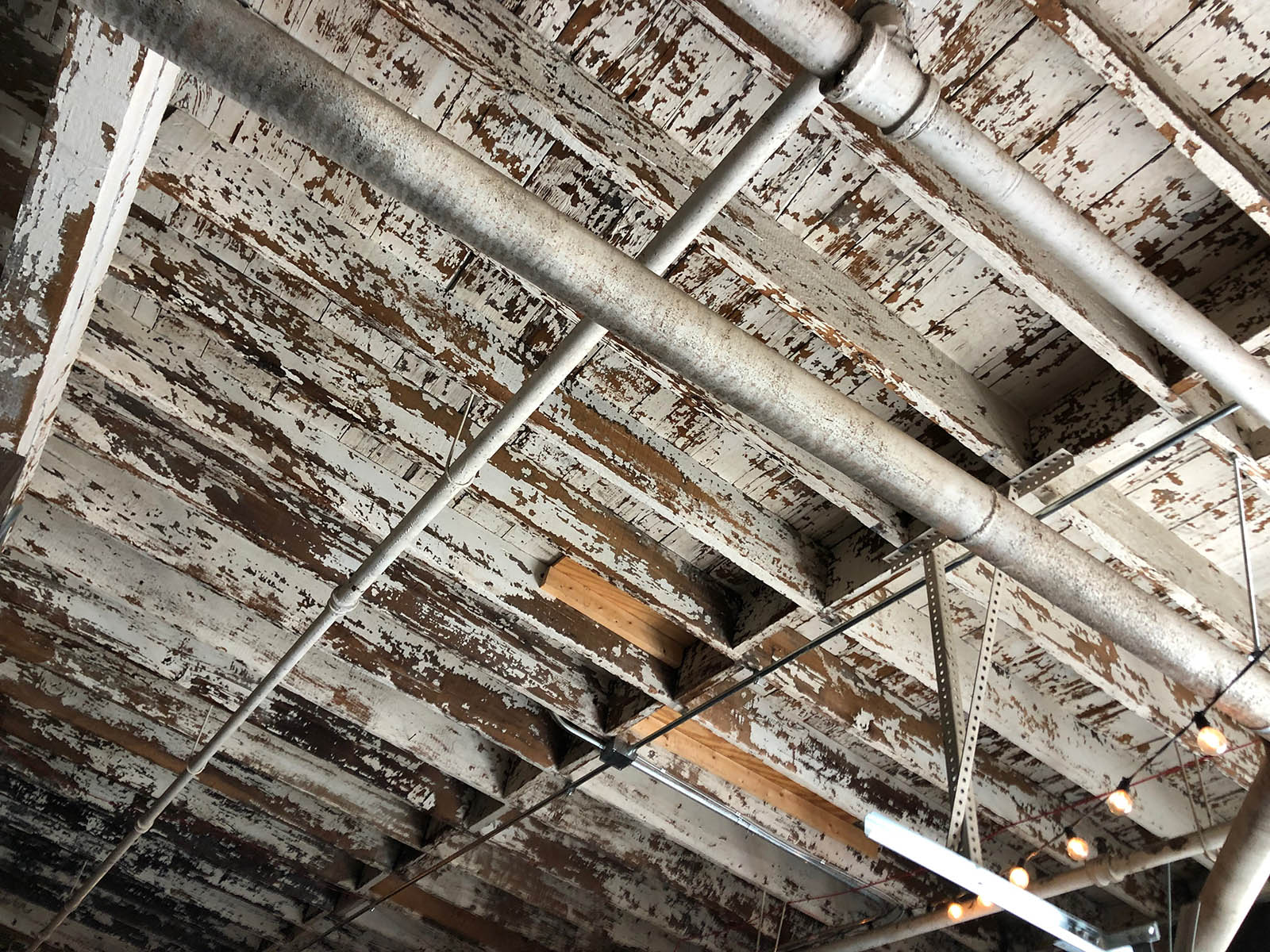 In 1910, the structures were taken over by the Southern Motor Works, which morphed into Marathon Motor Works the following year.
A variety of cars – limousines, trucks, coupes, touring cars, roadsters – were manufactured there until 1914 and it ran a parts and service operation on the site for another four years after that.
In 1986, the main building, a lovely two-story Italianate structure in red brick, was converted into Marathon Village, which has a variety of local shops, artists spaces, eateries, bars and other businesses, with a ton of great original machinery and tools on display throughout.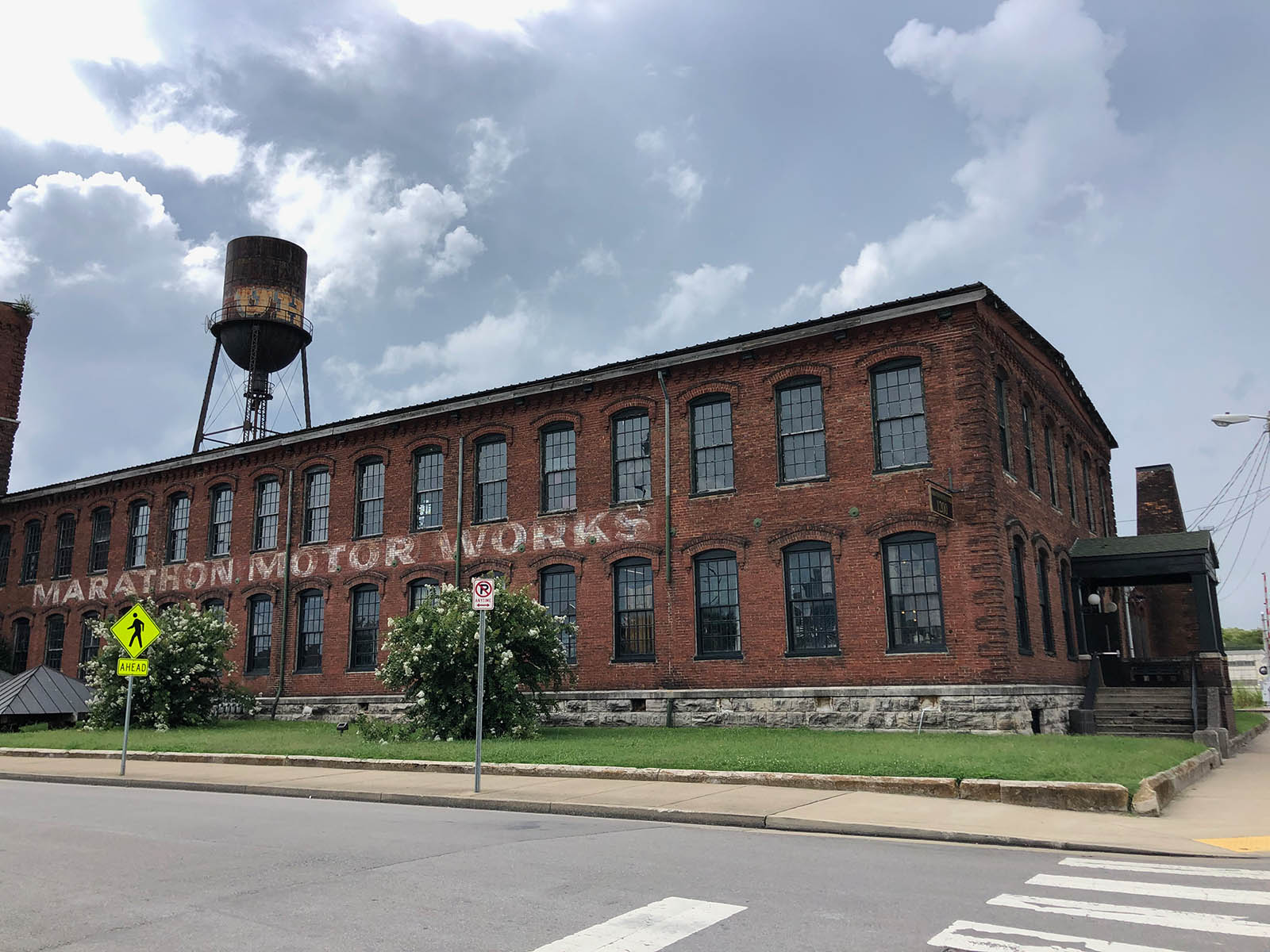 On the far western end is Nelson's and on the far eastern end of the complex is Corsair Distillery.
While Corsair is pushing the boundaries of whiskey with things like heavily hopped juice, Nelson's is mining a more traditional vein and, to my taste buds, striking gold.
The Belle Meade whiskeys are – as you'd expect from MGP whiskey blended to specifications created by Pickerell – uniformly satisfying, with nice rye spice and good balance. The barrel finishes add layers and dimension, too.
But the Nelson's Green Brier label, made here on site (using Briess malt from Chilton, Wisconsin), amid all this history, tastes the most satisfying to me, with its softer edges.
Plus, there's that label, basically the same as it was well over a century ago. (You can see a 1906 bottle of it in the welcome center at Jack Daniel's Distillery 90 minutes south in Lynchburg.)
It really feels like you're drinking history.
Born in Brooklyn, N.Y., where he lived until he was 17, Bobby received his BA-Mass Communications from UWM in 1989 and has lived in Walker's Point, Bay View, Enderis Park, South Milwaukee and on the East Side.
He has published three non-fiction books in Italy – including one about an event in Milwaukee history, which was published in the U.S. in autumn 2010. Four more books, all about Milwaukee, have been published by The History Press.
With his most recent band, The Yell Leaders, Bobby released four LPs and had a songs featured in episodes of TV's "Party of Five" and "Dawson's Creek," and films in Japan, South America and the U.S. The Yell Leaders were named the best unsigned band in their region by VH-1 as part of its Rock Across America 1998 Tour. Most recently, the band contributed tracks to a UK vinyl/CD tribute to the Redskins and collaborated on a track with Italian novelist Enrico Remmert.
He's produced three installments of the "OMCD" series of local music compilations for OnMilwaukee.com and in 2007 produced a CD of Italian music and poetry.
In 2005, he was awarded the City of Asti's (Italy) Journalism Prize for his work focusing on that area. He has also won awards from the Milwaukee Press Club.
He can be heard weekly on 88Nine Radio Milwaukee talking about his "Urban Spelunking" series of stories.