When the pandemic hit last spring, local artist and father of two young girls Nicholas Ystad was looking for work and struggling with mental health issues. When he received his stimulus check, his mother encouraged him to invest in something he loved, something that would infuse him with purpose and motivation.
"So I went to Best Buy, bought a laptop, then went home, got online, and immediately ordered some drawing equipment," says Ystad.
Ystad is a lifelong artist who attended the Art Institute in Chicago and the Milwaukee Area Technical College for welding. However, as of March, he had not drawn in three years. "It's crazy to think I went for that long without drawing, but I surprisingly came back to it as a stronger, more mature artist," says Ystad.
Within a few months, Ystad created an adult coloring book, "Mammalia, Vol. 1." The book features 17 highly detailed mammal faces including an impala, giraffe, horned owl, muskox, human and more.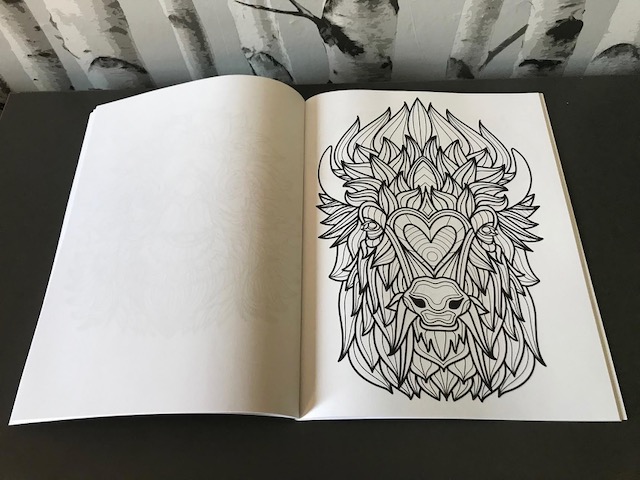 "I wanted to create images of the lifeforms on this earth. I have such an immense respect for the bounty of life," says Ystad. "Humans and animals are meant to live symbiotically, truly. I think we were made for each other, in a sense. Maybe it is that we are just the most intelligent mammal on this planet, and we are no different than them in more ways than we realize."
"Mammalia" is the first adult coloring book in a five-book series. "Mammallia, Vol. 2" will focus on insects; "Mammalia Vol. 3" on marine life; "Mammalia Vol. 4" on reptiles, and, finally, "Mammalia Vol. 5" will explore human faces.
Ystad is also working on a coloring book of the 12 astrological signs. He has created a website, where his book – and future books – are available for purchase. It's also on Amazon. Ystad is currently working on getting it into local bookshops.
"So far, it is rewarding. I've made back what it cost to print my first run and then some, which is really exciting in and of itself. I remain optimistic, hopeful, and grateful to the people endorsing this dream of mine," says Ystad.
Ystad finds inspiration from the Internet where he studies other artists' techniques. He is also energized by his creative family, particularly his father, Milwaukee ex-pat reggae musician and artist Tony Brown. "I have two paintings that my dad did hanging in my house. One is staring down at me right now," he says.
A single dad of two girls, Ystad lives in Bay View where the three – along with their dog and cat – live "a very peaceful little life together." Ystad hopes he can support himself via his art and that he will not have to return to welding. He also has a history of working in restaurants, but would prefer to cook at home these days.
I took a leap of faith, hoping the universe would provide, and so far it has been an exhilarating experience," says Ystad. "The outpouring of support has been empowering to say the very least."
Click here to order and / or to find out more info.
Molly Snyder grew up on Milwaukee's East Side and today, she lives in the Walker's Point neighborhood with her partner and two sons.
As a full time senior writer, editorial manager and self-described experience junkie, Molly has written thousands of articles about Milwaukee (and a few about New Orleans, Detroit, Indianapolis, Boston and various vacation spots in Wisconsin) that range in subject from where to get the best cup of coffee to an in-depth profile on the survivors of the iconic Norman apartment building that burned down in the '90s.
She also once got a colonic just to report on it, but that's enough on that.
Always told she had a "radio voice," Molly found herself as a regular contributor on FM102, 97WMYX and 1130WISN with her childhood radio favorite, Gene Mueller.
Molly's poetry, essays and articles appeared in many publications including USA Today, The Writer, The Sun Magazine and more. She has a collection of poetry, "Topless," and is slowly writing a memoir.
In 2009, Molly won a Milwaukee Press Club Award. She served as the Narrator / writer-in-residence at the Pfister Hotel from 2013-2014. She is also a story slam-winning storyteller who has performed with The Moth, Ex Fabula and Risk!
When she's not writing, interviewing or mom-ing, Molly teaches tarot card classes, gardens, sits in bars drinking Miller products and dreams of being in a punk band again.