Milwaukee's hardest-to-define, but amazingly talented cello and percussion duo, Nineteen Thirteen, returns on stage Thursday at Jazz In The Park for a 6 p.m. performance. You might think that only two musicians, Victor DeLorenzo and Janet Schiff, would be limited in what they can do in a live performance.
But you'd be wrong. Very wrong.
We caught up with the award-winning pair in advance of their show – their first ever at Jazz In The Park.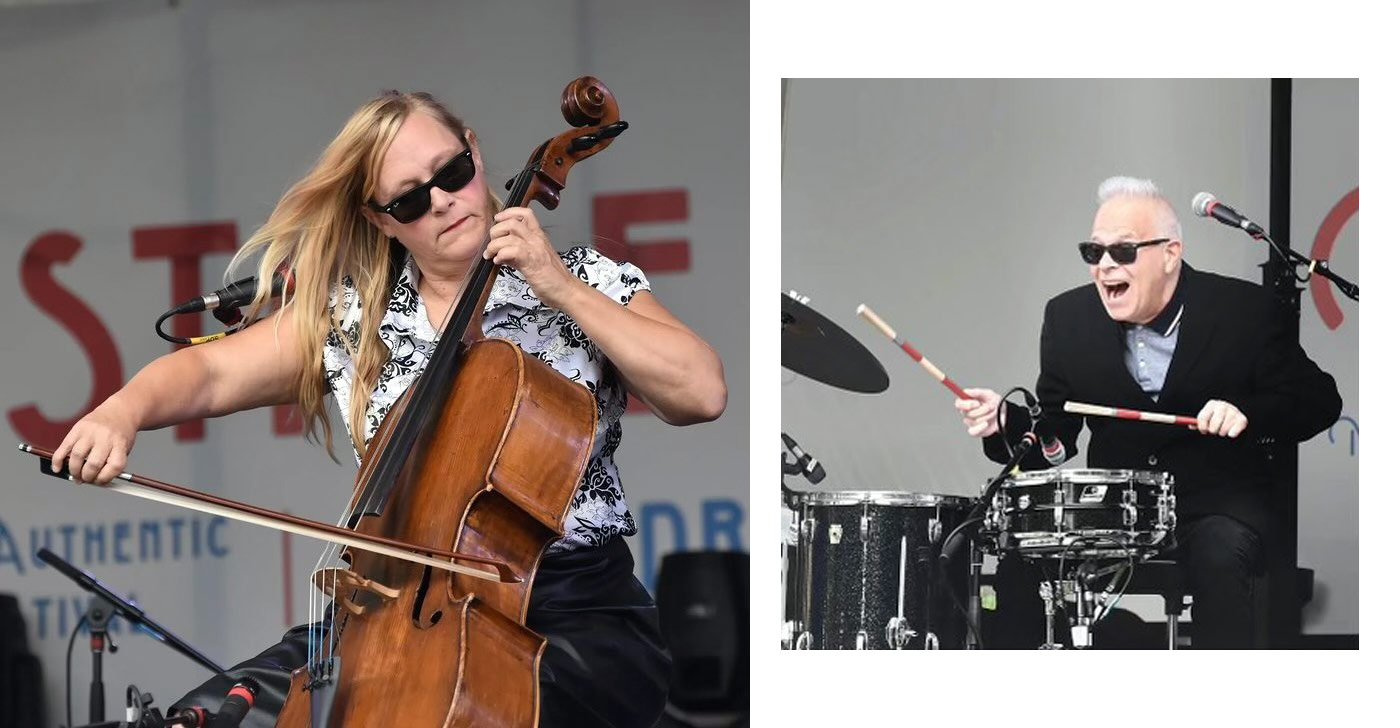 OnMilwaukee: Why is playing Jazz In The Park a dream come true for you two?
Victor DeLorenzo: It's not a dream come true, it's a gig come true. Janet has wanted to perform at this venue for 30 years and has attended the series since then. It's been a long-term goal so we should all celebrate with her and Nineteen Thirteen. Janet was even in the audience when Mayor Norquist played sax at Jazz in the Park.
How do you anticipate Jazz in the Park will be different from playing on the same stage as Bastille Days, which isn't new for you?
Janet Schiff: These are different events, entirely. Jazz in the Park is a curated concert series, where Bastille Days is essentially a street market. At Jazz in the Park, people are there to experience the music and the cool vibe of the evening.
I don't know if I'd call Nineteen Thirteen "jazz" exactly, but I can see it. Do you think you fit into this genre?
Schiff: Wow, that's a loaded question, Andy. What Victor and I do in Nineteen Thirteen involves long-form improvisation based on looping the melodic and rhythmic progressions, including rotating guest musicians. I lay down this music with my cellos and then Victor has to interact with musical texture that is always changing. We believe this is where "jazz" lives in our music. Plus, we were awarded "Jazz Artist of the Year" by the Wisconsin Area Music Industry once.
My bad! So, who are these special guests you're bringing on stage?
DeLorenzo: We have Matt Meixer on keyboard, synthesizers and vocals. Two songs will be sung by MONIA, an artist we have been collaborating with for years on recordings. Christopher Pipkins on tenor and alto sax for the evening will add his amazing jazz interpretation.
What's new with the band? Will we hear new music on Thursday?
Schiff: You'll definitely hear new music if you attend Jazz in the Park with Nineteen Thirteen. We have been working on arrangements of "A Love Supreme" and "Summertime," plus our hits like "Hot Garbage," "Candy Necklace" and "Trick Zipper."
Andy is the president, publisher and founder of OnMilwaukee. He returned to Milwaukee in 1996 after living on the East Coast for nine years, where he wrote for The Dallas Morning News Washington Bureau and worked in the White House Office of Communications. He was also Associate Editor of The GW Hatchet, his college newspaper at The George Washington University.
Before launching OnMilwaukee.com in 1998 at age 23, he worked in public relations for two Milwaukee firms, most of the time daydreaming about starting his own publication.
Hobbies include running when he finds the time, fixing the rust on his '75 MGB, mowing the lawn at his cottage in the Northwoods, and making an annual pilgrimage to Phoenix for Brewers Spring Training.