Khary Penebaker does not know what his mother's voice sounded like.
He also does not know what her favorite color was, what she smelled like and what it was like to hear her tell him that she loves him.
"I don't remember anything about my mother," Penebaker said emphatically as he held up her death certificate to the bright blue sky. "That's a problem, and it is going to require every single one of us to stand up and say we had enough ... and we will do whatever it takes to fix the problem."
Penebaker, 38, who was 20 months old when his mother pulled over on the side of a road and shot herself to death in 1979, was one of the speakers during a National Gun Violence Awareness Day event in O'Donnell Park in Downtown Milwaukee on Thursday.
"We can do simple things like making sure that we place a barrier between a person who may be mentally unwell and … a gun. We can save people's lives," said Penebaker, a candidate for the 5th U.S. Congressional District seat. Penebaker is challenging incumbent Rep. Jim Sensenbrenner and a third-party candidate.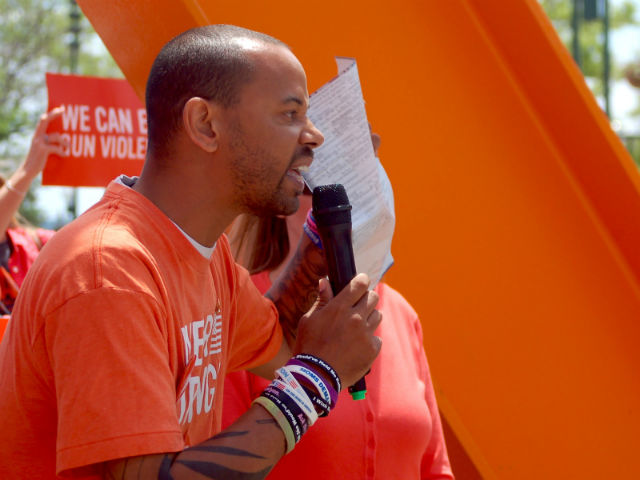 Khary Penebaker, a candidate for U.S. Congress, holds his mother's death certificate as he tells a crowd at a gun violence awareness rally about her suicide in 1979.
The rally took place underneath The Calling, an orange sunburst sculpture, and was attended by dozens of people who wore orange, a symbol of the campaign against gun violence, as they held signs such as "Moms demand action for gun sense in America."
Penebaker, along with Milwaukee Mayor Tom Barrett, Milwaukee County Executive Chris Abele and State Sen. Chris Larson called for better enforcement of laws that dictate gun ownership, restrictions on assault rifle sales and universal background checks.
"It is up to us to speak out," said Larson, noting that the majority of Americans support universal background checks. "This is the calling to end gun violence in our communities. Let's make it happen."
In Milwaukee, 145 people were murdered and 635 non-fatal shootings occurred in 2015, making the year one of the bloodiest and deadliest in recent memory, according to the Journal Sentinel.
"It does not have to be this way … we can do so much better," State Rep. Mandela Barnes said during the rally. "Every community deserves to be safe regardless of the ZIP code."
Barnes said that the gun lobby is to blame for turning "communities into war zones."
The National Gun Violence Awareness Day began in 2015 and is held each June 2, the birth date of Hadiya Pendleton, a 15-year-old Chicago high school student who was killed by gunfire. Her friends and family decided to honor her life and campaign against gun violence by wearing orange, Pendleton's favorite color.
"People's lives depend on this," said Penebaker, imploring the crowd to contact their lawmakers and demand gun control reforms. "I think about my mom every single day … until we fix this problem, someone else is going to be living my nightmare, and I'm not okay with it. So today, enjoy it, wear your orange. But tomorrow, let's get to work."
Brendan O'Brien is a staff reporter for the Milwaukee Neighborhood News Service. During his 15-year career as a reporter and editor, O'Brien has covered breaking news, politics and governmental affairs for several news outlets, including Thomson Reuters and the Racine Journal Times.

O'Brien has a bachelor's degree from DePaul University and a master's degree from the University of Wisconsin Robert La Follette School of Public Affairs, where he focused on social policy such as poverty, employment and housing.

O'Brien has three daughters, who are 5, 7 and 12 years old.