In July, Esat Berisha opened Nori's Pizza at 2951 S. 13th St. A friend who lives in the area was giving it rave reviews, so I put it on my list and recently had the chance to try the pizza when we ordered delivery from Brenner Brewing during the Packers game two weeks ago.
I was curious to see the space itself, so I visited last week. Unfortunately, I was unable to reach Berisha to hear how he got started in the pizza business.
The store was clean, which was encouraging. Nori's Pizza has a few tables for dining in, but most of its business seems to be delivery, which is available for orders of $10 or more for a $2 delivery charge. Pizza by the slice is available with slices ranging from $2.50 to $3.50 with at least five different pizzas to choose from.
Nori's menu includes pizza, calzones, appetizers – such as wings, pizza fries and garlic bread – and a few desserts such as cannoli, tiramisu and cheesecake.
The hand-tossed New York-style crusts come in 14- and 18-inch sizes. Cheese pizzas are $9.49 and $13.49 respectively, with toppings ranging from $1.60 to $2 each. Specialty pizzas range from $12.99 to $19.99 and include meat lovers, supreme, Hawaiian, Margherita, veggie, mac 'n' cheese, lasagna and mango habanero, which features mangoes and a habanero pepper sauce.
We ordered the meat lovers and supreme pizzas.
The meat lovers is topped with pepperoni, Italian sausage, bacon, ham and mozzarella cheese. I was impressed that the ham wasn't diced like I usually find. Instead, slices of ham were cut and applied liberally. I was also impressed that the sausage and pepperoni were both spicy. I've been disappointed to find so many pizzas with very mild sausage and pepperoni, especially New York-style pizzas, so this was a nice surprise.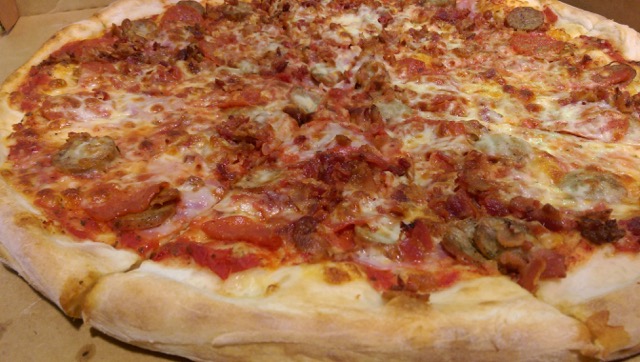 While I prefer chunks of Italian sausage over the sliced sausage that is commonly found on New York-style pizzas, the flavor and spice level left me satisfied. The amount of cheese applied was adequate, but I thought the meat toppings were generously applied and provided most of the flavor, which I appreciated. I would have liked more sauce, though. However, I was able to pick up a slightly piquant flavor from a bit of sauce that I was able to isolate.
The crust was crispy around the edges and very thin and soft at the center. The pizza was cut into pie slices, which flopped so it was best to try and fold them as you would normally fold New York-style pizza slices. These slices were a bit more difficult to fold because the edge of the crust was thicker and crispier than New York-style pizzas normally are, but I made it work.
The supreme was also generously topped with sausage, pepperoni, mushrooms, onions, green peppers, black olives and mozzarella cheese. This pie had a bit more sauce than the meat lovers, and the flavor was good, but I was disappointed that the mushrooms were canned instead of fresh.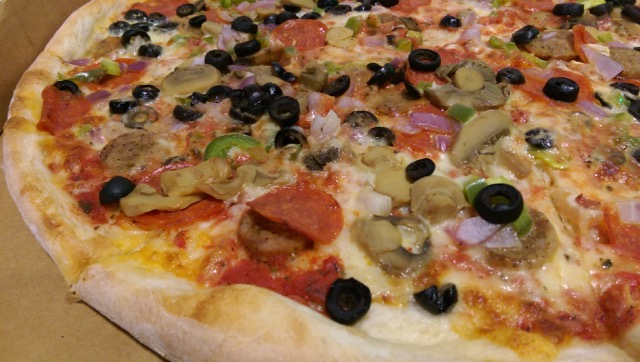 Nori's uses red onions which provided a good flavor combination with the finely diced green peppers. I usually find that green peppers and black olives ruin the flavor of a pizza with meat toppings because they usually dominate the flavor of the pizza. That was not the case with this pie. In fact, I didn't think any of the toppings dominated the flavor. I thought they all complemented each other and provided a surprisingly balanced flavor profile.
I was back at Brenner Brewing for the Packers game this week, and one of the other customers went out for a smoke. A few minutes later, he walked in with a cheese and pepperoni pizza from Nori that that was ordered by someone in a building across the street.
Apparently, no one answered and the delivery guy couldn't wait any longer after multiple attempts to reach the person who placed the order, so the brewery's customer bought the pizza from the driver and shared it with us. It was tasty and hit the spot, so Nori's passed the consistency test for me. I was able to taste more of the sauce, too.
I haven't been too thrilled with the options for New York-style pizzas in Milwaukee since Times Square Pizzeria closed, but I would order Nori's Pizza again the next time I'm craving pizza and in the area, or I might just stop in for a slice and a garlic knot.
Nori's Pizza has only been open for about five months, but the early signs seem encouraging for it to find long-term success.
I was born and raised in Milwaukee, and I plan to stay in Milwaukee forever. I'm the oldest of three children and grew up in the Riverwest neighborhood. My family still lives in the same Riverwest house since 1971.

I graduated from Rufus King High School and the University of Wisconsin-Whitewater with a business degree.

My true passion for Milwaukee probably started after I joined the Young Professionals of Milwaukee (now called FUEL Milwaukee) which just celebrated its one year anniversary at the time. The events that I attended, and sometimes organized, really opened my eyes to what Milwaukee had to offer, as well as its potential for the future. So for the past, present, and future FUEL Milwaukee corporate sponsors out there, that organization does produce results (editorial)!

I love all of the Milwaukee Sports teams, professional and amateur. I love the Milwaukee arts scene and all of the festivals. I love that you can find a free concert in the summer just about every day of the week. I love the various neighborhoods around the Milwaukee area and the unique characteristics that they offer. I love the people who take the time to tell us about those unique characteristics. I have to hold my breath and count to ten when someone tells me that there is nothing to do in Milwaukee. Then I prove them wrong.

Most of all, I love the Milwaukee dining scene. I love how it continues to evolve with modern dishes and new trends while the classic restaurants continue to remind us that great food doesn't have to be "fancy schmancy." However, I also love the chefs that create the "fancy schmancy" dishes and continue to challenge themselves and Milwaukee diners with dishes we've never seen before.

Our media provides attention to the new restaurants, which is great, but I don't like seeing the older great restaurants close their doors (Don Quijote, African Hut) because they've been forgotten, so I try to do my part to let Milwaukeeans know that they're still out there, too. I do that through social media, online reviews, and a dinner club I run for my friends, where we visit restaurants they haven't heard of before or try ethnic cuisine they haven't had before.

My dream is that one day I can mention a great experience in Milwaukee and not have someone respond with "have you been to Chicago?" I don't like those people very much.