Since North Shore Boulangerie opened at 4401 N. Oakland Ave. in 2014, it's been tradition to display a beautiful holiday scene made from gingerbread in the bakery's front window.
For years the display was created by a member of the boulangerie's pastry team; but this year, with wholesale business booming and team members strapped for time, owner Gene Webb put a call out to pastry chefs around the city to find a talented individual to take the reins on the project. The call was heeded by M.K. Drayna, a recent MATC Baking & Pastry Arts graduate and member of the pastry team at Harbor House.
"Gene gave me so much creative freedom," Drayna says of the project, which she began working on in October, putting in about 12 hours a week for five weeks. "And it meant so much that he trusted me as an artist. It's the same when I do cakes and wedding cakes … if you give me a bit of creative freedom, I feel as if the cakes really turn out a bit more special."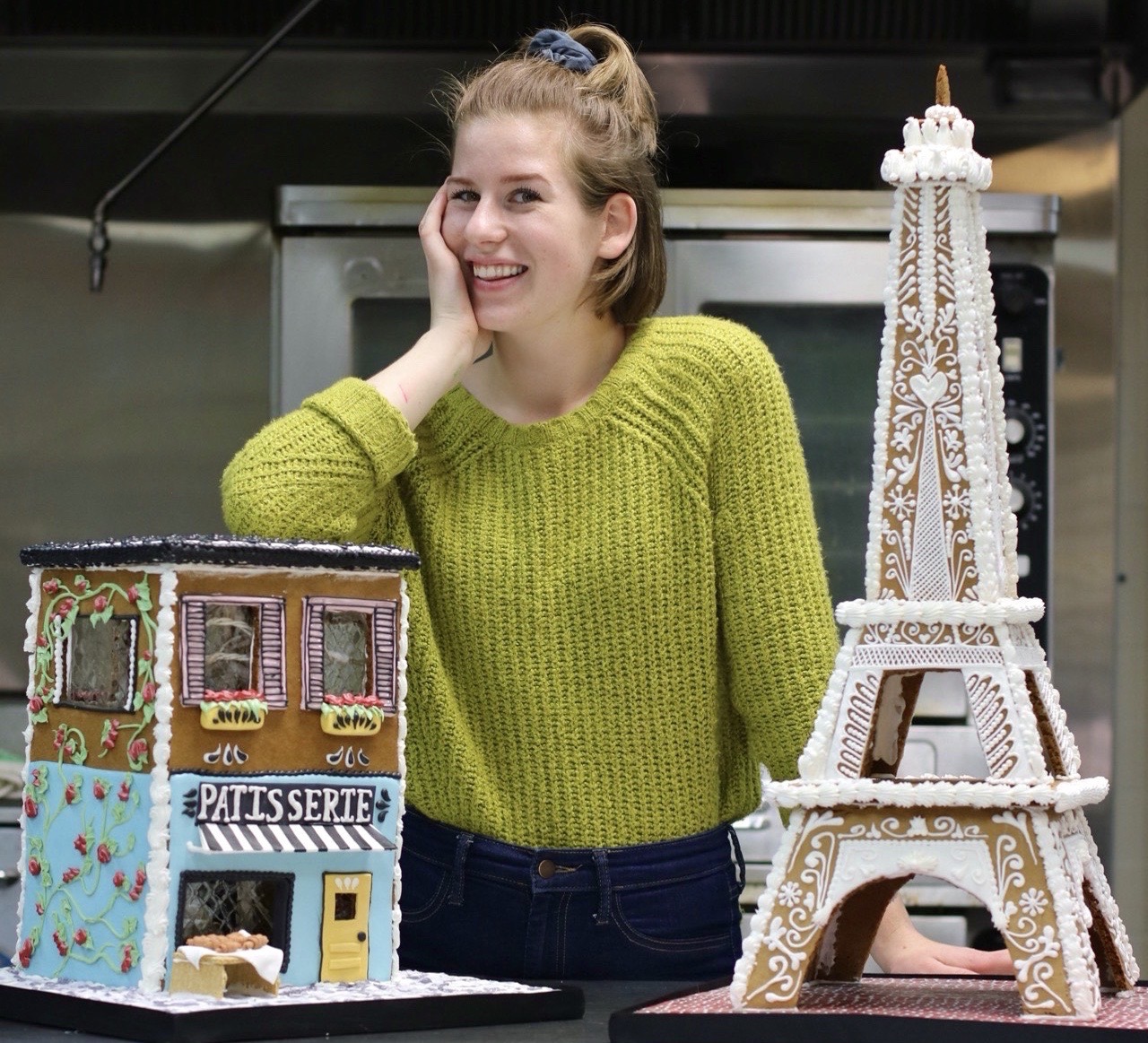 Drayna's design, which was completed in time for its debut over Thanksgiving weekend, portrays a Parisian inspired village with a patisserie, church, house, an Eiffel tower and a flower stand is filled with myriad little details which bring the display to life.
Clear etched glass windows in the patisserie and house are handmade using leaf gelatin and lit from within using strings of holiday lights.
A glance at the church reveals illuminated stained glass windows made crushed Jolly Ranchers.
A visit to the patisserie offers a tiny table filled with miniature croissants.
Meanwhile, the floral cart showcases dozens of handmade blooms.
And the entire display is awash in color, an element that Drayna says is central to her designs.
"The first thing I do is to pick a color palette," she says. "I also choose textures and patterns that I really like, and then I draw a sketch. From there, I create a model out of cardboard, which I use as a template for cutting the gingerbread. From there, I mix my colors."
"For this display, I kept things traditional to match the interior at North Shore Boulangerie while also creating something fresh," she says. "The idea began with the eiffel tower, and then I added the other elements."
Drayna says she enjoyed everything about the creative process, but her favorite part was the architectural aspect.
"I've always been a hands-on person," she says. "And with gingerbread, you can take the design to new levels.There are so many directions you can go while still tying in that really classic timeless Christmas feel. In the end, it's about getting into the holiday spirit and having fun."
Drayna is no stranger to creating whimsical gingerbread structures. During her time at MATC, Drayna won the People's Choice Award for the school's Gingerbread House Competition in both 2017 and 2018 with displays depicting a winter wonderland (complete with a frightened elf and an abominable snow monster) and a Christmas themed house inspired by a home in San Francisco, California.
She's also earned first place in numerous cake decorating competitions throughout Wisconsin and has launched a side business creating custom cakes and cupcakes for private clients. For more on Drayna's work, visit her Whisk Chick pages on Facebook and Instagram.
Join Santa for lunch at NSB
On Saturday, Dec. 14 from 10 a.m. to 2 p.m., North Shore Boulangerie will be hosting a very special visit from Santa himself. During the visit, guests can enjoy a visit with the jolly elf along with a special prix fixe lunch.
Adult lunches include soup or salad, a choice of sandwiches or quiche and a beverage for $25. Children's meals include a choice of reindeer pancakes (Rudolph's favorite), Santa's Workshop scrambled eggs or a Snowman's ham sandwich ($12). Children will also receive a personalized gingerbread man from Santa himself. Table reservations are required and are available for $10 online. For more information, visit northshoreboulangerie.com.
Lori Fredrich (Lo) is an eater, writer, wonderer, bon vivante, traveler, cook, gardener and girlwonder. Born and raised in the Milwaukee area, she has tried to leave many times, but seems to be drawn to this quirky city that smells of beer and alewives.
Some might say that she is a little obsessed with food. Lo would say she is A LOT obsessed with food. After all, she has been cooking, eating and enjoying food for decades and has no plans to retire anytime soon.
Lo's recipes and writing have been featured in a variety of publications including GO: Airtran Inflight Magazine, Cheese Connoisseur, Cooking Light, Edible Milwaukee, Milwaukee Magazine and the Milwaukee Journal Sentinel, as well as on the blog Go Bold with Butter, the web site Wisconsin Cheese Talk, and in the quarterly online magazine Grate. Pair. Share.