Tucked away on Milwaukee's South Side is a former home for the nurses who tended to the physical needs of the patients at the old South View Isolation Hospital across the street.
For more than half a century now, however, the old residence has been home to a Milwaukee Recreation facility that has ministered to the social and intellectual needs of the city's senior citizens.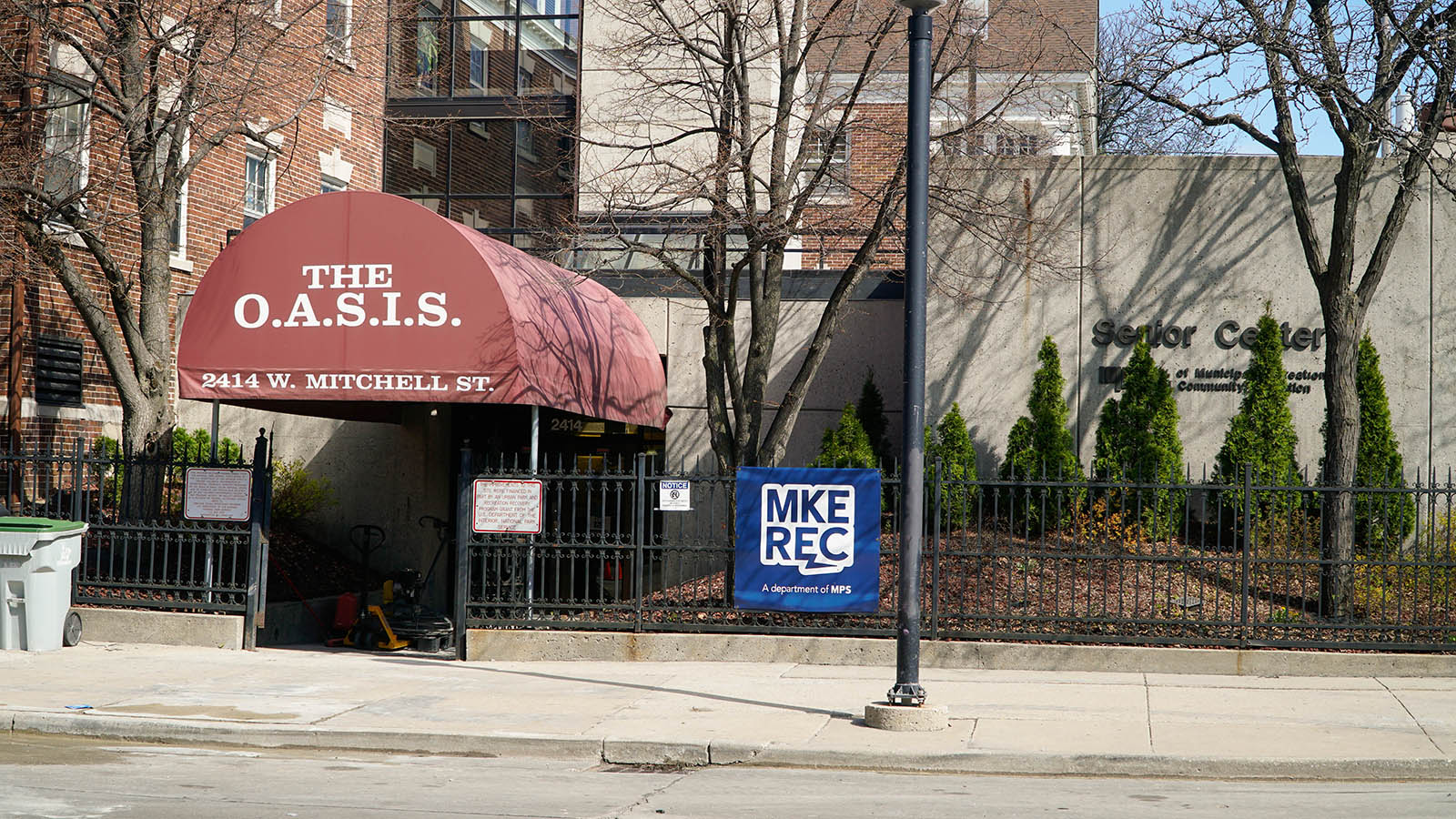 The O.A.S.I.S. Senior Center – O.A.S.I.S. is an acronym for Organization for Active Seniors in Society – is the current iteration of a seniors program that dates back to the late 1940s and has occupied its current home at 2414 W. Mitchell St., since the early 1960s.
The center – whose mission is to provide a variety of year-round services, programs and social opportunities for senior adults – is open to community members 50 and up. They can purchase an annual membership, running Sept. 1 through Aug. 30, for a nominal fee ($15 for City of Milwaukee residents, $25 for non-residents), that unlocks a wide variety of programming.
Among the free activities offered are chair yoga; crafts, exercise classes, card games, outdoor education classes, puzzles and string ensemble.
There is also a computer lab for surfing the web, playing games and sending emails. Computer classes are offered for a small fee.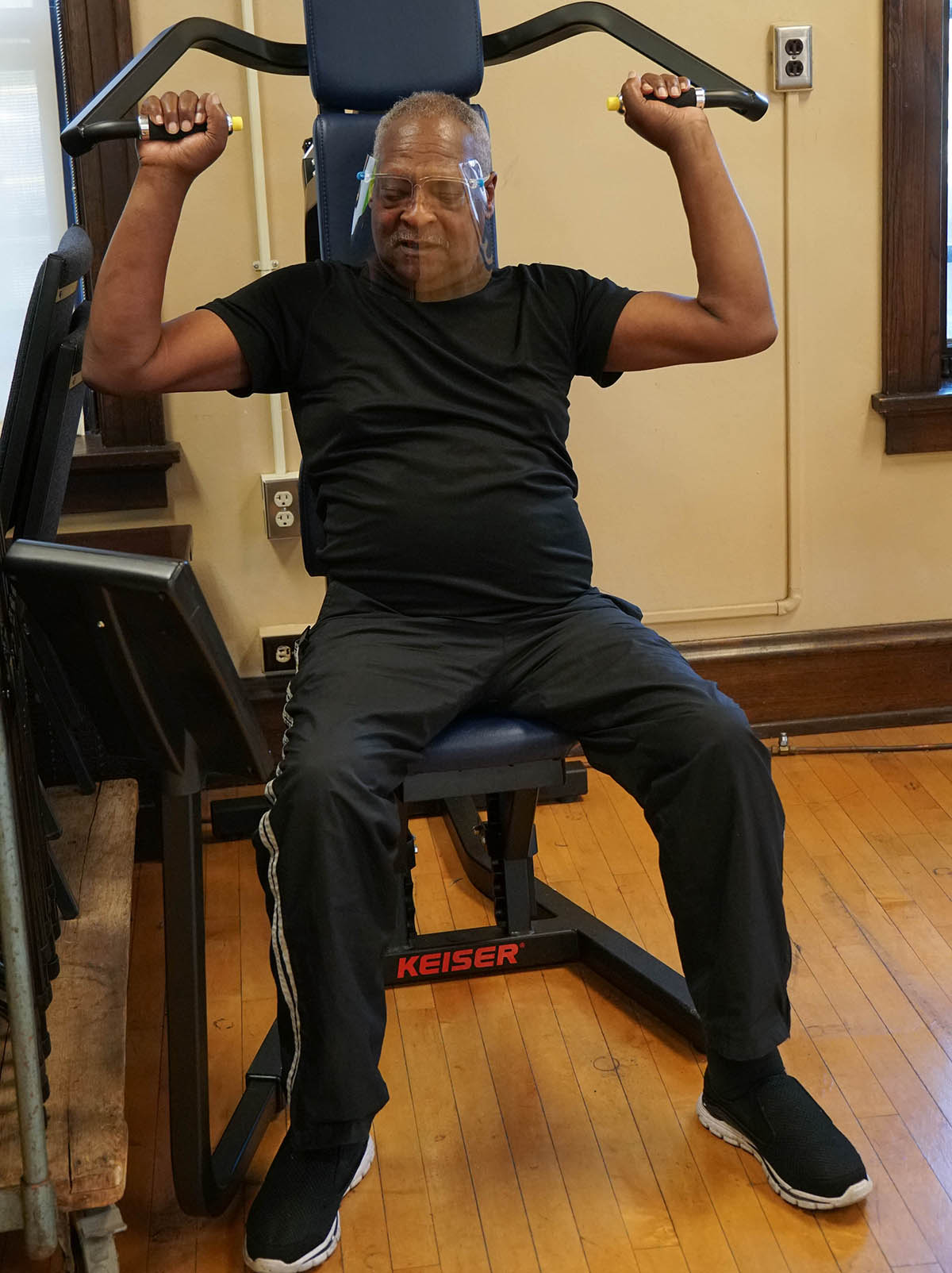 In addition, members can access blood pressure checks, exercise in a fitness center and consult with a Milwaukee County Department of Aging Representative ... all in a friendly and welcoming atmosphere.
Prior to the Pandemic The Milwaukee County Senior Meal program served lunch weekdays at 11:30 a.m. The hope is that the program will be back in-person soon.
Recently, the center completed a series of upgrades.
"We are nearing completion on (or have completed) some Americans With Disabilities Act-related renovations to OASIS including fully accessible restrooms on all three floors, easier access to the ground floor activity room, accessible office spaces on each floor and accessible doors throughout the building," says Facilities Project Supervisor Dan Shinkle. "The restrooms include adult changing stations and folding grab bars to better assist our therapeutic recreation programs.
"There are future plans to update more of the ground floor to include a welcome center and improved office space, as well as improved ventilation systems throughout the building."
The restroom work and new interior door hardware upgrades have been finished, the cafeteria walls painted and a new cafeteria roof installed.
In addition, the internet café has new computers and updated WiFI and the fitness center equipment has been upgraded, too.
Other work in progress or coming soon includes an updated entry, new lobby lighting, new paint in the lobby and the installation of exterior security cameras.
The facility upgrades improve the user experience in a number of ways, says Stacy Witters, CPRP, Milwaukee Recreation's manager of citywide programs.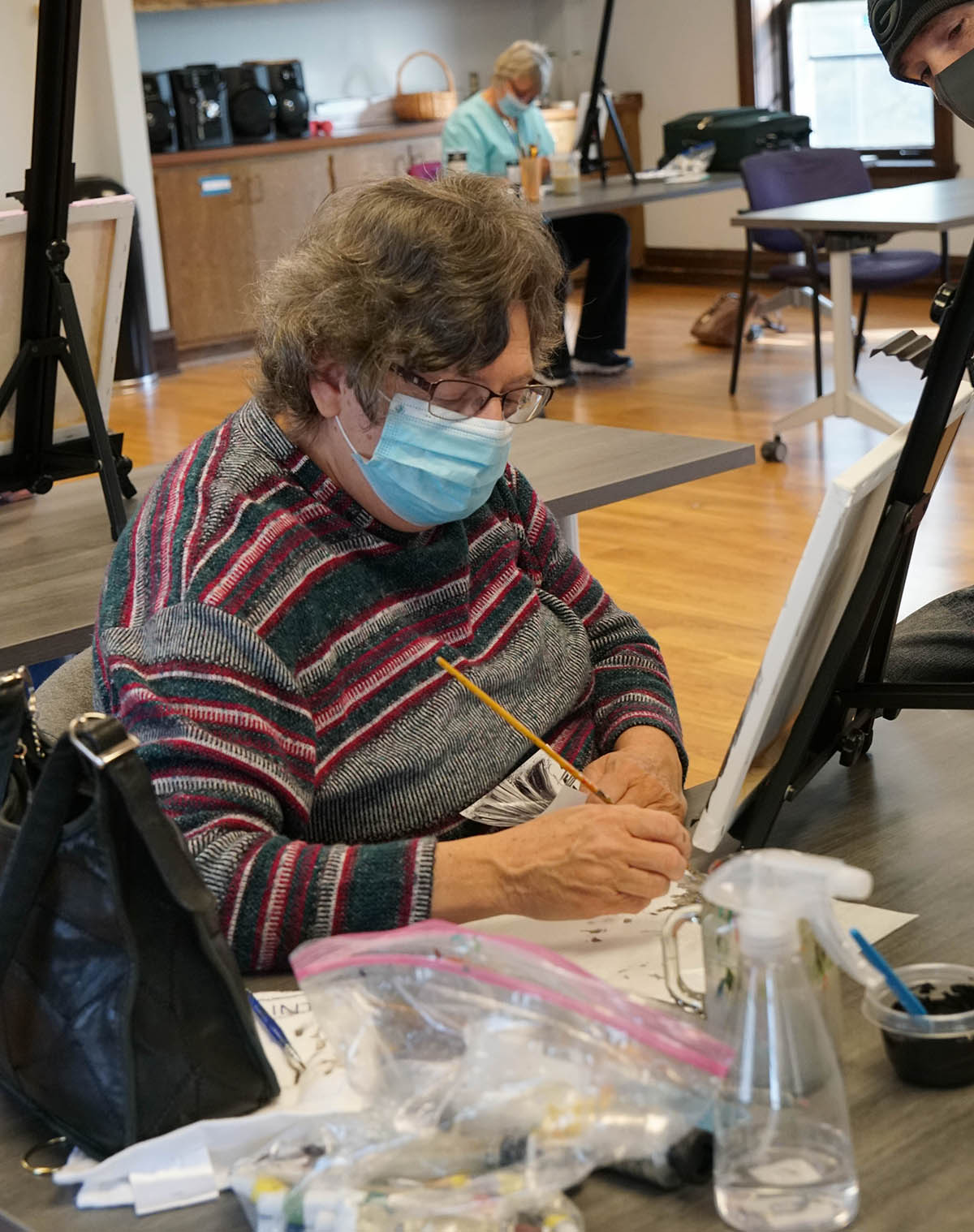 "I think the ADA upgrades were a major need in our facility as we have a high number of programs that are geared toward older adults and individuals with disabilities," she says. "It means accessibility that is up to code for our senior population and those participants with orthopedic impairments.
"It will allow for a new activity room space on the ground floor that is accessible for all. A brighter, more welcoming lobby and our computer lab will provide a better user experience due the new machines that were purchased.
"It also has updated our space and brought us closer to creating a more welcoming community center atmosphere."
From nurses' home to senior center
The history of the building dates to 1922, 11 years after the current hospital building – now home to the Southside Health Center – was built to replace an earlier hospital on the site.
In that year, the City of Milwaukee spent $1,525 to purchase five lots on 24th and Mitchell and the next year allocated another $85,000 to tear down the existing buildings and build the nurses' home, which was completed in 1924. A tunnel, now sealed, connected the home with the hospital.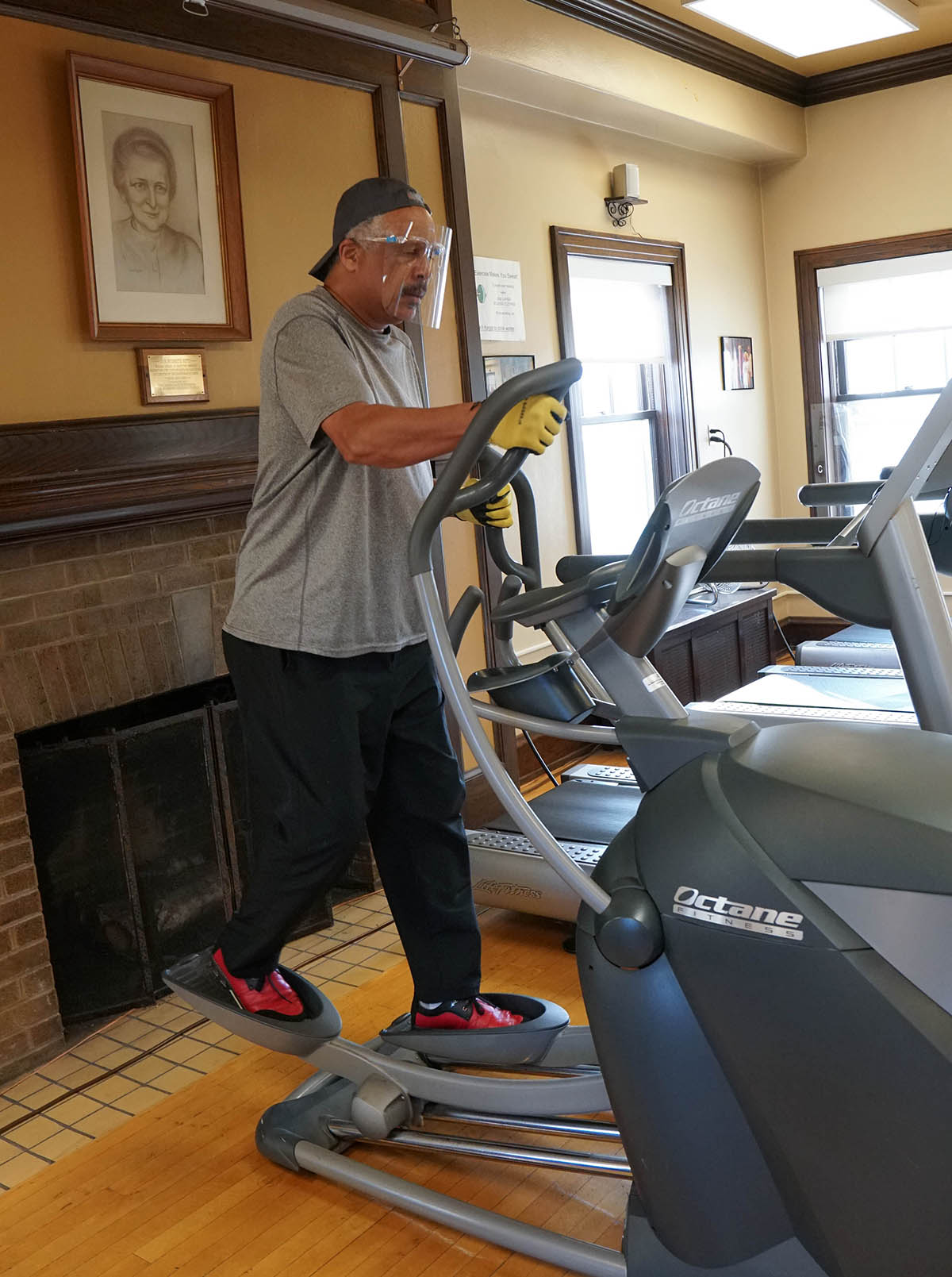 When, in 1954, isolation cases were transferred from South View to Johnson Emergency Hospital on Windlake Avenue and Grant Street, the nurses' home became redundant and was closed. The following year, Ald. Erwin F. Zillman suggested converting it to a public library.
But the building was apparently still vacant in 1963 when the Milwaukee Public Schools board proposed using it as a "drop-in" senior center, echoing an earlier proposal by Ald. Robert K. Jendusa.
The usage was approved by the Common Council in January 1964 and on May 1, the City and MPS signed an automatically renewing one-year lease, agreeing that the lease would also automatically end if the senior center ever closed.
Ida's guiding hand
This acquisition was a big step forward for a program that began as the Golden Age Club in 1949 under the direction of Ida Harwitz Witt.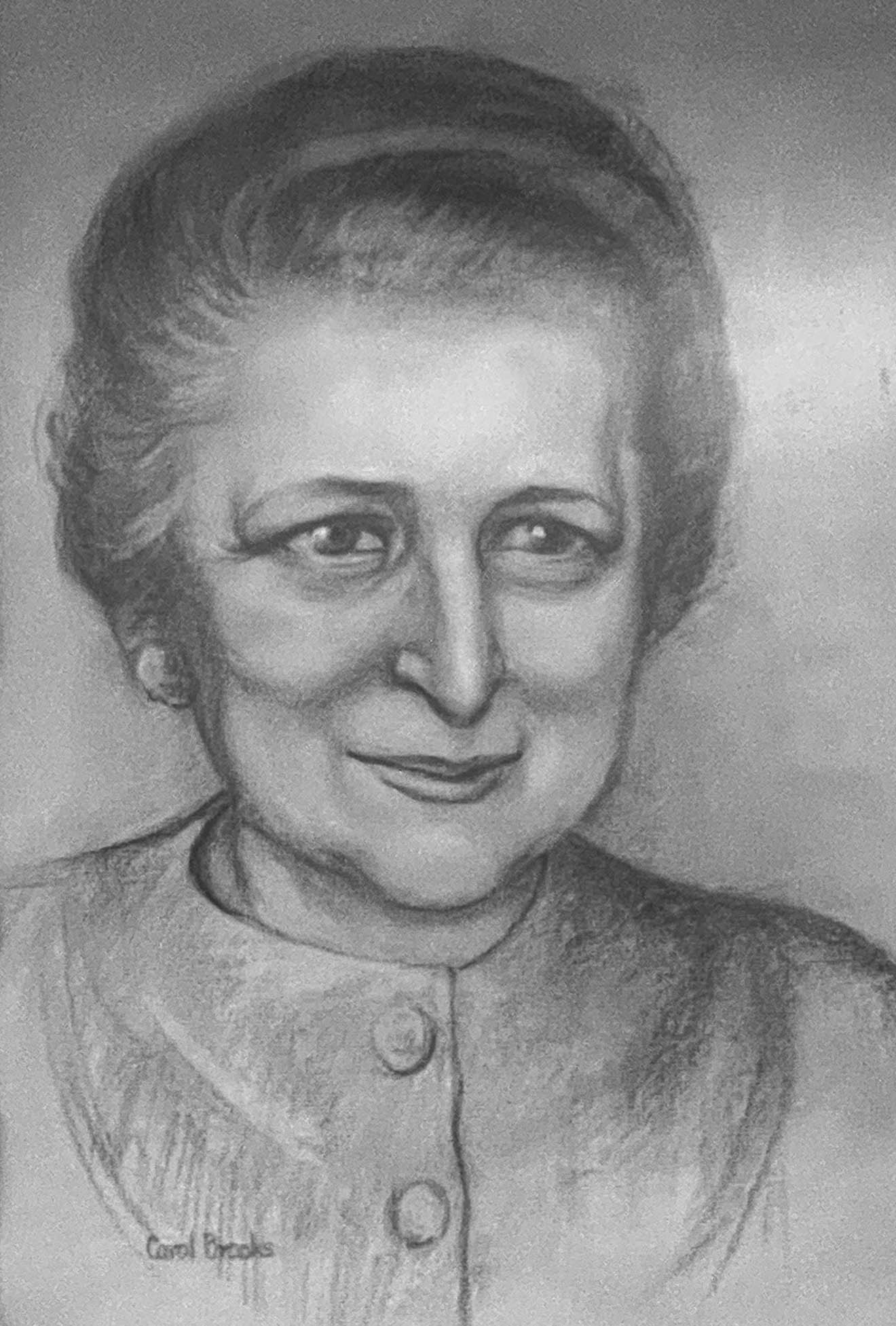 "Under Ida's tutelage from 1949-65, 40 Golden Age clubs for persons over age 60 were developed," wrote George Wilson in a departmental history of Milwaukee Recreation. "Each club had a leader who was either a part-time or full-time worker assigned to a specific center or centers. The Golden Age clubs and special programs attracted thousands of Milwaukeeans.
"While not restricted in membership, enrollments were predominantly women. This was soon to be changed with the advent of "Extra Years of Zest" (XYZ) clubs for men. The XYZ clubs were first supervised by Witt, and then by Don Griffin ... utilizing fieldhouse locations. XYZ clubs were heavy on card playing, dartball and, of course, refreshments."
Witt became the face of the senior programs and she brought not only passion, but a great depth of knowledge and experience to them.
Born in Wisconsin around 1895 to Russian Jewish immigrant parents, Ida Harwitz became a public school teacher, working at Keefe Avenue School.
In 1925, she married Robert Witt, the son of German immigrants – 20 years Ida's senior – who was a pioneer in the "lighted schoolhouse" movement to open public schools to their community for clubs, classes and activities.
When the recreation department was created in 1911, Witt was, along with Dorothy Enderis, named an assistant to director Harold Berg. By the time he met Harwitz, Witt was the director of the Lapham Park Social Center.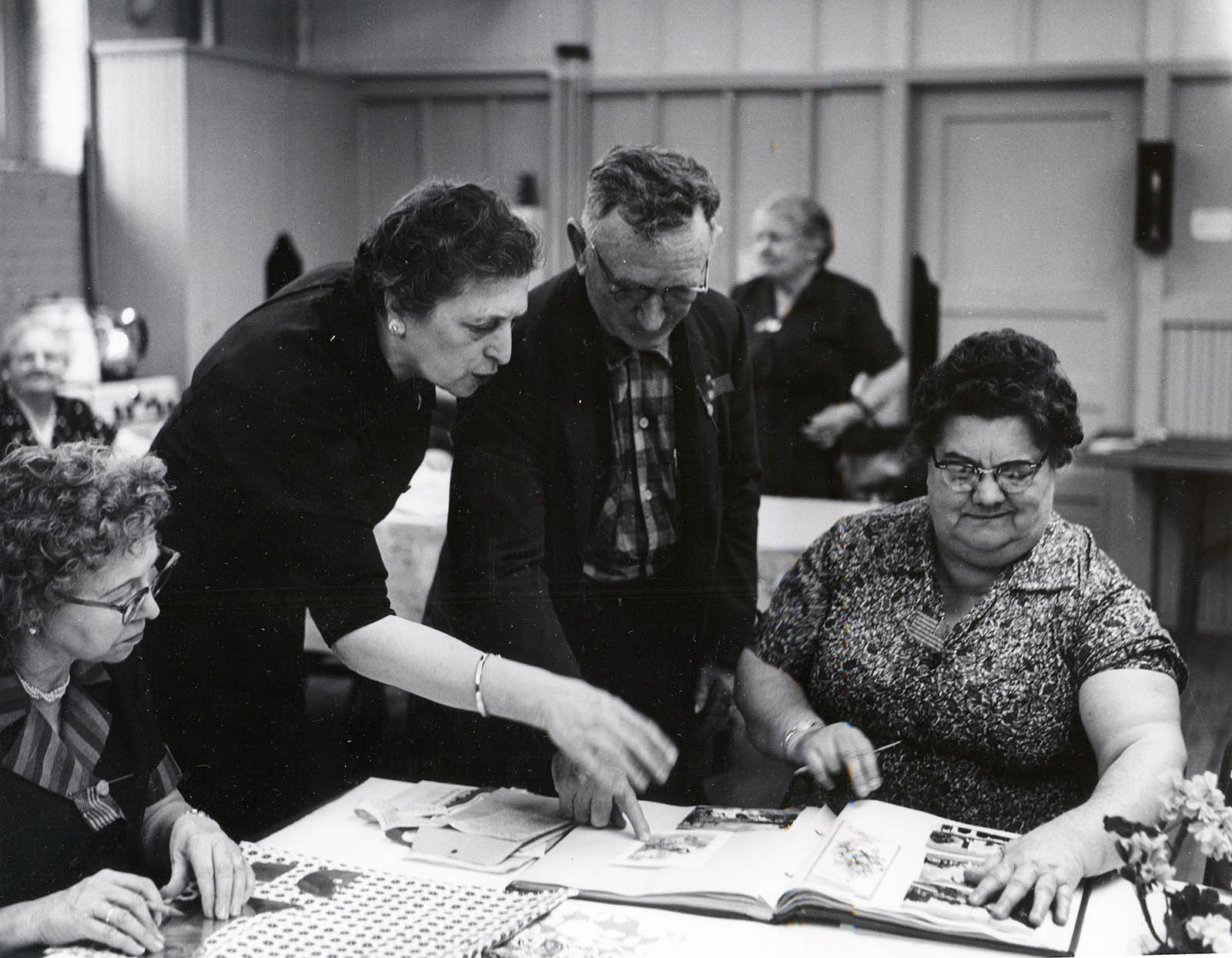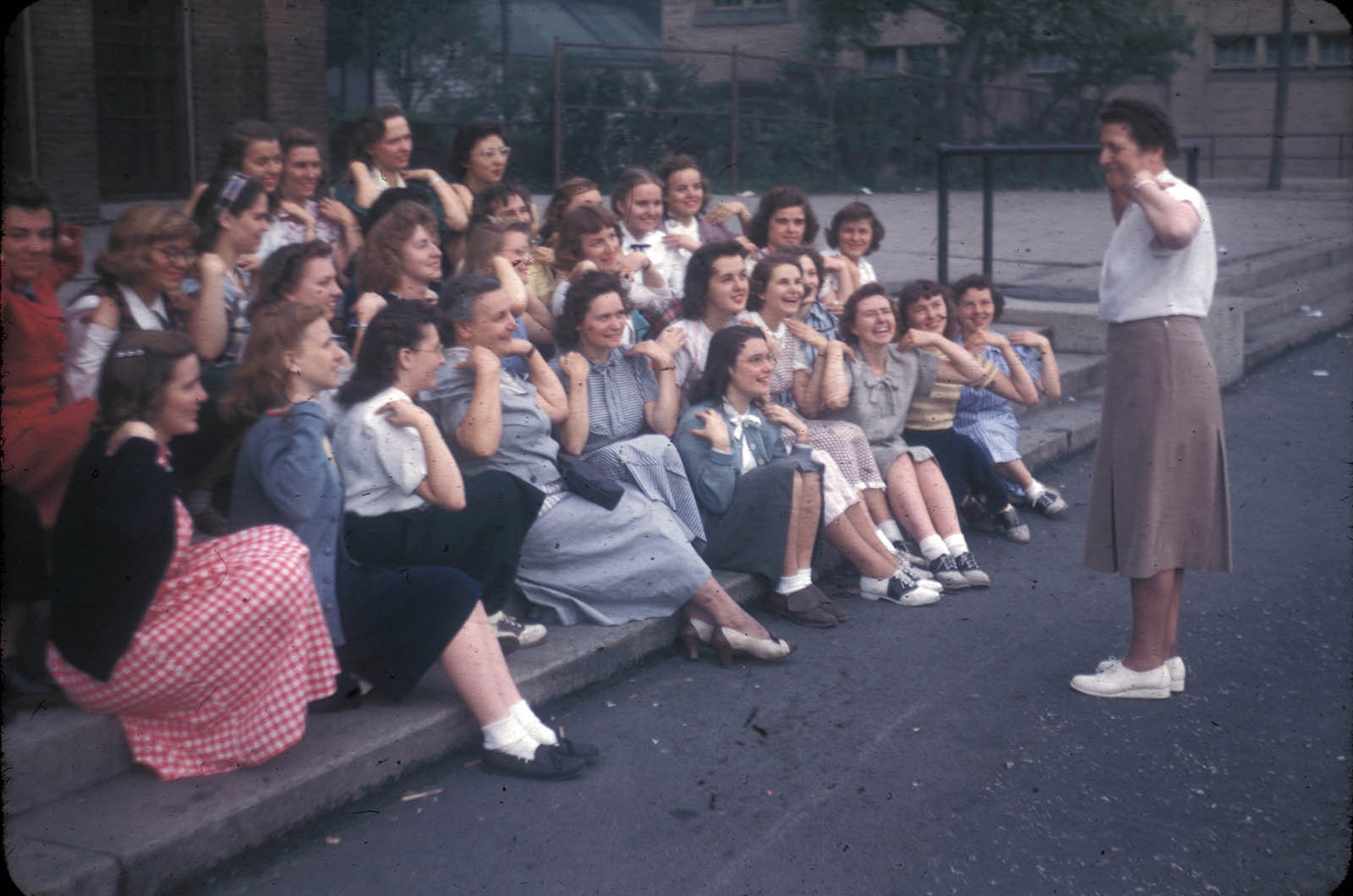 When Witt died in 1939, at the age of 59, Ida – who had worked alongside him at the center – was tapped as his replacement.
A decade later, she was chosen to run the booming Golden Age program for Milwaukee Recreation, which had clubs at Auer Avenue – which had been the first to open, in 1949 – Clarke Street, Fourth Street, Lapham Park, Pierce, Siefert, Victor Berger, Grant and 37th Street school social centers and at Parklawn Community House.
"Even if (the seniors) don't do anything but sit and talk, the meetings are worthwhile," Witt told the Journal in December 1949. "Often these persons have only one or two relatives to talk to at home. Here they talk with perhaps half a dozen people in an afternoon and they love it. We try to bring into these meetings good wholesome conversation."
When Witt died in 1965, having developed 34 clubs, according to the Milwaukee Sentinel, she was succeeded by Nancy Williams.
"In the last few years of her life, she worked tirelessly with officials of the County Board and the County Park Commission, together with Supervisor Edward Lane, toward the establishment of a centrally located golden agers building," wrote H.E. "Jamie" Jamison in his Jaunts with Jamie column in the Sentinel.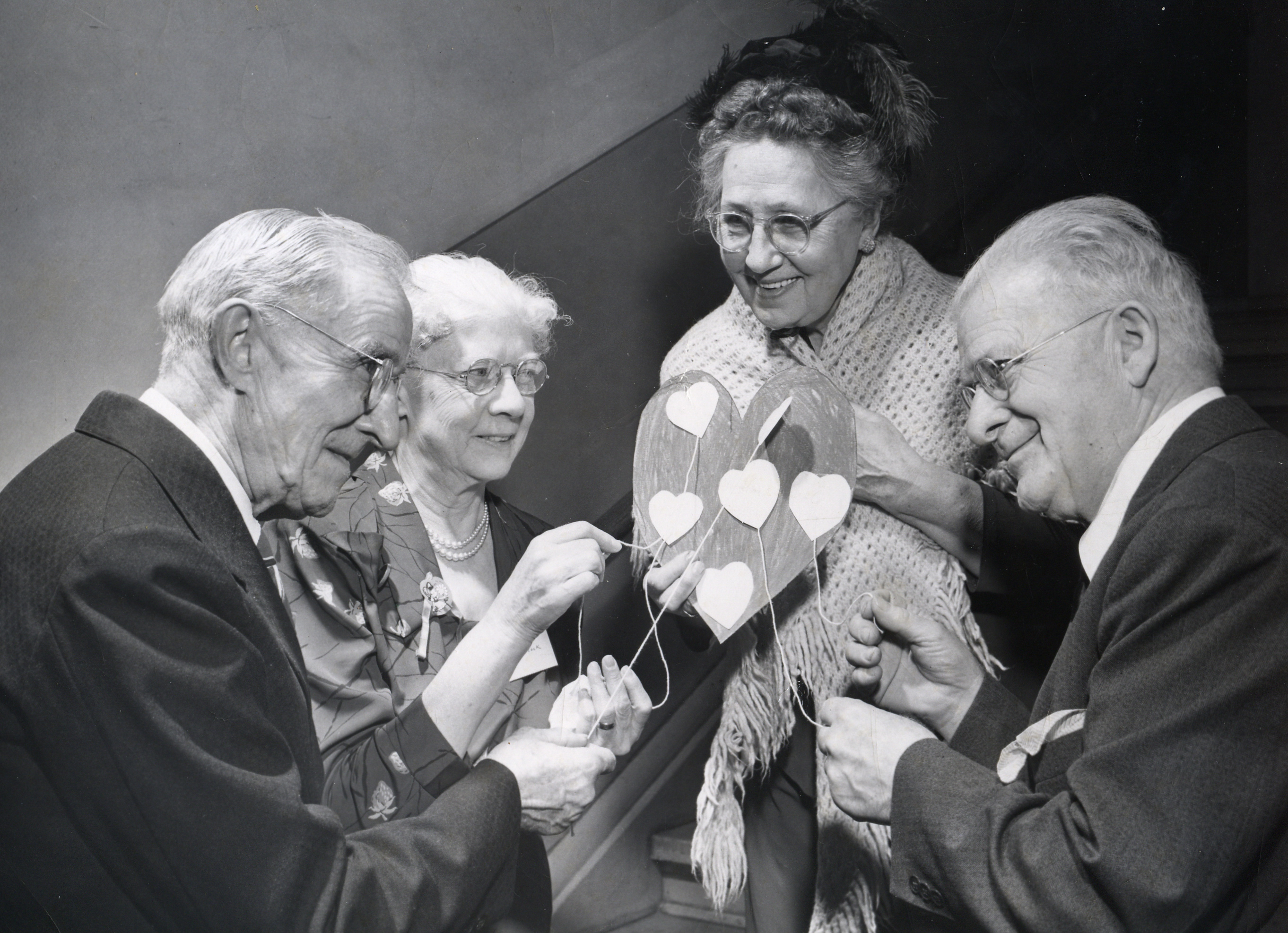 "It was through the efforts of Mrs. Witt," John Anello told Jamison, "that our senior citizens were found worthy of our most sincere efforts in improving the twilight years for all of us."
On Monday, Dec. 18, 1967, a portrait of Ida Harwitz Witt was unveiled at the South Side Golden Age Center.
In 1972, the Sentinel noted that, "the format that she established still guides the program."
Keeping up with the times
In 1983, the facility – then called the Sixty-Plus Program – got a large addition and a complete remodeling at a cost of $1.2 million, including a $770,000 grant from the U.S. Department of the Interior and a matching grant from Milwaukee's Community Development Agency.
Work began around the beginning of 1982.
In the old building, walls were torn down to create larger multipurpose rooms, kitchens were added, bathrooms remodeled, new lighting installed, woodwork refinished and everything painted.
Many were especially pleased to see the original hardwood floor in one of the multipurpose rooms when carpeting was pulled up.
"We couldn't believe our eyes," Michael Magulski, assistant superintendent for the MPS Division of Municipal Recreation and Community Education, told the Journal. "The seniors just love it. It reminds them of the floors they had in their homes when they were young.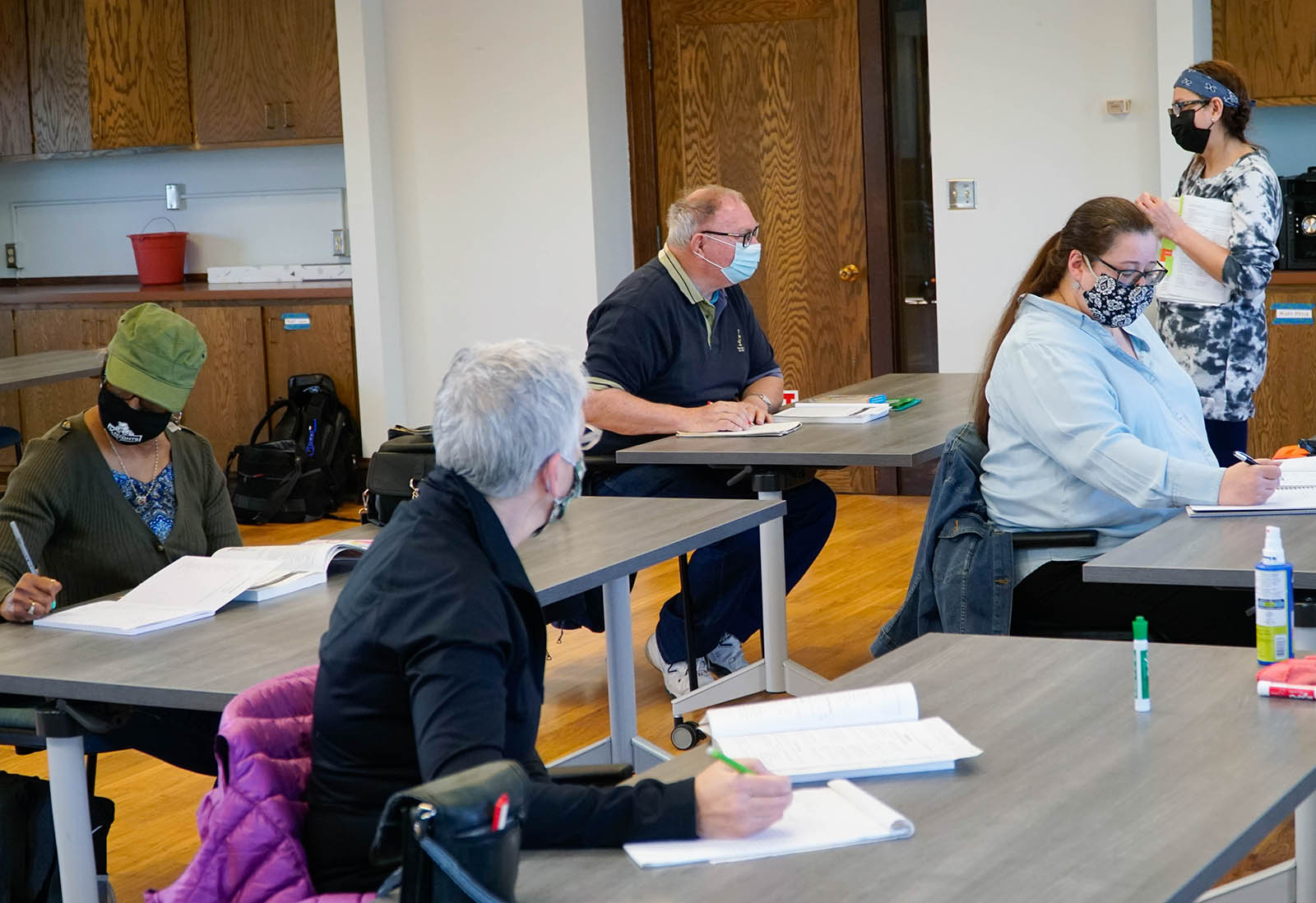 "(The building) is durable and sturdy. The city architects said, 'You could never replace it. Let's remodel.' So we did."
A new two-story addition included multipurpose rooms and patios accessed by large glass doors.

Outside a wrought-iron fence that had once surrounded the North Avenue Reservoir was added.

"I like the way the addition blends with the other building – the old and the new," Mary Gissal, the recreation supervisor of the program at the center, told the paper. "I think it's the kind of building people will enjoy."
Magulski said that the needs of seniors were changing and the facility had to change to meet those needs.
"Nowadays, they're young 60-year-olds," Magulski told the Journal. "They want to stay active and they want programs that are physically active. They used to play cards and eat schnecks, but now they want to play softball, bowl, swim, play tennis, go camping. ... they're a delight to work with.
"They're becoming politically active and, believe me, the politicians know they're around."
Because of their often limited incomes, Magulski added, "their best buy is to use public recreational facilities such as this center."

Now, nearly 40 years later, the center has been improved again, and with all the recent, in-progress and upcoming upgrades, O.A.S.I.S. is well-placed to carry its mission into the future.
Programming at the center has changed over the years, says Witters, and the facility must keep pace with the varying approaches that develop over time.
For example, she says, in the 1980s, the center focused heavily on socialization.
"Group interactions were a big draw at this time and were far more popular than the structured classes that meet once a week for a set time," Witters says. "Social groups gravitated around dining, cards, arts, fitness and music."
Now, classes and workshops are more sought-after by seniors at O.A.S.I.S.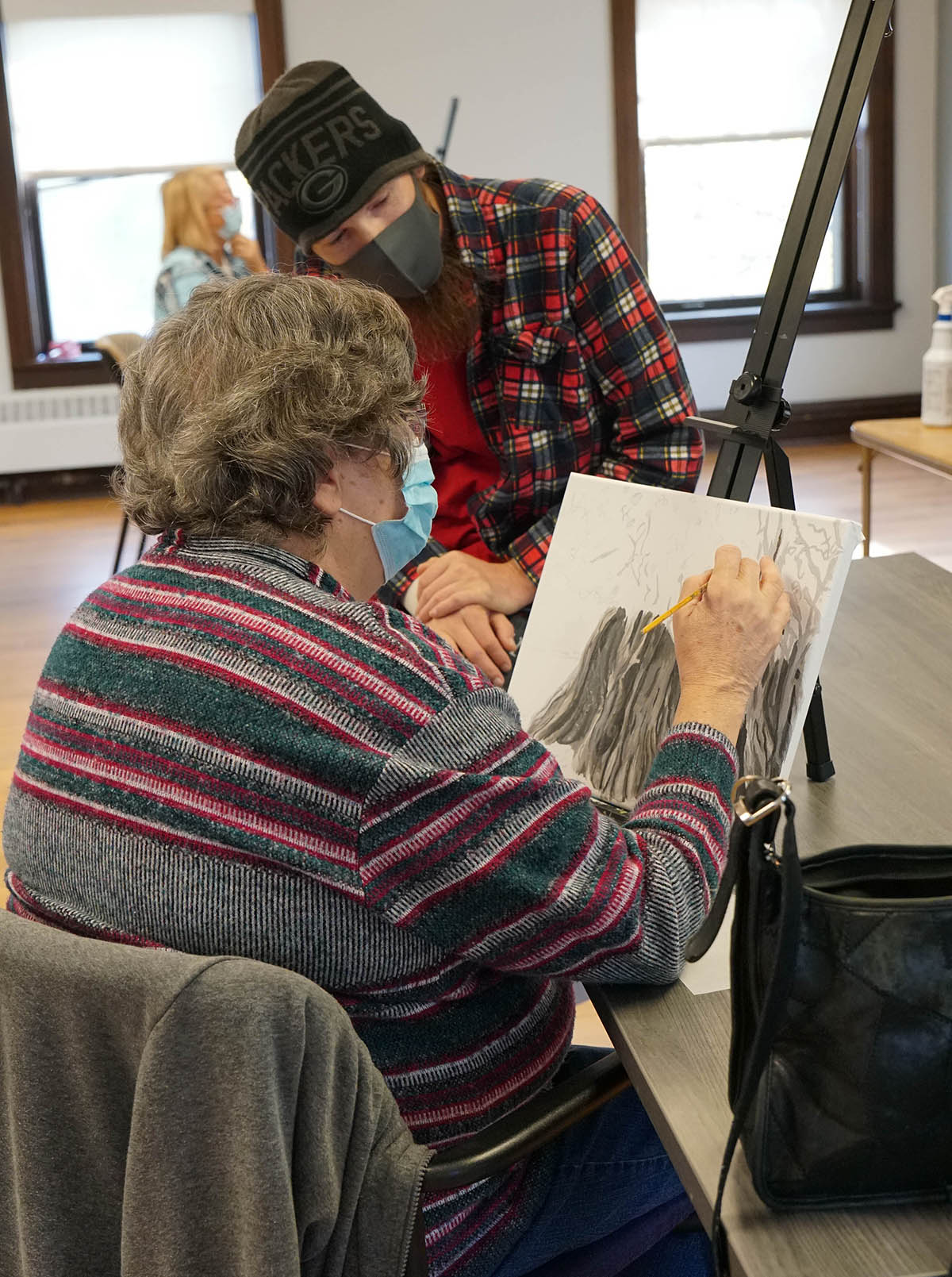 "In our current climate we have seen that the social aspect of visiting a center to interact with others is not as much of a focus," says Witters. "We have noticed that the structured offerings afford the participant the choice to socialize at whatever level they feel comfortable. Some simply come to a class, participate and then go on their way.
"With this said, we still value the social aspect of a community center and are working to bring back some social activities where participants can come and go as they wish to visit with others."
The work that's already been completed at O.A.S.I.S. has drawn accolades from its users, adds Witters.
"Customers mentioned loving the newly painted cafeteria space that brightens the facility and makes it a happier place to conduct a program," she says.
"The new activity room and bathrooms have been received very positively and they have been excited to see improvements to the center they come to on a regular basis."
All this under the watchful eye of Ida Harwitz Witt, whose portrait still hangs above the fireplace as a reminder of her role in ensuring that Milwaukee's seniors have a fun, safe, engaging environment to enjoy together.
(NOTE: This article was written for Milwaukee Recreation's institutional history project. While the topic was provided by Milwaukee Recreation, the content was not.)
Born in Brooklyn, N.Y., where he lived until he was 17, Bobby received his BA-Mass Communications from UWM in 1989 and has lived in Walker's Point, Bay View, Enderis Park, South Milwaukee and on the East Side.
He has published three non-fiction books in Italy – including one about an event in Milwaukee history, which was published in the U.S. in autumn 2010. Four more books, all about Milwaukee, have been published by The History Press.
With his most recent band, The Yell Leaders, Bobby released four LPs and had a songs featured in episodes of TV's "Party of Five" and "Dawson's Creek," and films in Japan, South America and the U.S. The Yell Leaders were named the best unsigned band in their region by VH-1 as part of its Rock Across America 1998 Tour. Most recently, the band contributed tracks to a UK vinyl/CD tribute to the Redskins and collaborated on a track with Italian novelist Enrico Remmert.
He's produced three installments of the "OMCD" series of local music compilations for OnMilwaukee.com and in 2007 produced a CD of Italian music and poetry.
In 2005, he was awarded the City of Asti's (Italy) Journalism Prize for his work focusing on that area. He has also won awards from the Milwaukee Press Club.
He can be heard weekly on 88Nine Radio Milwaukee talking about his "Urban Spelunking" series of stories.