Eating breakfast for dinner – often referred to as having "brinner" – has become a trend that most people agree is easy, tasty and fun. No one wants a 6 p.m. bowl of shredded wheat every night in place of more supper-y foods, but the occasional pancake or omelet dinner has become extremely popular in recent years.
Hence, it's surprising that restaurants haven't jumped on the brinner bandwagon sooner. Sure, places like IHOP and George Webb serve breakfast all day, but that's not really the same as an eatery offering breakfast / brunch food on purpose for dinner certain nights of the week.
O'Lydia's, 338 S. 1st St., might be Milwaukee's first restaurant to offer a Brinner Night every Tuesday starting May 10 from 5 to 9 p.m.
Earlier this year, mother and son team Rick and Linda Sackett celebrated five years of ownership of the Irish bar and restaurant and decided it was time to revamp their brunch menu with head chef, Samuel Torres.
"I eat brinner twice a week at home, and while we were developing this amazing new brunch menu, it occurred to me that maybe we could offer it once a week at night, too," says Rick. "I haven't seen this anywhere else."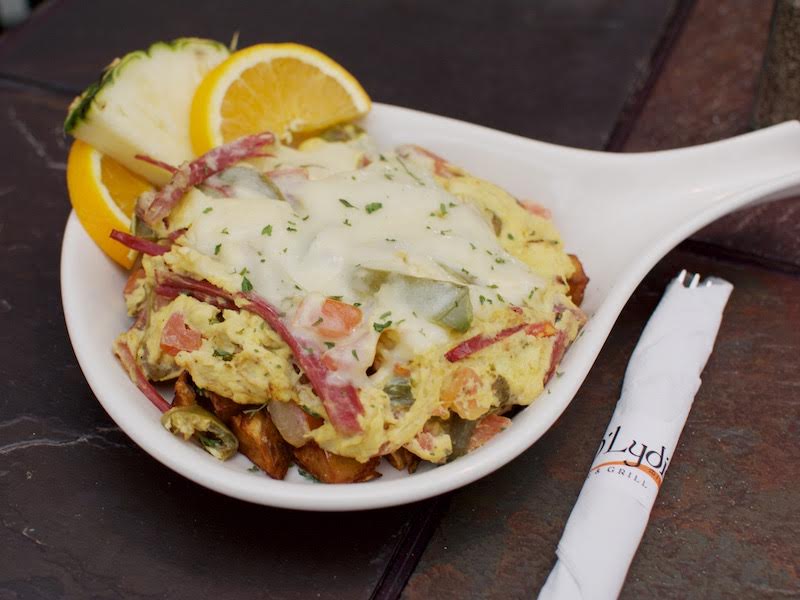 Highpoints of the new brunch menu include an Irish skillet and a chorizo omelet featuring chorizo, asparagus, goat cheese and fried onions. Corned beef hash, two benedicts, biscuits and gravy and French toast made from Texas toast are also available.
"Everything is made from scratch here," says Linda. "Everything, down to the wing sauces."
O'Lydia's daytime brunch is offered Saturdays and Sundays from 10 a.m. to 3 p.m.
During Tuesday night brinner, Bloody Marys are $1 off and mimosas are $4.50. There will also be two nightly brinner specials – one meaty and one veggie. The regular dinner menu will also be available on Tuesday nights along with brinner.
"People like brinner because it's the easiest thing in the world to whip up eggs for dinner," says Rick. "So we're doing it here, only fancier."
Linda says that traditionally brinner is a lighter fare for people, but that's not how they roll at O'Lydia's. "We don't do anything light around here," she jokes.
"Yeah," Rick adds. "We'll never be accused of weak drinks or small portions here."
Prepare for a restaurants-serving-brinner explosion, Milwaukee. This idea's too good not to copy.
Molly Snyder grew up on Milwaukee's East Side and today, she lives in the Walker's Point neighborhood with her partner and two sons.
As a full time senior writer, editorial manager and self-described experience junkie, Molly has written thousands of articles about Milwaukee (and a few about New Orleans, Detroit, Indianapolis, Boston and various vacation spots in Wisconsin) that range in subject from where to get the best cup of coffee to an in-depth profile on the survivors of the iconic Norman apartment building that burned down in the '90s.
She also once got a colonic just to report on it, but that's enough on that.
Always told she had a "radio voice," Molly found herself as a regular contributor on FM102, 97WMYX and 1130WISN with her childhood radio favorite, Gene Mueller.
Molly's poetry, essays and articles appeared in many publications including USA Today, The Writer, The Sun Magazine and more. She has a collection of poetry, "Topless," and is slowly writing a memoir.
In 2009, Molly won a Milwaukee Press Club Award. She served as the Narrator / writer-in-residence at the Pfister Hotel from 2013-2014. She is also a story slam-winning storyteller who has performed with The Moth, Ex Fabula and Risk!
When she's not writing, interviewing or mom-ing, Molly teaches tarot card classes, gardens, sits in bars drinking Miller products and dreams of being in a punk band again.