I've never been an early morning workout person. Nothing against it; I've just chosen to do my workouts in the afternoons or evenings. I'm not a huge "exercise class" guy either – though I do 9Rounds in Downtown Milwaukee a few times per week (been going there for years) and I love it. It's not your typical class. You do get to punch stuff, so it is pretty great.
This month, though, I'm jumping head first into the 5 a.m. workout. Thanks, Orangetheory.
Five in the morning is early, and to get to the class, it means getting out of bed by 4:30 a.m. But I wanted to shake my fitness routine up and challenge myself to bust out of what I was used to. Three weeks in on a Tuesday and Thursday schedule, it's by no means "easy," but it's far from difficult. Oddly, it almost already feels routine, and I love being out and about when seemingly no else is awake.
The Orangetheory work out itself? Obviously classes also are available later in the morning, afternoon or evening. But from where I sit now for my class, it's probably too soon to tell what the ultimate benefits will be. Nonetheless, I'm digging the Orangetheory model.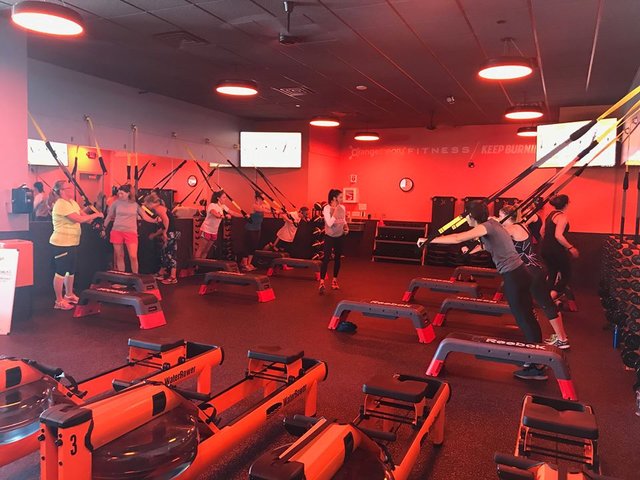 Several months ago, I met the state franchise owner, Kevin J. Scharnek. I thank him for the promotional deal we cut, and for giving me the low down on the company. His Delafield location is going really well, and he was excited about getting to the near East Side and Shorewood, the location I'm going to now – found at 4155 N. Oakland Ave.
Orangetheory Fitness is a franchise that's based in Boca Raton, Florida. It's a 5 heart rate zone group (24 max to a session) personal training workout based on interval training that blends cardiovascular and strength training. There's creative motivation tactics, pumping music, screens that show your heart rate, calories burned, percentage of your optimal heart rate used and more. It's data driven and full of technology.
Each class has its participants alternating between a combination of weights, treadmills, cardio/floor exercises and rowing machines. As I mentioned, a heart-rate monitor that you buy tracks performance, and you get to see your levels (and everyone else's) on screens above the treadmills as you work out.
Here are some of my specific Orangetheory observations.
Real time data
Just running, lifting or playing hoops doesn't give me any data. Orangetheory is all about data. And real time data.
The "orange zone" is reached when you get 84 to 91 percent of your maximum heart rate. While you workout, cardiac output is measured and displayed on screens for all to see – it runs from green to orange to red. Green's moderate, orange is pushing it and red is all out. The key is a good mix and not to linger in the comfort of the green zone for too long. I haven't obsessed about the data, but it is motivational, and I really enjoy the running portion with an ability to "win" and maximize my results.
Not too over the top, but spot on service
There's a stereotype, for sure, of fitness instructors. You know it – loud, too frickin' bubbly, bouncy and full of fake motivational tactics. I've found, though, that the instructors (Trevor has worked my sessions) are down to earth, educational and professional. The front desk is great too – welcoming and polite. And no matter what your fitness level is, the easy introductory walkthrough and great service make it simple to jump in.
Sign up is easy
Speaking of jumping in, sign up is easy and all trackable online. Orangetheory Fitness uses their own proprietary app that makes is really easy to schedule/cancel classes. A link to a free session is here. Click when you are ready.
Post workout summaries
Within 15-20 minutes after each session, you get a performance summary of your numbers. It's all archived and allows you to monitor, increase, decrease and push yourself. I love this, and it's an obvious selling point.
Knowing that I can do more
It's life 101 stuff, but when you get out of your comfort zone, rewards are found. So far, Orangetheory had helped me show myself that I can always do more and work harder.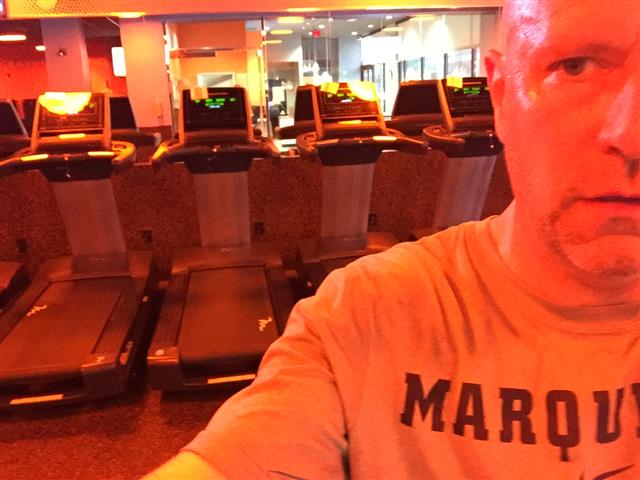 We all need motivation, right? For me, Orangetheory has been just that ticket.
A life-long and passionate community leader and Milwaukeean, Jeff Sherman is a co-founder of OnMilwaukee.
He grew up in Wauwatosa and graduated from Marquette University, as a Warrior. He holds an MBA from Cardinal Stritch University, and is the founding president of Young Professionals of Milwaukee (YPM)/Fuel Milwaukee.
Early in his career, Sherman was one of youngest members of the Greater Milwaukee Committee, and currently is involved in numerous civic and community groups - including board positions at The Wisconsin Center District, Wisconsin Club and Marcus Center for the Performing Arts. He's honored to have been named to The Business Journal's "30 under 30" and Milwaukee Magazine's "35 under 35" lists.
He owns a condo in Downtown and lives in greater Milwaukee with his wife Stephanie, his son, Jake, and daughter Pierce. He's a political, music, sports and news junkie and thinks, for what it's worth, that all new movies should be released in theaters, on demand, online and on DVD simultaneously.
He also thinks you should read OnMilwaukee each and every day.