A little more than two decades ago, Pabst Brewing Company closed its Milwaukee operations, ending in 1996 a 152-year-old relationship with the city that had grown less mutually beneficial since the days when being the nation's beer capital carried significant economic weight.
But on Wednesday, Pabst officially reopened its historic Milwaukee brewery, celebrating the event with a firkin keg tapping, blue ribbon-cutting ceremony and dinner party that involved some of the most influential figures in both the city and the company, who announced the occasion in terms of great consequence.
Mayor Tom Barrett, County Executive Chris Abele, Pabst chairman Eugene Kashper and CEO Simon Thorpe spoke sentimentally and optimistically about what the company's comeback could mean for Milwaukee, which has seen plenty of craft breweries pop up in recent years – though none with Pabst's brand import or local association – and is experiencing something of a Downtown revitalization.
Kashper and Thorpe said 2017 marked a new chapter for Pabst and renewed a strong relationship with the community here; Barrett and Abele talked about the brewery's rebirth coinciding with, and aiding, the city's increasing development, especially in the Bucks arena-led boom of Westown. They all mentioned the deep history between Pabst and Milwaukee – as Abele said, "When this brewery was at its height, this city was at its height" – but stressed that the focus was on the future.
Time will tell if the grand civic expectations of the company's beer-making return are met, and if the nostalgic connection even remains relevant, but Wednesday night the Pabst Milwaukee Brewery put on one hell of a party. After cutting the ribbon, tapping the keg and sampling the beers – a list that extended far and deliciously beyond PBR, which, thankfully, wasn't even offered – invited guests got a taste of the cool new space, which is an old church on the former Pabst complex.
With a small-batch craft brewery, gastropub-style restaurant and outdoor beer garden, which effectively blend its historic and contemporary elements, the new Pabst establishment appeals to both the wistful reminiscents and move-Milwaukee-forward types. Read more about Pabst coming home here.
The brewery opens to the public tomorrow, on Milwaukee Day (April 14), and Abele rightly commemorated it Wednesday night with the city's new toast – "414, Let's Have One More!"
There will be a street festival May 13 at the site, where attendees can party like its 1844, and a grand opening celebration Friday at 11 a.m., but here's a first look inside the new Pabst Milwaukee Brewery.
1. The new brewery is located at 1037 W. Juneau Ave.
2. The original building is a a 144-year-old former church

3. From left, Pabst CEO Simon Thorpe, chairman Eugene Kashper, Milwaukee County Executive Chris Abele and Mayor Tom Barrett
4. And with that, the brewery was opened!
5. And with this, the beer started flowing!
6. The brewery space has a stage for live music and events (the back wall is made of beer bottles)
7. Pabst is proud of its history and shows off a lot of it in Milwaukee
8. An upper mezzanine level allows for bird's eye views

9. The gastropub will serve a menu of local and sustainably sourced food

10. The Pabst Milwaukee Brewery will have the capacity to produce 4,000 barrels of beer per year

11. Among the beers available are Forst-Keller, 11th Street Dark Wheat, Not a Kid Anymore, Sticky Fingers Honey Wheat, Van Damme Good Tripel, Noreastie Boys "Northeast" IPA, Pabst Andeker, Old Tankard Ale and Cream City

12. The Milwaukee operation can have up to eight brewing lines going at once

13. History is everywhere here; a photograph of Frederick Pabst hangs on one wall

14. Say hello to Brad, one of your friendly Pabst Milwaukee bartenders

15. Beer is good; good beer is even better (and Pabst will offer beers in giant 32-ounce to-go cans)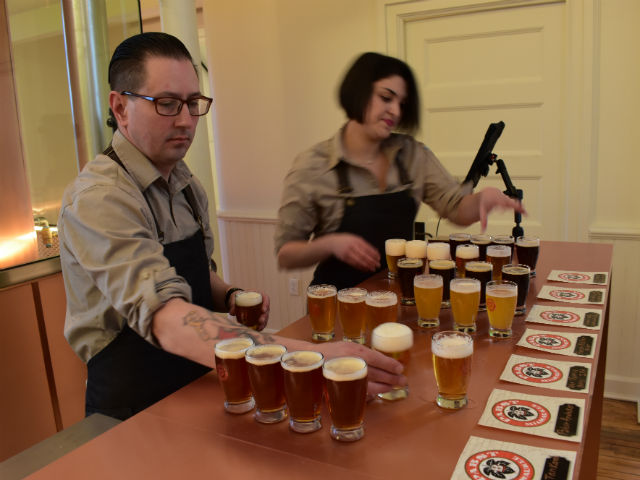 16. New Age Narcissism will perform at the street festival May 13


18. Pabst Brewery Milwaukee: It's a lot more than just PBR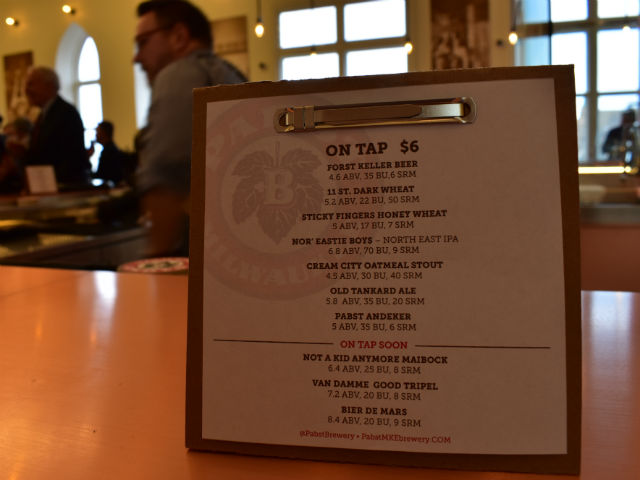 19. The brewery features cool local and beer-themed art
20. This giant Pabst sign hangs from the ceiling and lights up the space
What are you waiting for? Go drink at the new Pabst Brewery Milwaukee right now!
Born in Milwaukee but a product of Shorewood High School (go 'Hounds!) and Northwestern University (go 'Cats!), Jimmy never knew the schoolboy bliss of cheering for a winning football, basketball or baseball team. So he ditched being a fan in order to cover sports professionally - occasionally objectively, always passionately. He's lived in Chicago, New York and Dallas, but now resides again in his beloved Brew City and is an ardent attacker of the notorious Milwaukee Inferiority Complex.
After interning at print publications like Birds and Blooms (official motto: "America's #1 backyard birding and gardening magazine!"), Sports Illustrated (unofficial motto: "Subscribe and save up to 90% off the cover price!") and The Dallas Morning News (a newspaper!), Jimmy worked for web outlets like CBSSports.com, where he was a Packers beat reporter, and FOX Sports Wisconsin, where he managed digital content. He's a proponent and frequent user of em dashes, parenthetical asides, descriptive appositives and, really, anything that makes his sentences longer and more needlessly complex.
Jimmy appreciates references to late '90s Brewers and Bucks players and is the curator of the unofficial John Jaha Hall of Fame. He also enjoys running, biking and soccer, but isn't too annoying about them. He writes about sports - both mainstream and unconventional - and non-sports, including history, music, food, art and even golf (just kidding!), and welcomes reader suggestions for off-the-beaten-path story ideas.