It was a weekend for giving thanks – thanks for family, thanks for friends, thanks for good health and, on Sunday night, thanks for your hated rival having an inept quarterback at the helm as the Packers made the Bears look like bums in primetime, clobbering Chicago, 41-25. And it wasn't even that close as the Bears flailed on offense and somehow looked even worse on defense.
The crushing was exactly what the doctor ordered for the Pack after blowing a lead and losing in overtime last week against the Indianapolis Colts – and most important, it kept Green Bay in solid playoff standing. The Packers now have a fairly comfortable three-game lead over the fumbling Bears and Vikings (who narrowly pulled out a victory over the Panthers on Sunday to stay alive). Plus, thanks to the Rams' unexpected loss to the Niners, they moved into second place (for now) in the NFC standings, still just a game behind the Saints for the top spot and a first-round bye.
There was a lot to enjoy about Sunday's stomping ... so let's relive it one more time with these important (and not-so-important) images from Sunday night.
1. Just another day at "The Office"
The bad news: We didn't have an Aaron Jones sombrero shot from last night's game. Don't be alarmed, though, because when you're playing Mitchell Trubisky and the Bears, I guess you don't need lucky charms to get a win. Plus, there was still some fashion fun on the night thanks to this delightful hoodie representing Schrute Farms – which is very easy to find: It's right in the middle of the root vegetable district, and if the soil starts to get acidic, you've gone too far.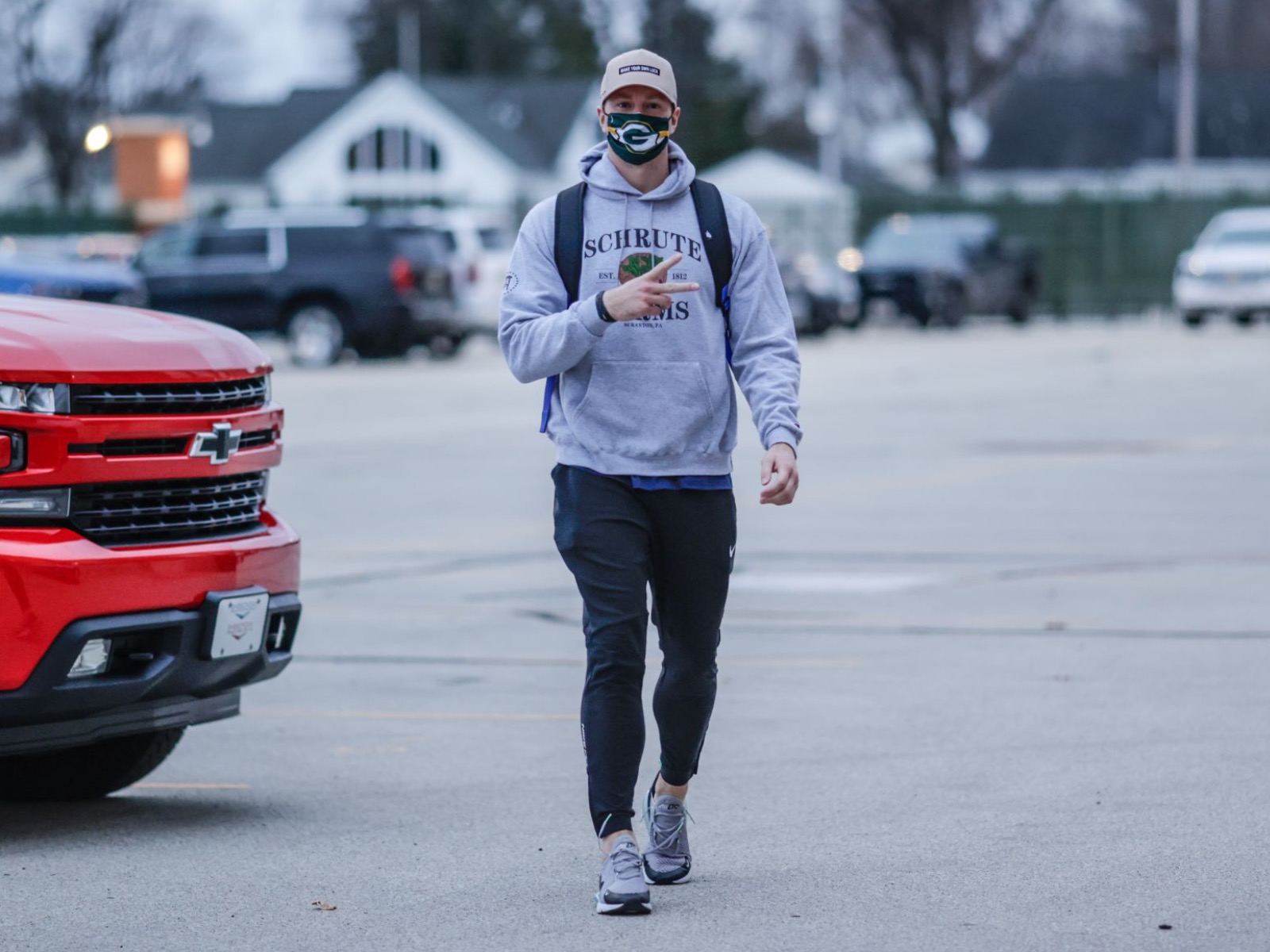 Well, I know what's on my Christmas list this year (other than getting to play Mitch Trubisky again).
2. We missed you, Mitchell
Due to a hip injury, the Bears were without starting quarterback Nick Foles for Sunday night's scrape, so for the first time since Week 3, it was Trubisky Time. Let's take a look at some of the highlights!
Darnell Savage Jr. picks off Mitch Trubisky #GoPackGO pic.twitter.com/AKXwiVZTLV — Roto Street Journal (RSJ) (@RotoStJournal) November 30, 2020
SCOOP AND SCORE!

Trubisky with his second turnover of the game 😳 (via @NFL)pic.twitter.com/vxde21WHUW — ESPN (@espn) November 30, 2020
Trubisky's throw into triple coverage results in a Darnell Savage INT 😅pic.twitter.com/rlc9PXoQMi — PFF (@PFF) November 30, 2020
It's like Jay Cutler never left!
And that's not even including the assorted passes that fell woefully short of their intended receivers. By the end of the night, Trubisky finished with a respectable 242 yard and three touchdowns, but much of that game in garbage time when the game was essentially done. But that's OK; at least the Bears didn't comically overreach for him in the NFL Draft, picking him instead of Patrick Mahomes, Deshaun Watson or Christian McCaffrey. Boy, wouldn't THAT still be embarrassing several years later!
3. Having a ball
The @packers are having some fun vs. their rival! 10/10 celebration from the defense 👏

(via @thecheckdown) pic.twitter.com/ctnoTpJsQc — FOX Sports: NFL (@NFLonFOX) November 30, 2020
Now THIS is a celebration. None of this generic tough-guy posing for the video board stuff. This is the kind of ingenuity, teamwork, coordination and well-practiced timing I like to see. Is there a correlation between the Packers winning this game and this ambitious group celebration? I nominate yes ...
4. Welcome back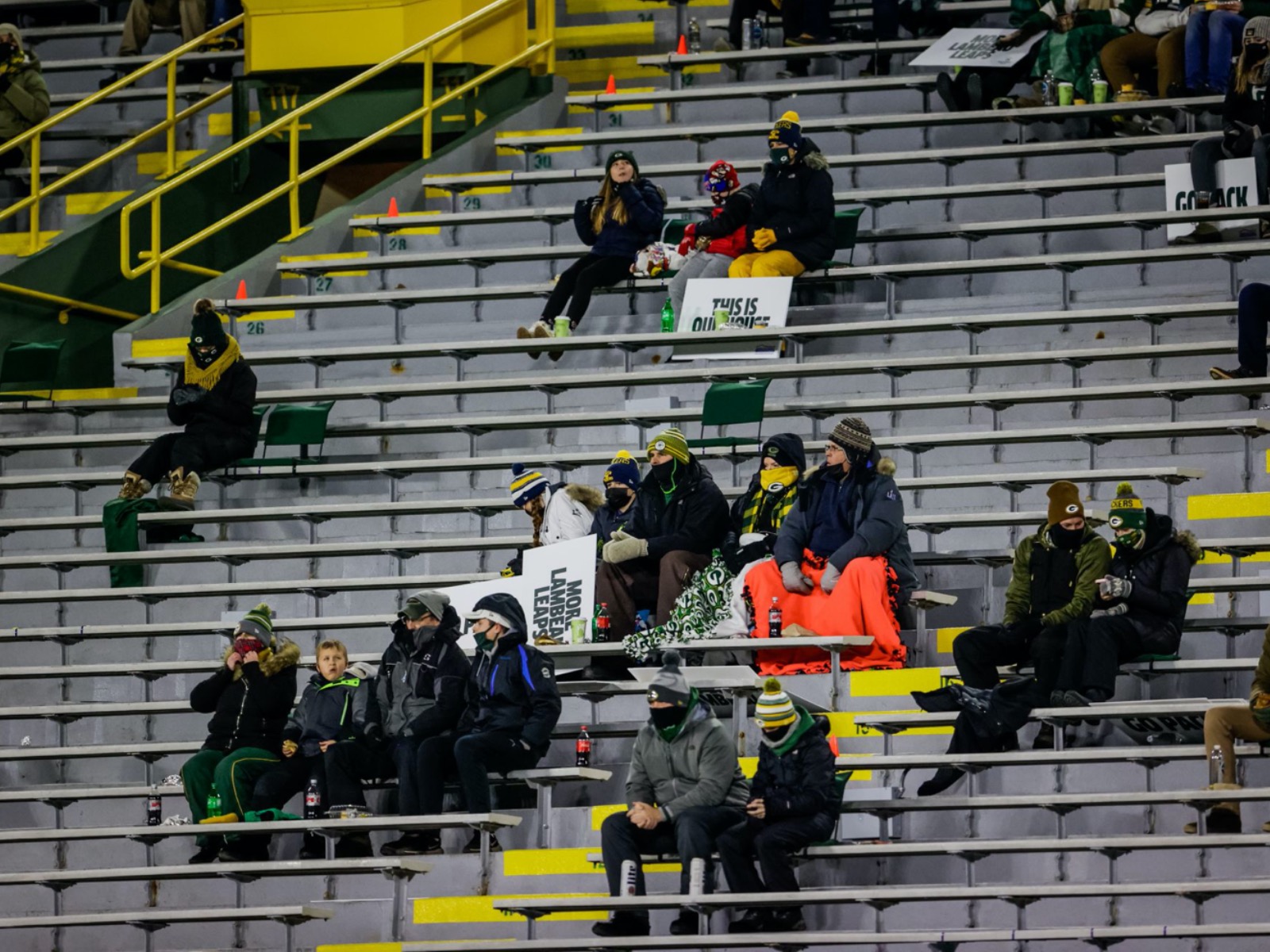 While Trubisky's return may have been heartwarming for the Packers defense, the truly pleasant comeback was in the stands as 500 team employees and their families were allowed to watch the game in the bleachers – the first time Lambeau Field has held fans this season. Obviously it wasn't entirely normal, but it was the closest thing we've had to normal since last season, with actual cheering for exciting moments instead of canned noise and the classic needle drops to get the fans (and players) going. And while it was probably too cold for me personally, those in the small crowd kept themselves warm with some spicy hot takes.
Meanwhile in Green Bay: Pizza hot takes pic.twitter.com/ECvDRuQSdF — NFL on ESPN (@ESPNNFL) November 30, 2020
Well, maybe this particular fan just hasn't found the right deep-dish pizza yet.
4. The night's only scary moment
Rookie Jaylon Johnson rocks Allen Lazard to jar the ball loose 💥pic.twitter.com/xeO5SXd8Yz — PFF (@PFF) November 30, 2020
With mostly well in hand after the second quarter, the night was mostly smooth sailing – save for this legal but brutal-looking hit on Packers wide receiver Allen Lazard, who had just come back from injured reserve last week. Thankfully, he would be able to walk himself off the field, and as you can see below with Jamaal Williams, he seemed to feel much better later on.
Leaving Lambeau with a WIN! @jswaggdaddy @AllenLazard #GoPackGo pic.twitter.com/ZgSaBkVk1D — Green Bay Packers (@packers) November 30, 2020
Winning: the ultimate cure – though here's to Lazard feeling better and recovering throughout the rest of the week as well.
6. And there is your (third-quarter) dagger ...
TD for the TE!

TOUCHDOWN @RobTonJr! 🙌#CHIvsGB | #GoPackGo

📺 NBC
Watch live 📱 https://t.co/CwnQfSzZ7d pic.twitter.com/WY2024ajWG — Green Bay Packers (@packers) November 30, 2020
Last week, the Packers blew a two-touchdown lead to the Colts en route to their third loss of the season. That wasn't happening again this week as Green Bay shutout the Bears in the third quarter and, with the help of this long Robert Tonyan touchdown, expanded their 17-point lead at the half to a 41-10 laugher with a final frame still to go. How kind of the Packers to let everyone comfortably go to bed early after a long holiday weekend.
7. A record-setting smackdown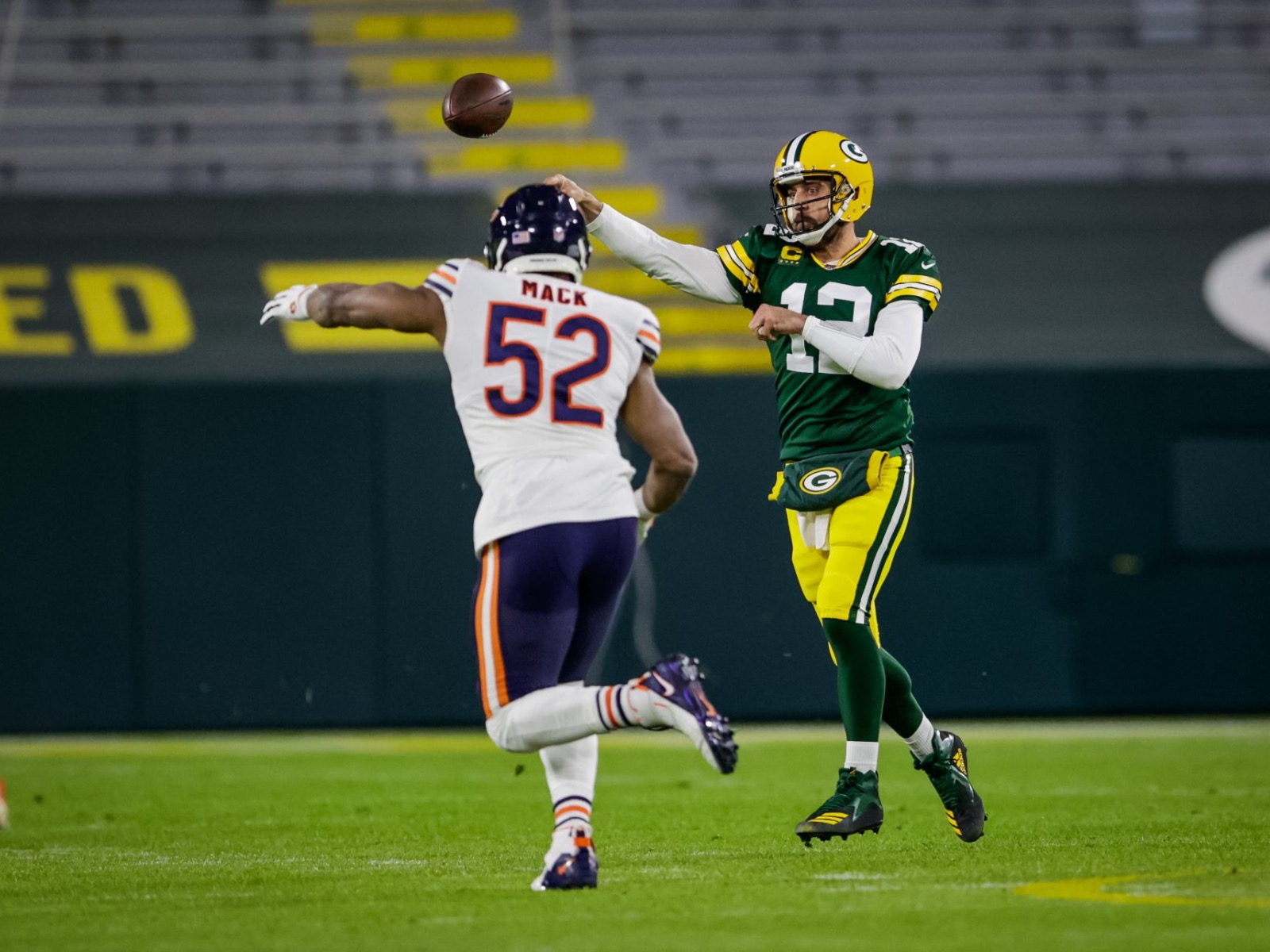 It was a romping for the record books last night in Lambeau Field – on multiple levels, for multiple players. Aaron Rodgers became the 11th player in NFL history to throw for 50,000 yards, Davante Adams caught his 500th pass in the NFL (a touchdown, as an added bonus) and the victory marked the Pack's 100th win over the Bears. That's a lot of losing, Chicago.
8. Room to improve

The game was never as close as the final score says, but it still wasn't a perfect performance – especially for the much-maligned Green Bay defense.
Though the squad snagged several turnovers and even put up a touchdown of their own, the bookends of the game weren't spectacular as the Packers started the game by getting scorched by Bears running back David Montgomery for a 57-yard scamper. (Thankfully, it only resulted in a field goal, but Montgomery still ended up putting together his best performance of an otherwise struggle of a season with more than 100 rushing yards on the night.) Then Green Bay coughed up a lot of yards and points to end the game. Sure, it was garbage time, but it still would've been nice to see that side of the ball keep the boot on the neck and put together something close to a complete performance.
Maybe that'll come next week against the hapless NFC East and the surprisingly struggling Philadelphia Eagles.
As much as it is a gigantic cliché to say that one has always had a passion for film, Matt Mueller has always had a passion for film. Whether it was bringing in the latest movie reviews for his first grade show-and-tell or writing film reviews for the St. Norbert College Times as a high school student, Matt is way too obsessed with movies for his own good.
When he's not writing about the latest blockbuster or talking much too glowingly about "Piranha 3D," Matt can probably be found watching literally any sport (minus cricket) or working at - get this - a local movie theater. Or watching a movie. Yeah, he's probably watching a movie.