I first learned about Paisano's, 113 N. Chicago Ave. in South Milwaukee, from a Google search for south side pizzerias, but recently a co-worker recommended them, so I decided to pay them a visit.
The restaurant was very clean. The light beige walls were coated with stucco for a textured design. Paintings hung on the walls, and a mural of a village and bay adorned the back wall of the dining room which included wooden tables and chairs, as well as booths.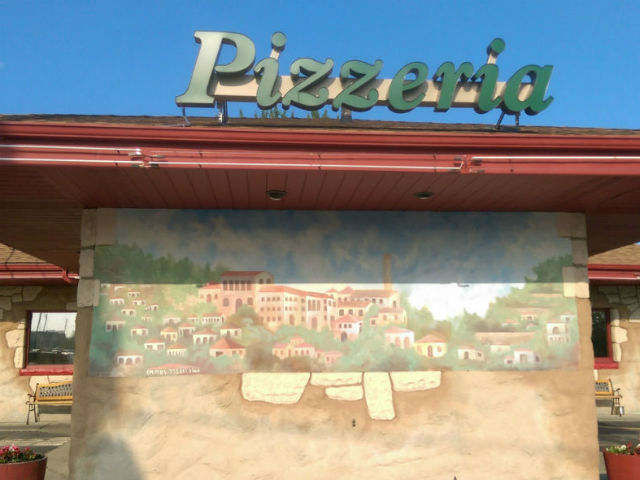 As luck would have it, owner Fred Sunani stopped in while I was dining. He greeted a family of regulars before checking in with the hostess and kitchen staff; later, I had a chance meet and chat with him.
I asked Sunani about his journey to becoming a business owner, and he shared his story beginning with his father bringing his family to the United States in 1973. The Albanian family moved here from Macedonia via Austria.
They arrived in Chicago and lived briefly in Aurora, when friends in Wisconsin recommended a move north for a more comfortable life for the family, and they settled in South Milwaukee.
Sunani and his brother started working at age 12 as paper boys. A few years later, Sunani got a job as a busser at Sally's Steak House. Some of you will remember the popular dining establishment. The rest of you should ask your parents about it.
After Sally's, Sunani worked at DeRango's for 3 years where he learned to cook. He married Fidane in 1985 and left the restaurant industry to work in a machine shop until his father suggested that he open a business. In 1991, Sunani and his family pooled their resources to open Saraphino's. The business remained family owned until a recent change in ownership.
However, in January 2010, Sunani decided it was time to open a place with his wife Fidane and sons, Besnik and Bashkim. Together, they continue to manage all of the operations of Paisano's and cook with recipes that Sunani created via trial and error based on lessons he learned from his experience at Sally's and DeRango's.
Paisano's menu is large enough to provide options for most, if not all, dining preferences. Italian entrees including ravioli made from scratch, sandwiches, pizza, appetizers, stir-fries, seafood, char broiled steaks, salads, and "down home" dinners such as fried chicken, breaded pork chops, and ribs.
Pizza crust options include thin-n-crispy, thick-n-crunchy, and pan style. Thin and thick crust sizes run from 12 inches to a 16 inch by 32 inch "Big Foot" and ranges $11.95 to $24.95 for cheese pizzas, while the pan style pizzas come in 12, 14, and 16 inches and ranges $14.95 to $16.95 for cheese pizzas.
While there are no specialty pizzas listed on the menu, Paisano's provides a generous list of toppings so diners can build a pie to their liking. Aside from the standard sausage and pepperoni, diners can choose from chicken, canned and fresh mushrooms, jalapenos, anchovies, bacon, ham, Canadian bacon, pineapple, beef, corned beef, pepperoncini, green and black olives, green peppers and onions.
On my visit, I started with sausage and pepperoni on the thin-n-crispy crust. I immediately noticed very small puddles of grease in various spots among the cheese and the glistening crust.
I attributed that to the generous amount of pepperoni beneath the thick layers of cheese, and once I took my first bite, all that mattered was pure flavor. The pepperoni, sausage and sauce each had varying degrees of flavor without being overly spicy. They complemented each other well and resulted in a flavor combination that I enjoyed very much.
Paisano's sauce is made by adding their blend of seasoning to a canned tomato puree. In fact, all of the sauces used for the various menu items are made in house.
The crust was crisp and slightly crunchy around the perimeter. Center slices managed to maintain a slight crispness, which was impressive consider the saturation of grease from the meat toppings.
Paisano's makes the pizza dough fresh every other day. The dough is allowed to rise, flattened, then allowed to rise again before being cut and formed into dough balls and refrigerated until used.
I devoured several square cut slices, leaving pleasurable amounts of grease and sauce on my hands and mouth. I was not cheated, not in the least.
It's been quite a while since I've seen a pan style pizza on a menu, so I ordered one with sausage and fresh mushrooms. The menu states diners should allow 35 minutes for these pies to be prepared. When mine arrived, I thought the crust was darker than I expected, but it did not taste overdone.
I was actually pleased to bite into a slice and find that the dough was properly baked throughout. There wasn't one spot that looked even slightly raw. It was clear Paisano's has pan style crust baking down to a science.
What impressed me more was when Sunani shared a tip with me that his regular customers know --and now you know--which is to call in and pre-order your pan style pizza around 2 hours ahead. That allows the kitchen time to let the dough rise properly before baking, producing a spongey texture. The crust on my pie was around 2 inches high, so I wonder how much higher it might have risen with a pre-order.
I was satisfied with the texture of the pizza dough in my pie, so if Sunani is telling me it can be even more sponge-like and airy, then I'll bet that makes for a pretty great pie. He explained that it's challenging to predict how many pan style pizzas will be ordered on demand, and his preference is to avoid letting dough rise specifically for a pan style pizza and having to throw it away if enough pan style pies aren't ordered. I completely understand and respect that. Waste is a bad thing. Anyway, now you know the secret.
The crust on my pan style pizza was crispy throughout, yet soft and not too dense inside. Each slice maintained its integrity without flopping from the weight.
This wasn't the pan style crust coated in oil that I've found in the past, yet it also wasn't too dry. I would have preferred more sauce on this pizza, but the fresh mushrooms complemented the sausage well and provided sufficiently moist bites.
The service I received was very good. I never add parmesan or pepper flakes to my pizzas, but parmesan and extra napkins were delivered with my pizzas without me having to ask for them. My server checked on me after I had a chance to sample each pie, and I was impressed when the hostess confirmed the drink order for the family of regulars before they even sat at their table and without them uttering a word other than "hello." That's the kind of relationship a consumer likes to have with a business!
South Milwaukee is a bit out of the way for me to regularly go out for pizza, but the thin-n-crispy pie I had was among the better thin crust pizzas I've had in the greater Milwaukee area and worth the drive for, in my humble opinion. I would certainly be open to a return visit for pizza if a friend suggested it. I might add an order of their scratch-made ravioli, too.
Hours: Sunday through Thursday 7 a.m. - 10 p.m., Friday and Saturday 7 a.m. - 11 p.m. Offers dine-in, delivery and carry-out.
I was born and raised in Milwaukee, and I plan to stay in Milwaukee forever. I'm the oldest of three children and grew up in the Riverwest neighborhood. My family still lives in the same Riverwest house since 1971.

I graduated from Rufus King High School and the University of Wisconsin-Whitewater with a business degree.

My true passion for Milwaukee probably started after I joined the Young Professionals of Milwaukee (now called FUEL Milwaukee) which just celebrated its one year anniversary at the time. The events that I attended, and sometimes organized, really opened my eyes to what Milwaukee had to offer, as well as its potential for the future. So for the past, present, and future FUEL Milwaukee corporate sponsors out there, that organization does produce results (editorial)!

I love all of the Milwaukee Sports teams, professional and amateur. I love the Milwaukee arts scene and all of the festivals. I love that you can find a free concert in the summer just about every day of the week. I love the various neighborhoods around the Milwaukee area and the unique characteristics that they offer. I love the people who take the time to tell us about those unique characteristics. I have to hold my breath and count to ten when someone tells me that there is nothing to do in Milwaukee. Then I prove them wrong.

Most of all, I love the Milwaukee dining scene. I love how it continues to evolve with modern dishes and new trends while the classic restaurants continue to remind us that great food doesn't have to be "fancy schmancy." However, I also love the chefs that create the "fancy schmancy" dishes and continue to challenge themselves and Milwaukee diners with dishes we've never seen before.

Our media provides attention to the new restaurants, which is great, but I don't like seeing the older great restaurants close their doors (Don Quijote, African Hut) because they've been forgotten, so I try to do my part to let Milwaukeeans know that they're still out there, too. I do that through social media, online reviews, and a dinner club I run for my friends, where we visit restaurants they haven't heard of before or try ethnic cuisine they haven't had before.

My dream is that one day I can mention a great experience in Milwaukee and not have someone respond with "have you been to Chicago?" I don't like those people very much.