Throughout the pandemic, people often found themselves with a lot of extra time on their hands. Time they would have spent socializing in groups or in public. Thus, new hobbies became a reality – and a savior – for many.
Personally, I read less than I normally do – which seems strange to me. But I also cooked a lot more, adopted a second dog and started playing darts. (I'm surprisingly good.)
Recently, I got curious about others' newfound amusements, so I posted to Facebook the question "Anybody get any hobbies during the pandemic?" It garnered 177 comments from people sharing all sorts of new hobbies. Others jokingly/not jokingly asked if eating, online shopping and getting a divorce were considered pandemic hobbies. Sure, why not?
But I was so enchanted with some of the ways my Facebook friends were spending their time, I had to ask even more questions.
What is pickleball?
When my coworker and friend Carolynn Buser responded that her new obsession was pickleball, I immediately hoped it had something to do with pickles, as in my favorite fermented food. But alas, it does not. Instead, she described it as a cross between ping pong and tennis.
Buser worked from her parent's vacation home in Scottsdale, Ariz. for six weeks this winter and played pickleball with her dad – as well as other family members – almost daily.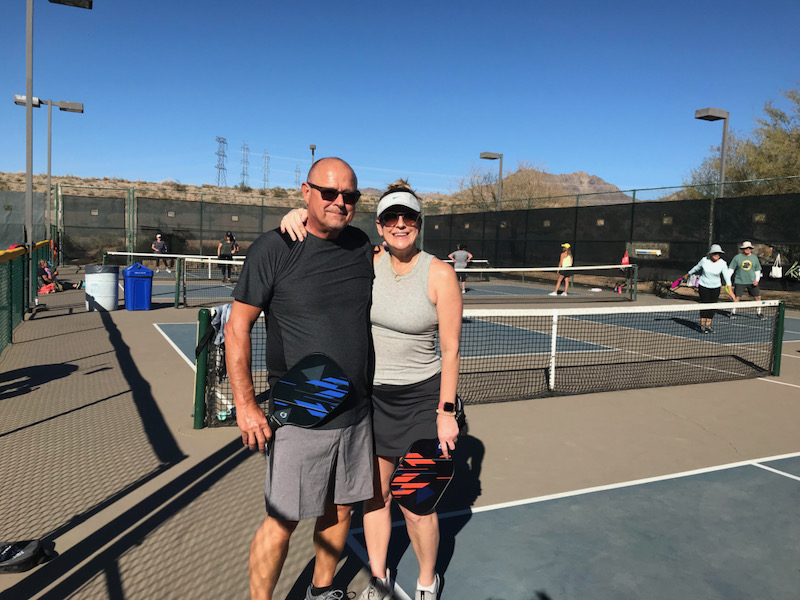 Pickleball requires a pickleball racquet, ball and net. For the ideal game, actual pickleball courts – which are shorter courts than tennis - are best. Playing with four people is also the most fun, she says.
"I loved that people on the courts would actively try and pair up to others on the court for foursomes. I met so many people from the Midwest who were also wintering there and it was a great activity to do with other people when I didn't feel safe inside with others," she says. "And the bonus is that it's a great workout."
Pickleball has five rules: the ball must stay inbounds, there should be only one bounce per side, serving must be done at the baseline, the serve can't land in the no-volley zone and the game ends at 11, but must win by 2.
Buser definitely plans to continue paying pickleball now that's she back in Milwaukee. She's already played at two tennis / pickleball courts locally and introduced the game to some of her friends here.
"Apparently there is a brand new pickleball court in the heart of Downtown on Water Street, but I haven't gone to that one yet as there isn't a permanent net there," says Buser. "There are also a few pickleball leagues in town and I'm going to look into joining one."
How many languages do you speak now?
Through social media, I knew Katharina Hren's first language was German and she was fluent in English. She has studied many other languages, including Farsi, French, Spanish, Norwegian, Italian, Arabic, Swedish and Sanskrit.
During the pandemic, she decided to add one more language to her already-impressive list: Turkish. For the past year, Hren has been studying Turkish on Babbel.com, watching Turkish shows and listening to Turkish music.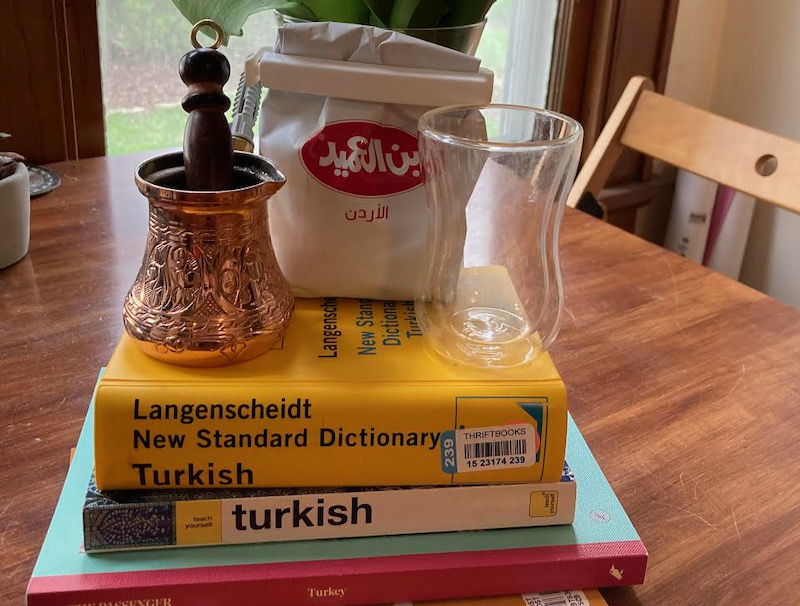 She says she was inspired to learn Turkish through her love for travel, something she missed immensely while sheltering in place.
"One of my favorite things to do is to travel, and because I couldn't travel due to the pandemic, I decided to 'go to Turkey' during my staycation last August," says Hren.
Originally, Hren chose Turkey because of a show she watched on Netflix called "Black Money Love." Then she found a local restaurant, Tagwa's Turkish Bakery and Restaurant in Greendale. She's also read a few books – both fiction and non-fiction about Turkey – and found a deep appreciation for Turkish house music, and Turkish psychedelic rock, particularly Selda Bagcan.
"I like how studying Turkish – and all languages – challenges me to think in a different way. Turkish is quite different from any other language that I have studied," she says. "And I'm hoping to visit Turkey in the next year or two."
Your dog likes to paint?
During the winter, Jill Albers' beloved pooch had cranial cruciate ligament (CCL) surgery. To keep him calm yet engaged, Albers looked into dog-friendly activities that didn't require a lot of movement.
"A friend of mine sent me an Instagram video of a dog 'painting' with peanut butter and I decided to give it a try," says Albers.
Albers puts non-toxic paint on a small canvas, then slides the canvas into a larger Ziploc bag and smears a little peanut butter on the bag. While licking the peanut butter, the dog is also spreading the paint around and creating a painting.
"This was a really fun activity for both of us and brought out my creative side. I do select the color and placement of the paint so it's really a joint project," says Albers. "We will probably continue doing this post pandemic although probably not as frequently as I am running out of room for the finished works."
How many cakes did you bake?
Erin Clapper detested baking in the past because it required specific measurements for the desired outcome. "Much like chemistry, it required some attention to detail, where cooking allows for more creative liberty with ingredients," says Clapper.
However, during the pandemic she was reminded of an episode of Reading Rainbow that she was smitten with as a kid.
"It was the one when LeVar Burton visited a bakery that made unique cakes. I've never forgotten how amazing the basketball and car cakes looked and wished I could do that too," says Clapper.
She also binge watched "The Great British Baking Show" because she worked less during the pandemic. And then it all came together when a friend impulsively asked her to make her wedding cake.
"I dove in head first at the opportunity to try and make the best cake imaginable," she says.
Since then, Clapper has made dozens of cakes and continues to get requests every time she posts a photo of one of her cake creations to Facebook. She has also continued to collect the necessary tools, such as pans and frosting tips.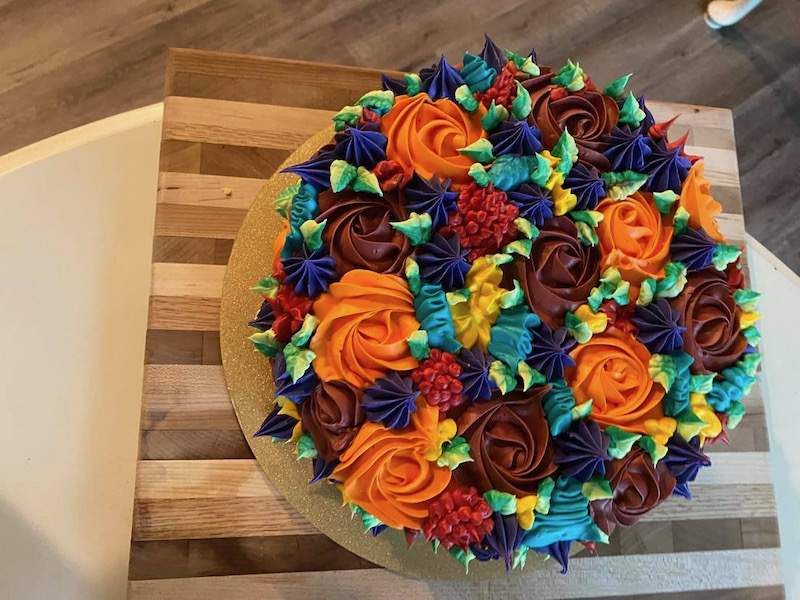 "It's been very fun getting more confident and skilled with my hands, colors and flavors. I'm always searching for new designs and reasons to decorate," she says.
And aside from learning a fun, new skill – that's even a little bit lucrative – Clapper says the effect cake-making has on her psyche is most valuable.
"I find the process challenging yet soothing," she says. "It takes a lot of time, effort and practice to create a cake, but it has been very enjoyable."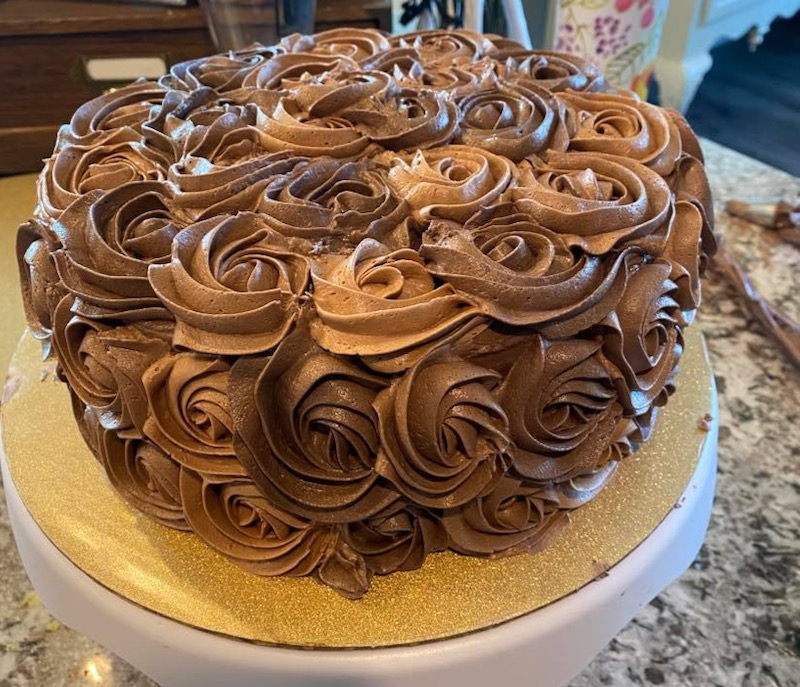 Molly Snyder started writing and publishing her work at the age 10, when her community newspaper printed her poem, "The Unicorn." Since then, she's expanded beyond the subject of mythical creatures and written in many different mediums but, nearest and dearest to her heart, thousands of articles for OnMilwaukee.

Molly is a regular contributor to FOX6 News and numerous radio stations as well as the co-host of "Dandelions: A Podcast For Women." She's received five Milwaukee Press Club Awards, served as the Pfister Narrator and is the Wisconsin State Fair's Celebrity Cream Puff Eating Champion of 2019.