If you find yourself lounging on Aperitivo's patio in the early evening, when the weather is warm but the patio is shady, and you're drinking a handcrafted cocktail, snacking on complimentary European appetizers, and a train rambles by in the distance, you'll probably experience what we did: a gentle wave of gratitude, an actualization of the overused statement "I'm living my best life," and confirmation that romance is truly not dead.
Located inside the recently renovated Pritzlaff Complex, Aperitivo, 311 N. Plankinton Ave., is the perfect tenant for the gorgeous, historic space. The rustic, industrial decor is innovative and inviting, abundant with natural light from large windows, exposed cream city brick and a massive wooden bar. We'll be back to cozy up in one of the half-moon booths when it's snowing someday. For now, we're focused on the outdoor experience.
Aperitivo's long patio stretches across the front of the building and features well-distanced tables with bright red umbrellas. This part of Plankinton is quiet, but the views of Downtown and the Third Ward cast an energetic charge.
Our masked server was prompt and friendly, quick to bring us tall waters with colorful paper straws.
Our plan was to have a cocktail or two and sample the free apps that we had heard about since the restaurant and bar opened last fall. "Aperitivo" is an Italian word and tradition that means a time for people to gather, usually after work, and enjoy each other's company over drinks and hors d'oeuvres prior to dinner.
Aperitivo's complimentary lighter fare is served daily from 5 to 7 p.m. The offerings change daily, and our plate came loaded with homemade pita, a delicious "green goddess" dip, marinated olives and a medley of fresh vegetables featuring tomatoes that were grown in a garden 100 feet from our table. Additional cheese and charcuterie plates are available for purchase.
For cocktails, we chose a classic Old Fashioned and The French 75, a refreshing gin drink mixed with Prosecco, simple syrup and lemon.
After perusing the food menu, we decided we had to try a few of the sandwiches. The Pritzlaff, our favorite of the three, came with braised beef, carmelized onion, blue cheese and roasted mushrooms on a warm, mayo-slathered bun. The Medianoche, a pork shoulder panini, was also incredibly good as was the Big Mick with roast beef, cheese, pickles and thousand island dressing (in photo).
Pizzas, small plates and six or seven other sandwiches are also available. Breakfast is also served daily.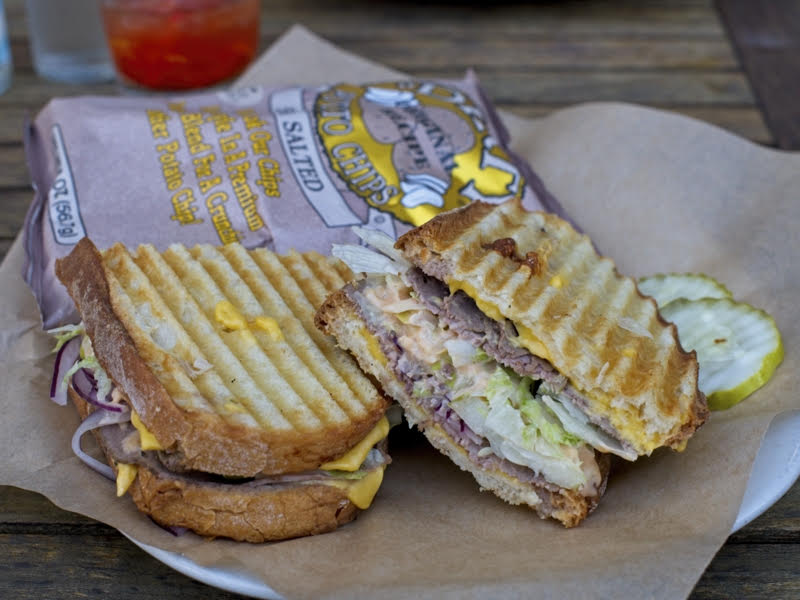 One of the loveliest aspects of our evening was when the owner, Richard Kerhin, came to our table, wearing a mask, and asked if he could sit with us for a minute. Our social and professional circles have overlapped many times over the years, and it was nice to sit face-to-face and chat about our families and our jobs.
Kehrin shared plans for the patio's future, assuring us that although the air was starting to cool, we would be able to visit the sweet space for months in the future.
"We're in the process of buying patio heaters for fall," says Kerhin. "But for now, we're happy to finally have the street construction done and the patio finished so it can be enjoyed."
Aperitivo is open Monday-Thursday from 8 a.m. to 9 p.m.; Friday from 8 a.m. to midnight; Saturday from noon to midnight. Happy hour is weekdays from 5 to 7 p.m. and Saturdays from noon to 4 p.m.

Molly Snyder started writing and publishing her work at the age 10, when her community newspaper printed her poem, "The Unicorn." Since then, she's expanded beyond the subject of mythical creatures and written in many different mediums but, nearest and dearest to her heart, thousands of articles for OnMilwaukee.

Molly is a regular contributor to FOX6 News and numerous radio stations as well as the co-host of "Dandelions: A Podcast For Women." She's received five Milwaukee Press Club Awards, served as the Pfister Narrator and is the Wisconsin State Fair's Celebrity Cream Puff Eating Champion of 2019.