Patsy "Pat" James was hoping to open her bar and restaurant, Pat's Niche Pub and Grub, by her 77th birthday which was Aug. 30, 2019.
"I had plans to have my 77th birthday party here and serve 7-and-7s for 77 cents," says James. "My husband and I have drank 7-and-7s together for years and it would have been fun. But that's not how it worked out."
Instead, the project took longer than expected and she opened quietly at the end of November at 3956 S. Howell Ave. inside the former Ho Ho's Chinese restaurant.
"I just wanted my own niche. I wanted a place like what's happening tonight: friends who I hadn't seen for 30 years heard I opened my own place and came looking for me," said the friendly and energetic James.
Recently, we ventured in on a Wednesday evening and found a delightful mix of people, decorations and aromas.
The decor features a collection of vintage red tables and booths that James cleaned and restored after finding in the basement. She also unearthed red vinyl flooring in excellent condition beneath two layers of linoleum and a high, metal ceiling above a stained, suspended ceiling.
The full bar has retro light fixtures hanging above it and the walls are adorned with a mix of old-school record covers, photos, beer signs and other thrift store finds. The large, fake fireplace in the entryway is James' favorite second-hand score. "It was $120, but it was 'half-off all furniture day' so I got it for $60," she told us proudly.
James pointed out her favorite photo on the wall of Milwaukee-born NASCAR driver Alan Kulwicki who passed away in a plane crash in 1993.
When I ordered an Old Fashioned after chatting with James for a few minutes upon our arrival, I noted how she didn't ask whether I wanted brandy or whiskey, sour or sweet. Instead she just nodded, smiled and said, "That's my favorite, too. I used to have three of them before dinner."
The house Old Fashioned is a Brandy Old Fashioned sweet, served in a wide cocktail glass with cherries and oranges. The beer and soda were served in Ball jars.
Although we were tempted by other items on the menu – particularly the burger, as we are forever searching for one that makes our short-list of favorites – it was Wednesday, so we went with the only real choice: the chicken fry.
Like the fish fry, the chicken fry comes with pretzel rolls and the secret, light and tangy slaw as starters.
"I've been perfecting my recipes for 30 years. I don't share them with anyone except my chef and even then I leave out an ingredient and add it myself," she said. "The Journal wanted our coleslaw recipe 15 years ago, but I refused to give it up."
The meal itself was massive, with four pieces of light and dark meat chicken deep fried to perfection with a side of crispy fries. And as leftovers, both reheated beautifully for lunch the next day.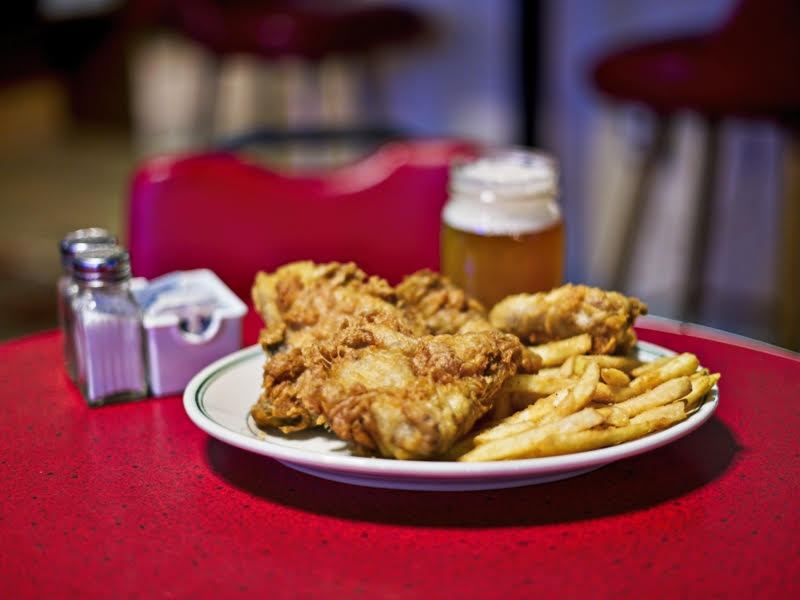 The fish fry is the heart of Pat's menu, but offered on Fridays only. There are a few different types of fish fries and they are available by the plate or all-you-can eat. Frog legs and fantail shrimp are also on the Friday menu.
James has a long history in the service industry. In 1975, she opened her first bar on 55th and Lisbon called Pat's and Sandy's Racer Inn. The tavern is still open today under different ownership and named Wally's Pub.
James went on to operate a bar on 5th Street and Chase Avenue called The Country Outlook for almost a decade and in 1992 opened Pat's Oak Manor in South Milwaukee, which is still open today, but primarily run by her business partner, Jessica Winiarski.
James also worked at the Dinner Bell, a now-defunct, iconic restaurant in South Milwaukee known for its family-style fish fries. "We would serve 400 fish fries a night," said James. "I think we can do at least 300 on Fridays here."
Opening a new business from scratch has been a lot of work for James, but she says everything has really come together the past week or so. She's also been dreaming up ideas of how to celebrate her 78th birthday in her new place.
"I'm really starting to have fun. What I wanted to happen is finally happening. I just want to keep an eye on things, but spend my time talking to people and catching up with old friends," said James. "Like that guy in the booth. I've known him for 30 years."
Pat's Niche Pub & Grub is open Tuesday through Sunday from 3 to 10 p.m. (Kitchen from 4 to 9 p.m.) The kitchen sometimes closes earlier on Saturdays and Sundays and Pat's will occasionally be closed for private parties. (The space is available for weekend rentals.)

Molly Snyder started writing and publishing her work at the age 10, when her community newspaper printed her poem, "The Unicorn." Since then, she's expanded beyond the subject of mythical creatures and written in many different mediums but, nearest and dearest to her heart, thousands of articles for OnMilwaukee.

Molly is a regular contributor to FOX6 News and numerous radio stations as well as the co-host of "Dandelions: A Podcast For Women." She's received five Milwaukee Press Club Awards, served as the Pfister Narrator and is the Wisconsin State Fair's Celebrity Cream Puff Eating Champion of 2019.