As the legendary craft brewer Kirby Nelson prepared to fire up the pilot brewhouse at Wisconsin Brewing Company Park – Oconomowoc home of baseball's Lake Country Dockhounds – to brew a classic Vienna lager, WBC President Paul Verdu and I sat in the adjacent taproom.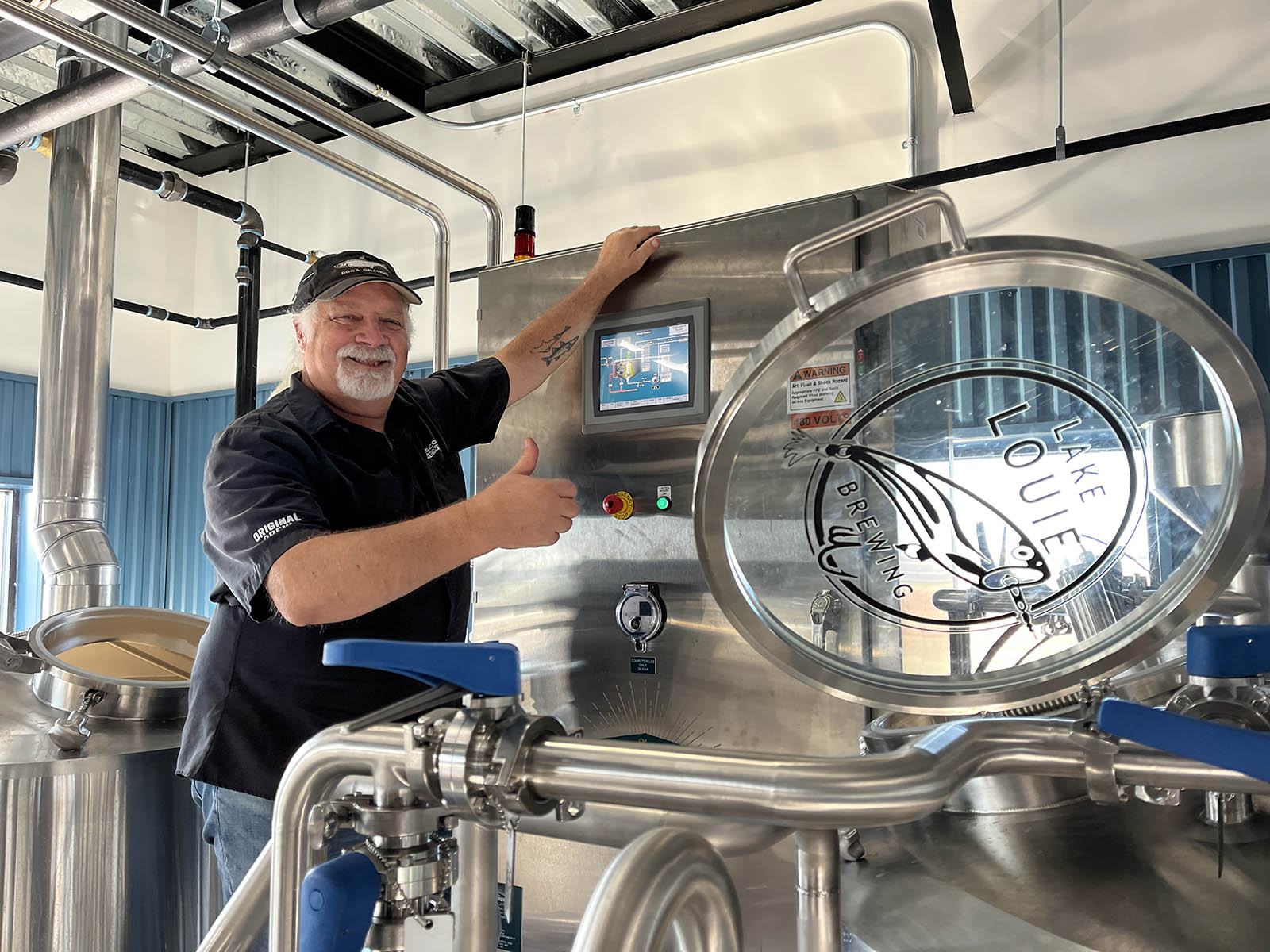 Verdu – a veteran of the beer industry with years spent at Molson Coors and others – and I were here to talk more about Wisconsin Brewing Company's recent news, which included the announcement that the brewery's brands would be consolidated under the name of Lake Louie Brewing, which became part of WBC in 2019, the opening of the new ballyard brewery and the news that the taproom will soon open to customers during baseball's off season.
You can read more background here on Wisconsin Brewing Company, whose main brewery and taproom are in Verona, southwest of Madison.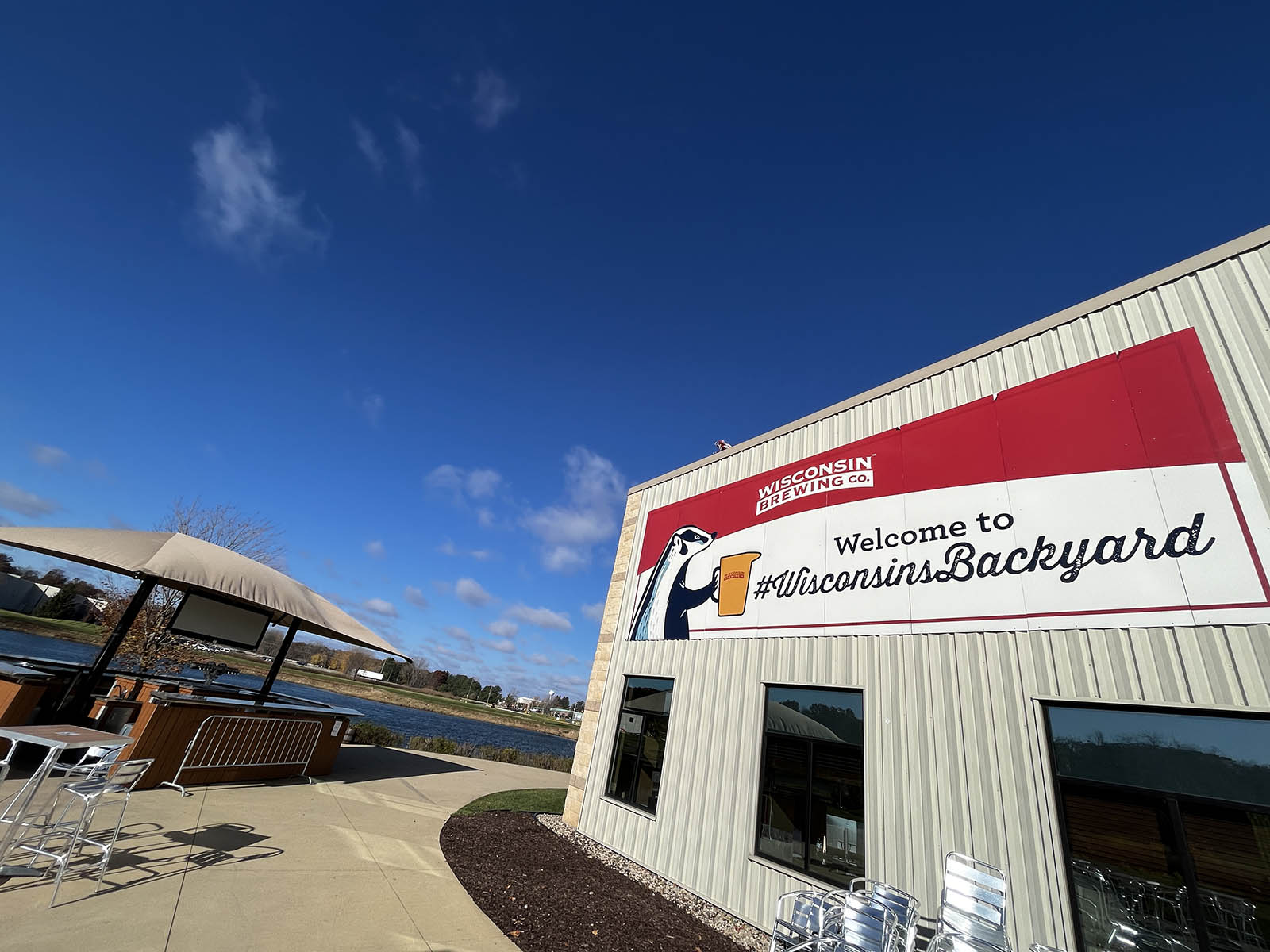 There since its founding in 2013, the brewery has built a successful contract brewing "sideline," too, and that work accounts for 90 percent of WBC's business. It's in large part why the Verona brewery will be expanding, with giant new tanks set to arrive in December and construction of a full-on "tank farm" to begin in spring.
Much of the production that will go into those tanks has already been pre-sold.
Clearly, it was a good time to catch up with Verdu, who joined WBC earlier this year..
OnMilwaukee: So, Paul since we're sitting here in this space, tell me about what's coming up for the taproom.
Paul Verdu: Beginning in mid-January, the taproom will be open Wednesday, Thursday and Friday. Our permit here is just to brew beer, so we will sell it to (the Dockhounds) and they have staff.
They'll use the space for events on weekends.
The beer that we make here will be sold here, we'll bring it over to Verona for our taproom and then sell kegs into the market.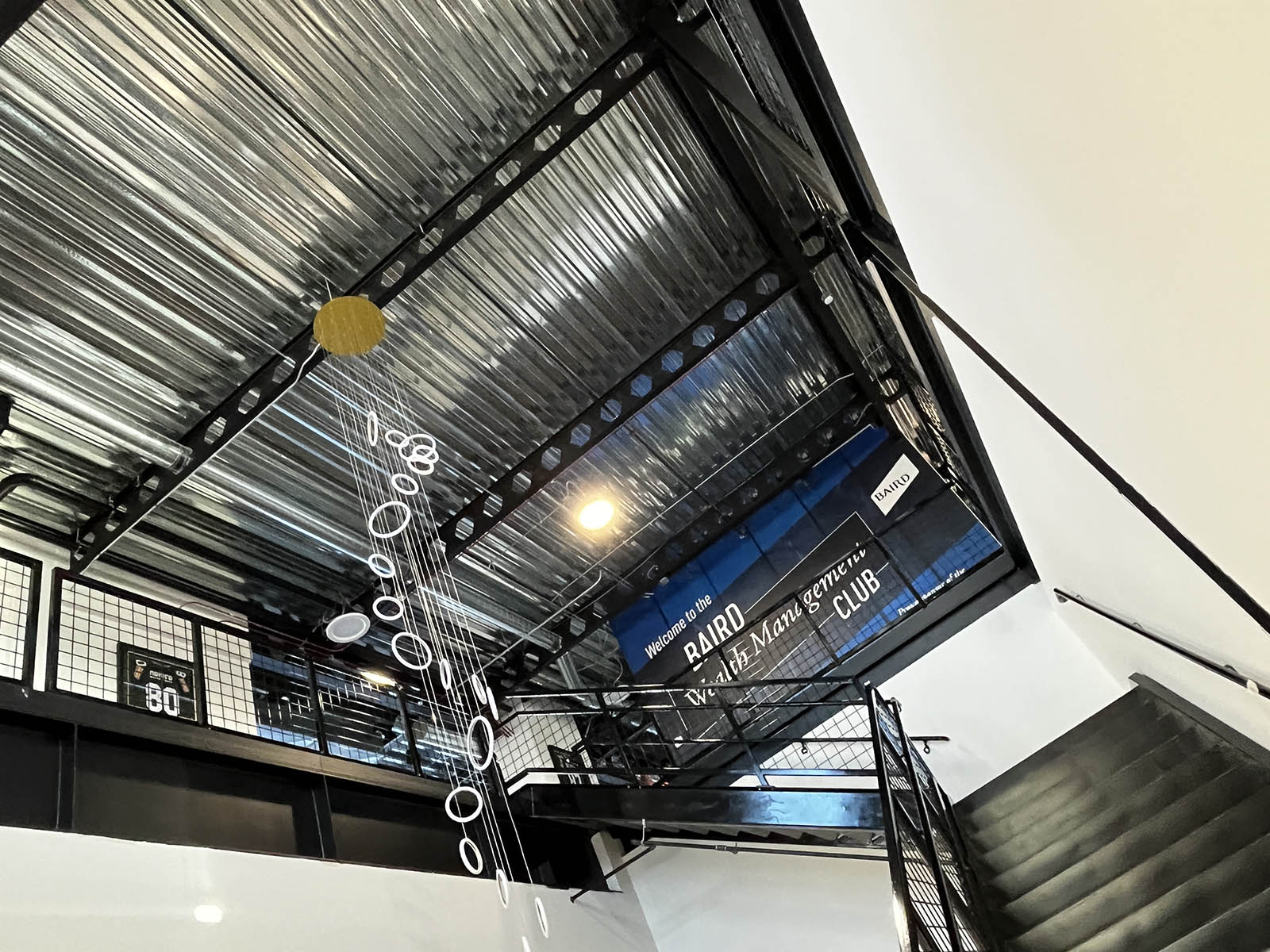 Tell me about the decision to get behind Lake Louie as a brand.
When I joined and got to know the business, I saw that there were beers out in the market branded with Wisconsin Brewing Company, and they've been around since 2013. And then Lake Louie's been around since 2000. If you walk into our taproom, you see signage and some activity around some amazing beers, but not a lot of brand.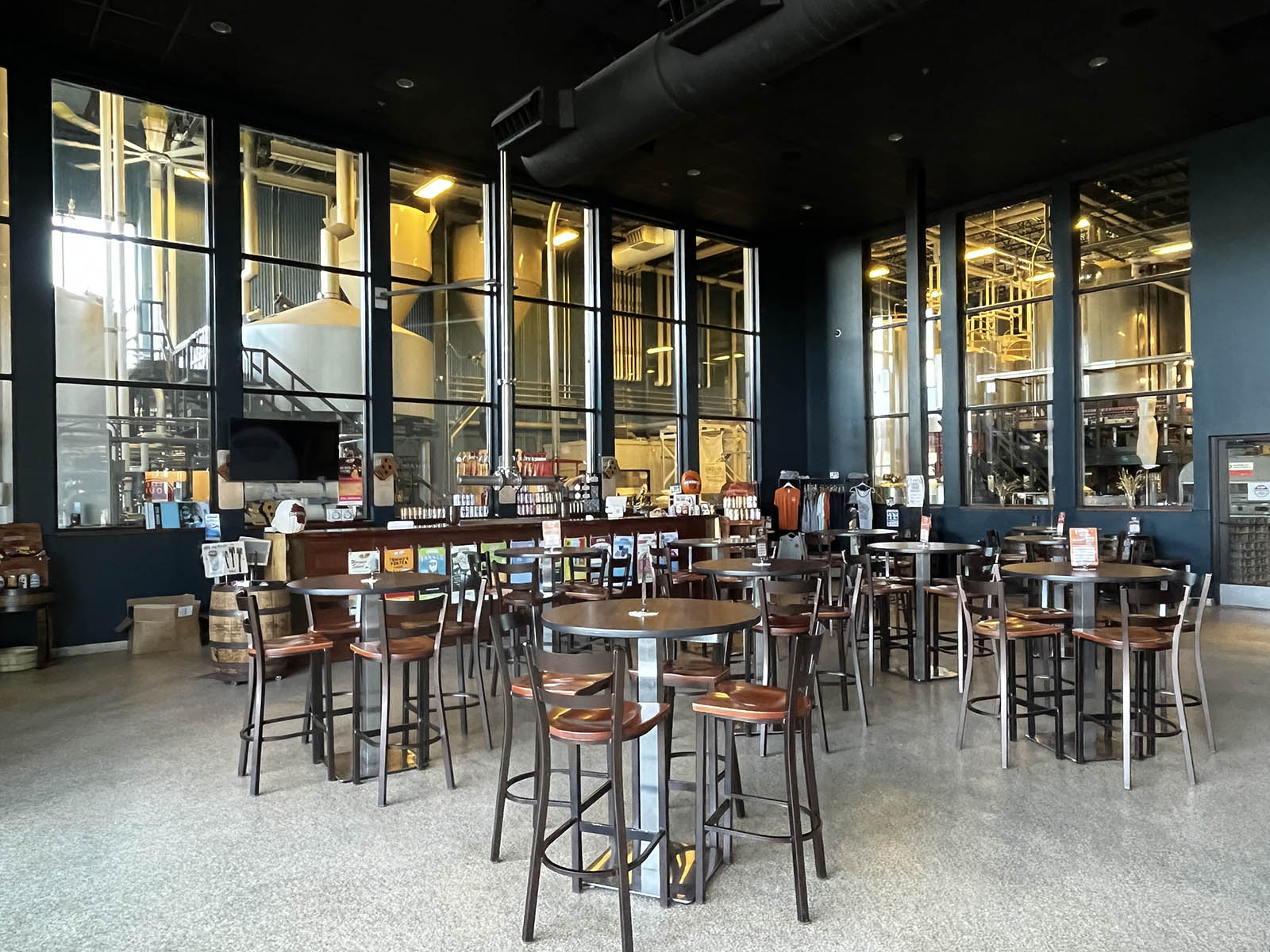 It was hard. If I look at our posters, I see great beers. I don't see a brand and my background is that. I have a MBA in marketing and I have been doing brand management focused activities since then at SC Johnson, Nestle.
Then I got into beer in 2005. So I've always been a brand person and I know that to me that's the heart of the opportunity and where you can grow and make an impact as opposed to just selling beer. So if the theory is we have these two things and they're sort of disjointed, how do we make it more cohesive? Well, we've got to pick a brand and make it our lead horse.
So how did your decide to choose Lake Louie over Wisconsin Brewing?
Just obviously a lot of thought in my head as I looked at it all. I got to know each side of the business and each brand. A lot of conversations with our team under the hypothesis, if we had to pick one, which one do you like? And we talked to the people who've been around. We talked to people who started Wisconsin Brewing Company, people who came over with Lake Louie, Tom Porter who founded Lake Louie. And we hired an agency out of Minneapolis called SixSpeed. An old friend of mine from Miller runs that agency. So it was a natural conversation to have say, "Hey, can you help me look at this stuff and make a decision?"
So it wasn't that complicated, though, because when you really boil it down, Wisconsin Brewing Company had done a great job. But if you just think about it, no one ever ordered a Wisconsin Brewing Company Badger Club. They never said that sentence. It was just Badger Club. The WBC umbrella over all those beers never really was a focus or a big part of it. They made amazing beers and they sold a lot of them and it was really good. But Lake Louie looked and felt like a brand.
It's older. Started in 2000, way more interesting backstory like Tom Porter at his house, cashing in his 401k, was an engineer, said, "I want to try my hand at this beer thing."
Brewed out of his garage on his property in Arena, Wisconsin, there was a small body of water, a pond basically, that he named Lake Louie, because his uncle's name was Louie and he thought that would be cool. So, that's how the genesis of the name came about. The iconography was better, there was personality behind it. It just had a lot of character.
Did it feel less geographic, too, if you're looking to go outside the state? Is it an easier sell?
That's the last (factor), that wasn't a key upfront variable. Because we're really focused on Wisconsin. But longer term, if we were to take on some surrounding states, it would kind of be hard to go in there as, "We're Wisconsin Brewing Company."
It just more localizes us. Lake Louie has, I think, more opportunity if you were to ever come to the expansion into other states or just even in the Great Lakes.
Is Tom still involved?
The plan was he was going to be out in the market and talking about it. Then COVID hit and there was nowhere to go.
He's enjoying himself and he's retired, but he has expressed interest in getting back involved and we're going to welcome him with open arms and go out and help tell that story. When I travel the state and I mention his name, everyone knows him.
He's a great ambassador for the brand he started. When we had a meeting with Frank Beverage, Frank Beer (Distributors), and they brought in a 100 people and I was telling them about our new strategy and plan that we're going to make Lake Louie the focus, and Tom showed up at that meeting and I showed him the iconography, the strategy, why we're doing all this, and he said, "This is an amazing day for me. Thank you."
He's on board and we'll get him more involved as we start to roll this out.
When I was at the brewery in Verona, I heard that you guys are 90 percent contract brewing now. So that business is booming. Can you tell me a little bit about what that looks like for you guys?
The great part of the story is, if you go back a few years, the Wisconsin Brewing Company team with (past president) Carl (Nolen) and Kirby, they had the foresight to say, we have this beautiful facility, we can get some new equipment in here and we can become a co-manufacturer, before COVID.
And thank God they did that because the Lake Louie and WBC branded beers in the market were so heavily focused on-premise. Another key source of our revenue was our tap room. Wiped out starting in March of 2020 as everyone knows.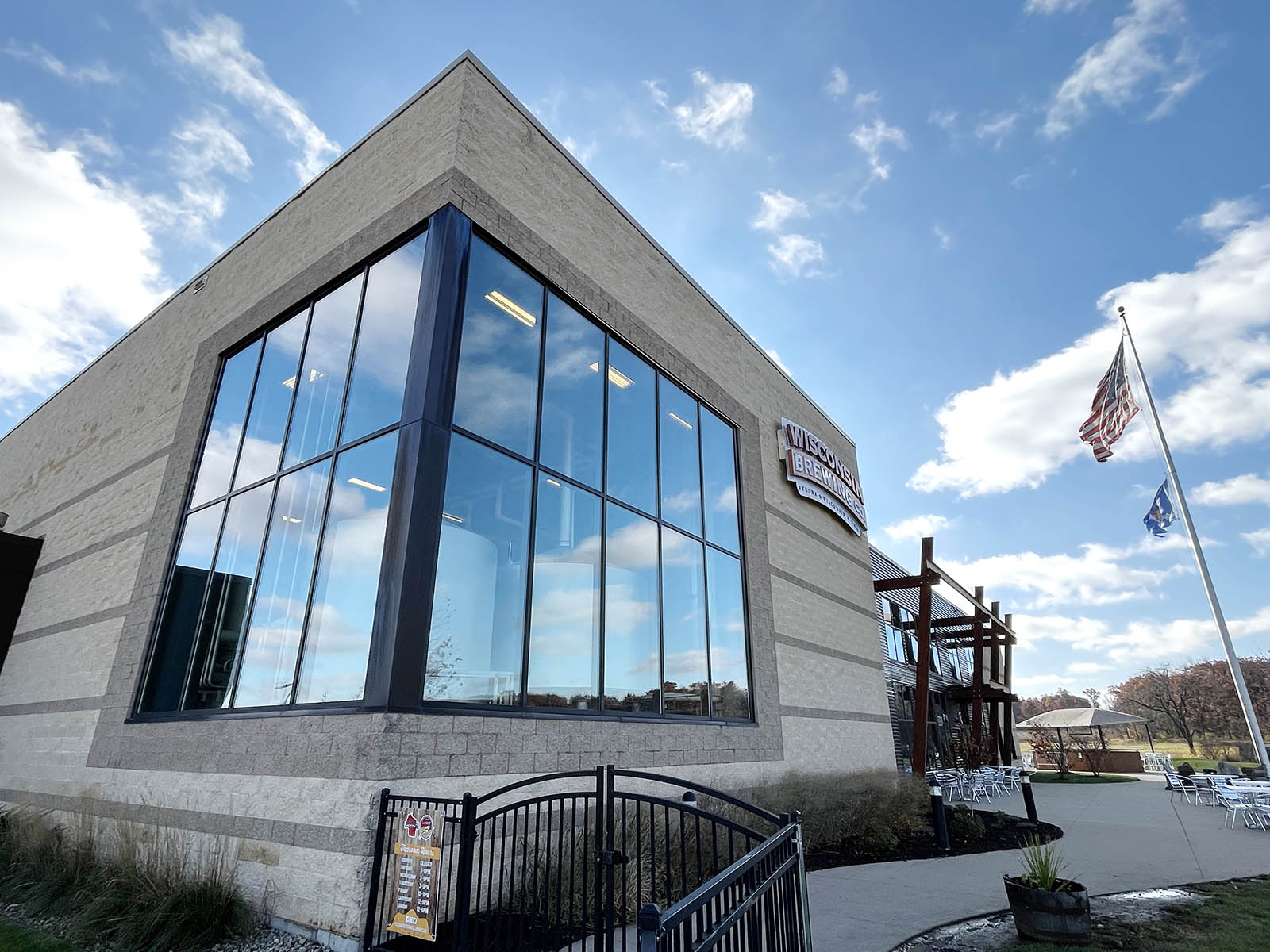 Had they not been contract brewing, I wouldn't be here, the company probably wouldn't be here. It probably would've taken on the same fate as some of our other great Wisconsin craft breweries like Milwaukee Brewing, Ale Asylum. We'd probably be in that same boat.
You look at the facility, too, I go in there and I think, "that's a beautiful brewery," but I see a lot of dollar signs, right? That doesn't look like an inexpensive facility.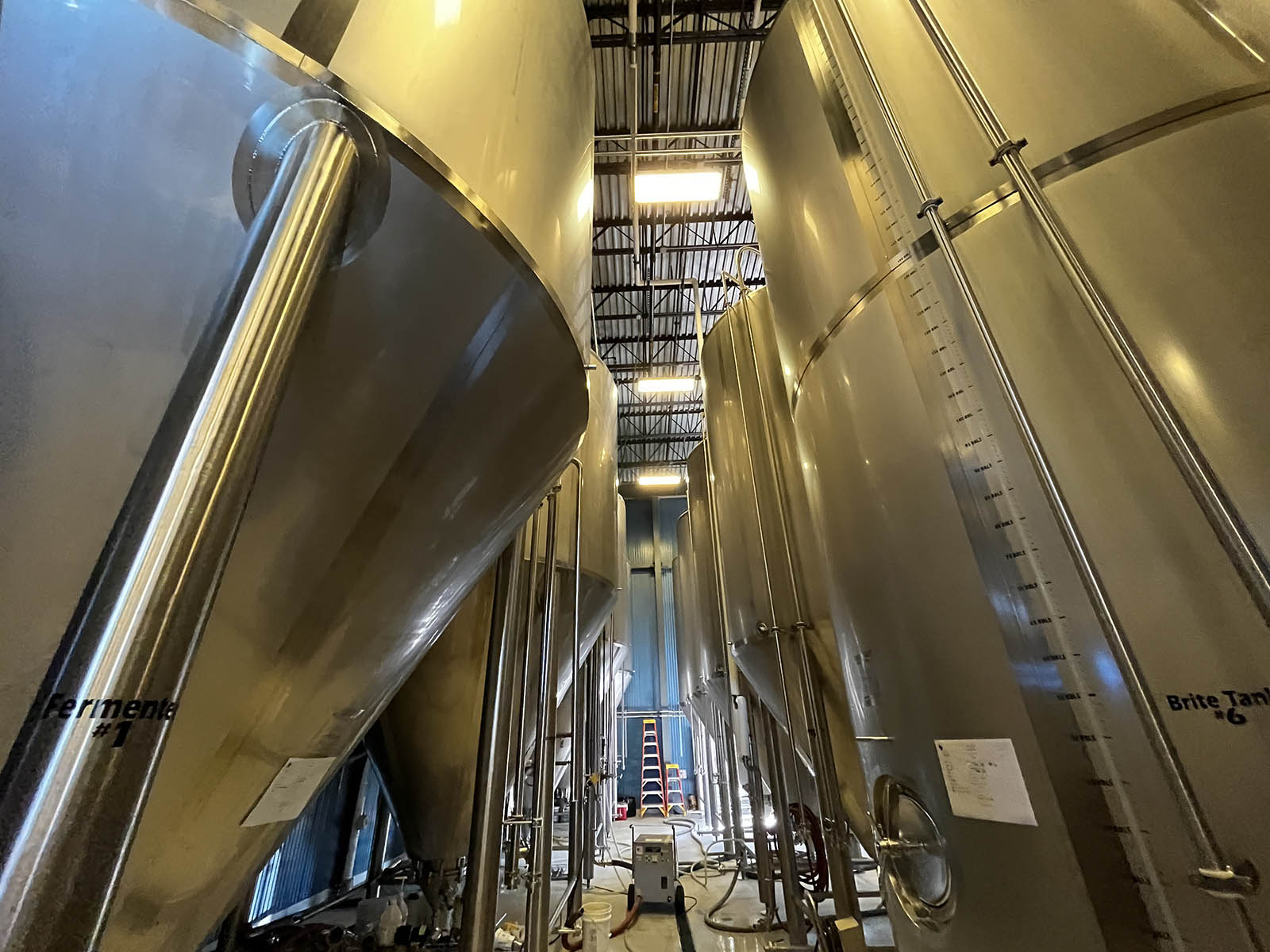 There's nothing more sad than when you walk in a brewery and it's quiet. Because you're not making something, you're not preparing to sell something. And it's not quiet right now and it won't be. Carl Nolen was well-connected in the industry across the country, really good. So a lot of people just started inquiring and then business came in and a big customer was part of that. I don't really want to share names, but there's a big beer company that had some innovation that needed help.
So we can become someone's only supplier, we can become someone's supplier of a specific thing they're working on, or we can become someone that works on their innovation and smaller things so we can handle all that.
That enabled the business to stay afloat, to stay alive. Then with a new round of investors that came in March, April, May – which included me – we saw that that was the high growth, high revenue generating side of our business. And with my additional connections coming in and all that, I knew the exciting part was had that not been there, even if the business did survive, it wouldn't be that attractive to the few of us who came in and invested.
And so that was a piece of business that's like, "okay, that's a really good model. We can generate revenue, fill our capacity, make money and then use those resources to not only reinvest in the facility and grow even more, but also invest that into the brand sector." A small craft brand on its own in a small facility, it's hard to generate enough revenue profit, cash flow to pour it back into itself and grow faster. We have the ability to do that.
So you see the contract as feeding your own beer production?
I love our contract side. I've met some great customers. We have fantastic customers and we have two new big ones coming in and it diversifies our portfolio next year, like you said, we're full, we're so out of capacity that we're even adding three tanks starting in December, 480-barrel fermenters, which are really big, for our new customers. And those are sold out basically.
Then where those tanks are going to go will become a future tank farm and a building. A 50,000-square-foot expansion will wrap around that.
So the contract helps underwrite your own beers?
That's how we're looking at it. It will help us accelerate. We have to clean up the brand side, which we've done. We've got a new visual identity for Lake Louie as part of that. If we're going to go all-in on Lake Louie, let's at least create news and excitement around it. And our new packaging, our new look has gotten rave reviews. Everyone loves it.
We had to clean up our distributor footprint. There's a lot of housekeeping on the brand side. Up and until the first week of September of this year, we had 25 counties in the state of Wisconsin where we had to work with two distributors. One that sold WBC beers and one that sold Lake Louie beers.
When WBC acquired Lake Louie, you bring their distributors with it until some action is taken. So we had to make some tough calls, but we did trim our distributor roster and now we're consolidating across the state with the best distributors in the state.
We're super excited and they're excited because we're coming to them now with one brand. There's no overlap. A year ago a distributor who's selling Lake Louie brands had to look at their map and say, "I can sell it here, here, here and here, but I can't here because this is another distributor." It was just awkward.
When it's complicated, I tell people this all the time, we're a small craft brewery when it comes to our branded side. You can't be small and complicated. Small and difficult. So we have to simplify our business model: one brand, one distributor network, core beers, core portfolio, innovation plays a key role, but it's not all that we do.
So we have to stick to some beers that we know will succeed and then we have to support it with innovation. So all that we took care of first. Now with the proceeds and success we can have on our contract side invested into Lake Louie and accelerate now that all that's cleaned up and we'll have the distributors behind us, and have really good conversations with the largest chain retailers in the state.
In the next three weeks, we are going out to meet every distributor to do our annual business planning, and we have a lot to show and a lot to talk about. So it's really exciting. One distributor told me when we did the consolidation and moved to one brand, "now it makes sense and we can get behind you." So that's all key.
Did you have a similar issue with the beers themselves? As a hypothetical example, was there a Lake Louie IPA and a similar WBC IPA and now you have to figure out which one you're going to sell?
That one wasn't as complicated, but we did. There was plenty of overlap. Each brand had an anchor. So Badger Club from WBC and Lake Louie's Warped Speed, which is scotch ale. So we knew those two would be in for sure.
In fact, the beer with the most volume that we have to transition into a new home is Badger Club. So it is now going to be called Lake Louie Badger Club. So its iconography – there's Leroy the Badger who's on our packaging – all that stuff comes with it. They just have a new home, a roof over their head.
The other beers, we had overlap in some IPAs and the biggest overlap that's probably gotten some attention with this announcement is our Oktoberfest program because there is a Lake Louie Oktoberfest and then there's also Patron Saint out of Wisconsin Brewing Company. That's the one that's a bit polarizing. It's like, "I love this one, I love this one." So we're actually considering putting it to a fan vote in the next few months and then making a call.
Then you can do one as the regular Oktoberfest and you can occasionally bring back the other one.
That's the other point I'm trying to make to people. If there's a beer that you love, it's not wiped out. It probably will be harder to find out in the wild, but it'll be on in our taprooms. We'll make it here at this brewery.
So you see yourself making the two Oktoberfests?
Yeah. One only one will be put into six-packs, 12-packs, or whatever. So it just so happened that Badger Club is the brand coming over from Wisconsin Brewing Company. But the three of our other core brands that are going to be as if I said here's our four most important beers, they're Lake Louie beers: Lake Louie Warped Speed, Rational Haze, our new Hazy IPA, and then Kiss the Lips IPA, which is probably the most undervalued beer out there.
We haven't done much with it, but everyone that I've talked to who are IPA lovers, it's like bang, love it. And it's not a knock your face off imperial or anything. It's this good old classic American IPA. It's fantastic. We are working on an imperial, but it would be something different.
So there had to be a few choices along the way. And we've discontinued some packaged brands that are out there, like Yankee IPA. But those will always be on our list of recipes that we can pull out at any time.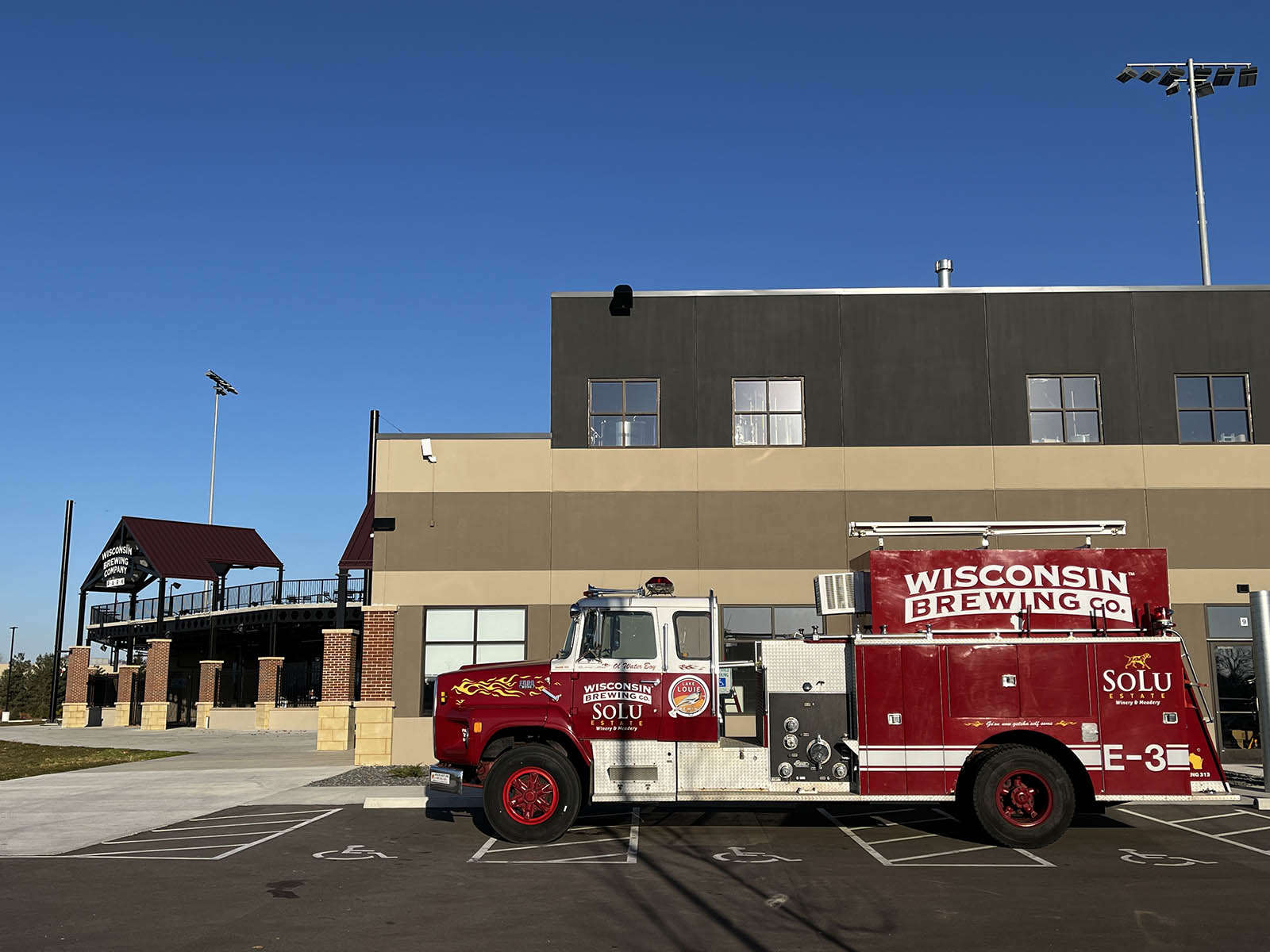 So tell me about this, then (gestures around at the stadium).
The ownership group of the Dockhounds, they knew one of our investors, Chris Rebholz, who owns Christopher Morgan Fulfillment and Fortress Beverage and he's a lifelong entrepreneur and has been quite successful. So he is an investor in Wisconsin Brewing Company. Through his connections he was having conversations with the ownership group here, like, "when you open, we'd love to be the sponsor partner."
It evolved from there. We put our name on the park, and then part of that was the conversation around, well to really blow it out, let's put a pilot brewery right on-site. This whole place was designed knowing that this brewery was going in, as you can tell. This wasn't just space that was here that we took.
Were there challenges legally, I mean permitting-wise and that sort of thing, with putting a brewhouse into a stadium?
Not challenges, but you have to do it right. There's local permitting, there's state permitting, there's the Department of Revenue permitting, all that stuff's been taken care of. But yeah, it's paperwork, it's showing people around telling them what we're doing and then, it's getting that license.
Which for us, like I said, our license is to brew beer here that we would either keep for ourselves and bring the Verona or sell to the Dockhounds directly. Because we're on site, we can sell it to them or to distribute, let's just say through Beer Capitol, which is right over here in Sussex to cover this region. So it wasn't complicated or difficult, it was just part of the process.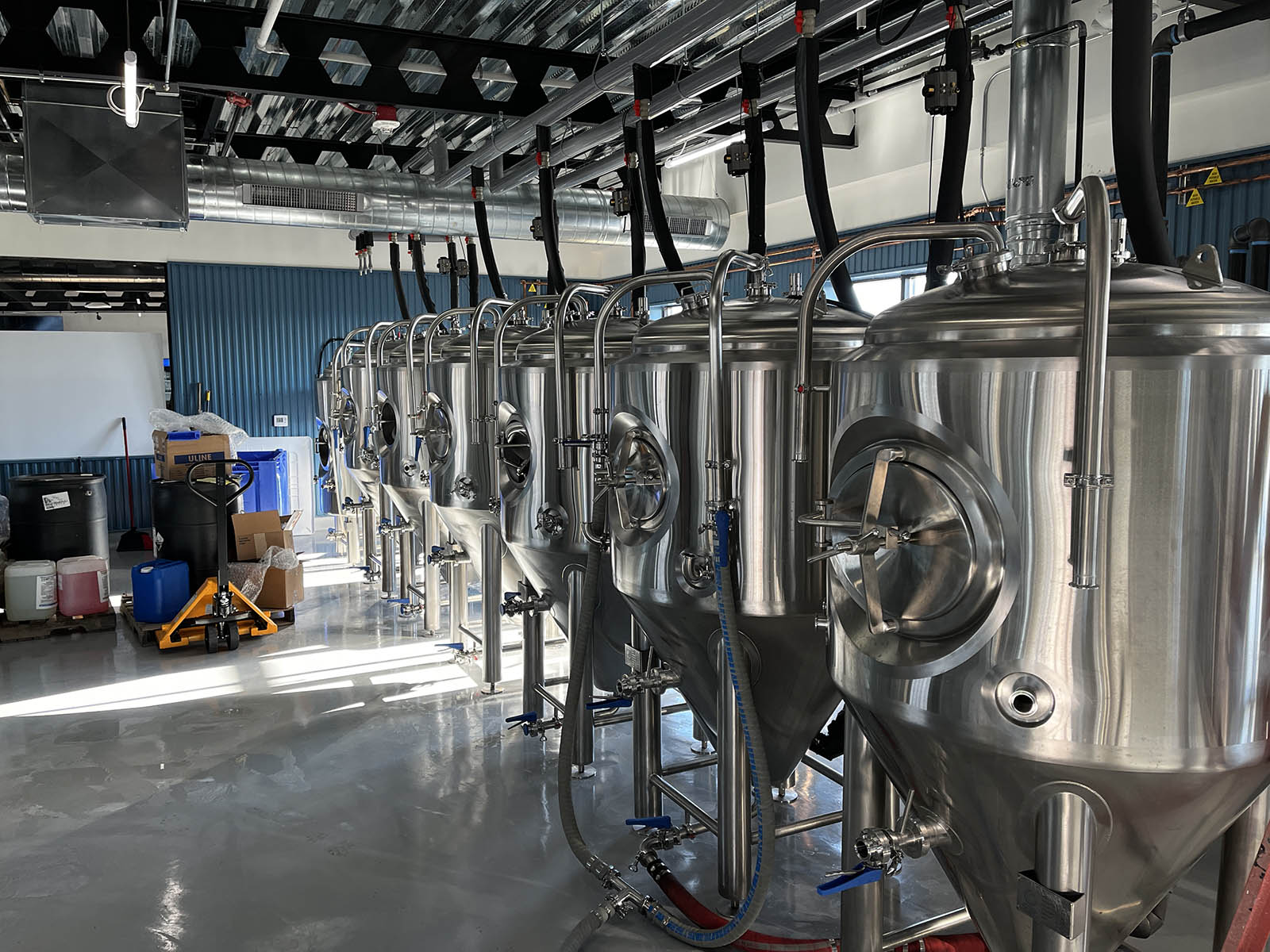 The more complicated thing was getting the equipment, with the supply chain nightmares that everyone talks about. All these tanks, this whole system's done by ProBrew techno blend at Waukesha. A local company. But obviously when you're hammering out stainless steel and these other things, there's supply from different parts of the world.
Things were on boats and things took forever to get here. And when I started in May, it was like, okay, I think everything's arriving in June. Okay, it's coming in July and then July comes. It's like it's going to be part of it, but not all of it. So it literally, here we are at at the beginning of November. It's ready to roll our brew master's in there and he's about to fire it up maybe as we speak.
I can't help but notice the geography, you're a Madison-area brewery. But now it's sort of inching – maybe not inching, leaping – it's leaped halfway to Milwaukee, right?
It's a full step. Yeah. It's not an inch.
Is Milwaukee in your sights?
Yes, I just talked about this yesterday and I break down the state of Wisconsin into three parts for our focus. Number one is Dane County to the Dells and the surrounding counties, eight or nine counties. That's like if you say our heartbeat is in Verona, our heart beats out from there. Those counties. I told a major retailer yesterday, I would love for full distribution of all of our brands. Really make a name.
I want in two years if someone says what's the best craft brewery out of Madison, I want Wisconsin Brewing Company, Lake Louie to roll off their tongues. Not only because it's a beautiful facility that's awesome to go visit and we have huge crowds, it's fantastic, but the beer we make is great. And the more exposure we get in our home turf there, the better. That's job number one is to really win in Dane and the surrounding counties.
With this brewery now in Waukesha County, and the fact that Southeast Wisconsin represents over 40, close to 50 percent of all beer sold in the state, we do want to be a player here. But a friendly invited guest.
Not like, "Hey Milwaukee, this cool Madison Company's coming over to take on the ones that have really done great over here." It's all just to join the party.
I've always said craft beer consumers just want good craft beer and good beers and variety and innovation, and that's what we're coming with. So I'm pretty sure we'll be welcomed with open arms. Yeah, there's great breweries around here, really great. Some newer, some have been around a while. We just want to join into the fun over here.
We have a sales rep that works this market now just because of our stadium presence and the amount of beer that we went through and the awareness that we've built. And with our partnership with Beer Capitol, our growth in this area just in the first year of the stadium has been almost immeasurable because we were starting with the small base and now it's pretty substantial, but it's just started and it's really right around the stadium.
But if you think of our heartbeat number two. Number one's Verona, number two's right here in Oconomowoc and we'll spread out from there. And then the third part of our strategy is the rest of the state. So in three years, five years, whatever, I want us to also be synonymous with the Wisconsin craft. Not by size, because there's some big ones out there, but in terms of space in people's minds and hearts and wallets and stomachs.
It's like what are some of the most popular Wisconsin craft breweries? I used to work at Tenth & Blake, ran a bunch of craft breweries for Molson Coors, so I will always call Leinenkugel's a craft brewery. So people say, Leinenkugels, New Glarus, Wisconsin Brewing Company, Lakefront, Raised Grain, whatever.
I want us to be in that conversation, and that's more of a slower build. In Dane County, we can say full distribution and let's get good at it, in this market it's a little bit more targeted, but still a big opportunity to get some decent presence at retail. And in the on-premise, the rest of the state is core beers. What are we going to focus on? What brands are we going to build? And then the number one thing is just building awareness of Lake Louie. And that's what the new positioning, new look and feel is intended to do.
When I talk about being able to accelerate based on the success of our contract side, frankly a lot of that is some cash to invest into marketing. Content creation, social media engagement, actual media support of this ballpark, investing in events, all those things that matter in the world of craft. So I'm really optimistic that with the simplification and changes we've made, plus the success and growing side of our craft, of our contract side, those two work in harmony and the future is super bright for us.
Do you see ever having a sort of physical presence more in the Milwaukee area?
Never say never. Yeah. But I think that would be the next logical step if the opportunity was right. When I read things about the Iron District getting a soccer team, it's exciting down there. It's like, "huh, Is that our next five-barrel system?" I'm making up completely...
But you're thinking about it. It's in your brain.
Exactly. When you have a physical spot for someone to go visit, it does make a difference. It's also gotten people in trouble by trying to do too much too fast. So it's about being smart.
Born in Brooklyn, N.Y., where he lived until he was 17, Bobby received his BA-Mass Communications from UWM in 1989 and has lived in Walker's Point, Bay View, Enderis Park, South Milwaukee and on the East Side.
He has published three non-fiction books in Italy – including one about an event in Milwaukee history, which was published in the U.S. in autumn 2010. Four more books, all about Milwaukee, have been published by The History Press.
With his most recent band, The Yell Leaders, Bobby released four LPs and had a songs featured in episodes of TV's "Party of Five" and "Dawson's Creek," and films in Japan, South America and the U.S. The Yell Leaders were named the best unsigned band in their region by VH-1 as part of its Rock Across America 1998 Tour. Most recently, the band contributed tracks to a UK vinyl/CD tribute to the Redskins and collaborated on a track with Italian novelist Enrico Remmert.
He's produced three installments of the "OMCD" series of local music compilations for OnMilwaukee.com and in 2007 produced a CD of Italian music and poetry.
In 2005, he was awarded the City of Asti's (Italy) Journalism Prize for his work focusing on that area. He has also won awards from the Milwaukee Press Club.
He can be heard weekly on 88Nine Radio Milwaukee talking about his "Urban Spelunking" series of stories.