So, "date night" isn't typical for my wife and I.
Friday, we headed to Chicago to see the Foo Fighters play the Cubby Bear. Monday night we stayed closer to home to see Pearl Jam's long awaited return to Milwaukee, as the band played three hours at the BMO Harris Bradley Center.
This is due largely because my better half, Michelle Rutkowski, is the program director at WLUM 102.1-FM (or FM 102/1), and thanks to her I get a chance to see some great acts.
But, I'm always looking for something a little different, outside of the music, especially when I'm not a diehard.
Pearl Jam provided that something different, but it was something I'm very familiar with: a love of sports.
Eddie Vedder, a noted Chicago Cubs and Bears fan, welcomed Green Bay Packers quarterback Aaron Rodgers and dedicated "Given to Fly" to the QB, even calling him royalty.
He then told the crowd about a trade proposal he threw Rodgers' way, which is when I discovered there were more than few sportswriters in the house.
#sportswriters pic.twitter.com/6EkhZRZTAp — JJ Stankevitz (@JJStankevitz) October 21, 2014
No, I don't think three mini-Ditkas would do.
They moved on to the Bucks, as Vedder noted how the 1971 championship banner, and those of the retired jerseys, helped the sound of the arena. But, he said, bassist Jeff Ament noticed that there was a "hole" in the retired jersey lineup.
So, he brought his own to hang from the lighting, the No. 10 of none other than Bobby Dandridge. ("Ten", of course, was also the name of the band's debut record in 1991).
They then dedicated "Black" to the former Bucks player.
They weren't done just yet.
Vedder went into the crowd and gladly took a Packers jersey a fan brought him ...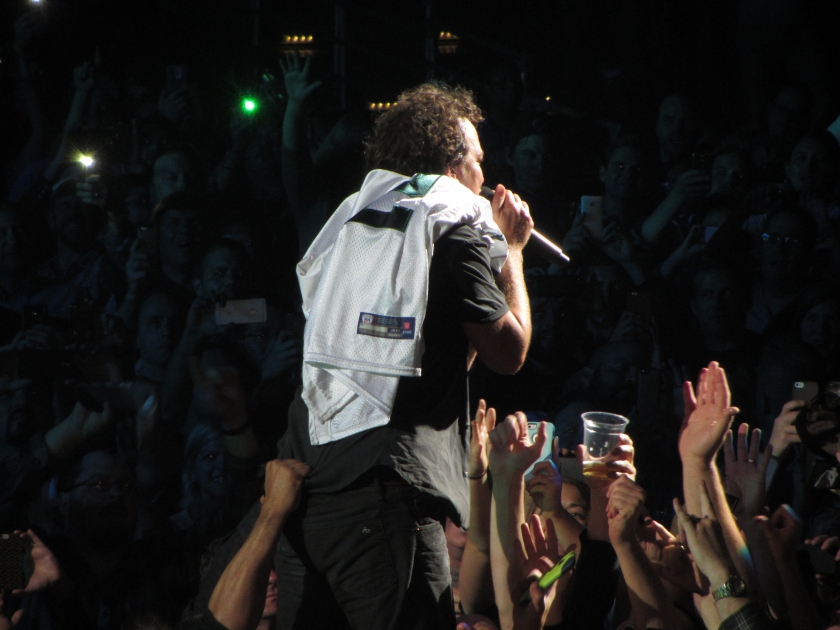 ... and then at the very end, donned his own No. 10.
What was truly great about that moment was that the fans in the crowd then picked up current Packers backup quarterback Matt Flynn -- who happens to wear No. 10 -- no doubt giving him a feeling that would rival any he's had on the football field.
Who knows when Pearl Jam will be back, but the band made it a night to remember, even for those in attendance who found the banter and desire to connect on a different level just as entertaining as the show itself.
Jim Owczarski is an award-winning sports journalist and comes to Milwaukee by way of the Chicago Sun-Times Media Network.
A three-year Wisconsin resident who has considered Milwaukee a second home for the better part of seven years, he brings to the market experience covering nearly all major and college sports.
To this point in his career, he has been awarded six national Associated Press Sports Editors awards for investigative reporting, feature writing, breaking news and projects. He is also a four-time nominee for the prestigious Peter J. Lisagor Awards for Exemplary Journalism, presented by the Chicago Headline Club, and is a two-time winner for Best Sports Story. He has also won numerous other Illinois Press Association, Illinois Associated Press and Northern Illinois Newspaper Association awards.
Jim's career started in earnest as a North Central College (Naperville, Ill.) senior in 2002 when he received a Richter Fellowship to cover the Chicago White Sox in spring training. He was hired by the Naperville Sun in 2003 and moved on to the Aurora Beacon News in 2007 before joining OnMilwaukee.com.
In that time, he has covered the events, news and personalities that make up the PGA Tour, LPGA Tour, Major League Baseball, the National Football League, the National Hockey League, NCAA football, baseball and men's and women's basketball as well as boxing, mixed martial arts and various U.S. Olympic teams.
Golf aficionados who venture into Illinois have also read Jim in GOLF Chicago Magazine as well as the Chicago District Golfer and Illinois Golfer magazines.