As some of you recall, I grew up in Riverwest and enjoyed pizza from two neighborhood restaurants. Since then, a void in neighborhood pizzerias developed. Fortunately, in December 2014, Shaun Hutchens and Andrea Haas opened Riverwest Pizza at 932 E. Wright St.
I think Riverwest Pizza looks more like a bar than a restaurant, due to the large bar and large flat screen TV above it. The walls are painted slate gray, and most are adorned with art from local artists – some of it for sale.
One of the characteristics we appreciated most was the design of the tables. Haas explained that when Hutchens was pulling back layers of flooring during construction, he found bamboo flooring. He was able to refurbish the bamboo, apply the Riverwest Pizza logo to it and added a clear coat of epoxy so that they could be used as table tops.
It was quiet when we visited on a Sunday afternoon. The TV was on, but the sound was off, since music was playing. I'm not sure I could describe the genre of the music other than it was one of few genres that I don't listen to. Maybe it was a bit punk rock-ish, so not exactly traditional dining music, but perhaps a popular choice with the regular clientele.
The menu features an extensive list of specialty pizzas but also includes salads, appetizers and sandwiches. The specialty pizzas include recipes held over from the original chef, as well as collaborations among the owners and current pizza chef Jessica Schuster, a Riverwest resident who Haas told me has a lot of pizza experience.
Riverwest Pizza only serves a thin crust, and it comes in two sizes: a 14-inch small and an 18-inch large. Cheese pizzas cost $11 and $13 respectively, with additional toppings ranging from $2 to $5 each. Specialty pizzas range from $14 to $20. I'm told personal sized pizzas are sold weekdays until 7 p.m. for $6.
"Gluten-less" crusts are also available for an additional $2. The menu explains that while the kitchen isn't a certified as a gluten-free kitchen, staff does everything within its control to use separate utensils and cooking equipment.
Most of the specialty pizzas are named for streets in Riverwest, such as the Wright – with pulled pork, BBQ sauce, coleslaw drizzle and onion straws – and the Holton (the street I grew up on), topped with free-range chicken, chorizo, queso fresco, chilies, fresh cilantro and tortilla strips.
The 53212 is topped with Thai peanut sauce, chicken, shredded cabbage, shredded carrots and fresh cilantro, while the RWP (Riverwest Pizza) is simply topped with red sauce, white sauce and blue cheese crumbles. A percentage of the proceeds from the RWP is donated to a different Riverwest organization each month.
On our visit, we ordered a build-your-own with sausage and pepperoni, as well as the Fratney.
The sausage and pepperoni was the first to arrive. The crust was very thin with a very crispy edge. The pizza was cut into pie slices, as opposed to squares and rectangles, and each slice flopped when picked up similar to a New York-style pizza, but the edge was too crispy to fold the slices as you would to eat a New York slice. They chose to cut the pie slices because it's more traditional, but squares and rectangular slices can be cut upon request. I recommend the square cut to hold the slices easier.
Riverwest Pizza makes the pizza dough fresh each day and allows it to rest for use the following day. I noticed small diamond shaped formed into the bottom of the crust, so I suspected the pies were baked on pans. Haas confirmed that the pies are baked on screens, then removed from the screens and placed back in the oven for the final two minutes of baking.
The tender chunks of Italian sausage were mild, but had a nice flavor and made locally by Scardina Specialties, also located in Riverwest. The pepperoni was slightly spicy and flavorful. Riverwest Pizza procures pizza toppings from various sources, including duck from Maple Leaf Farms.
The sauce was very lightly applied. Riverwest Pizza adds its own seasoning blend to a canned tomato sauce base. I was able to isolate a very small bit of sauce, and it tasted a bit on the sweet side to me. My personal preference is for more sauce, but I enjoyed the pizza nonetheless.
The Fratney pizza is topped with balsamic glazed duck, caramelized onions, scallions, goat cheese and a layer of fresh arugula. The crust was the same as the first pie, soft in the center with a very crispy edge.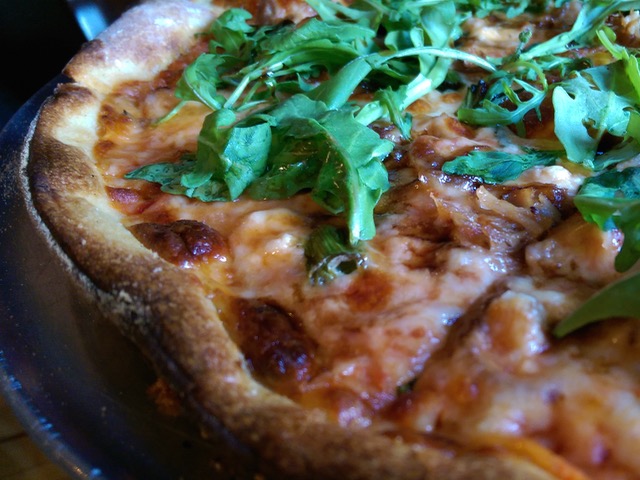 I was concerned that the amount of arugula might overwhelm, but that wasn't the case. All of the toppings complemented each other well. The bitterness of the arugula was balanced by the goat cheese and sweetness of the balsamic glaze, while the tender and delicious pieces of pulled duck and caramelized onions added additional layers of goodness. I was surprised to find the house red sauce was also lightly applied. I don't think it hurt nor helped the pizza, and I'd be curious to try the pie without it or maybe replacing it with a light drizzle of olive oil.
We waited around a half hour for our first pizza, which was a bit surprising considering we were the only table. However, our server was very much aware and in tune. She made several trips to the kitchen to check on progress and provided us with an update each time. We were very appreciative of that level of attentiveness. She also noticed it seemed a bit dark in the dining area and offered to turn up the dial on the dimmer switch to provide more lighting.
While we enjoyed our pizzas, another woman checked on us. We learned she was general manager Reed Johnson, whom Haas spoke highly of. Haas attributed much of Riverwest Pizza's success to Johnson's hard work.
When Riverwest Pizza first opened, I will admit that I was skeptical, but the Fratney made me a believer on my visit. I'd like to return to try the pizza named for the street I grew up on, Holton, because chicken, chorizo, queso fresco and tortilla strips sounds like a great combination. I'd also like to try the 53212, a take on a Thai chicken pizza.
My interest was also piqued by the turducken sandwich with free-range chicken, turkey breast and duck confit with a basil aioli, as well as the asparagus fries and "Seriously Cheesy" garlic bread from the appetizer section.
While we were the only table during our visit, there were at least a half dozen carry-out orders picked up, so if time doesn't allow me to dine in, maybe I'll call in an order and pick up a pie the next time I visit mom and sis.
I was born and raised in Milwaukee, and I plan to stay in Milwaukee forever. I'm the oldest of three children and grew up in the Riverwest neighborhood. My family still lives in the same Riverwest house since 1971.

I graduated from Rufus King High School and the University of Wisconsin-Whitewater with a business degree.

My true passion for Milwaukee probably started after I joined the Young Professionals of Milwaukee (now called FUEL Milwaukee) which just celebrated its one year anniversary at the time. The events that I attended, and sometimes organized, really opened my eyes to what Milwaukee had to offer, as well as its potential for the future. So for the past, present, and future FUEL Milwaukee corporate sponsors out there, that organization does produce results (editorial)!

I love all of the Milwaukee Sports teams, professional and amateur. I love the Milwaukee arts scene and all of the festivals. I love that you can find a free concert in the summer just about every day of the week. I love the various neighborhoods around the Milwaukee area and the unique characteristics that they offer. I love the people who take the time to tell us about those unique characteristics. I have to hold my breath and count to ten when someone tells me that there is nothing to do in Milwaukee. Then I prove them wrong.

Most of all, I love the Milwaukee dining scene. I love how it continues to evolve with modern dishes and new trends while the classic restaurants continue to remind us that great food doesn't have to be "fancy schmancy." However, I also love the chefs that create the "fancy schmancy" dishes and continue to challenge themselves and Milwaukee diners with dishes we've never seen before.

Our media provides attention to the new restaurants, which is great, but I don't like seeing the older great restaurants close their doors (Don Quijote, African Hut) because they've been forgotten, so I try to do my part to let Milwaukeeans know that they're still out there, too. I do that through social media, online reviews, and a dinner club I run for my friends, where we visit restaurants they haven't heard of before or try ethnic cuisine they haven't had before.

My dream is that one day I can mention a great experience in Milwaukee and not have someone respond with "have you been to Chicago?" I don't like those people very much.