"Bar Month" at OnMilwaukee is back for another round, brought to you by Great Northern Distilling: grain to glass spirits, handmade in Wisconsin. The whole month of March, we're serving up intoxicatingly fun articles on bars and clubs – including guides, the latest trends, bar reviews, the results of our Best of Bars readers poll and more. Grab a designated driver and dive in!
Some think the Pimm's Cup is a summer drink. But some also make it only with bitter lemon soda, while others – probably mostly us Americans – swear by lemon-lime, while still others are devoted to ginger ale or ginger beer. Some garnish with a lemon, others with a cucumber. A sprig of mint? Maybe. Why not stick some sparkling wine in there and make it a Pimm's Royal Cup?
This surely explains why during my years-long, informal Pimm's Cup, ahem, research, I've come to know that there is one certainty when ordering this refreshing cocktail, based on a classic British liqueur: you never know what you're going to get.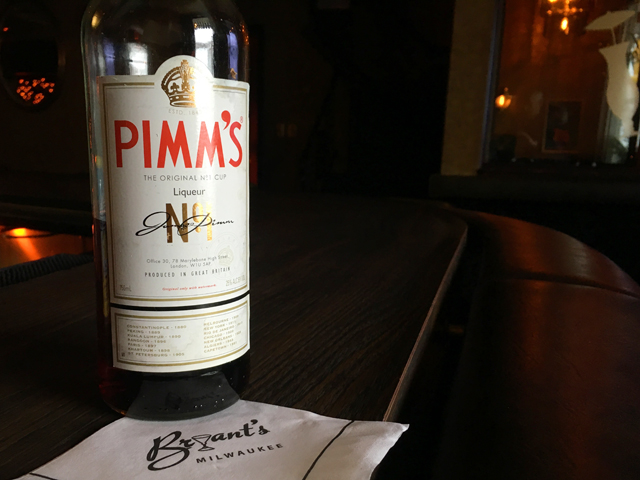 "They often don't know what it is," says Bryant's Cocktail Lounge owner John Dye, referring to Pimm's No. 1, the only one of a line of Pimm's numbers, that's readily available in the U.S. "Even if they have it, it's the dusty bottle that nobody touches. They don't know what to do with it."
Pimm's No. 1 is a gin-based quaff launched in 1823 by James Pimm. It's now owned by giant Diageo, but beginning in the 19th century Pimm's began adding more products to its portfolio, including Pimm's No. 2 and No. 3. Later, the company concocted Nos. 4, 5 and 6, though some of these have long since gone out of production. These days, Pimm's also makes a Cider Cup.
Pimm's is low in alcohol – 25 percent – so you can drink quite a few.
"That is what the Pimm's is really good for," Dye says. "Day drinking, sitting around at a picnic, drinking your cucumber."
It is a dark, yet transparent, reddish-brown, with a spicy twist and a dash of citrus. It's both refreshing and complex enough a flavor to be satisfying.
These are mostly facts, not debatable. But when it comes to the Pimm's No. 1 Cup cocktail, well, nearly anything goes.
"You read the recipes," Dye says, "and they're all different."
Pimm's itself describes the original as:
50 ml Pimm's No.1
150 ml of Lemonade
Mint, orange, strawberries
Cucumber to garnish and ice
Pour it all in, mix it up and Bob's yer uncle.
But I can count the times I've seen strawberries or oranges in a Pimm's Cup on one hand and still have fingers to spare. And lemonade?!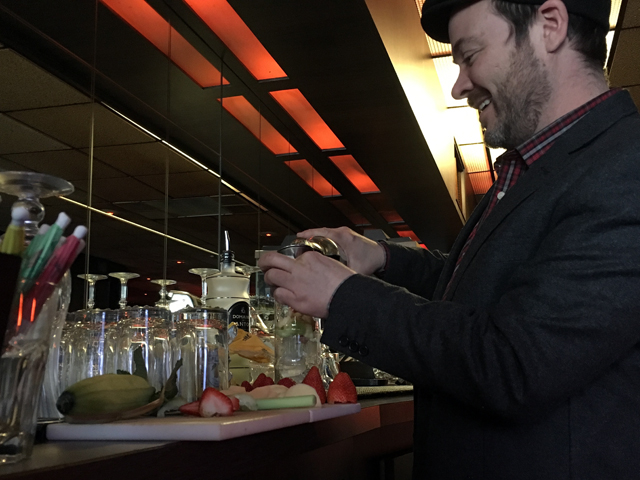 "The way I think you are generally going to get it when you are at a bar, if it is a good bar," says Dye, as he mixes me a drink in a dark, daytime Bryant's, "is they are probably going to muddle some cucumber, put some citrus in the Pimm's and then generally ginger ale. That is sort of the Milwaukee Pimm's cup.
"It might vary a little bit. You might not get a muddle of cucumber. It might just be a slice of cucumber or no cucumber at all. A lot of times you get Sprite or Squirt. Sometimes seltzer water, I have heard that. Properly, it is supposed to be made with a bitter lemon soda. Which is rare to find here."
The Pimm's "original recipe" is something Dye does in bulk at parties and calls a "Pimm's Punch."
"You put it in a large punch bowl, and the vegetables and the fruit get all nice," he says. "If you have like a day party, like a barbecue or something, it's pretty perfect."
In his version of a classic Pimm's Cup, Dye boosts that 50ml of Pimm's (about 1.7 ounces) to an even two ounces.
"With Pimm's, it's the flavor you are looking for and it is not very strong alcohol," Dye says. "If someone is looking for a stronger version, you can add a little gin, which is also really good. A half-ounce of gin will kind of kick it up a little bit. I personally like that a lot."
As for the mixer, Dye skews traditional and although it's difficult to get the kind of bitter lemon soda one can acquire easily in the U.K., Dye finds that San Pellegrino limonata does quite well.
He peels the cucumber – the skins can leech bitterness – slices fresh strawberries and peels and slices an apple. Next, he muddles them and strains the juice into the Pimm's, lemon soda and ice in a cocktail shaker and does this...
Into a highball it goes, topped with a sprig of mint.
For the punch version, it's the same ingredients without the muddling. The fruit and cucumber go into the glass, add the Pimm's, add the soda, sprig of mint and you're good to go.
The results in both cases are delicious, but I'm a traditionalist, even for a slightly non-traditional (apple!) Pimm's Cup.
As for the countless ways folks make a Pimm's Cup, Dye says c'est la vie.
"I think this is a funny age of cocktails," he says.
"So many people get a little uptight about them. Whereas, really, it should just really taste good and be kind of fun. Why are you making a really great fun thing not fun?"
Born in Brooklyn, N.Y., where he lived until he was 17, Bobby received his BA-Mass Communications from UWM in 1989 and has lived in Walker's Point, Bay View, Enderis Park, South Milwaukee and on the East Side.
He has published three non-fiction books in Italy – including one about an event in Milwaukee history, which was published in the U.S. in autumn 2010. Four more books, all about Milwaukee, have been published by The History Press.
With his most recent band, The Yell Leaders, Bobby released four LPs and had a songs featured in episodes of TV's "Party of Five" and "Dawson's Creek," and films in Japan, South America and the U.S. The Yell Leaders were named the best unsigned band in their region by VH-1 as part of its Rock Across America 1998 Tour. Most recently, the band contributed tracks to a UK vinyl/CD tribute to the Redskins and collaborated on a track with Italian novelist Enrico Remmert.
He's produced three installments of the "OMCD" series of local music compilations for OnMilwaukee.com and in 2007 produced a CD of Italian music and poetry.
In 2005, he was awarded the City of Asti's (Italy) Journalism Prize for his work focusing on that area. He has also won awards from the Milwaukee Press Club.
He can be heard weekly on 88Nine Radio Milwaukee talking about his "Urban Spelunking" series of stories.