North Siders no longer need to travel south to experience the flavors of Pita Palace, a restaurant which opened last summer at 789 W. Layton Ave.
That's because a satellite location has opened in the former Kebab Hub at 2713 N. Bremen St. in Riverwest.
The restaurant, which is owned by Yousef Abdallah, proprietor of the the Al Yousef Supermarket & Restaurant in Oak Creek, is far smaller than the South Side location. But it offers a menu that showcases a good number of the same dishes.
Beyond the usual hummus and baba ghanouj, there are appetizers like foul mudamas, a tasty puree of mashed, boiled fava beans that originated in Egypt but which can now be found across the Mid-East.
The robust legumes, which taste vaguely grassy, are enhanced by lemon, crushed garlic and cumin and served with pita bread. If you'd prefer, you can also order hummus/foul mix, which combines the nutty flavor of chickpeas with the vegetal notes of the favas, resulting in a dish that's a nice departure from the norm.
Entrees like the mix grill include options like chicken shish tawook, a flavorful marinated chicken kebab that's eaten widely across the Middle East from Turkey and Lebanon to Syria, Palestine and Iraq and beef kufta, a ground meat kebab which is notably tender – even juicy – with a meaty flavor that's redolent of garlic. It's lovely with the bright tahini sauce, which cuts the fattiness a bit.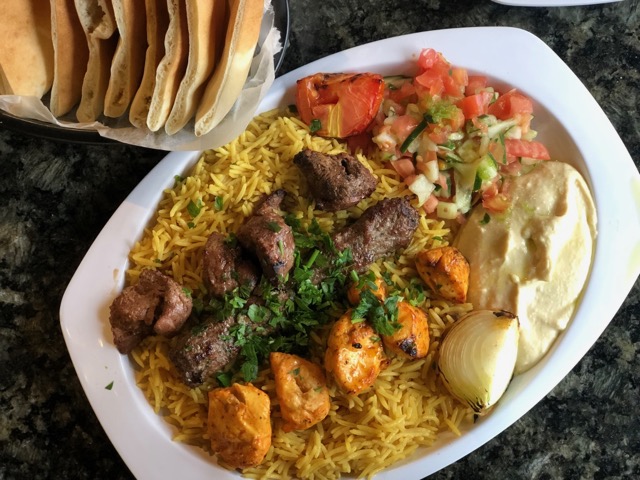 There are also falafel, shawarma, kebab and kufta sandwiches and platters along with a selection of salads including fattoush, tabbouleh, Jerusalem and Arabic.
Family platters serving up to 10 people and catering (for larger groups) are also available.
Pita Palace in Riverwest is open Sunday through Thursday from 11 a.m. to midnight and Friday and Saturday from 11 a.m. to 2 a.m. Carry out and delivery are both available.
Lori Fredrich (Lo) is an eater, writer, wonderer, bon vivante, traveler, cook, gardener and girlwonder. Born and raised in the Milwaukee area, she has tried to leave many times, but seems to be drawn to this quirky city that smells of beer and alewives.
Some might say that she is a little obsessed with food. Lo would say she is A LOT obsessed with food. After all, she has been cooking, eating and enjoying food for decades and has no plans to retire anytime soon.
Lo's recipes and writing have been featured in a variety of publications including GO: Airtran Inflight Magazine, Cheese Connoisseur, Cooking Light, Edible Milwaukee, Milwaukee Magazine and the Milwaukee Journal Sentinel, as well as on the blog Go Bold with Butter, the web site Wisconsin Cheese Talk, and in the quarterly online magazine Grate. Pair. Share.