Pizza Man turns 50 this month. And in honor of its semicentennial, the pizza brand is giving back with a very special series of surprise pizza deliveries to area homes and businesses.
50 delicious years
Since opening in August of 1970, Pizza Man has become an iconic part of the Milwaukee dining scene.
Many Milwaukeeans likely remember the original Pizza Man location on the corner of North and Oakland Avenues with its old wooden door (which opened and closed, thanks to the power of pulleys and weights), darkly stained wooden booths, and walls hung with shelves of jars featuring Italian specialties like olives, roasted red peppers and canned beans. The restaurant was well known for its late night service, its impressive list of California wines and its pizza, which was recognized among the best in the city.
Evenn after a fire in January of 2010 destroyed the much beloved business, it wasn't long before the restaurant made a triumphant come-back, establishing a new location at 2597 N. Downer Ave.
Even today, as the Pizza Man brand has grown, establishing locations at The Mayfair Collection, Drexel Square in Oak Creek and planning a fourth location at the Mequon Public Market starting this Fall, the restaurant remains a symbol of the city's storied past and a steward of 50 years of fond Milwaukee memories.
It's in that spirit that Pizza Man will celebrate its 50 year anniversary by giving back to those who have supported the business for the past five decades.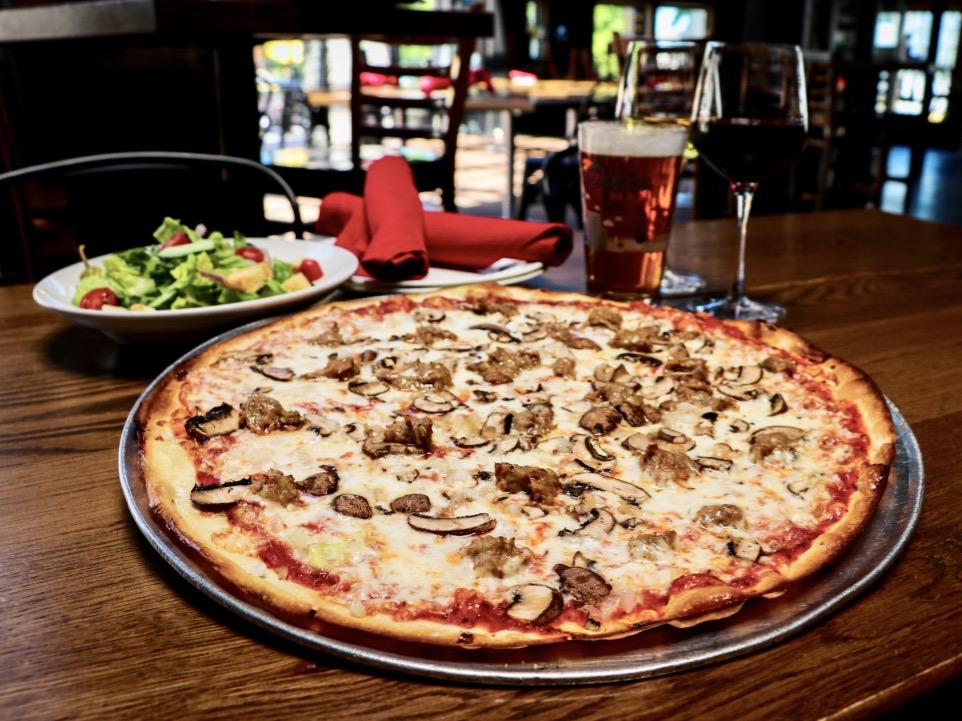 The great pizza delivery giveaway
Beginning Wednesday, Aug. 26, Pizza Man will embark on a multi-day campaign, making 50 surprise pizza deliveries to neighborhood homes and businesses surrounding each Pizza Man restaurant.
The neighbors of the original Pizza Mann location on Oakland and North Avenue, as well as the Downer Avenue location will be the first recipients of the surprise deliveries, each of which will include a classic Milwaukee Pizza topped with red sauce, sausage, mushrooms and onions.
In turn, 50 pizzas will be delivered to the area surrounding the Mayfair Collection on Aug. 27 and Drexel Town Square on Aug. 28. Mequon residents will also get to take part in the fun this fall, in the weeks preceding the Pizza Man's fourth location in the Mequon Public Market.
Each delivery will be contactless and will include safely-packaged pizzas which will be delivered to the doorstep of the lucky residents.
"We know everyone is at home right now, working or taking care of their families, we wanted to give the community members who have supported us for over 50 years a little surprise during their day to show them our gratitude, and what better way to do it than over a free pizza?" says Kaelyn Cervero, Vice President of Sales and Development.
Keep your eye on social
In addition to the surprise pizza deliveries, Pizza Man will be celebrating their 50th with eight weeks of pizza giveaways on their Facebook and Instagram pages, including a "Create and Name" your own pizza contest which will offer a lucky customer the opportunity to have their pizza featured on the Pizza Man menu during the month of October.
Lori Fredrich (Lo) is an eater, writer, wonderer, bon vivante, traveler, cook, gardener and girlwonder. Born and raised in the Milwaukee area, she has tried to leave many times, but seems to be drawn to this quirky city that smells of beer and alewives.
Some might say that she is a little obsessed with food. Lo would say she is A LOT obsessed with food. After all, she has been cooking, eating and enjoying food for decades and has no plans to retire anytime soon.
Lo's recipes and writing have been featured in a variety of publications including GO: Airtran Inflight Magazine, Cheese Connoisseur, Cooking Light, Edible Milwaukee, Milwaukee Magazine and the Milwaukee Journal Sentinel, as well as on the blog Go Bold with Butter, the web site Wisconsin Cheese Talk, and in the quarterly online magazine Grate. Pair. Share.