Last year, I asked a friend in Pewaukee where I could find the best pizza in her area. She told me that even though Doc's Dry Dock, N38W27091 Parkside Rd., had changed owners a couple of times, it was still popular for thin crust pizza. I finally checked it out last week.
Doc's Dry Dock has been in business for over 30 years, and was bought a year and a half ago by current owner Josh Goodman, who says he was interested in owning a business and found the right opportunity. Most of the staff remains from the previous ownership, so the business didn't miss a beat during the transition.
On our visit, we arrived a few minutes before they opened at 4 p.m. on a Saturday. When we entered, I found Doc's to be just as small as I heard. There were already eight guests sitting on bar stools, and diners sat in two of the five wooden booths in the dining room. By 4:15 p.m., all of the tables were taken. We were told they expected a party of 30 guests any minute, so we placed our order right away. It took about 40 minutes for our pizzas to arrive, so I think appetizers would have been a smart way to go.
We were startled at one point when an Amtrak train sped by, making Doc's rattle a bit and us along with it, since the railroad tracks ran next to the parking lot.
In addition to pizza, Doc's menu features hot sandwiches – including burgers, roast beef and chicken breasts – as well as popular appetizers, soup, chili, calzones and a children's menu featuring chicken fingers, boneless wings, popcorn chicken and tater tots.
Pizzas come in 12-, 14- and 16-inch sizes, with cheese pizzas ranging from $11 to $16 and extra toppings for $2 to $4 each, depending on the pizza's size. Ten-inch gluten free crusts are available for the price of a 12-inch pizza.
Standard toppings include canned mushrooms, sausage, Canadian bacon, green olives, black olives, onions, pineapple and tomato, while premium toppings include fresh mushrooms, sauerkraut, sliced bacon, chicken breast and extra cheese.
Specialty pizzas range from $15 to $30 and include barbecue chicken, Hawaiian, veggie, meat lovers, the "Hawaiian Woody" – topped with sausage, pepperoni, Canadian bacon, jalapenos, onion, pineapple, mushrooms and tomato – and the "Mega Watt," which the menu states was "created by #99 himself" J.J. Watt and is topped with a light layer of sauce, chicken, bacon and sides of ranch and jalapenos.
I was joined by a friend and her son on this visit, and I let them pick a pizza, since I knew I was ordering the sausage and pepperoni pizza. They chose the barbecue chicken pizza. Both pies were cut into rectangular slices and generously topped.
The barbecue chicken pizza was the best I've had! It was topped with diced chicken, green peppers and onions over a Sweet Baby Ray's barbecue sauce. The pie was also topped with a special seasoning that was too secret for Doc's to share with us. However, I think the sauce was driving most of the flavor. We were picking up some heat, and we ate more of the pizza. I think they may have been using a spicy version of the barbecue sauce. The seasoning didn't seem to be the source of the spicy flavor.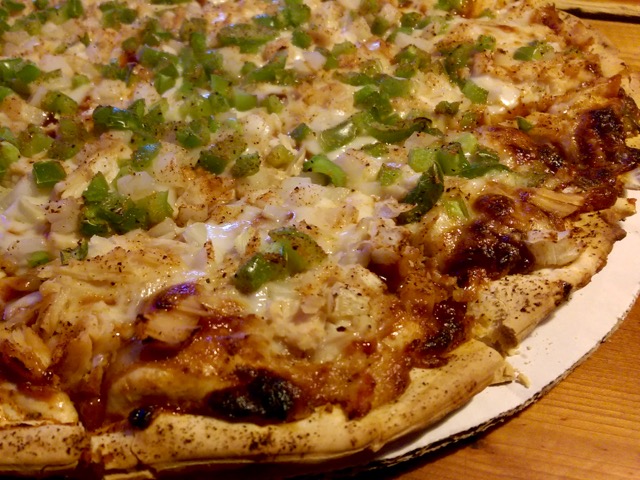 The chicken was tender, the finely diced onions and green peppers were crisp, and the balance of cheese, sauce and toppings was spot on. In addition, the crust was thin and crispy throughout. Doc's pizzas are baked in Blodgett ovens. We were impressed how the center slices held firm even with the heavy layers of toppings challenging their integrity.
The sausage and pepperoni pizza was pleasing to the eyes with the reddish hue of pepperoni against the white canvas of mozzarella cheese. This pie was heavy on the cheese. I don't want to say there was too much cheese because that would be nonsense. However, the sauce went unnoticed, so I would have liked more sauce to balance out the ratio to cheese and toppings.
The sausage and pepperoni were both spicy and full of flavor, and the crust was perfectly crisp throughout with the slices holding the heavy layers of topping without flopping over. When I bit into the barbecue chicken pizza slices, I ended up with sauce on the sides of my mouth. That was the right amount of sauce. I did not get sauce on the sides of my mouth after biting into the sausage and pepperoni pizza, which I would have preferred. I guess I'll have to order extra sauce on that pie next time. I was able to find a bit of sauce to isolate, and I thought it had a slightly sweet flavor to it.
It turned out that our server was also the manager, and she hustled to keep up with all of the guests and maintained her composure even as the bar filled up and the waiting list for tables grew. I was impressed and grateful for the few minutes she took to answer some questions for me.
I think the pizza at Doc's Dry Dock was worth the 25-minute drive, but since the venue is on the small side, I would be sure to arrive early and order appetizers, since the wait for pizza might be a bit long. This place is popular! I can't even imagine how busy they get during boat season, being located right on the shore of Pewaukee Lake. However, I'd like to find out if you have a boat and want to take me along.
I was born and raised in Milwaukee, and I plan to stay in Milwaukee forever. I'm the oldest of three children and grew up in the Riverwest neighborhood. My family still lives in the same Riverwest house since 1971.

I graduated from Rufus King High School and the University of Wisconsin-Whitewater with a business degree.

My true passion for Milwaukee probably started after I joined the Young Professionals of Milwaukee (now called FUEL Milwaukee) which just celebrated its one year anniversary at the time. The events that I attended, and sometimes organized, really opened my eyes to what Milwaukee had to offer, as well as its potential for the future. So for the past, present, and future FUEL Milwaukee corporate sponsors out there, that organization does produce results (editorial)!

I love all of the Milwaukee Sports teams, professional and amateur. I love the Milwaukee arts scene and all of the festivals. I love that you can find a free concert in the summer just about every day of the week. I love the various neighborhoods around the Milwaukee area and the unique characteristics that they offer. I love the people who take the time to tell us about those unique characteristics. I have to hold my breath and count to ten when someone tells me that there is nothing to do in Milwaukee. Then I prove them wrong.

Most of all, I love the Milwaukee dining scene. I love how it continues to evolve with modern dishes and new trends while the classic restaurants continue to remind us that great food doesn't have to be "fancy schmancy." However, I also love the chefs that create the "fancy schmancy" dishes and continue to challenge themselves and Milwaukee diners with dishes we've never seen before.

Our media provides attention to the new restaurants, which is great, but I don't like seeing the older great restaurants close their doors (Don Quijote, African Hut) because they've been forgotten, so I try to do my part to let Milwaukeeans know that they're still out there, too. I do that through social media, online reviews, and a dinner club I run for my friends, where we visit restaurants they haven't heard of before or try ethnic cuisine they haven't had before.

My dream is that one day I can mention a great experience in Milwaukee and not have someone respond with "have you been to Chicago?" I don't like those people very much.