Although Plymouth Brewing Co., 222 E. Mill St. in Plymouth, about an hour north of Milwaukee, only dates to 2013, it bears a bit of the weight of brewing history on its shoulders.
When founder Joe Fillion started the business seven years ago, he reached out to a member of the Curtiss family to seek their blessing for using the Plymouth Brewing Company name, which dates back to 1886, when it graced a brewery that was owned by the Curtiss clan when it shut down in 1937, selling its building to S&R (aka Sargento) Cheese.
"He was a passionate home brewer that liked the history of what had gone on," says Zachary Kroll, who is in charge of branding, marketing and other tasks at Plymouth and who showed me around the taproom and, across the street, brewhouse recently.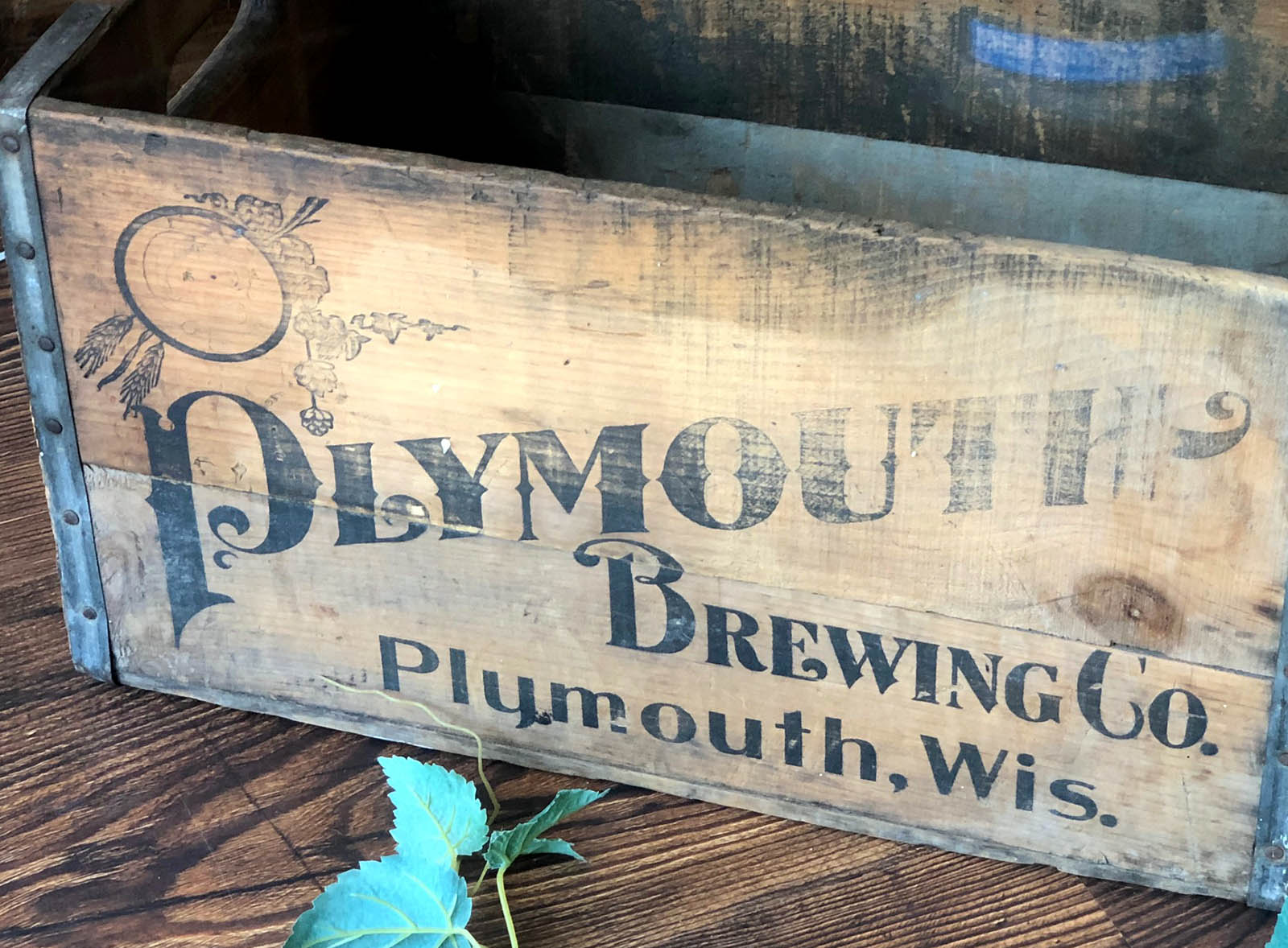 "We pretty much use the same exact logo, just updated, he says as we sit in the quiet, not-yet-open-for-the-day taproom, which is decorated with vintage breweriana from around Wisconsin.
"With the history museum-esque vibe in the taproom, we try to keep the history of it at least a little bit around," says Kroll.
The taproom is the birthplace of the brewery and the tiny one-barrel system that's still in the backroom, where it serves as an innovation brewhouse.
The building was initially a hotel and later housed a manufacturing company and then retail businesses like a hardware store and a pizzeria, and also an artist's studio for a time. The installation of the bar is so well done that you might never realize it wasn't always a tavern (although the display windows out front shout retail store for sure!).
Demand was growing and in 2016, Fillion took on Jeff Mueller and Mark Aisenbrey as partners and expanded into a new 15-barrel brewhouse directly across Mill Street, which has a big window through which passersby can watch Fillion, who is the brewmaster, as he makes beer.
Aisenbrey and Mueller were friends since childhood, says Kroll, and brought useful experience to the company.
"Mark has been a brewery engineer for quite some time and worked on major projects, and Jeff has been a CEO of many major companies. So together they had a lot of experience to offer Joe, whereas Joe had the passion of the brewing," says Kroll.
"it was kind of a match made in heaven. Mark and Jeff were in the taproom one day and the (three) just started talking about opportunities."
One of the first steps was to boost production.
"They were toying with the idea of going to either seven or 10-barrel (system)," says Kroll, "but with the idea of both canning and keg deliveries, we just kind of wanted to not have to deal with (a smaller system)."
Kroll says the small system is still functioning and will soon be moved across the street, too.
"The small batch system is, if not every day, then every other day brewing," he says. "It is a hundred percent still running and that's exactly what we use it for (testing out new recipes and ideas). The equipment will be brought over into that brewery and both the small batch and the large batch system will be over there."
In the past, Plymouth has been strictly stocking its own taproom and self-distributing kegs, other than some limiting 12- and 22-ounce bottles, filled by hand.
But now, five brews are available in cans, with labels designed by Kroll, including the popular Nutt Hill brown ale, Stone Blu blueberry saison, Dairyland Dark milk stout, 'Sconsin Belgian ale and Mighty Mullet IPA.
These are available at Sheboygan County retailers like Piggly Wiggly and Cut Rate Liquor, as well as local restaurants, including the one at Quit Qui Oc Golf Club.
"We're branching out steadily," says Kroll, who handles deliveries, too. "Potentially like what we're looking to do eventually is get as far as Green Bay, go into Milwaukee more, we're going into Fond du Lac now, which is really, really cool and super exciting. We have plenty of work to do in this area.
"For now we definitely have our hands full here. There are plenty of places around this area that we still want to get in. It looks like we've saturated to an extent for a lot of people because they see Nutt Hill around a lot. But there are so many other places that are like mainstay restaurants around here that we would love to get our beer into before we focus on branching out."
Kroll says Plymouth is happy to self-distribute and has no plans to seek broader distribution for its beer, which it describes as "unfiltered, unpasteurized, unsucky."
At the moment, Plymouth is using a mobile canner but Fillion says ultimately they'd like to have their own system ... someday.
We have other capital projects that we need to get to first, but if we didn't have those, a canning line would definitely be next," says Fillion as he takes a break from mashing a new batch of beer.
The team at Plymouth is also working to rebuild the taproom business after the pandemic shutdown.
"Things have changed a little bit because of COVID," says Kroll. "It kind of flip-flopped, whereas before this all happened, the taproom was really booming. There's only so much space in here, but it was still pretty consistent.
"And it's not that it's doing poorly, it's still doing really well for us, but it's definitely taking a little bit more time to catch back up."
During the closure period, the taproom was only open to fill growlers for carryout, which Kroll says went better than expected.
"The first week there were very few and then it literally took one week and all the regulars that came in were buying growlers," he says. "And then it was kind of around that time that we started to run out of growlers and then we were told it was going to take about a month to get a fresh batch of growlers. And we're like, 'maybe we should think about canning.'
So really COVID was what led Plymouth into canning?
"Yeah, for sure," says Kroll. "We've been wanting to do it for a while, but it was a push."
Though there is a wider variety of beer on draught in the taproom, including a kolsch brewed with rye malt, Kroll talks me through the line of canned brews.
"Our most popular beer by far is Nutt Hill, a nut brown ale with pistachio and a slight note of vanilla. I've gotten people telling me that they visited someone in in California who is wearing a PBC shirt and saying they're huge Nutt Hill fans ... just spreading the good word apparently. That one's by far the one that carries the most weight.
"Mighty Mullet IPA is a traditional American IPA and is very smooth. It's not super hop-forward," he adds. "It's a very easy-going, smooth-drinking beer.
"I'd say besides our Stone Blu, which is our blueberry saison for the summer, and those two we specialize almost entirely in dark beers. Going into the summer, we are transitioning out of that quite a bit. So we keep our Imperial IPA or 'Sconsin (Belgian ale) on right now."
Between booming keg sales now that restaurants are reopening and the expansion into retail via its cans, Plymouth Brewing Company appears to be firing on all cylinders right now.
"It's been amazing," says Kroll. "We're at a point in the company right now where we pretty much could choose to expand whatever way we want and it will be immensely profitable for us to do."
Born in Brooklyn, N.Y., where he lived until he was 17, Bobby received his BA-Mass Communications from UWM in 1989 and has lived in Walker's Point, Bay View, Enderis Park, South Milwaukee and on the East Side.
He has published three non-fiction books in Italy – including one about an event in Milwaukee history, which was published in the U.S. in autumn 2010. Four more books, all about Milwaukee, have been published by The History Press.
With his most recent band, The Yell Leaders, Bobby released four LPs and had a songs featured in episodes of TV's "Party of Five" and "Dawson's Creek," and films in Japan, South America and the U.S. The Yell Leaders were named the best unsigned band in their region by VH-1 as part of its Rock Across America 1998 Tour. Most recently, the band contributed tracks to a UK vinyl/CD tribute to the Redskins and collaborated on a track with Italian novelist Enrico Remmert.
He's produced three installments of the "OMCD" series of local music compilations for OnMilwaukee.com and in 2007 produced a CD of Italian music and poetry.
In 2005, he was awarded the City of Asti's (Italy) Journalism Prize for his work focusing on that area. He has also won awards from the Milwaukee Press Club.
He can be heard weekly on 88Nine Radio Milwaukee talking about his "Urban Spelunking" series of stories.