You'd think a place nicknamed Brew City would've been an early and often stop for an artist with his own branded beer pong set and an album named after beer bongs – but no, Thursday night actually marked emo rap/pop star Post Malone's first Milwaukee show. Would the divisive "rockstar" singer's long-awaited touchdown in Fiserv Forum be worth the wait and earn a "wow"? Or were you fine passing on Posty? Here are eight takeaways from the hitmaker's maiden Milwaukee voyage.
1. It was Post Malone's debut ... not that he seemed to realize it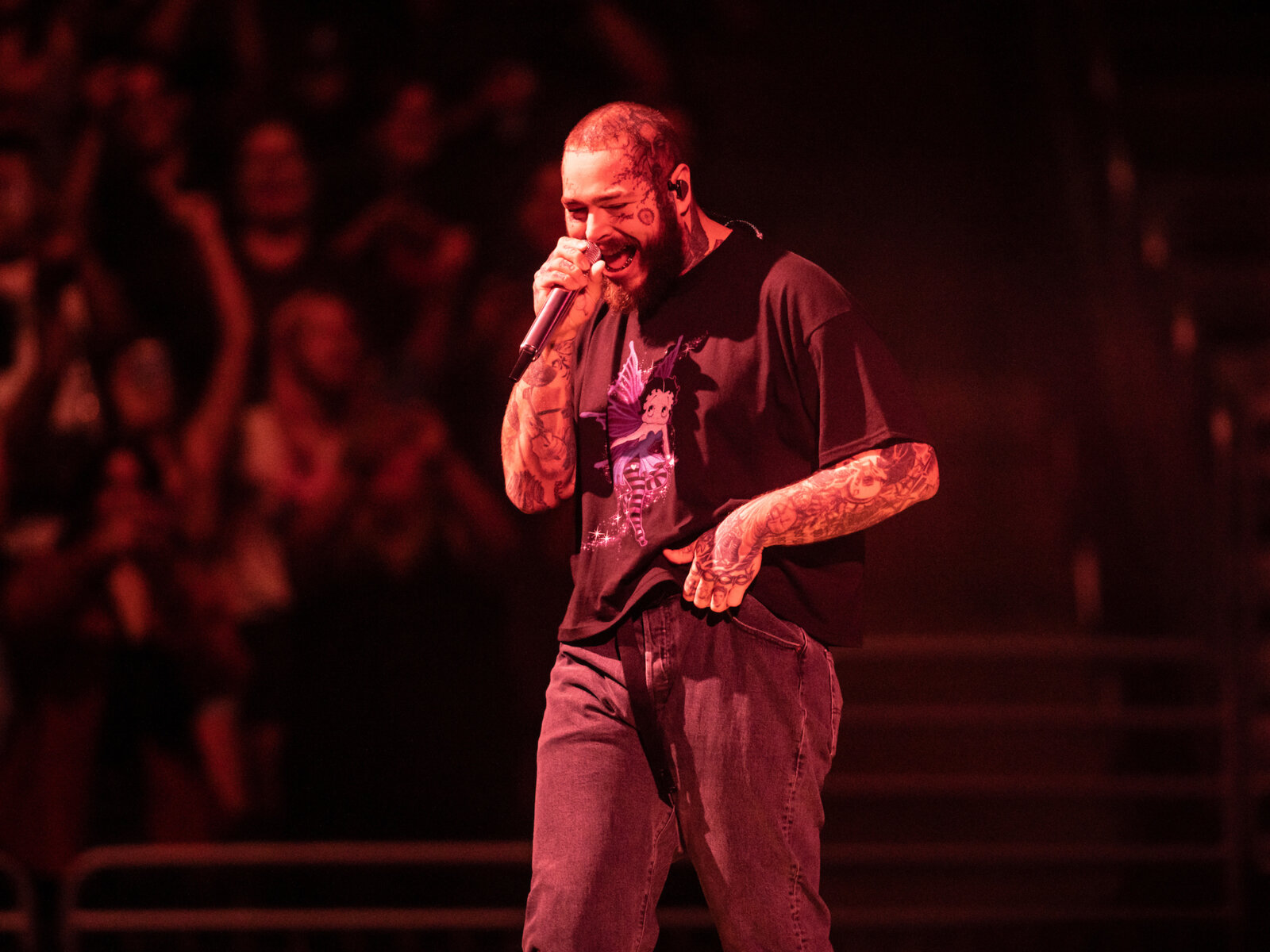 Throughout Thursday night's show, Post Malone regularly proclaimed how happy he was to back together with the Milwaukee crowd again, performing once more after two and a half long years sidelined by COVID. A nice sentiment ... but what's this "again" you speak of? Unless fans made their way down to Lollapalooza in recent years or took a Posty pilgrimage elsewhere, Thursday night's show marked Milwaukee fans' first chance to see Post Malone live – and the crowd definitely showed up. Because while it may have been two and a half years for him, for Post Malone's Brew City fans, the wait's been literally forever.
2. A big stage worthy of a big name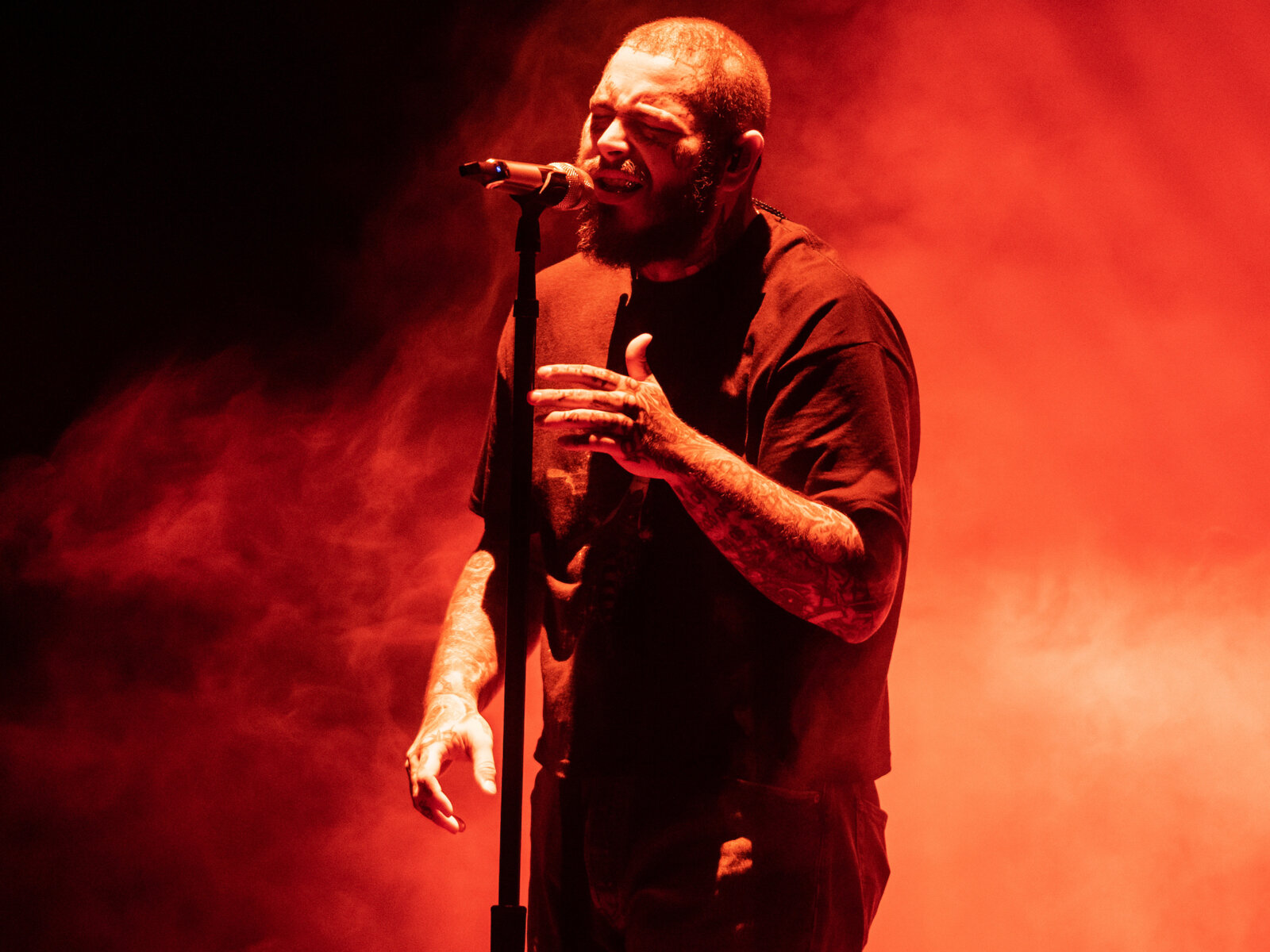 While the singer's stage presence was generally pretty reserved throughout the evening, content to shufflingly strut around in between thousands upon thousands of handshakes and impromptu fan-provided costume changes (the man is leaving Milwaukee with damn near a whole new closet), the stage itself was anything but modest.
The main stage featured a massive screen backdrop, playing videos and light shows throughout the night, along with three long catwalks stretching out through the ground-level pit. The catwalks themselves had about five circular hubs with giant puck-like lighting structures above them, raising, lowering and even tilting throughout the night with bars of glowing beams emanating down making Darth Vader-like meditation chambers of light. Later on in the night, they'd add lasers shooting from their sides in mesmerizing formations. The only negative production-wise was perhaps "Love/Hate Letter to Alcohol" – an intriguing visual concept featuring a wide-angle camera at the bottom of the platform, though Malone himself was lit too dark to see well while the camerawork on the screen was too shaky and up-close to watch there either – but even so the staging itself did a great job of creating different looks and eye-catching moments of raw moody angst throughout the night.
And that's before I ever mention all the fire! After a very subdued open with "Reputation," Post Malone's Fiserv Forum show exploded to life – quite literally, as a sudden pop of fireworks jolted audience members into his creeping, swaggery hit "Wow." He then held back on the pyrotechnics only to seriously unleash them near the final third of the show, with a surprise roaring inferno blasting to life behind the screen for his Ozzy Osbourne collaboration "Take What You Want" and even more fiery excitement for – obviously – his smash hit "rockstar."
With all of that, even if you're not the biggest fan of Post Malone's music, you got a sizable show on Thursday night.
3. Post Malone was convinced he sounded bad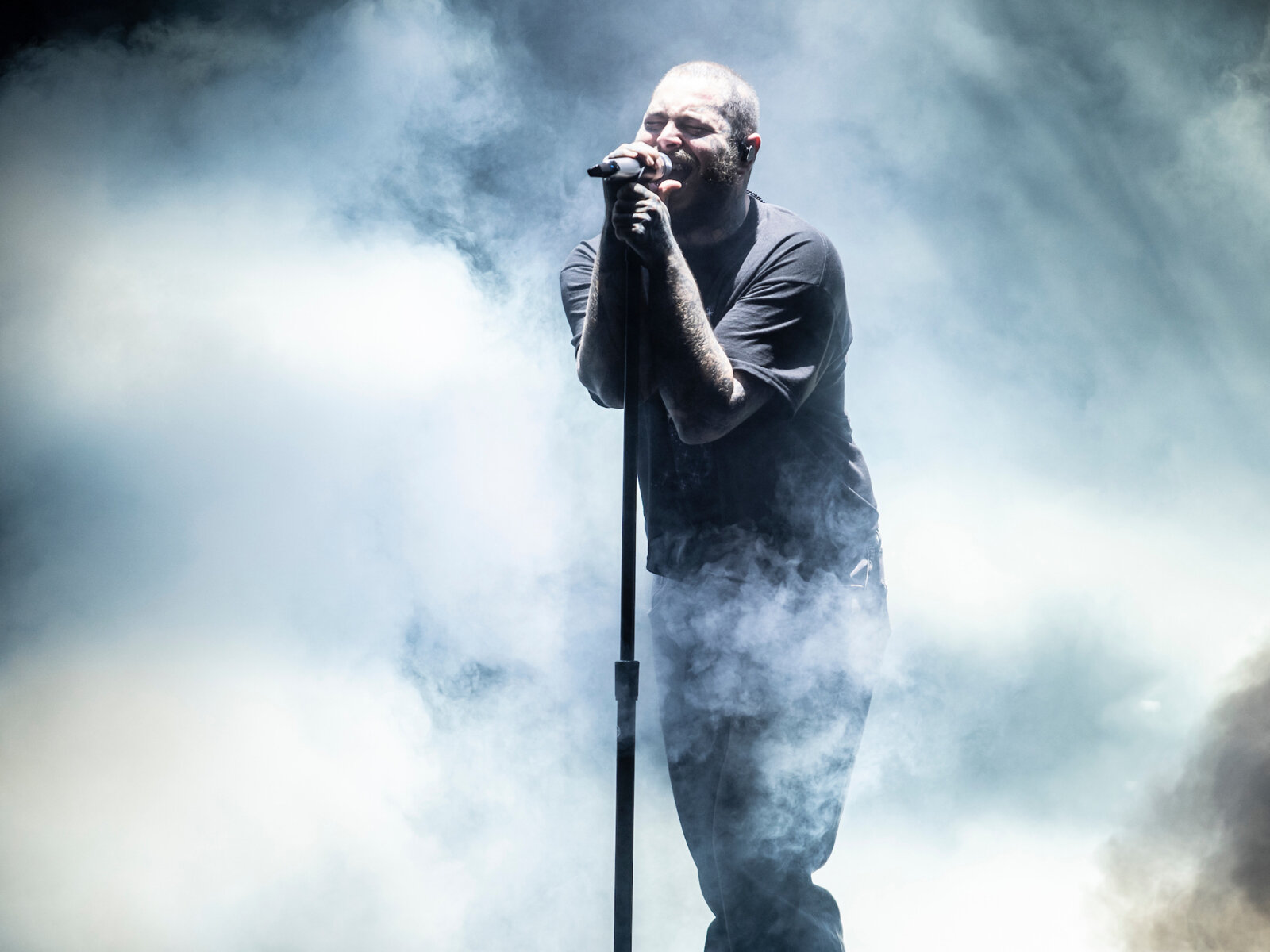 If you're not a fan of Post Malone, he knows – and maybe agrees? Throughout Thursday's performance, the singer regularly made amusingly self-effacing cracks about his music. For instance, after the flirty romp "I Like You (A Happier Song)" early in the evening, he introduced himself to the raucous Milwaukee crowd by announcing he was going to "sing some sh*tty songs and get f*cked up with you." He then wrapped up the night with "my only good song": "White Iverson." Judging by the crowd's screams and sing-alongs throughout the night, they strongly disagreed with his self-assessment.
On top of that, though, Malone was apparently not feeling his best on Thursday night, regularly apologizing to the crowd if he sounded not at his best – or, put in his elequent prose, "if I sound like balls." Honestly, save for maybe a few songs pushing his range near the end of the night, the singer sounded pretty much just like a match to his recorded material – which is a remarkable compliment to his vocal skills (or, if you're not a fan, the ultimate insult).
4. The star has an undeniably compelling stage presence
Was highly entertained by @PostMalone picking up everything tossed up on stage and wearing it. #fridaymorning #tiktokdown @FiservForum @PostMalone @onmilwaukee pic.twitter.com/ZhDl96LrN7 — Just Sarah 🦌🏆💍 (@Soccer_3_Mom) September 16, 2022
For a guy whose songs are the life of the party these days, Post Malone wasn't much of one on stage. He started off slow and stationary with "Reputation" – not the most unusual opening approach for concerts these days – but even after the setlist's energy took a leap with "Wow." and "I Like You," Malone stayed fairly reserved, his two on-stage moves confined to boppingly shuffling from catwalk to catwalk and high-fiving just about everyone he could. (No, really, by the end of the show, even as the music died off, he was still stretching from the stage to get what few people hadn't gotten a handshake yet.) For one of the biggest pop stars of the moment, he doesn't perform big. (In fairness, he did dance ... once, briefly during "One Right Now" near the end of the night as almost an apology for his barely recognizable vocal struggles.)
And yet, there's something oddly compelling about Malone on stage even if he's not the most active performer. He's certainly an earnest performer, really belting and leaning into his songs to the degree that he regularly took a knee or sat down – and when he talks to the crowd about being there for them, about people loving one another and about not letting anyone feel alone, it rings true and sincere, not just like the usual concert interaction pap.
But in addition to being oddly compelling, Post Malone's stage presence is also just ... compellingly odd. Throughout the night, for instance, Post Malone had a number of costume changes – not planned ones offstage but just simply grabbing every item of clothing chucked blindly onto his catwalks and trying it on for a solid bit. From a nifty jacket that practically got its own ovation to approximately a dozen hats of all varieties – cowboy, baseball, bucket, a bra I think? – there was nothing Post Malone wouldn't try on for size in between all of the handshakes. There was also his sense of humor – sure, degrading and making fun of his own music but also leading into an acoustic segment of "Circles" by describing the song as about isosceles triangles. Who had geometry humor on their Post Malone concert bingo card?
Add in handing out shards of smashed guitar to the crowd – sharp, splintery wood pieces amongst people drinking in close proximity; what could go wrong? – and even if he wasn't doing much, you couldn't not watch what he was doing throughout Thursday night's show.
5. The hits are no-doubter bops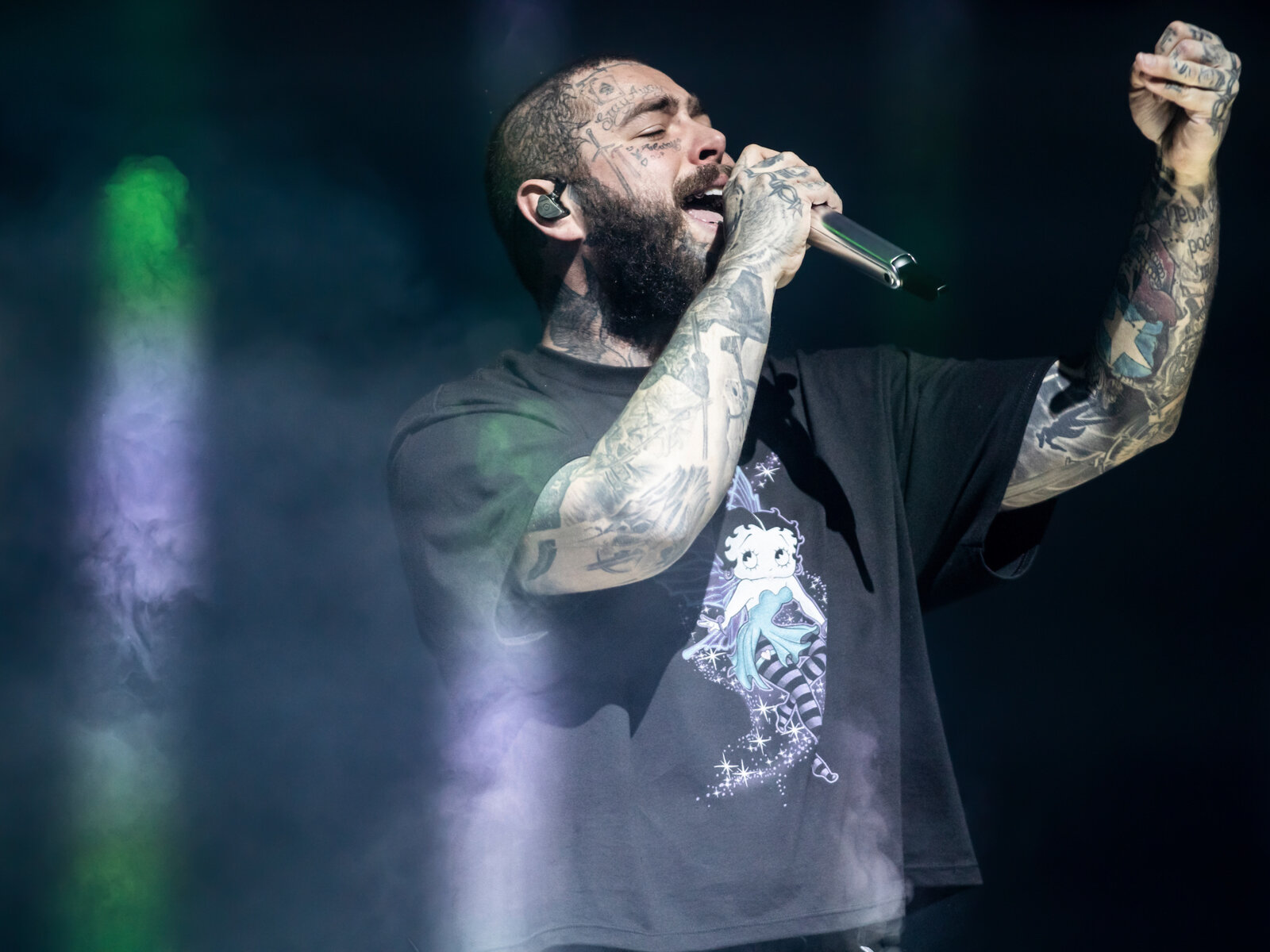 I say this as someone who isn't a major Post Malone fan: If you say you don't like any of the hip-hop pop star's tracks, you're a liar. "Wow." is a bop with its shuffling sinister bass while "I Like You (A Happier Song)" and "Sunflower" are rare sweet charmers from the mostly lamenting pop star. (Plus, the latter came attached to "Into the Spider-Verse," one of the best movies of the past five years, so bonus points for that.) Even if you were dragged to Thursday night's show, you almost certainly heard a hit across the evening's 90-minute run that got you moving and singing along with the overwhelming Fiserv Forum party.
6. A guitarist from the crowd briefly stole the show
Last night in #Milwaukee it's #PostMalone signing Stay with some kid from the audience playing guitar. Did he do that in #chicago? @Star1055 pic.twitter.com/VyFfXswQ15 — Joe Cicero (@radiojoecicero) September 16, 2022
Post Malone pulled all matter of hats, jackets and more out from the crowd – but after "Euthanasia" near the middle of the set, he outdid himself and pulled out an entire person to help him with his next song, the ballad "Stay." Sitting down on a stool and playing the acoustic guitar so comfortably you could've thought he was a plant, the talented crowd member captivated his fellow audience members – and Malone himself, who took the opportunity to light a dart for the somber song and to further savor his surprise stage partner. The two then ended the number sweetly cheersing their drinks, the audience member briefly snagging the mic for a bonus second to thank Post Malone for his music and for the unforgettable moment before heading off stage. With sequences like that – personable without feeling forced – it's not hard to see how Post Malone's become the people's pop star of the moment.
7. People deservedly arrived early for Roddy Ricch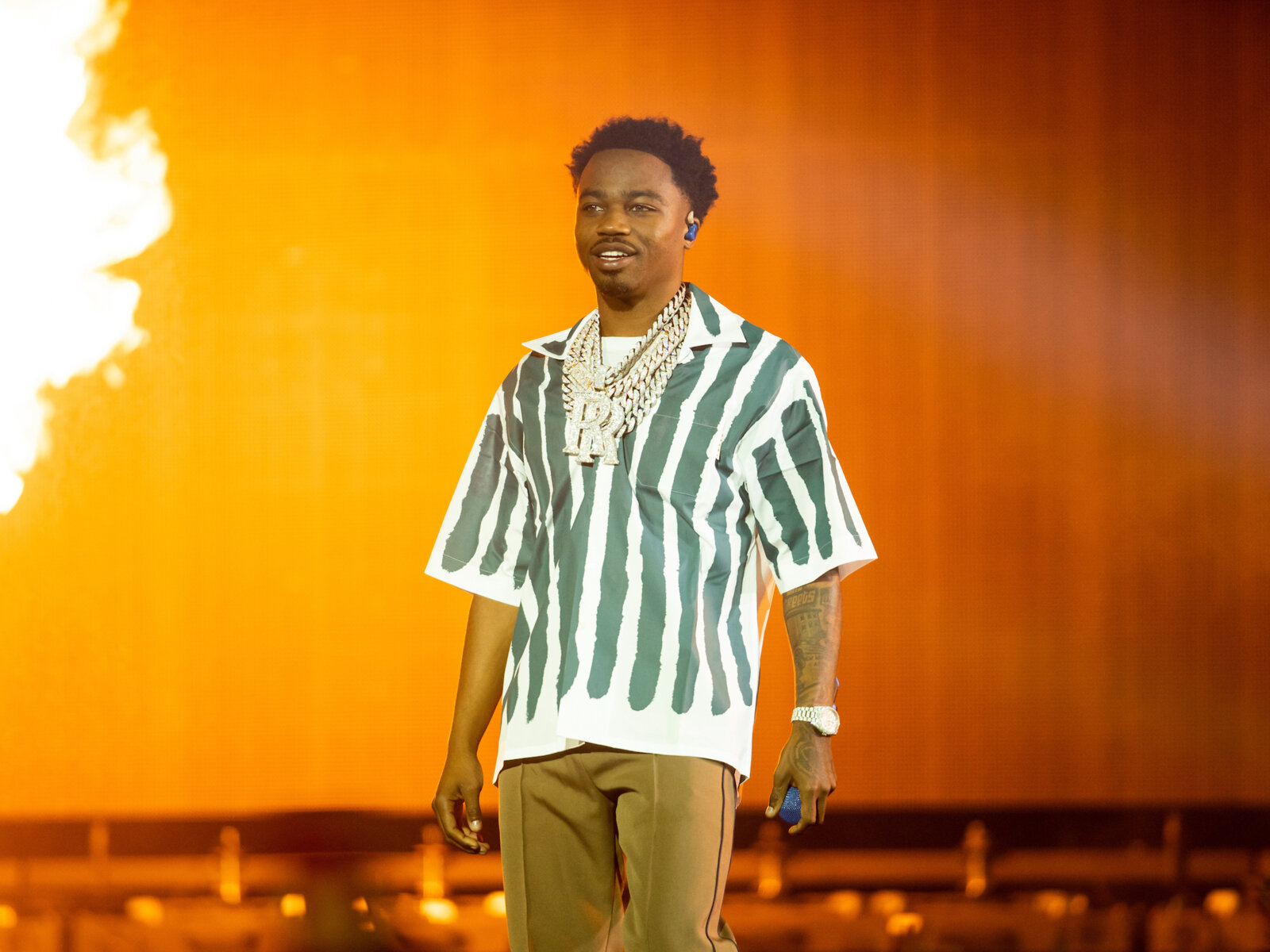 Those who arrived on time at 8 p.m., or at least 15 minutes after – which seemed like most of the sellout-level Fiserv Forum crowd, to their credit – were treated to an equally entertaining pre-show as opener Roddy Ricch got the audience moving early with hits like "ROCKSTAR," "The Box" and "High Fashion." (He also made an appearance during the main show, joining Post Malone for their COVID-esque collab "Cooped Up.")
Like the night's lead act, the rapper's a fairly modest stage performer – but he too knew how to put on a show nevertheless. For an opening act, he got an impressive pyrotechnics budget – and, in a nifty detour, he briefly ventured over to a freshly moved-in piano at the side of the stage and impressively played a tune from the bench. Plus, as the show went along, his presence and personality grew – and grew in confidence – cracking jokes about how one of songs was going to get folks lucky, his overall earnest vibe charming all the way to the back of the auditorium. He may have looked small mainly just meandering down the main catwalk while rapping, but in the end, he made a big impact as the night's opener – with even bigger potential in his future.
8. Like him or not, Post Malone's gonna be around for a while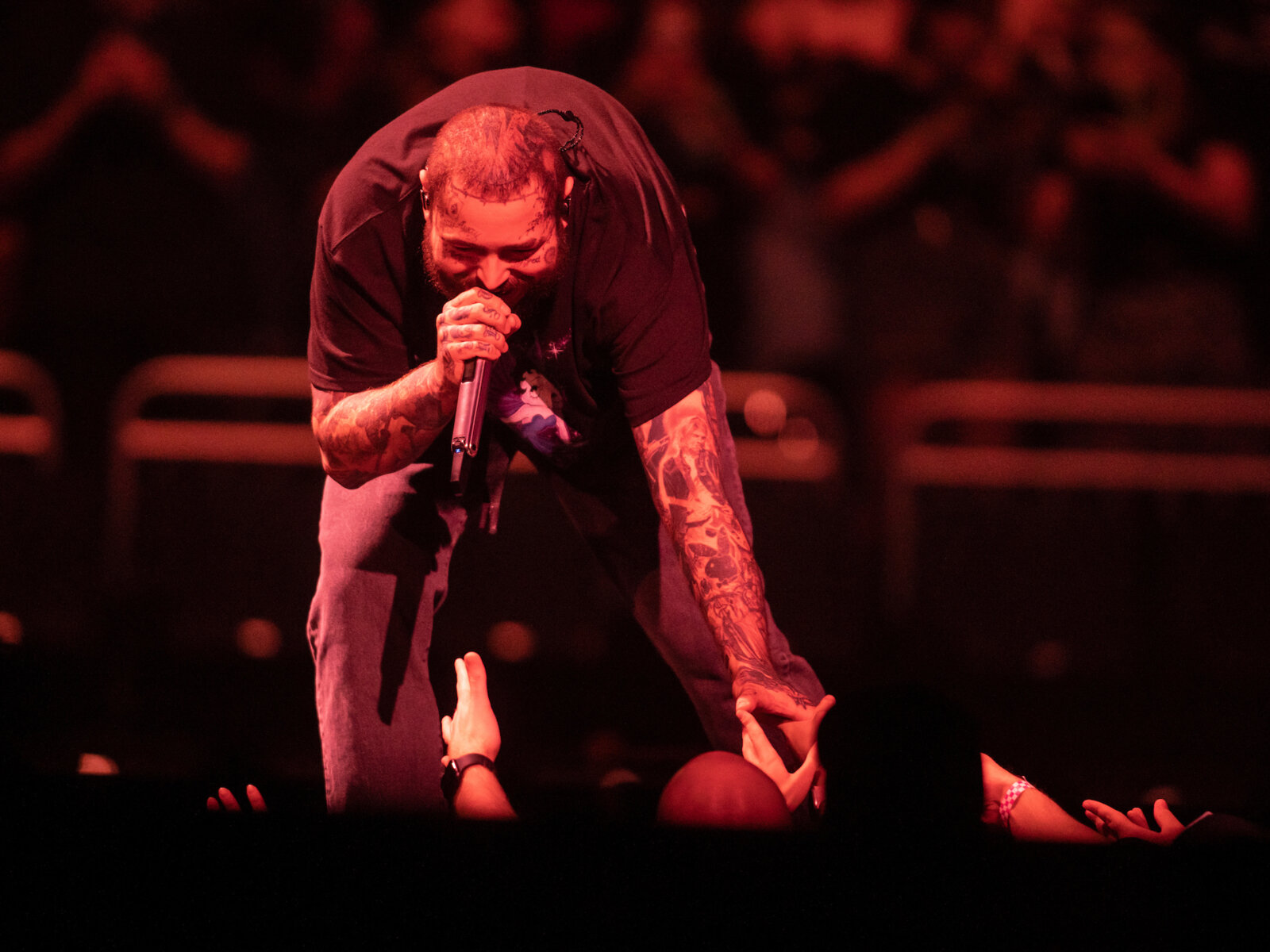 Post Malone's show wasn't all wow, especially if you're not the kind of fan who came in eager for matching painted face tattoos. (Of which there were many!) With certainly several exceptions, his "sad bastard" brand of music can play dreary and one-note mopey – and for a big arena show for a top 40 musician, I want to feel like the artist is working up a sweat, exuding energy and putting in a star's effort – which isn't entirely what I got from Malone's more casual, ambling stage presence on Thursday.
But even for non-disciples, there was much to appreciate Thursday night. On a stage worthy of a massive star, Malone played a good mix of his blockbuster hits across the span of his career, all sounding on point with the versions fans know and love (even if he strangely didn't think so) and all while captivating his audience with personable handshakes and hellos a plenty – plus a humble brewski request. I'm not sure he would've converted any haters in the crowd, but it certainly wasn't a show that would've earned him any new ones either.
And the crowd indeed loved it – a crowd that spanned a larger age range than expected and that was as loud as a peak boy band pop show at points. After waiting several years for his first visit, Post Malone clearly delivered – and judging by those overjoyed and ecstatic reactions, his reign at the top of music charts isn't going anywhere anytime soon.
The only thing the crowd wanted by the end? For Post Malone to not take so long to make his second Milwaukee visit.
As much as it is a gigantic cliché to say that one has always had a passion for film, Matt Mueller has always had a passion for film. Whether it was bringing in the latest movie reviews for his first grade show-and-tell or writing film reviews for the St. Norbert College Times as a high school student, Matt is way too obsessed with movies for his own good.
When he's not writing about the latest blockbuster or talking much too glowingly about "Piranha 3D," Matt can probably be found watching literally any sport (minus cricket) or working at - get this - a local movie theater. Or watching a movie. Yeah, he's probably watching a movie.