Today marks the 20th anniversary of OnMilwaukee.com, LLC – not the launch of the site; that was Sept. 1, 1998 – but when founder Andy Tarnoff took his first step toward self-employment and starting the company. To commemorate the occasion and to give a little peek behind the curtain at how this small, strange, wonderfully different and endlessly creative digital media company has survived and thrived, through ups and downs, for two decades, I brought on Andy.
He talks about the company's early days in the late-90s when no one really understood the internet, the wild-west 2000s as OnMilwaukee tried to figure out itself and its place in the local media landscape, the crazy stories and steady growth over the last decade, digital strategy, content creation, community-building and connection and just being different.
He also tells the story of his hair-raising encounter with the United States Secret Service when President George W. Bush visited the OnMilwaukee office in 2005.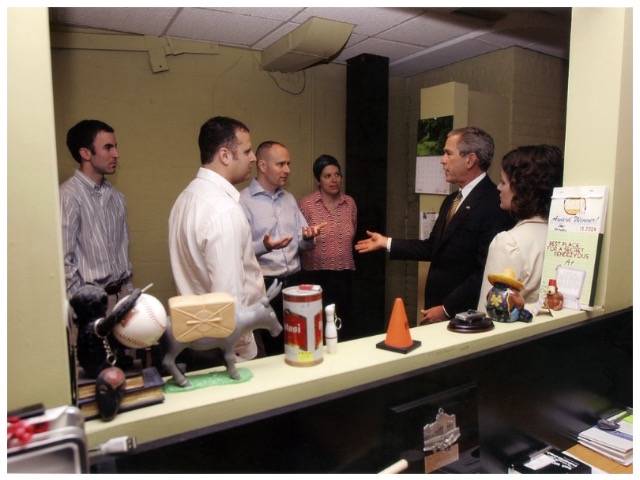 Listen below and subscribe to OnMilwaukee's Postgame Tailgate feed on the Apple podcast mobile app, Soundcloud, Stitcher or TuneIn so you never miss an episode. And make sure to follow The Postgame Tailgate on Twitter, as well as Jimmy, Matt and OnMilwaukee.
Tell us what you think, leave a rating/review on iTunes and enjoy!
Born in Milwaukee but a product of Shorewood High School (go 'Hounds!) and Northwestern University (go 'Cats!), Jimmy never knew the schoolboy bliss of cheering for a winning football, basketball or baseball team. So he ditched being a fan in order to cover sports professionally - occasionally objectively, always passionately. He's lived in Chicago, New York and Dallas, but now resides again in his beloved Brew City and is an ardent attacker of the notorious Milwaukee Inferiority Complex.
After interning at print publications like Birds and Blooms (official motto: "America's #1 backyard birding and gardening magazine!"), Sports Illustrated (unofficial motto: "Subscribe and save up to 90% off the cover price!") and The Dallas Morning News (a newspaper!), Jimmy worked for web outlets like CBSSports.com, where he was a Packers beat reporter, and FOX Sports Wisconsin, where he managed digital content. He's a proponent and frequent user of em dashes, parenthetical asides, descriptive appositives and, really, anything that makes his sentences longer and more needlessly complex.
Jimmy appreciates references to late '90s Brewers and Bucks players and is the curator of the unofficial John Jaha Hall of Fame. He also enjoys running, biking and soccer, but isn't too annoying about them. He writes about sports - both mainstream and unconventional - and non-sports, including history, music, food, art and even golf (just kidding!), and welcomes reader suggestions for off-the-beaten-path story ideas.