It takes some imagination right now, but the double whammy of Wisconsin debuts – WhirlyBall entertainment complex and Marcus Theatres' Movie Tavern restaurant and cinema – is coming together at Brookfield Square, with both looking to open to the public starting in the middle of October. (Oct. 11 in the case of Movie Tavern, Oct. 12 for WhirlyBall.)
The media received a first look at the new spaces this week, and while there's still plenty of work to be done before the opening credits or the first bowling balls roll at these new Wisconsin entertainment venues, the new locales are clearly beginning to take shape in the former Sears part of the town center.
Let's begin with WhirlyBall, an interactive entertainment and dining brand opening its first Wisconsin location at Brookfield Square. The new space is massive, extending two floors and 45,000 square feet, complete with 12 total bowling lanes (eight on the first floor, four as a part of the second-floor VIP suite), a laser tag room, several spaces for private events and birthday parties, The Pivot Room bar and restaurant, and, of course, two rinks for WhirlyBall, a game that plays like a combination of basketball, lacrosse and hockey – all played with bumper cars.
Entering the new concept from the outside, guests will be greeted by a large reception desk where groups can check-in for their particular game reservations. Off on both sides of the front desk is The Pivot Room, featuring the restaurant's 75-person main dining space to guests' left and the bar area – complete with a heated outdoor terrace, one of three in the entire facility – to their right.
The restaurant space features an yellow-brick open kitchen on its side of the room – the first of its kind for the WhirlyBall brand – where guests will be able to see their food get cooked before arriving at their table, while the Pivot Room's bar program will seat around 55 people and serve up 24 rotating craft beer draft lines ranging from local favorites to national hits.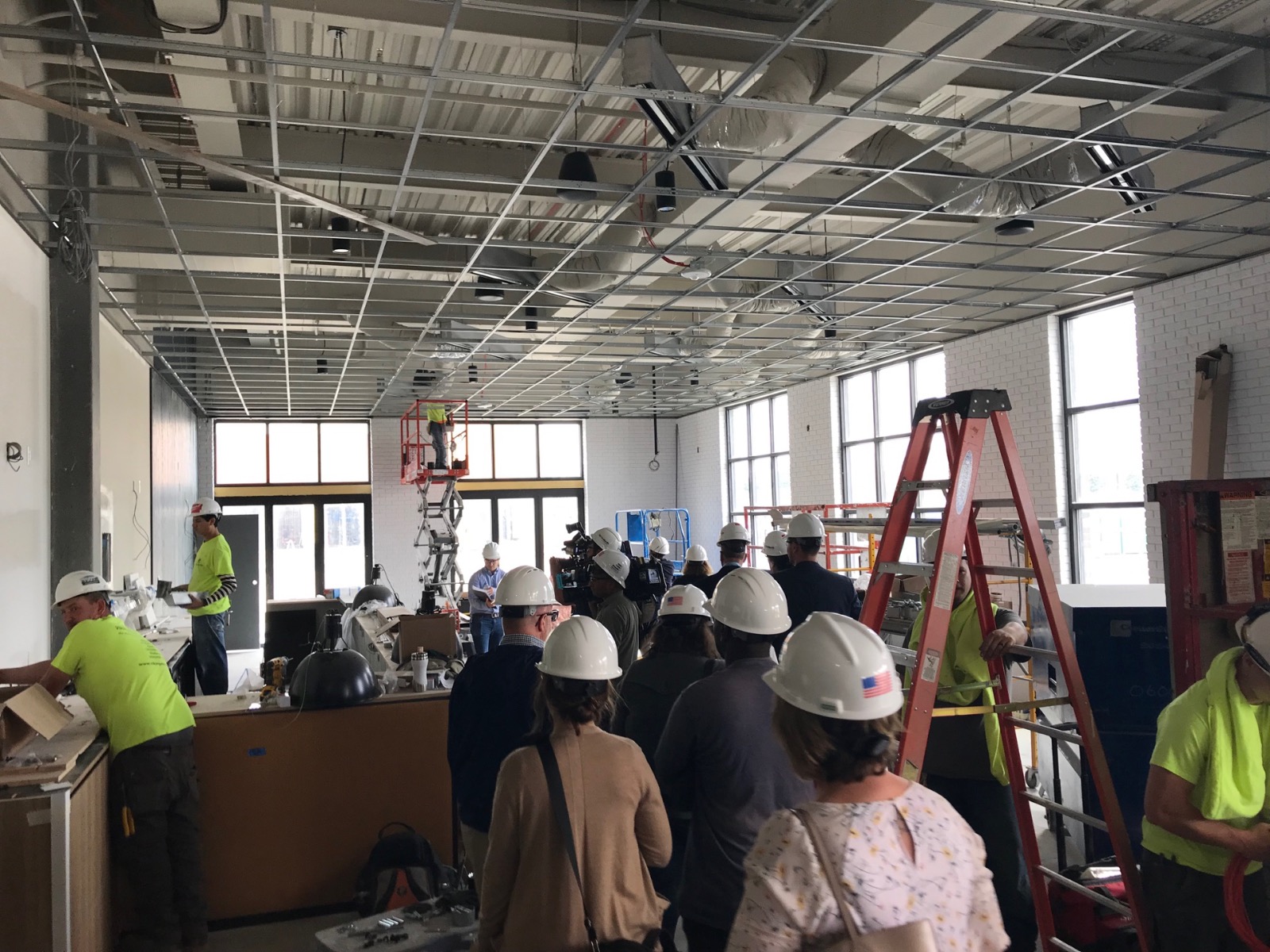 The bar portion of The Pivot Room.
The restaurant portion of The Pivot Room.
After checking in for a WhirlyBall match or getting your bowling shoes by the main desk, guests will walk further inside the space and find eight colorfully lit bowling lanes flanked on both sides by WhirlyBall courts, as well as another bar across from the lanes.
The bowling lanes will feature both classic bowling as well as "HyperBowling," a variation on bowling with bumpers that features glowing point targets to hit along the sides of the lane, creating a combination of bowling with pinball that makes bumpers a part of the game as opposed to just protection against gutter balls.
Then there is WhirlyBall, described by Vice President of Strategic Planning Adam Elias as "the combination of basketball, lacrosse and hockey rolled up into one on bumper cars." Two teams of five players – or up to ten players at once with a four-person minimum – will roll around in the "WhirlyBugs" trying to shoot a 12-inch whiffle ball into a basketball-esque net for either two or three points. The cars can go in any direction – forward, backward, side to side – creating an exciting, agile and high-energy game that lasts about 10 minutes each. Courts will be rented by the hour, with walk-ins about to rent for 30-minute or hour-long sessions.
On the venue's second floor is WhirlyBall's reserved VIP space, featuring four private bowling alleys, access to an outdoor terrace and its own bar. The second floor also features a large party space for group events and banquets, along with a second gathering room with several dividers that can be utilized for birthday parties and other smaller events. The second floor also hosts WhirlyBall's laser tag space, which spans two levels.
Just across from WhirlyBall inside the mall's new entrance hallway is Movie Tavern by Marcus Theatres, the first Wisconsin location for the local cinema chain's new theater and restaurant brand acquired earlier this year, taking its theater total to over 1,000 locations nationwide, stretching its footprint across several new states and adding a new food-and-film concept to its portfolio of offerings.
The concept is very similar to Marcus Theatres's BistroPlex dinner theater experience, found currently by Southridge Mall, albeit with some small but notable differences, according to Marcus Theatres chairman, president and CEO Rolando Rodriguez.
"One is the service model," Rodriguez explained. "In this case, we'll take the orders from you at the concession stand and deliver it to your seat. That really came from a lot of feedback we received from our guests where they still like that concession stand feel. There are folks that love the fact that (BistroPlex) takes their orders from their seats, and it's a great different concept that people love, but we also got some other feedback, and we wanted to experiment with a different type of service model."
Rodriguez also noted that Movie Tavern will feature a greater emphasis on the venue's bar space as a social gathering spot – whether people are attending a movie or not – as well as a more tavern-esque menu and lineup of beer options as key differences between the new Brookfield Square Movie Tavern location and other Marcus dinner theater options.
The lobby of the future Movie Tavern.
Walking in, though the space is still very much in progress, visitors can see that emphasized focus on the bar space, as the dining and drinking portion is located right in the front of the Movie Tavern instead of a box office. The restaurant area will featuring both table and bar seating, as well as a 16-foot television screen for turning the cinema into a prime viewing spot for major sporting events. Unique to the Movie Tavern location, the bar will also serve refillable tankards of its on-tap brews.
What will soon become the bar at Movie Tavern.
There is no traditional box office at Movie Tavern, instead featuring a few digital kiosks for those who haven't purchased film tickets ahead of time, but going deeper into the space, there is a concession stand beyond the restaurant/bar and lobby area where customers will be able to order their food for in-theater delivery – whether one of the comfort food-esque Movie Tavern menu items or a Zaffiro's pizza, as the brand will be offered at the new theater – as well as self-serve their drinks. (People are particular about their preferred drink preparations, after all.) In a first for Marcus Theatres' Wisconsin locations, Movie Tavern will also offer guests the ability to order food for their movie from an app.
As for the theatrical experience, Movie Tavern will host eight total auditoriums, each outfitted with laser projection and heated recliners. The largest of the auditoriums will house up to 179 seats and will screen movies ranging from the biggest Hollywood blockbusters to some more independently-skewed programming. Rodriguez noted for the cinema's opening weekend, it expects to book the likes of the animated "Addams Family," Will Smith's "Gemini Man," the second weekend of "Joker" and the awards season hopeful "Lucy in the Sky" starring Natalie Portman as an '80s astronaut struggling with coming back down to Earth after her first trip to space.
Speaking of openings, both WhirlyBall and Movie Tavern are again angling for early to mid-October for their grand reveals to the public, with Movie Tavern pinpointing Friday, Oct. 11 for its opening day and WhirlyBall unlocking its doors and firing up the bumper cars on Saturday, Oct. 12.
Stay tuned to OnMilwaukee for more information on those openings, as well as a first look at the finished products, a first tap at Movie Tavern and a first whirl through WhirlyBall.
As much as it is a gigantic cliché to say that one has always had a passion for film, Matt Mueller has always had a passion for film. Whether it was bringing in the latest movie reviews for his first grade show-and-tell or writing film reviews for the St. Norbert College Times as a high school student, Matt is way too obsessed with movies for his own good.
When he's not writing about the latest blockbuster or talking much too glowingly about "Piranha 3D," Matt can probably be found watching literally any sport (minus cricket) or working at - get this - a local movie theater. Or watching a movie. Yeah, he's probably watching a movie.