After a couple decades of anticipation, the new Wisconsin Center expansion seems to be rising rapidly out of the ground on the block bounded by Kilbourn and Phillips Avenues, and 6th and Wells Streets.
The $456 million expansion will add 24 meeting rooms (for a new total of 52); 400 indoor parking spaces in a ramp that is cleverly hidden from street view within the building; six loading docks (for a total of 22); another kitchen; a rooftop ballroom with great views and space for 2,000 (that can also be carved into smaller meeting spaces as needed) and outdoor terraces, including one at the corner of Kilbourn and Phillips that will have a giant video board.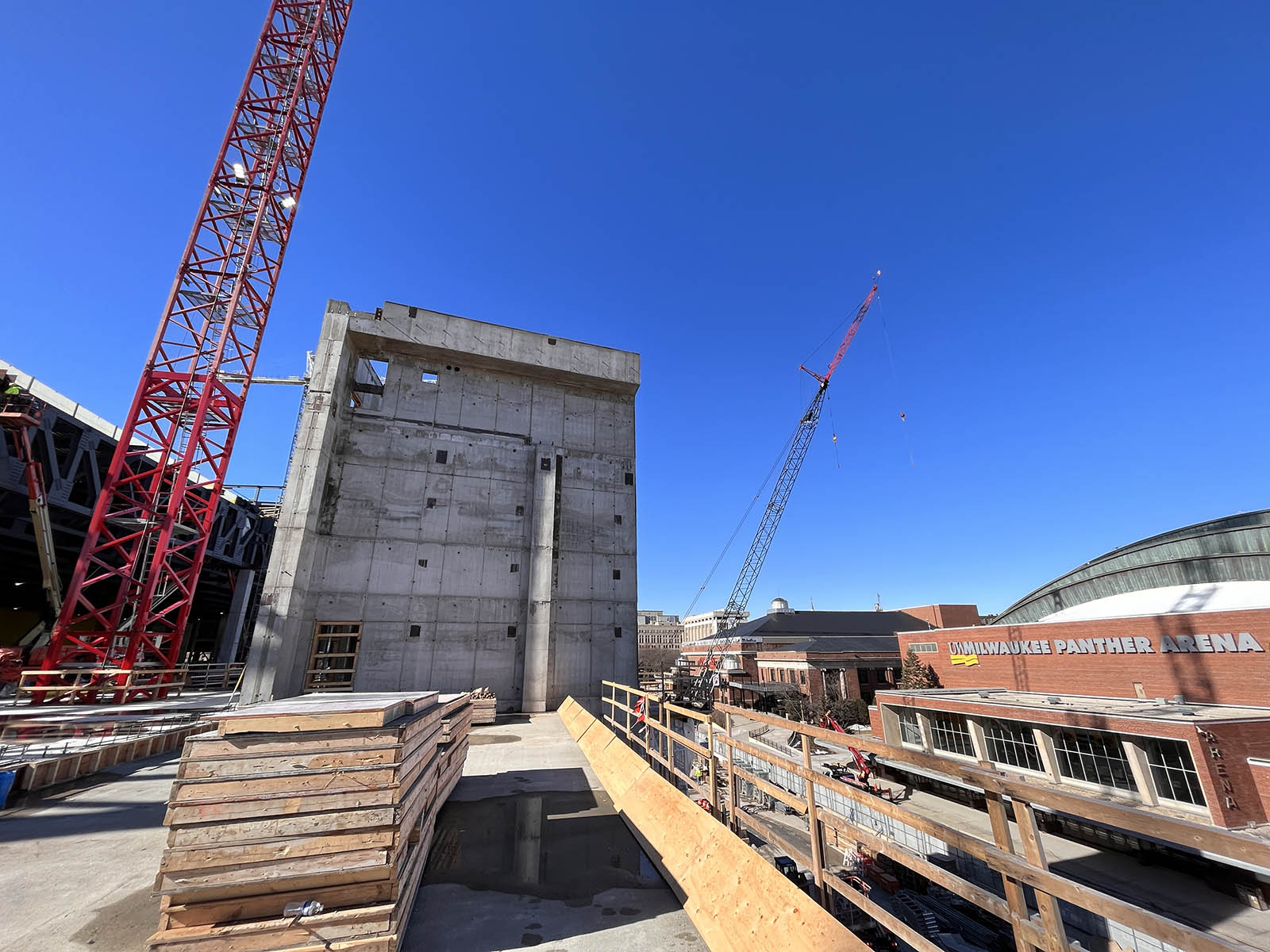 The building will be connected over Wells Street to its sibling and also tied into the Hyatt Regency by a skywalk (as was its predecessor facility, the MECCA Convention Center).
The striking new glass and steel structure was designed by Milwaukee's Eppstein Uhen Architects and Atlanta's tvs design and it's going to add not only to the existing Wisconsin Center convention facility – built in 1998 – but to the look and feel of Westown.
Gilbane and CD Smith are the construction managers.
You can see interior renderings here and exterior views here.
The building will be open sometime in the first quarter of next year.
"We anticipate substantial completion at the end of first quarter in 2024, and then the grand opening sometime in the middle of May," says Wisconsin Center Vice President of Marketing and Communications Sarah Maio.
"We have clients booked into the building at the end of May, and the south building is booked. So if north isn't complete, we have nowhere to put them, which means north will be complete."
And to the untrained eye, the speed at which progress is being made suggests she shouldn't have to worry.
"Concrete's trending probably in the mid-60s from a percent complete standpoint," says Project Director Dane Jensen as we stand inside one of the trailers preparing for a site walkthrough. "And from a fabrication of steel standpoint, we're about 65 to 70 percent fabricated and that's what's been delivered to the site.
"Mechanical, electrical, plumbing's really starting to ramp up on the west side of the project."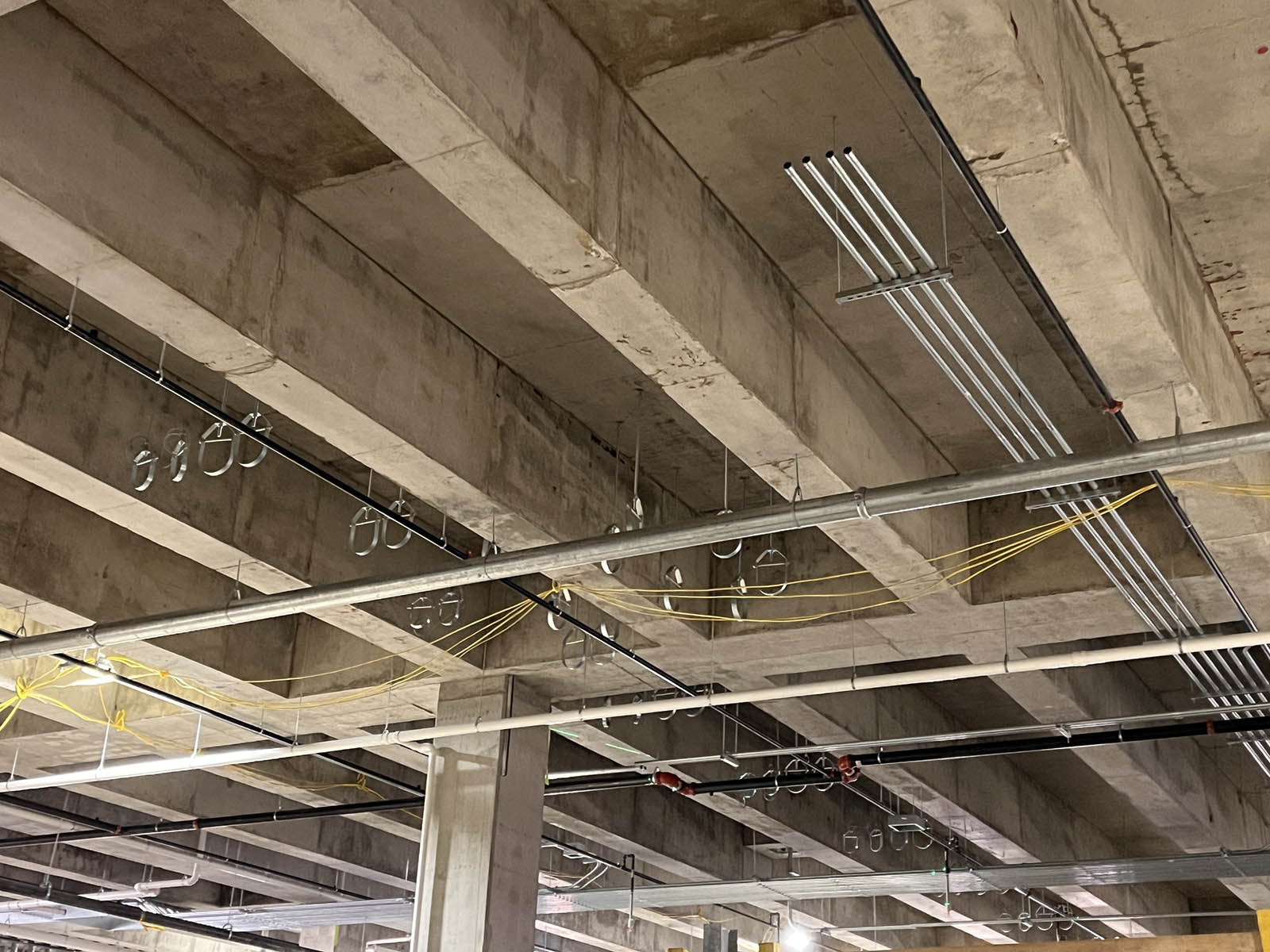 Work on the project has generally progressed from west to east on the site.
Some of the exterior metal panels are already being installed – though those areas may not be easily seen from the street right now – as is some concrete block.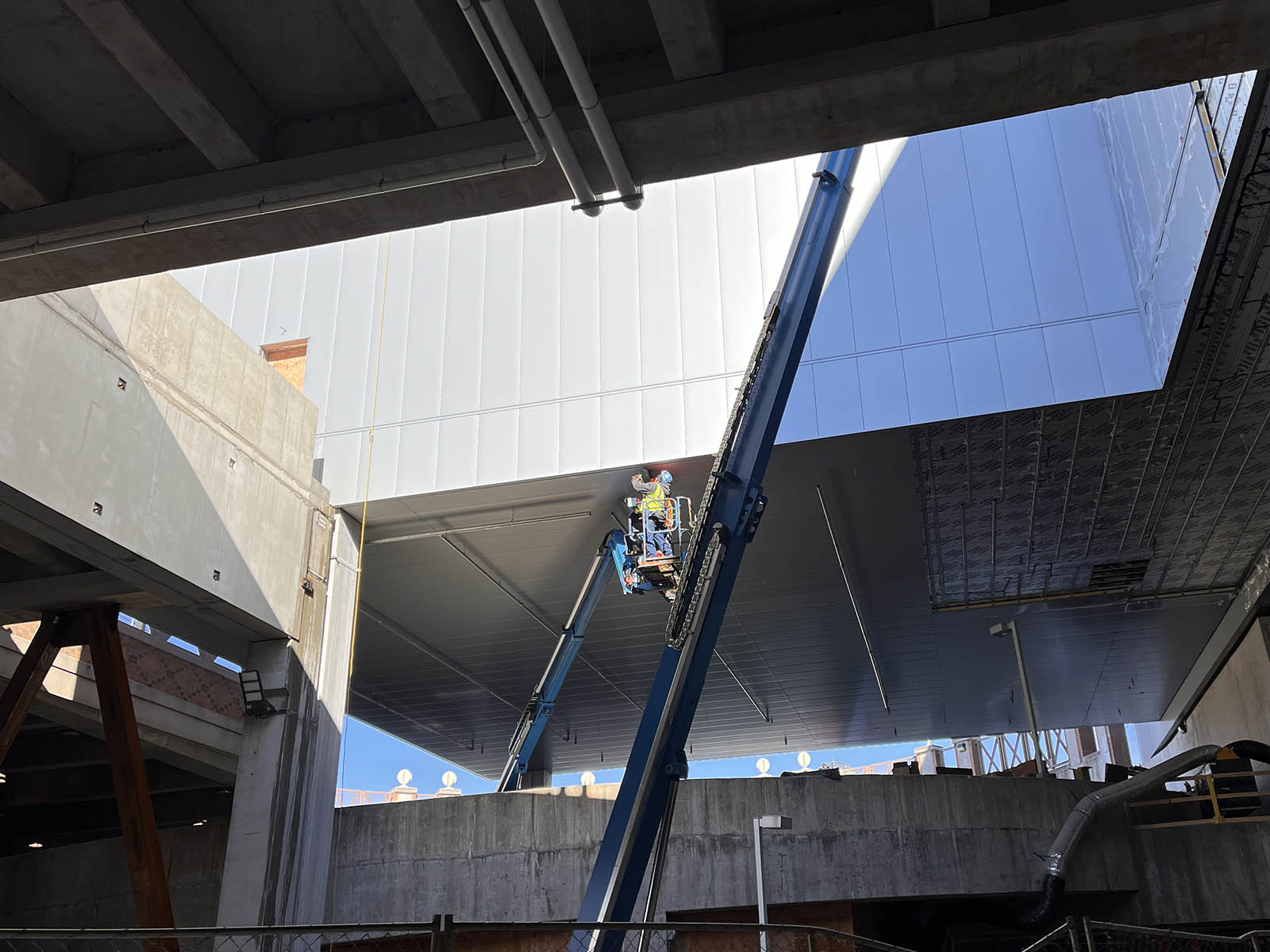 A new storage room above the curving ramp (informally called "The Helix") up to the loading docks is currently getting the metal panels.
The additional loading docks are an example, says Maio, of the approach to the design of the new building.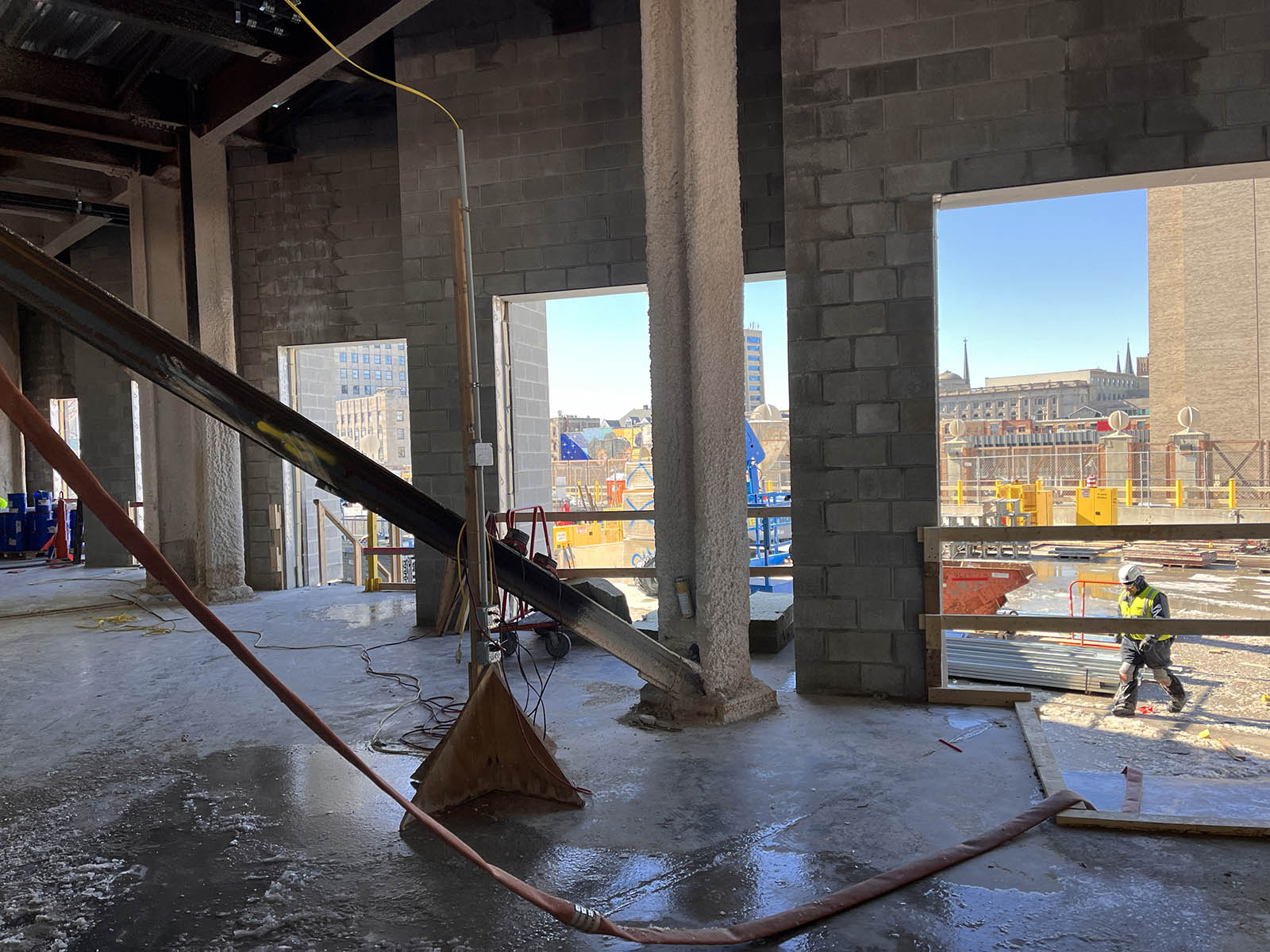 "We are at 16 right now and we're adding six," she says, "and those all lead straight into the exhibit hall. So for exhibitors and clients, that means a flat push to stage for that space, which is a big differentiating factor. It makes their lives a lot easier.
"We really worked hard to contemplate any kind of client who would want to come in, in terms of vertical transport. The auto show is a perfect example. The north building was specifically constructed for all levels to be able to hold (the weight of) cars or farming equipment or whoever wants to come in."
As we walk through, we traverse the parking structure which is nestled under the existing section of building on the north side of Wells Street. This part, which created the tunnel on Wells when the south building was constructed, was added because the plan was pretty much always to expand the facility.
That means that in addition to being able to tuck the deck underneath the existing structure, the buildings can be almost seamlessly connected because the north wall was specifically designed to be removed to connect the buildings, even before there was a solid plan for a northward expansion.
The architects and contractors also cleverly slipped in a long back-of-house service corridor to allow Wisconsin Center hospitality staff to do their work out of the view of guests.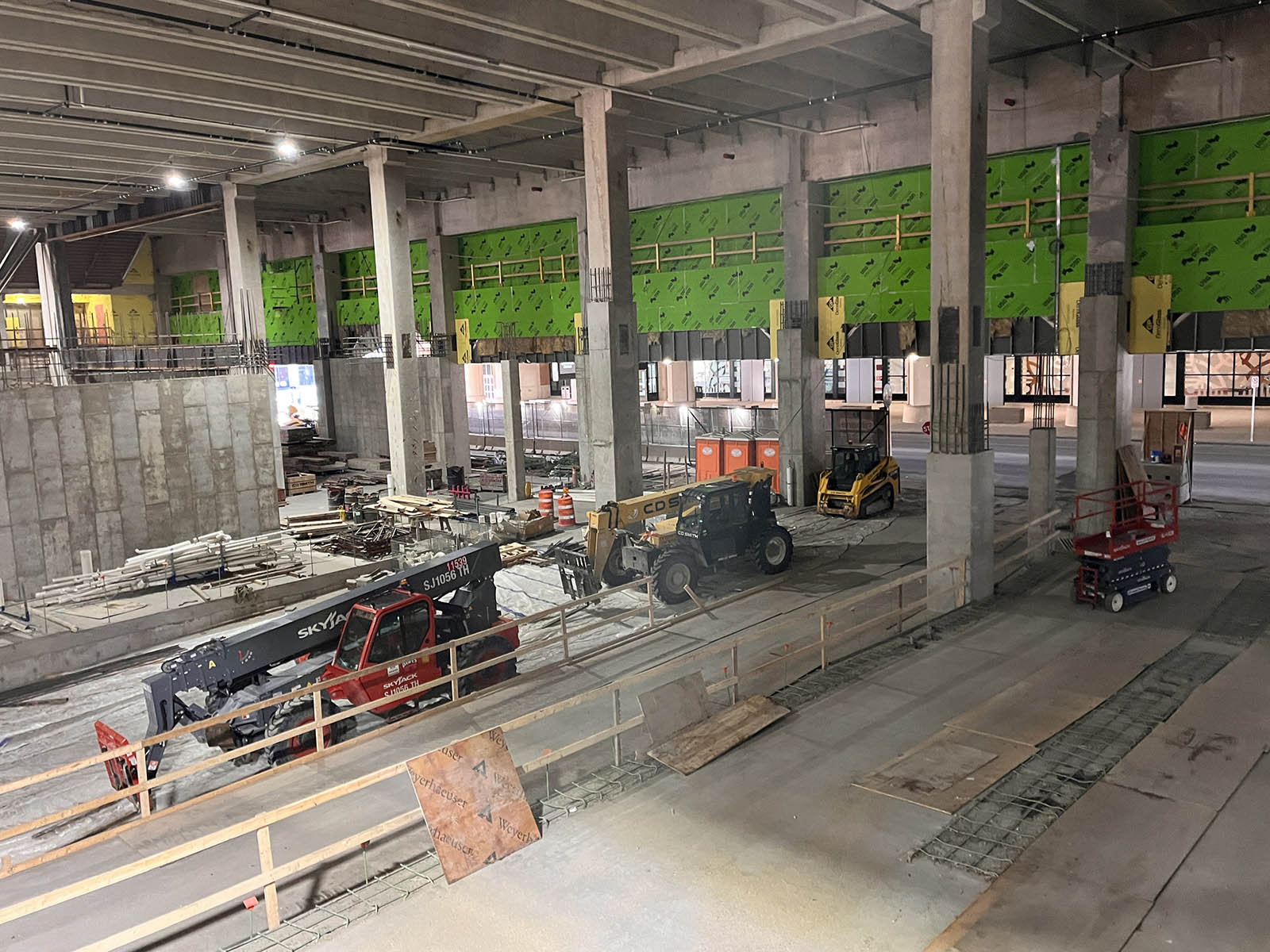 A later addition to the plan, that corridor was fabricated on Wells Street (hence the street closure for a while) and then hoisted up to snuggle just under the roof of the tunnel, making use of otherwise unused space.
Maio says that the Wisconsin Center's administrative offices in the south building will also be totally redone to create upgraded locker rooms, dining and other spaces for the many part-time employees who work at the center and its events.
Most, though not all, of the admin offices will move to new digs in the north building.
Maio adds that a panel of local artists is spearheading the acquisition of art for both the south and north buildings.
"Sustainability has also been a huge focus," says Maio, noting that the Wisconsin Center District is pursuing LEED Silver certification for the building. "One thing you'll never see again is the storm water trap that is underground; we watched it go into a big hole.
"Especially as a Milwaukee resident, you know better than anyone what happens to MMSD when we get a big downpour, and so that will be able to retain the water from our own runoff until the sewer system can manage it more efficiently. It's a big deal for us."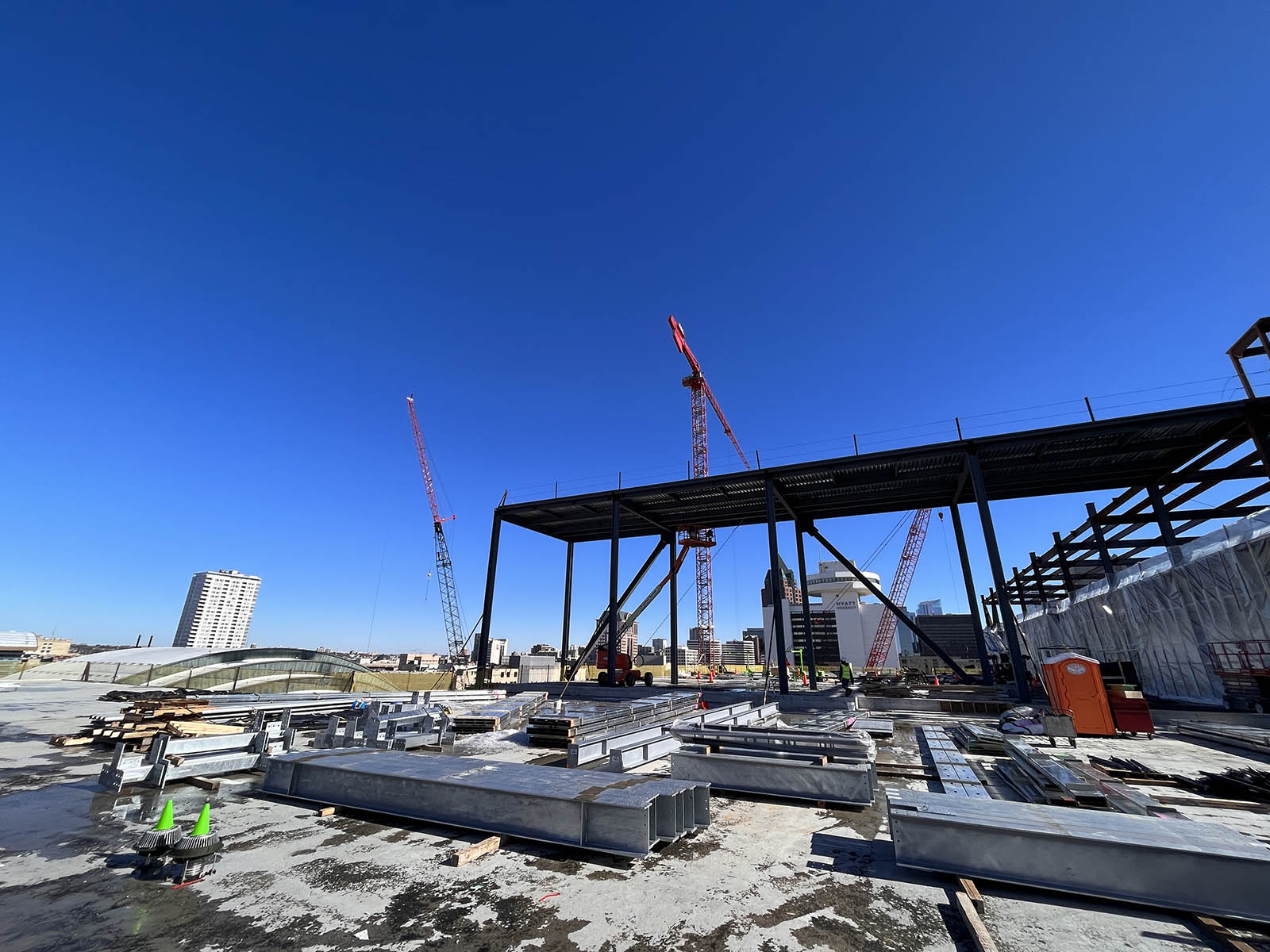 The project will also have a rooftop solar array; LED lighting throughout; a food waste digester to augment its existing food composting program; and energy efficient glass that also helps prevent bird collisions.
Continuing up, we see the framing for the rooftop ballroom and kitchen areas. Here, there will also be some back-of-house space, but the convertible ballroom will be the star, with its view out over Westown.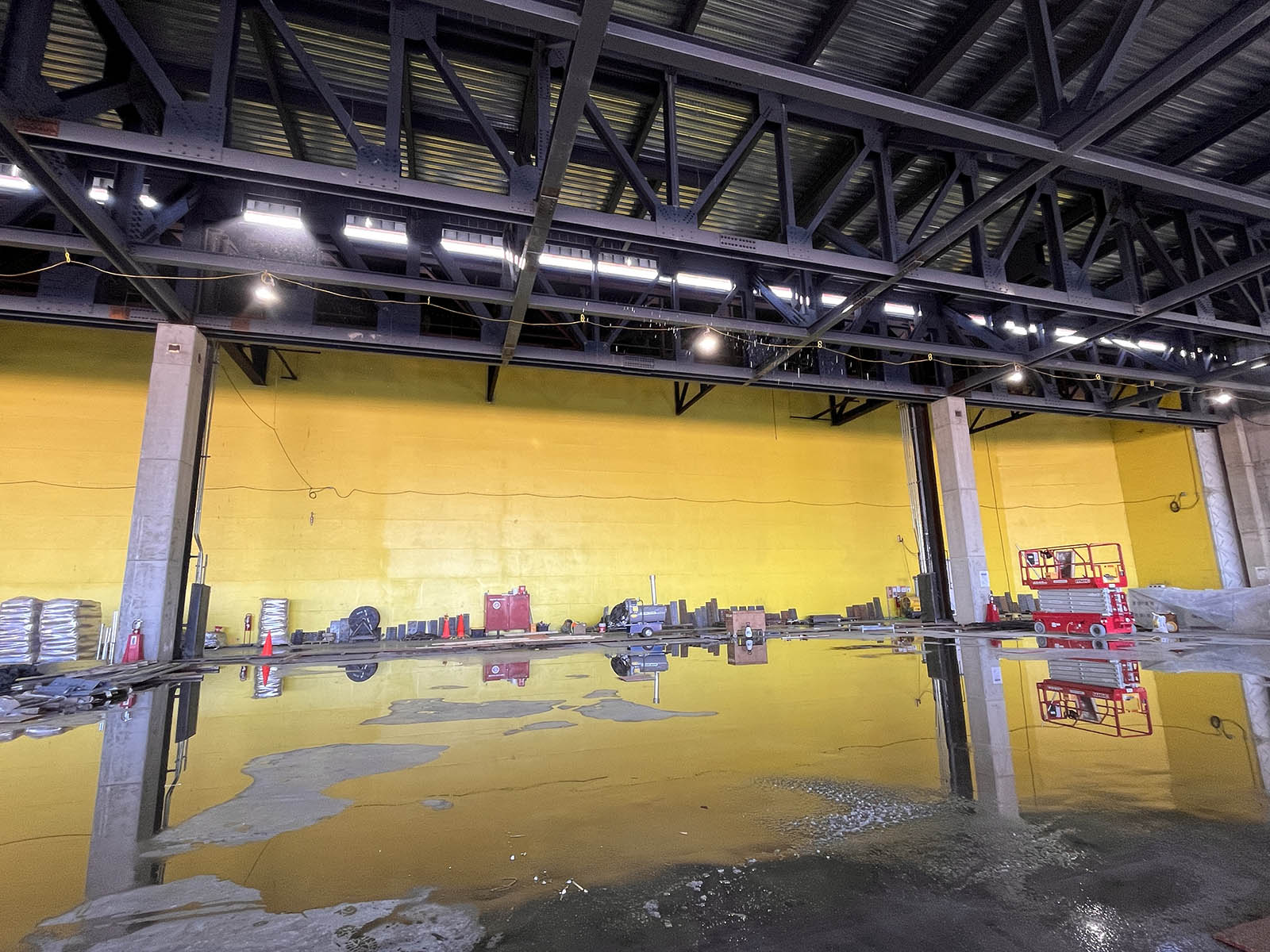 On the third floor, we get to see the bright yellow temporary exterior wall that will ultimately come down. In January 2022, the etched concrete panels covering that wall were removed in what was one of the first big visible signs of progress to passersby.
"They lifted right out," says Jensen. "We thought it was going to take much longer than it did to remove them."
There's another temporary wall on the inside, too. That one has briefly shrunk the exhibition hall to create a workspace in the gap between to two temporary walls, but it has allowed the south building to continue operating throughout construction.
"We knew it would be challenging to keep the one building running while the other building's being constructed," says Maio.
"Early on in the project, my colleague Megan Seppmann, our VP of sales, was very forward thinking in saying, 'why don't we just cut off exhibit Hall D, just shrink it now and call it a day and work with the clients who are booked in there to figure out how to make sure that they fit into the space. And allow the construction team to do what they need to do.' Because the third floor truly is where the buildings marry."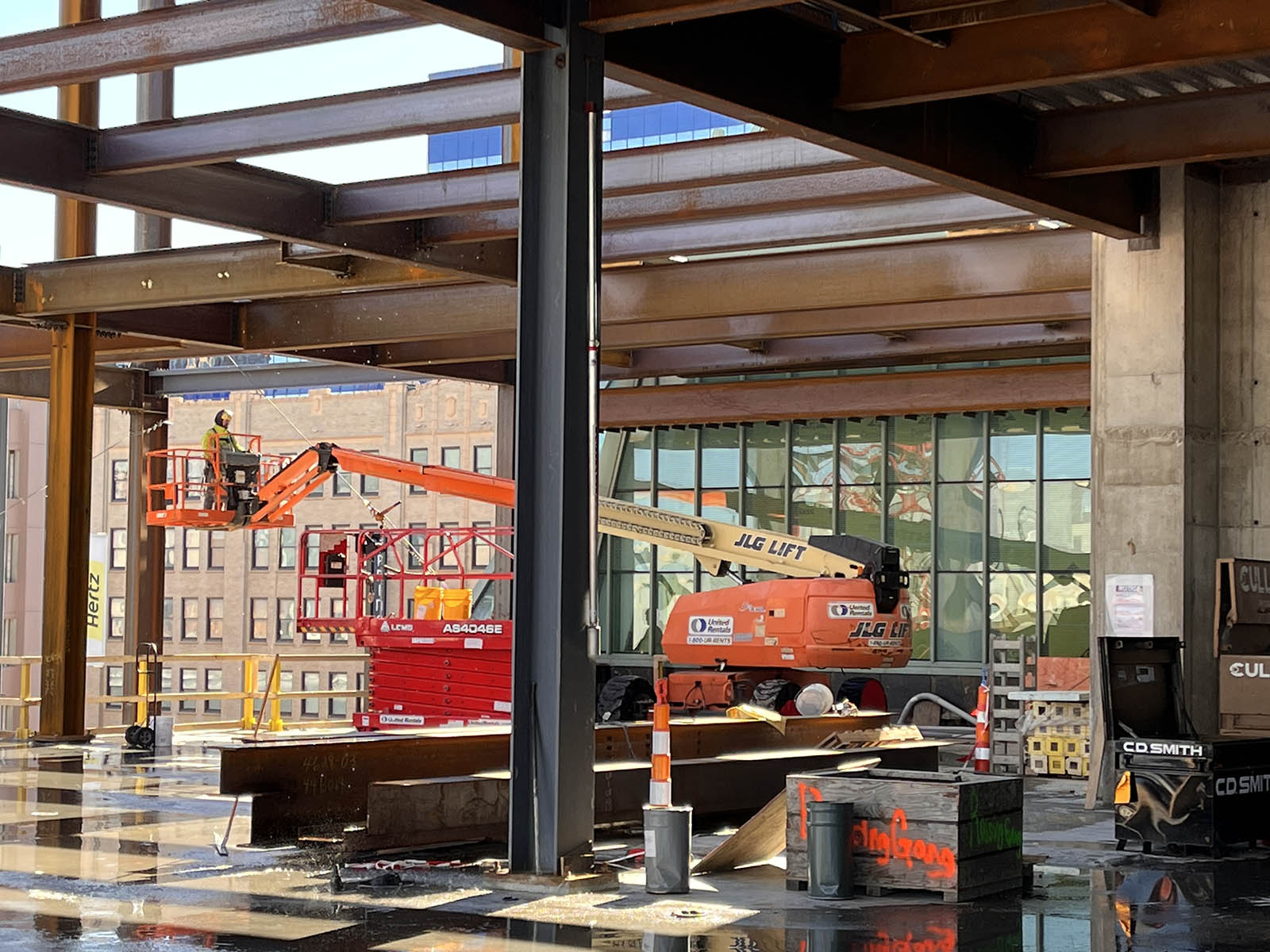 Out on the third floor of the north building, it's easy to see one of the marrying points. A section of windows near Philipps Avenue will be removed to – voila! – create a pass-through connecting the corridors of the buildings.
And this is the floor with that great outdoor deck overlooking Kilbourn Avenue, as well as meeting rooms and the additional exhibition hall space.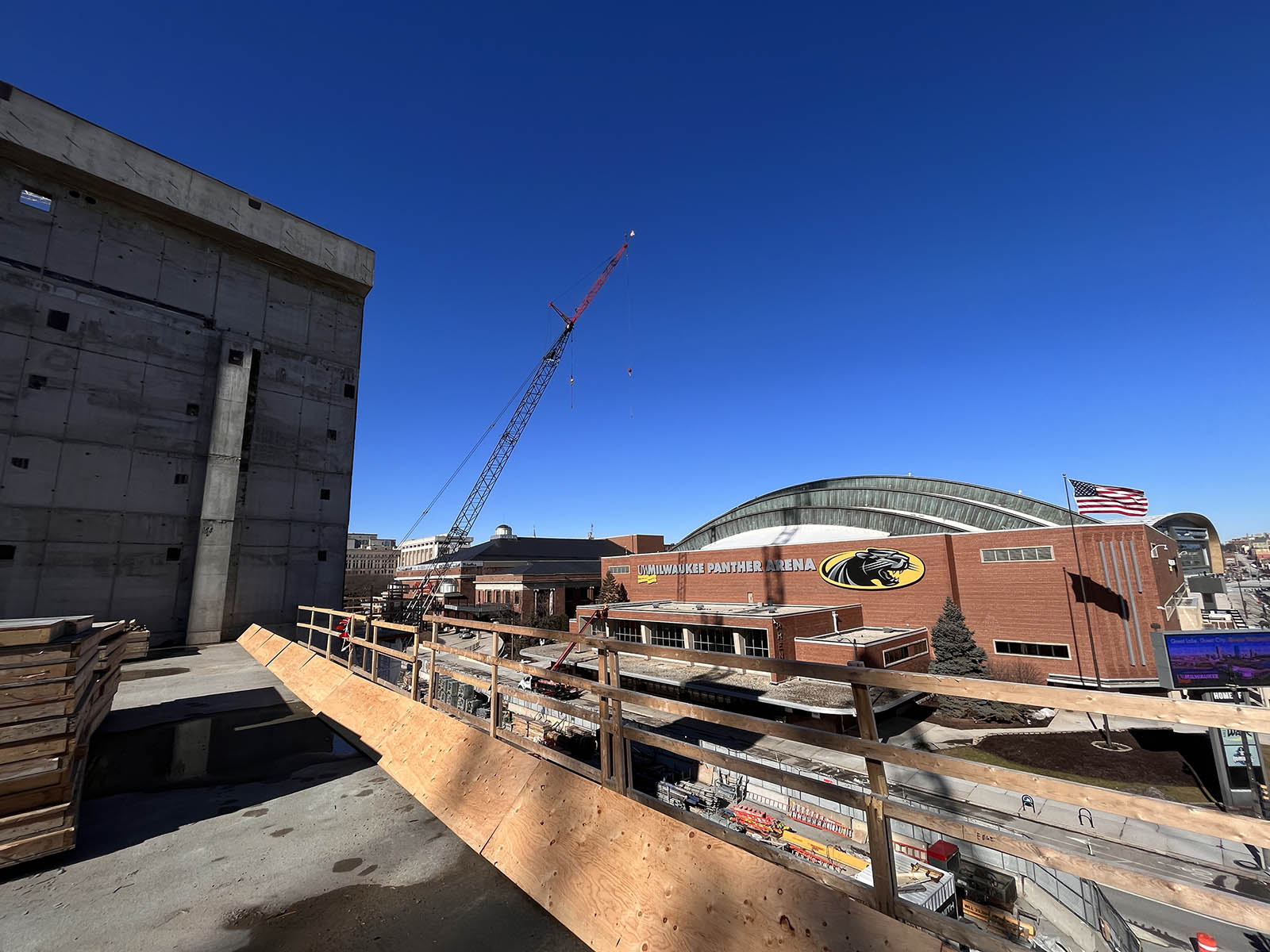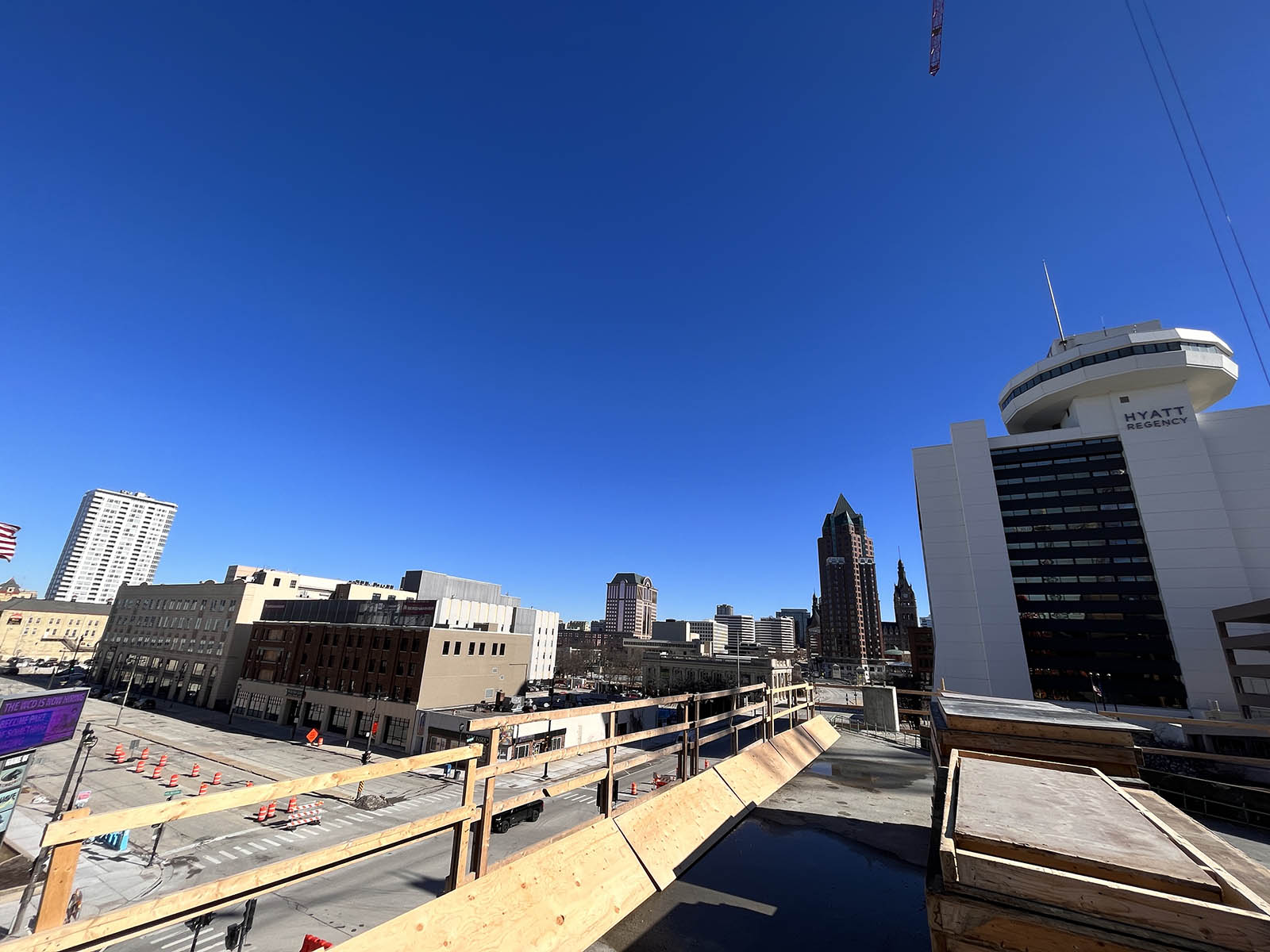 "Right now we're at 188,000 square feet for the exhibit hall (and) it will go to 300,000," says Maio. "And that number was not pulled out of thin air. That was one of the project mandates as directed by one of the studies that we had done over the years to determine not just what do we think we need, but what is required in order for the city to have a real swing at bigger conventions.
"That number was a big threshold."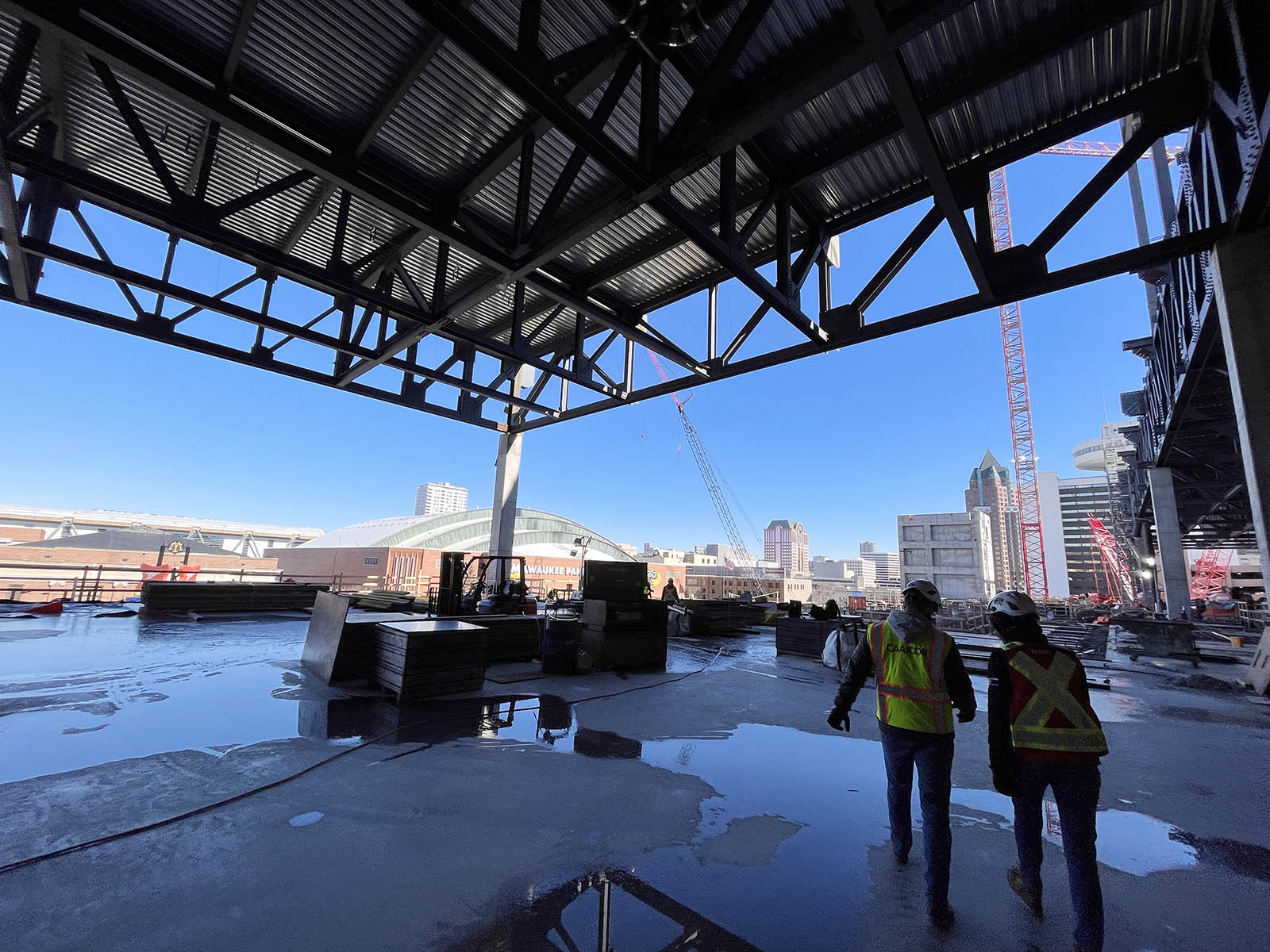 But, adds Maio, Milwaukee will not just be looking to host larger-scale conventions, but also to be able to keep the mid-size conventions flowing through the city and the facility more fluidly.
"Of course we want to take opportunities to get bigger conventions in town," she explains, "but the real purpose of the expansion is to allow us to do simultaneous and overlapping events. Milwaukee is killing it in the mid-size convention (sector), and this will give us capacity to do more of what we're already doing really well.
"Because when event number one is loading in, in the south building, event number two can be at peak in the north building, which means hotels are full, restaurants are full, taverns, small businesses, General Mitchell Airport are all at peak. While event number two is loading out event number one is at peak, and so maintaining more peak, more consistently."
I ask if that approach is desirable because Milwaukee is more suited to the mid-size convention in terms of hotel rooms, airport capacity, etc., but Maio says no.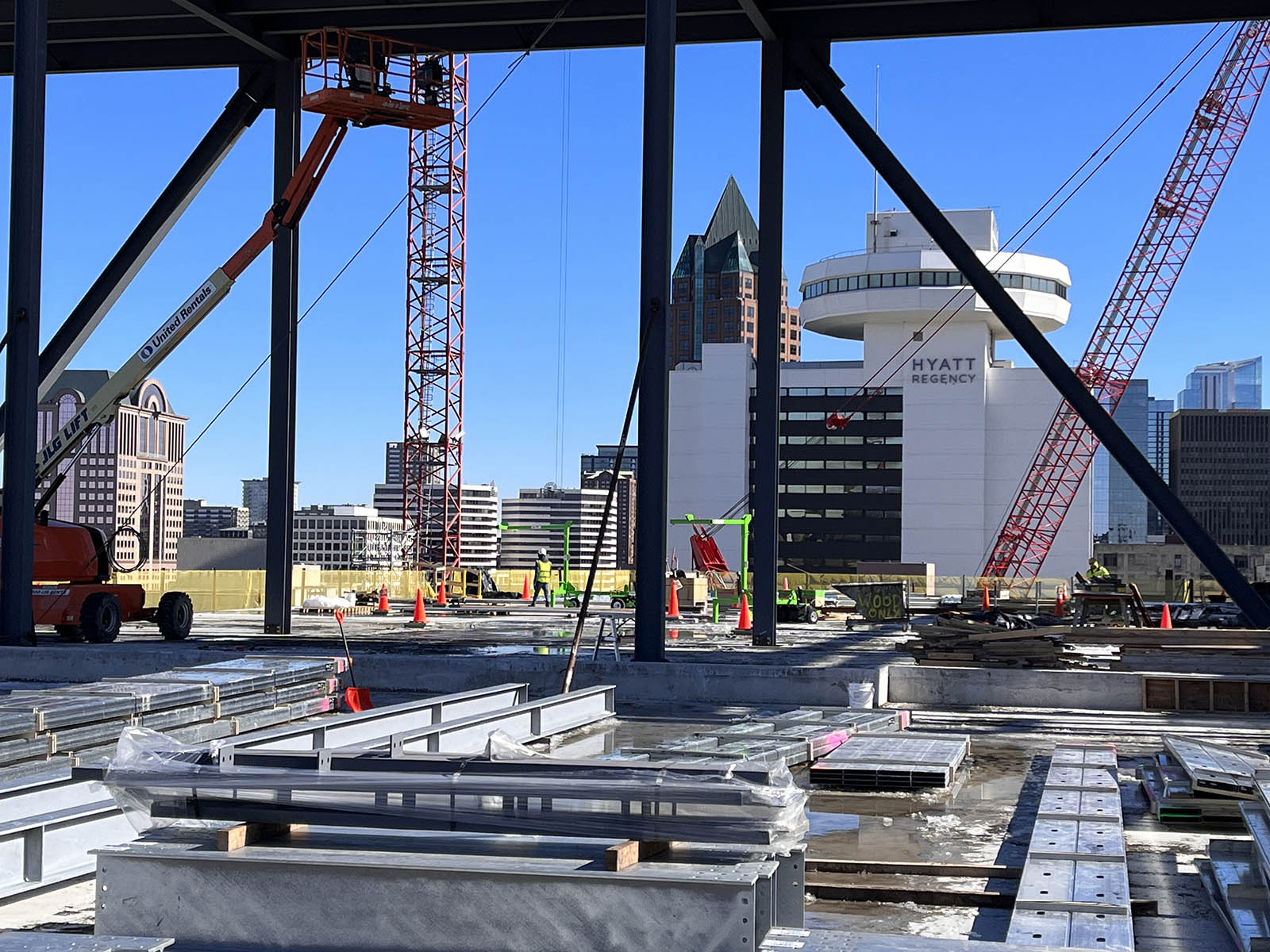 "Not really. It's more because that is the biggest opportunity for the city to continue to maximize what we're already doing really well.
"The expansion gives us a chance to branch off into clients that we have just not been able to even be qualified for previously, but it also gives us the bandwidth to do more of what we're already doing well, times two."
Born in Brooklyn, N.Y., where he lived until he was 17, Bobby received his BA-Mass Communications from UWM in 1989 and has lived in Walker's Point, Bay View, Enderis Park, South Milwaukee and on the East Side.
He has published three non-fiction books in Italy – including one about an event in Milwaukee history, which was published in the U.S. in autumn 2010. Four more books, all about Milwaukee, have been published by The History Press.
With his most recent band, The Yell Leaders, Bobby released four LPs and had a songs featured in episodes of TV's "Party of Five" and "Dawson's Creek," and films in Japan, South America and the U.S. The Yell Leaders were named the best unsigned band in their region by VH-1 as part of its Rock Across America 1998 Tour. Most recently, the band contributed tracks to a UK vinyl/CD tribute to the Redskins and collaborated on a track with Italian novelist Enrico Remmert.
He's produced three installments of the "OMCD" series of local music compilations for OnMilwaukee.com and in 2007 produced a CD of Italian music and poetry.
In 2005, he was awarded the City of Asti's (Italy) Journalism Prize for his work focusing on that area. He has also won awards from the Milwaukee Press Club.
He can be heard weekly on 88Nine Radio Milwaukee talking about his "Urban Spelunking" series of stories.