For years, the newspaper headlines and television news teasers talked of the Deep Tunnel.
But at more than 300 feet below the surface, this massive infrastructure project that aimed to stanch releases of sewage into Lake Michigan during massive storms – and worked! – could seem almost mythical.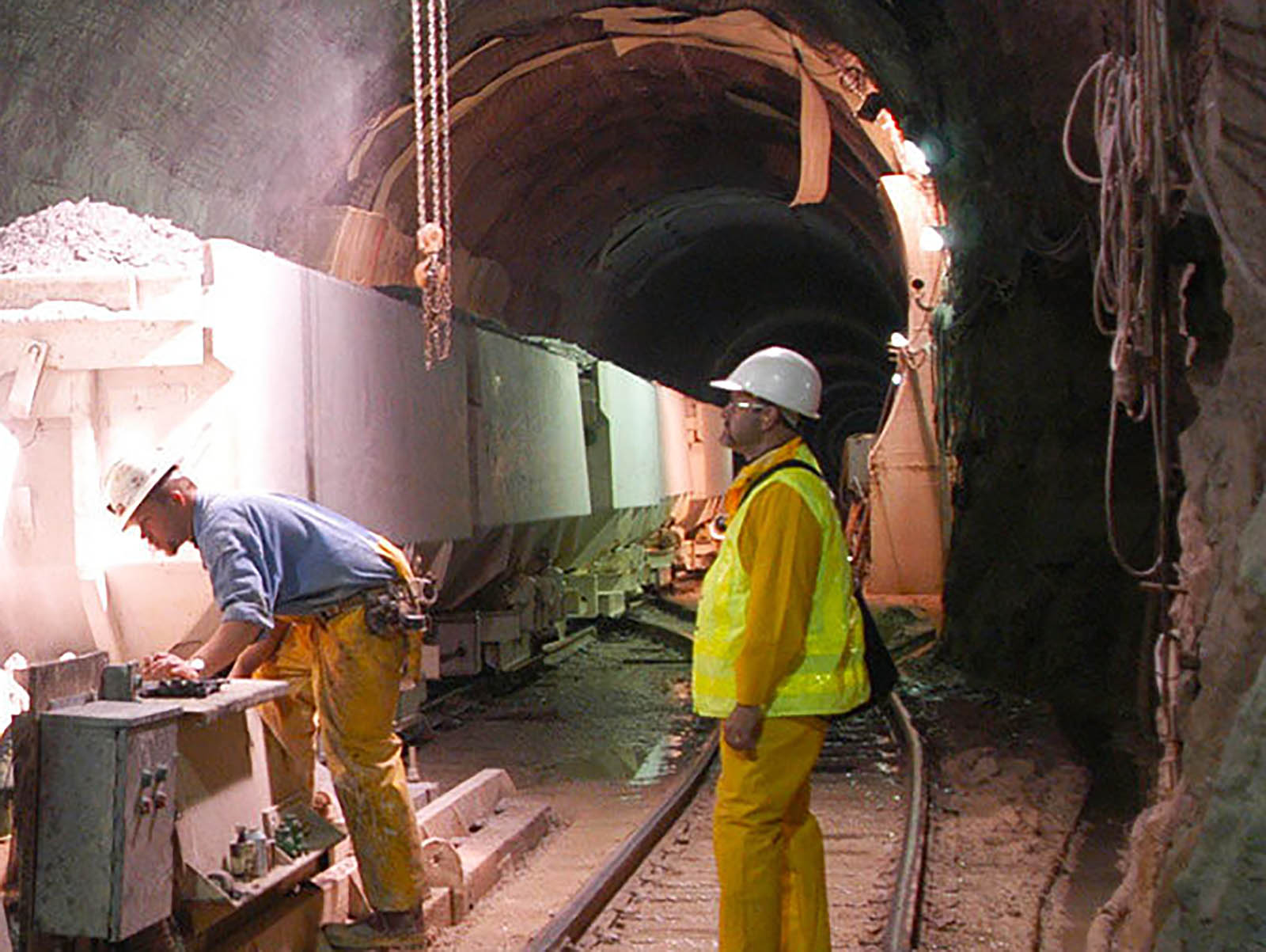 We saw the results in terms of cleaner water and many fewer reports of sewage overflows, but very few of us ever actually saw the tunnel itself.
In mid-December Radio Milwaukee's Nate Imig and I were lucky enough to get a ride 320 feet below Jones Island to see the tunnel's pump room in action.
During deluges, the two Milwaukee Metropolitan Sewerage District water treatment plants run at capacity but still can't handle all the water coming into the system.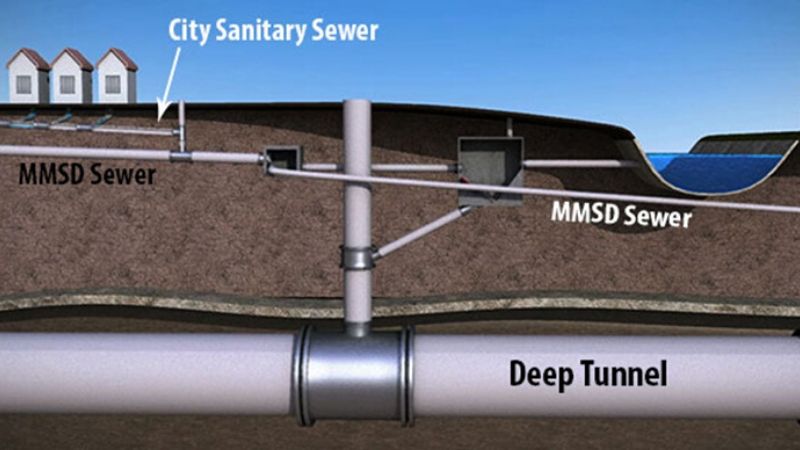 Basically a giant bathtub, the tunnel – built in three phases beginning in the 1980s – can store up to 520 million gallons of water and pump it up to the plants for treatment as capacity becomes available.
The first phase of the tunnel opened in 1993 and it was by far the largest, running 19.4 miles and with diameters ranging from 17 to 32 feet. This section, which varies between 275 and 340 feet below the surface can hold 405 million gallons of water. It runs west from Jones Island along the Menomonee River toward the County Grounds.
Another section runs north along the west side of the Milwaukee River, veering west on Hampton, and there is a short segment running south, too.
The 7.1-mile phase two came online in 2006 and extended the tunnel from County Grounds Park to just west of 91st Street a couple blocks north of Mill Road. With a diameter of 20 feet, it can store 88 million gallons. This one isn't quite as deep, just 120-165 feet down.
Phase three is two miles long and with a diameter of 21 feet and it is 300-325 feet below ground. It runs north from the northern section of phase two at 30th and Hampton and terminates just southwest of Range Line and Mill Roads.
"Since the tunnels have been online, we've captured 98.5 percent of every single drop of water that has gotten into the regional sewer system," says Bill Graffin, MMSD's public information manager. "It's made a huge difference.
"Before the tunnel, we used to have 50 to 60 overflows a year; around eight to nine billion gallons. That has significantly been reduced and we're now down to about two a year and we're doing everything we can to try and make it even lower."
The effects of the tunnel and other projects, including rain gardens, bioswales, sewer upgrades and other efforts – including restoration efforts like the one at Pulaski Park – can be seen throughout the area, Graffin says.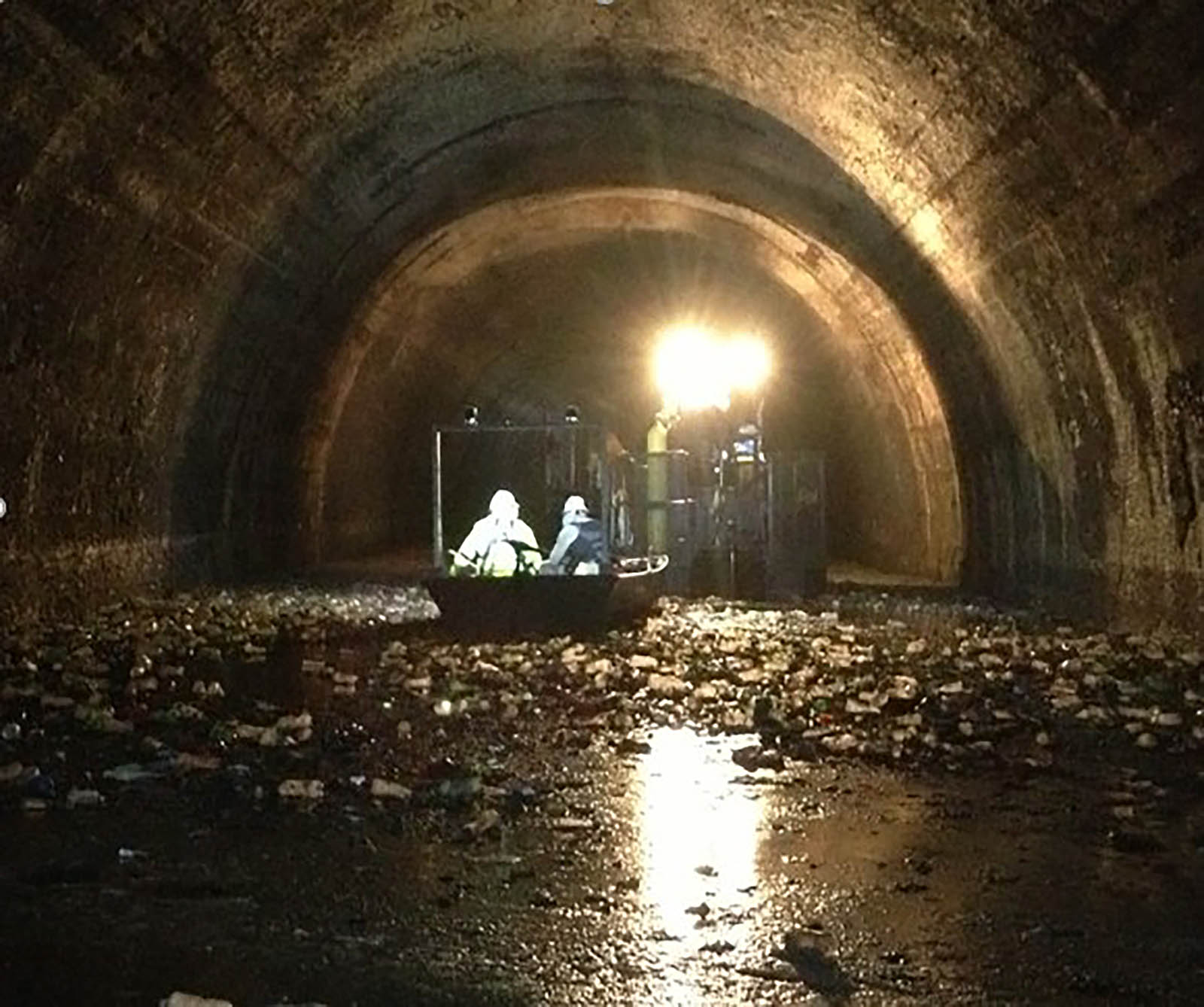 "It's been a great benefit for water quality in the region and what used to be basically big open sewers, the rivers, now have dozens of different fish and aquatic life. In the past only carp and bottom feeders could survive in the water."
Before we go underground, we take a look at the gantry crane and the two silos at ground level.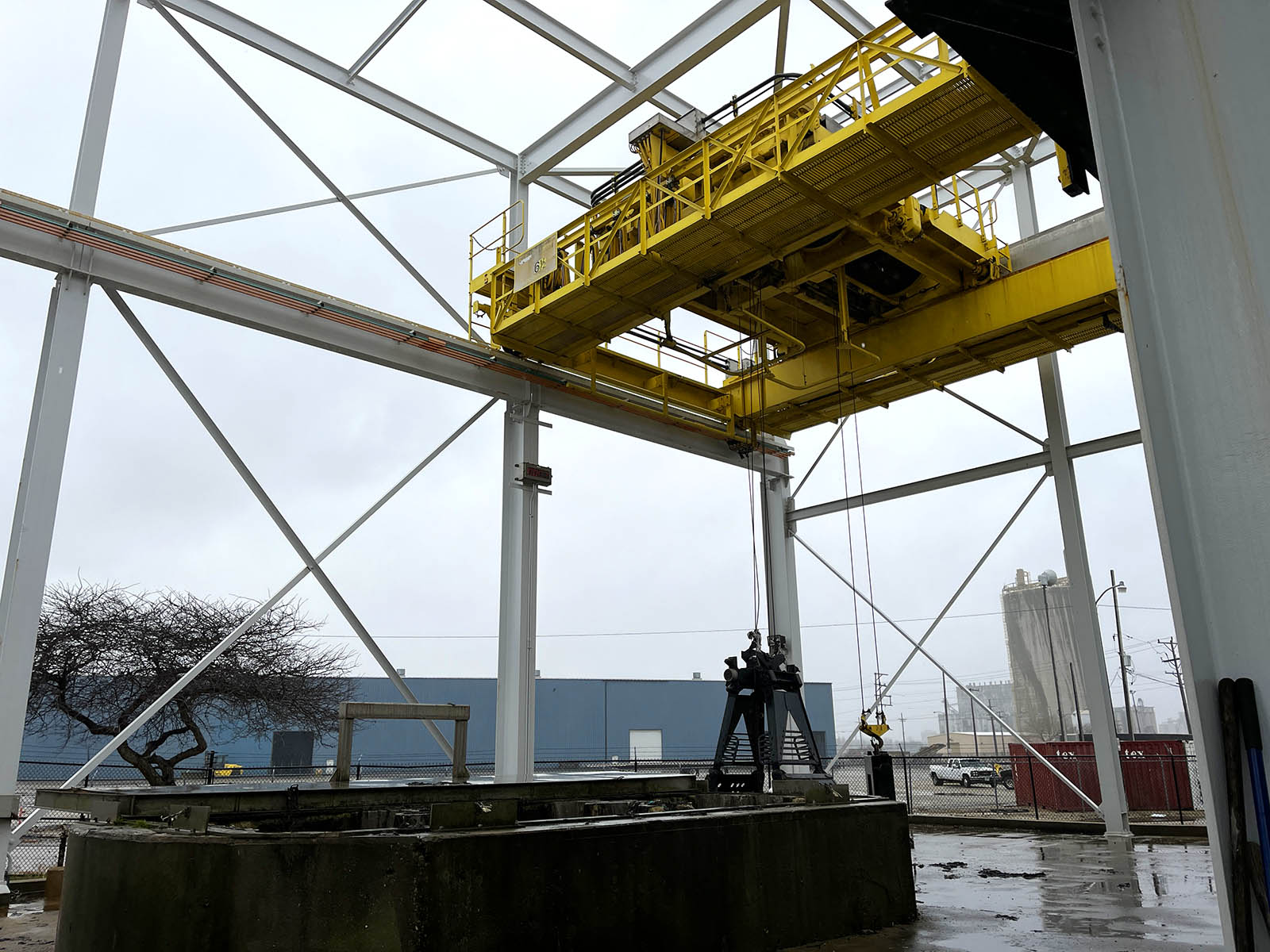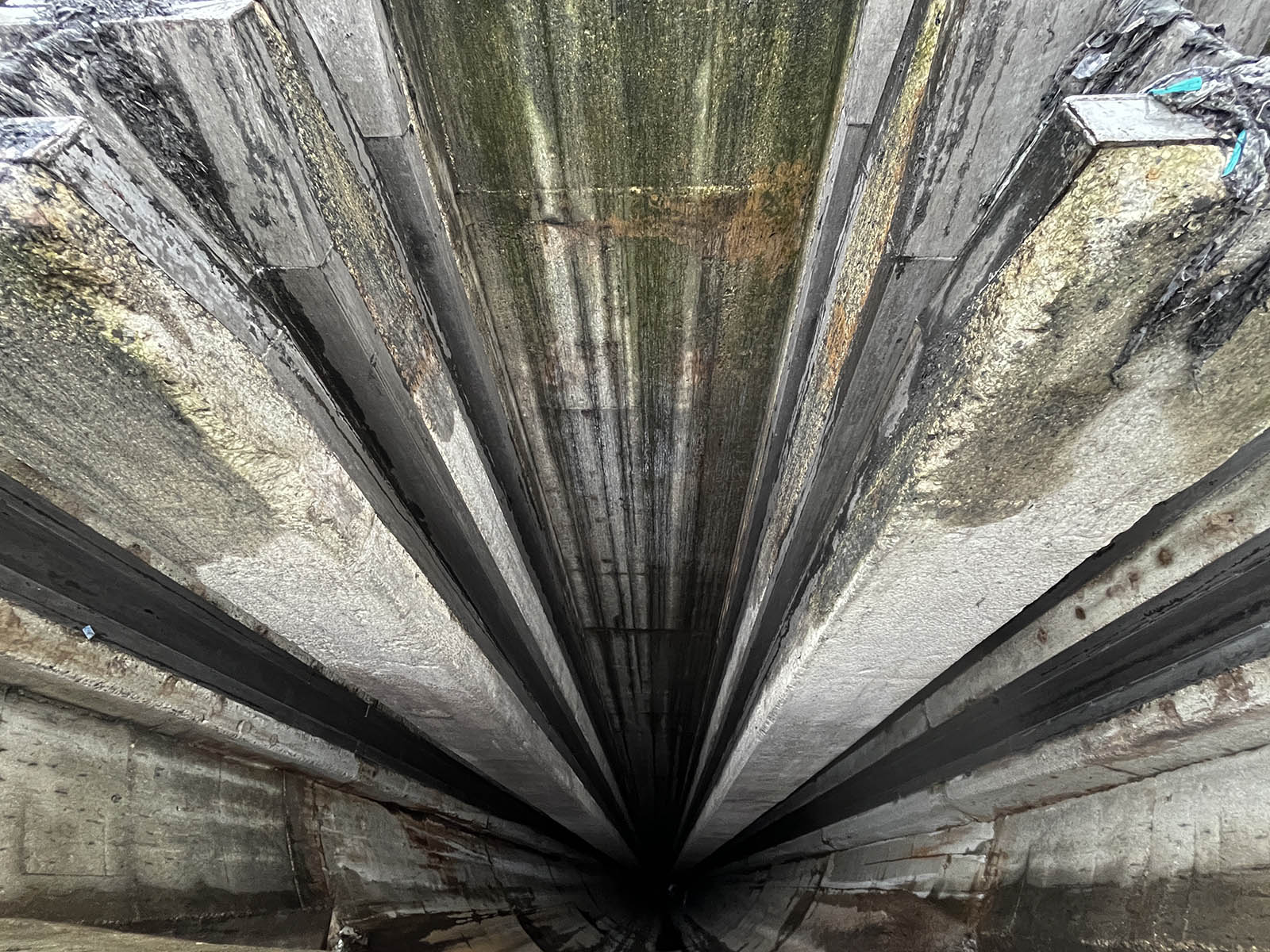 The crane has a large jaw-like bucket that is lowered down a shaft into the tunnel to clean out trash that collects at a floatables collection screen. Everything that makes its way into the sewers gets stopped here to prevent damage to the pumps.
Around the parapet wall that surrounds the big hole, we can see wipes. Lots of wipes. Cleaning and baby wipes may be useful at home, but they're brutal on systems here. Please don't flush them.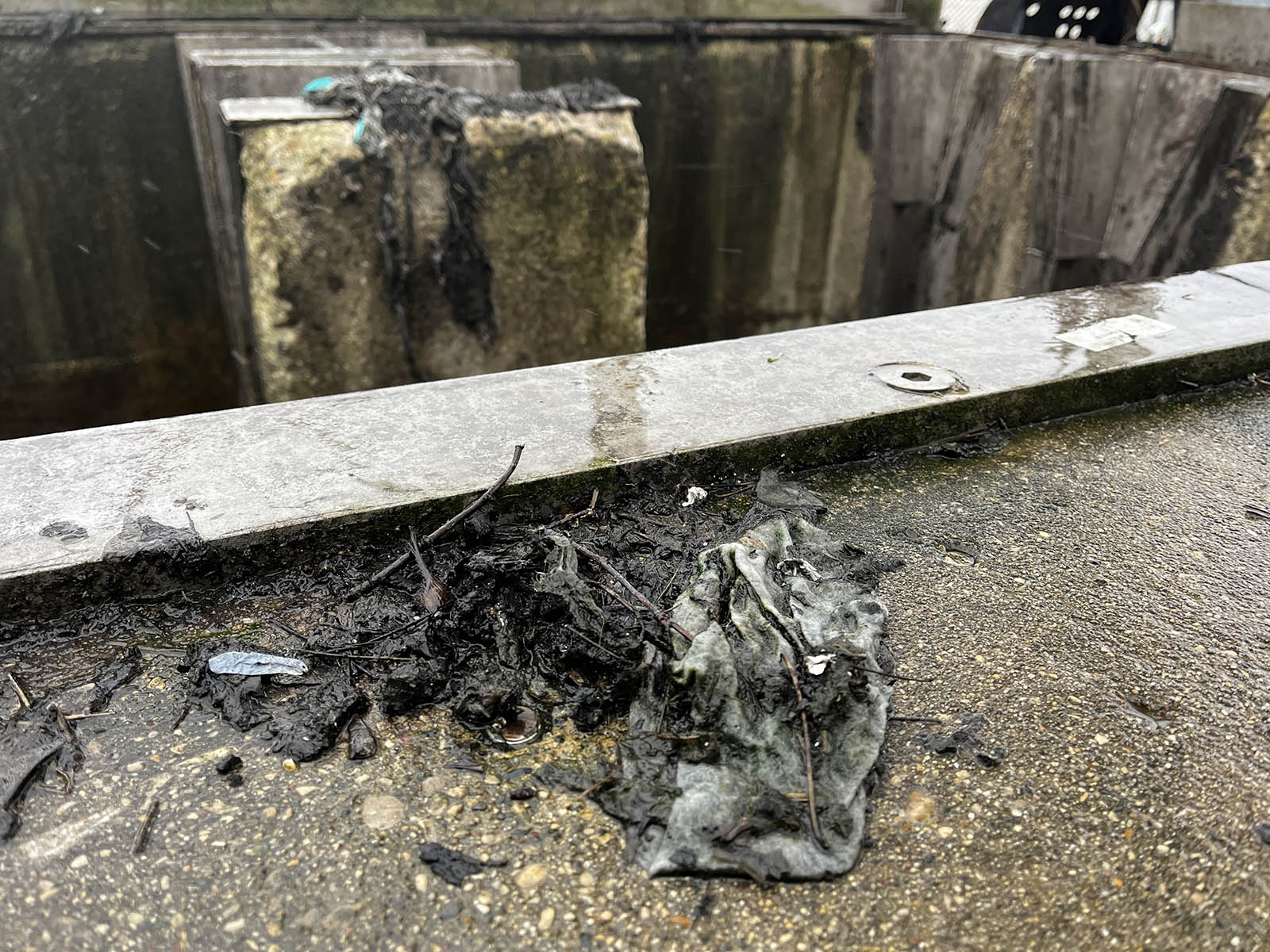 And the two silos?
"There's three pumps down there (in the pump room below)," says Graffin. "They can each do up to 70 million gallons per day. And we can divide that flow between here and South Shore (water reclamation facility in Oak Creek).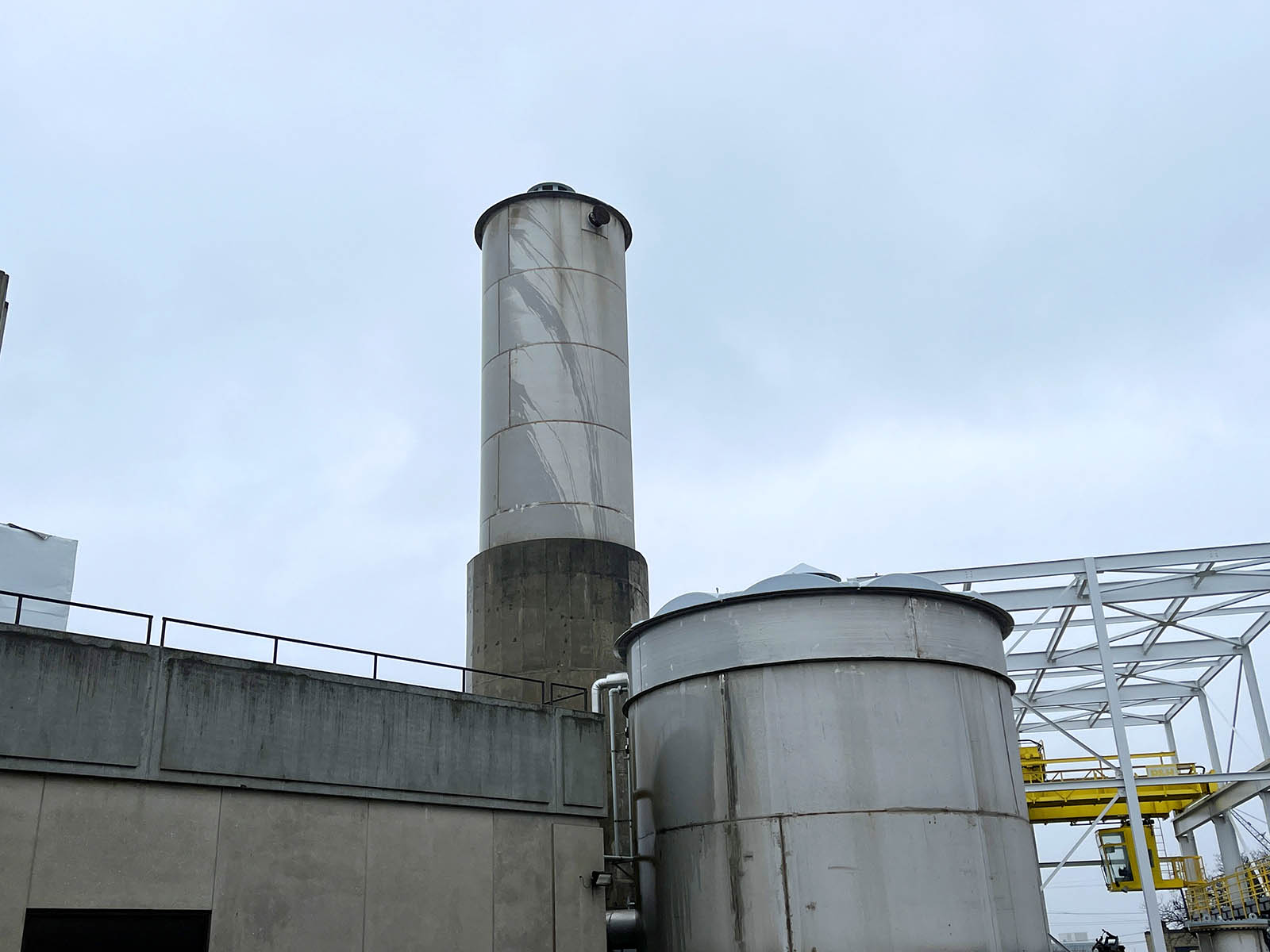 "The silos you see out there, one's a little shorter. We pump water up and it flows by gravity through this plant. The taller one is (high) enough to get all the way down to our South Shore plant in Oak Creek (by gravity).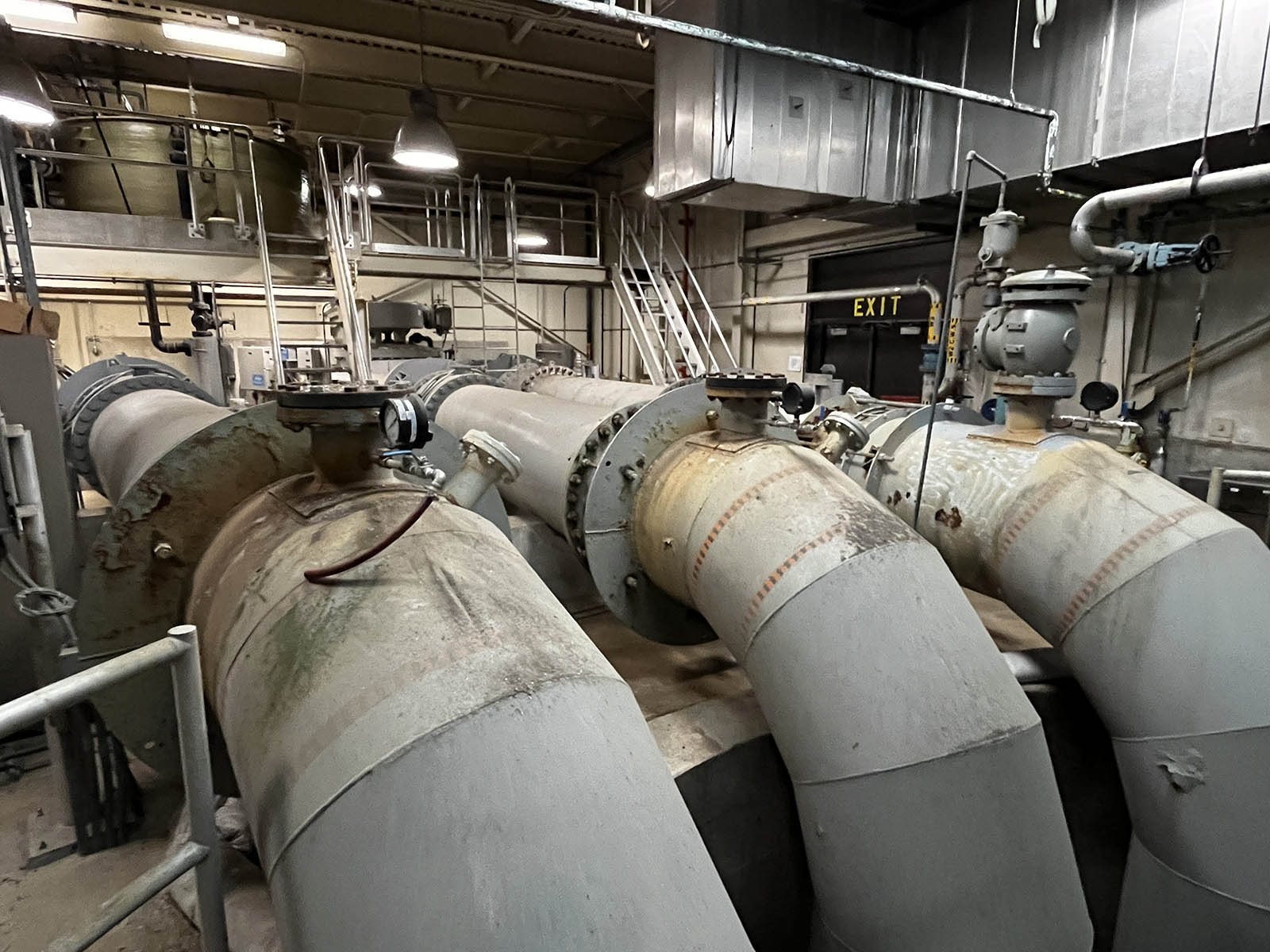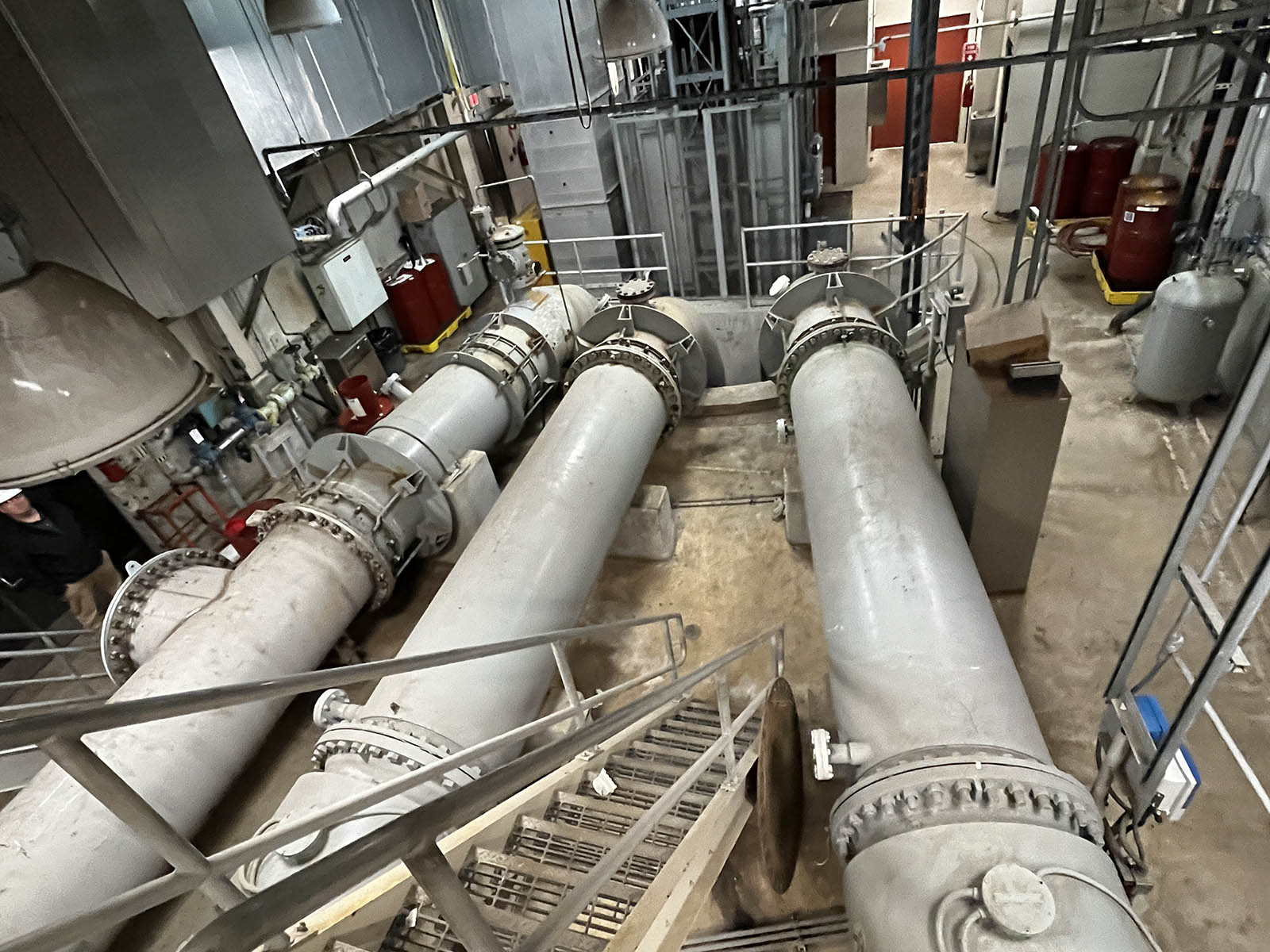 The more that MMSD – and Veolia, which runs the system for it – can put gravity to work, the more energy it saves running the pumps.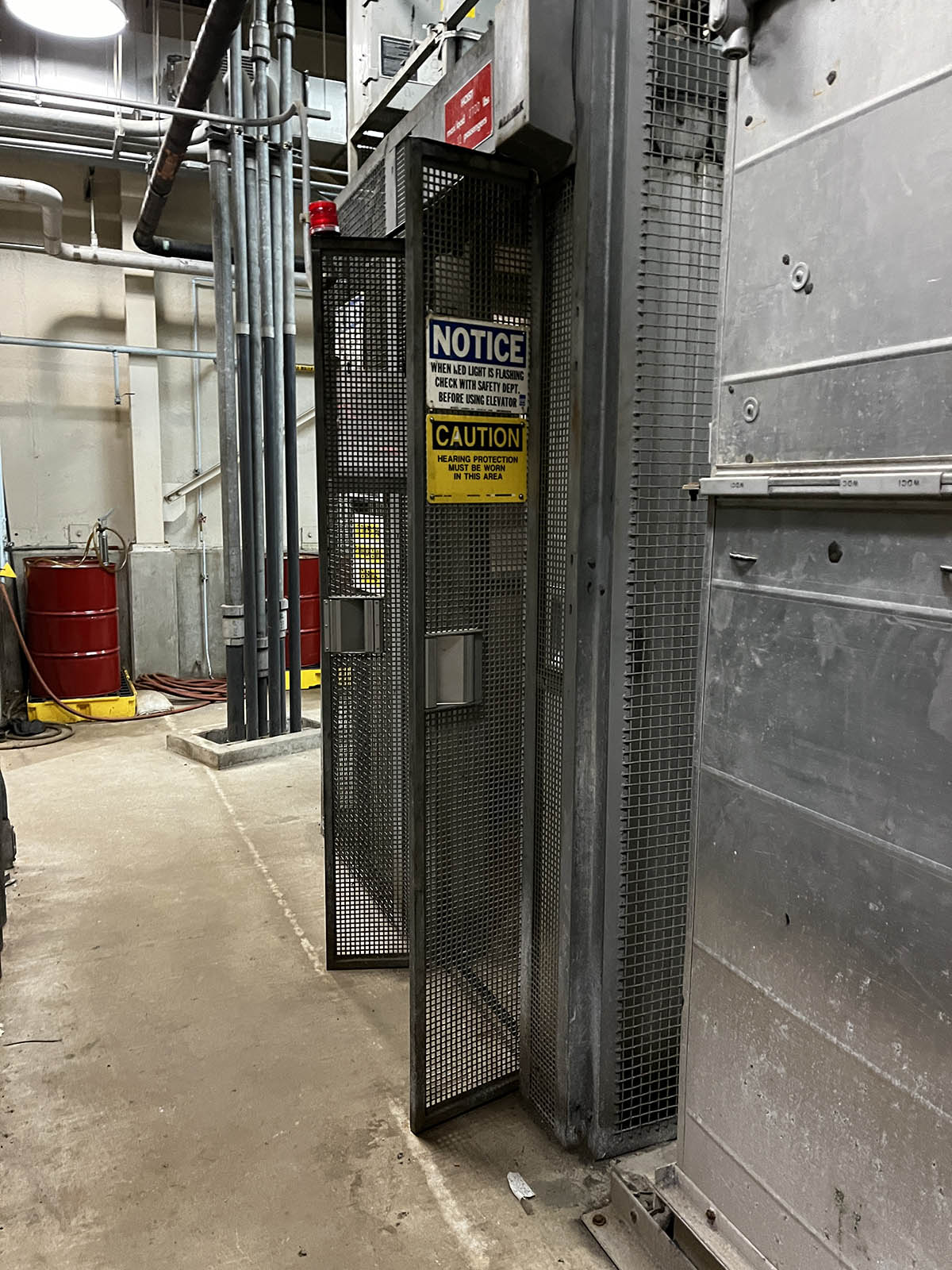 With that, joined by Veolia's Communications and Community Relations Manager Andi Kneeland, we hit the elevator and head down for a 3.5-minute ride down below the island, and below the lake bed (since large parts of the island were created by landfill).
On the way down, Powerhouse Operations Engineer Dan Wittlieff tells us he generally makes the trip daily.
"I come down just to keep an eye on and check out equipment and that," he says. "I look at HVAC, I look at pumps, electrical systems. I got it all."
He explains that outside the elevator, about every 10 feet, there are platforms. So, if the elevator gets stuck and the backup fails, occupants can climb out and get to a platform leading to the access ladder.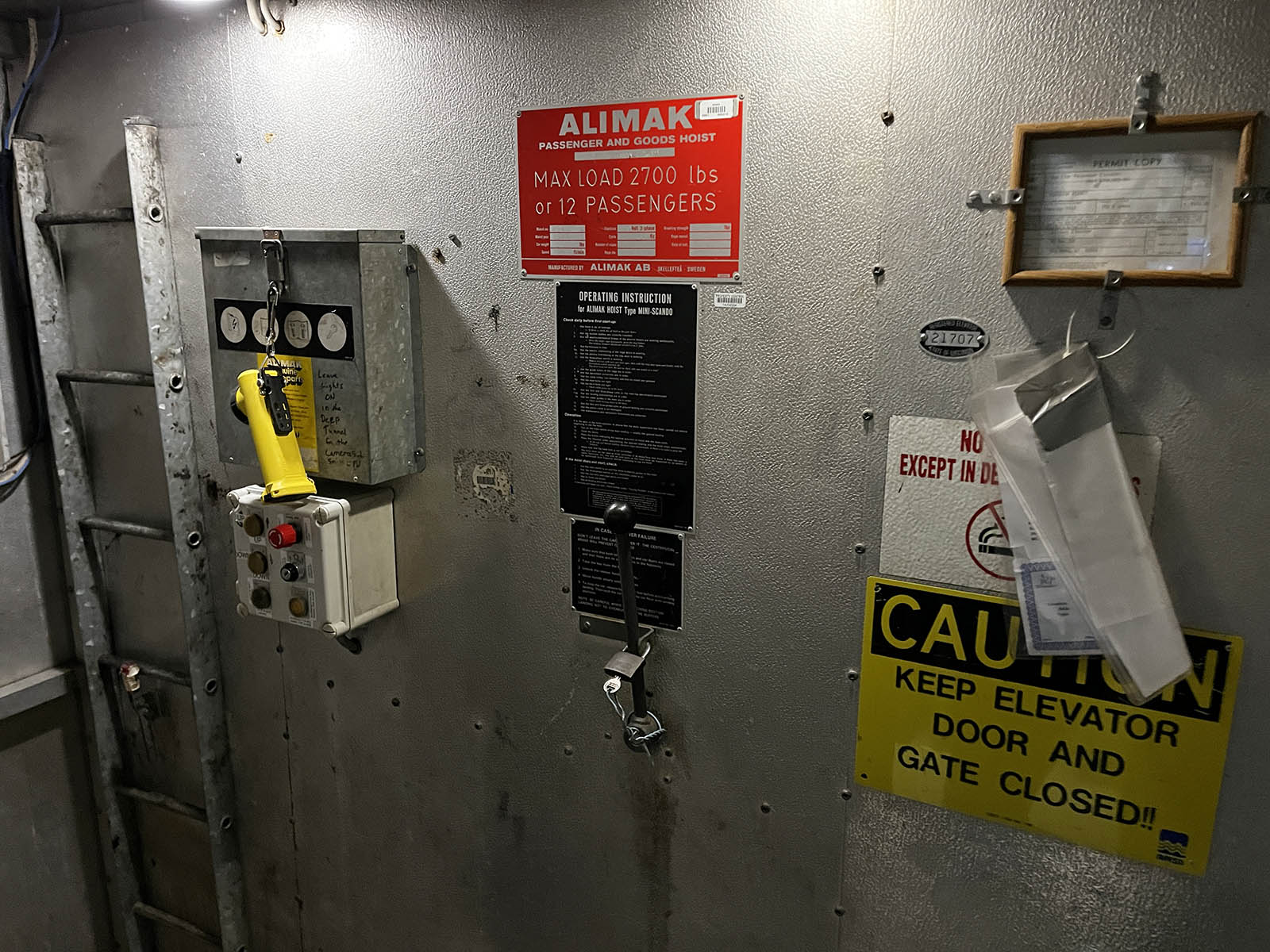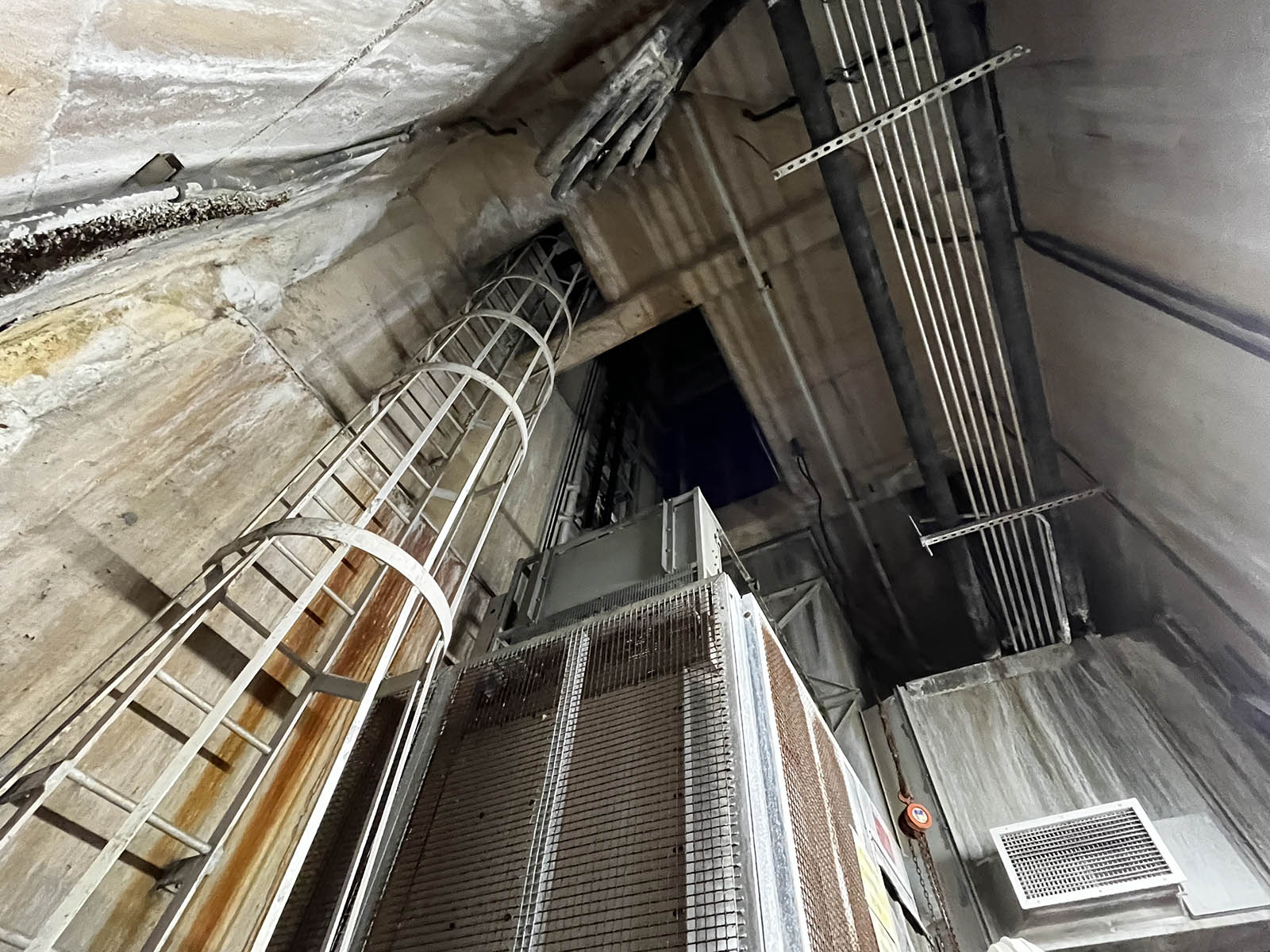 Once down in the pump room, we see another access ladder that shoots straight up a wide, round drop shaft. Wittlieff has had to climb that ladder, as have others whose work led them down here during a power outage that meant they had no light to guide them.
At the bottom, we clunk to a halt, step out onto a metal platform. Down a few steps, past that access ladder leading up into darkness and through a door, we're in a large room with a trio of gigantic pumps along the south wall.
On the other side of the wall is the tunnel.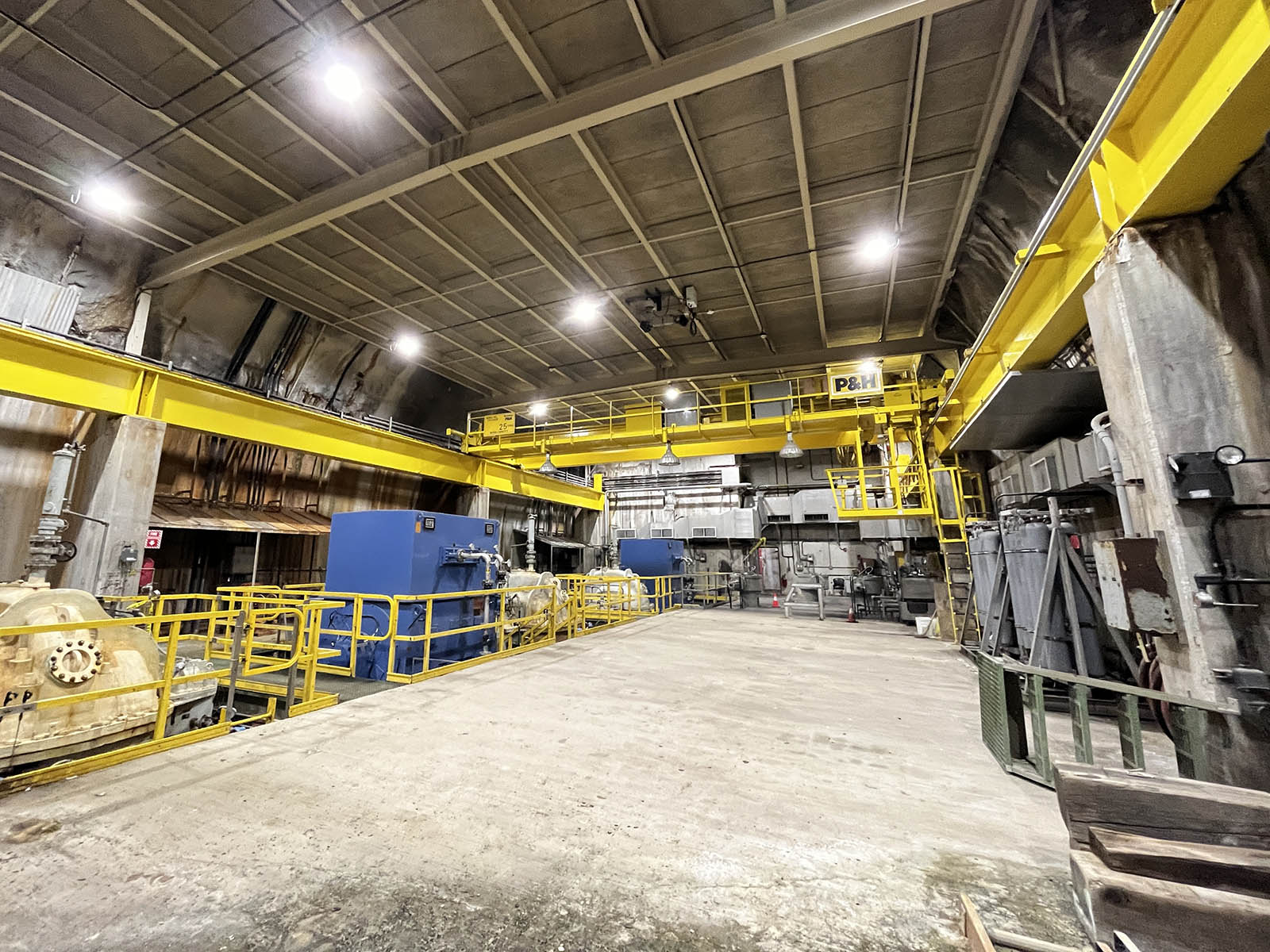 The reason we're in the pump room and not the tunnel itself?
"You can't go in the tunnel," says Graffin. "You have to take special precautions because of the deadly gases that occur with wastewater.
"Just can't do it. When we inspect it every 10 to 15 years, that's about the only time you'll see people in it."
But this space is exciting enough. Perhaps more so.
Similarly carved out of bedrock, there's a soaring high ceiling, a range of valves, gas tanks used as backups to open them and the three pumps themselves, which sit on a sunken floor.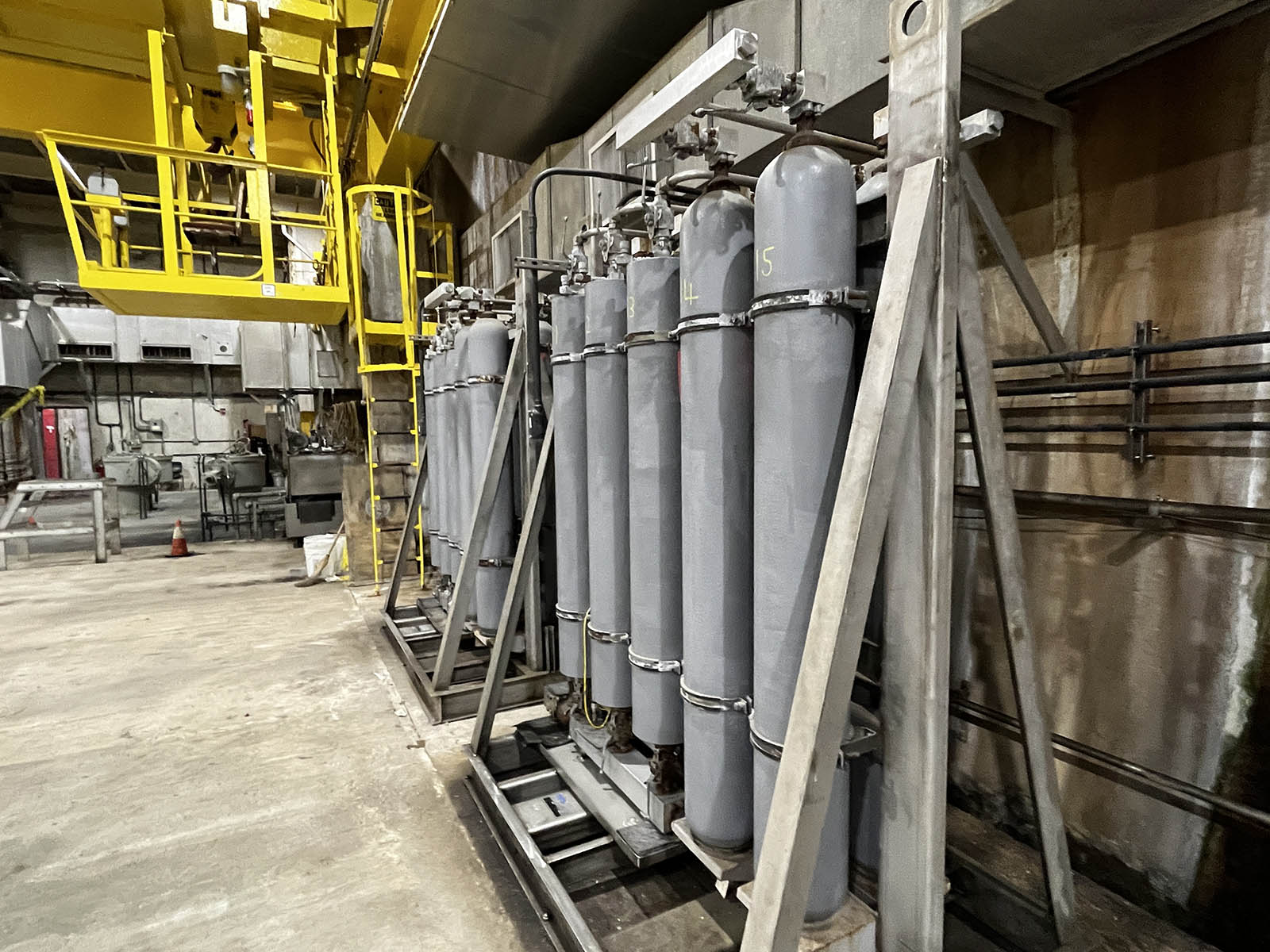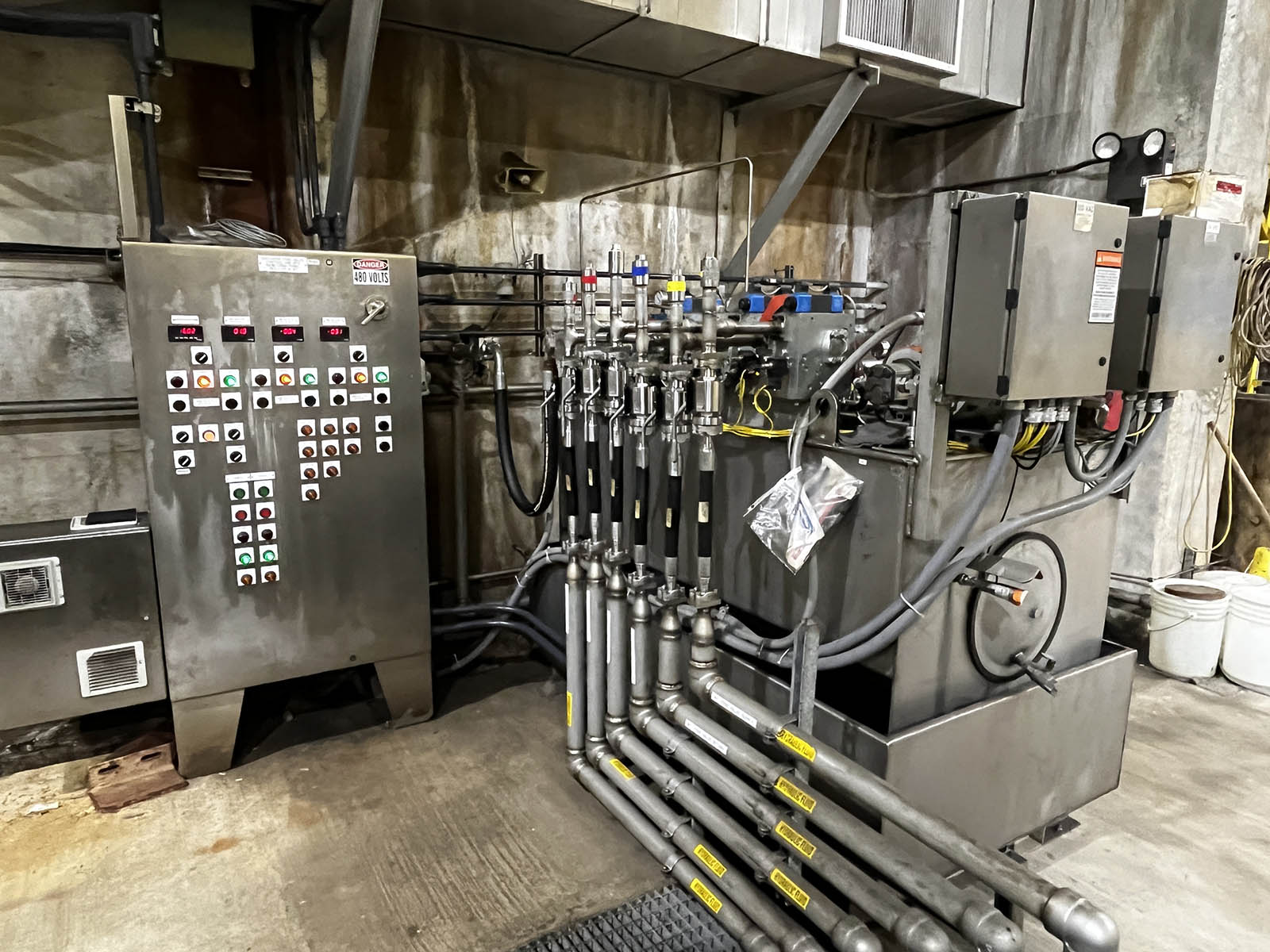 The three pumps are identical, says Wittlieff.
"They're 5,500 horsepower motors," he says. "They'll pump 35,000 gallons a minute. The thing that I find interesting is there are so many systems tied into these pumps just to make them work. There's electronics, electricity, hydraulics, pneumatics ... just everything, to make one pump work.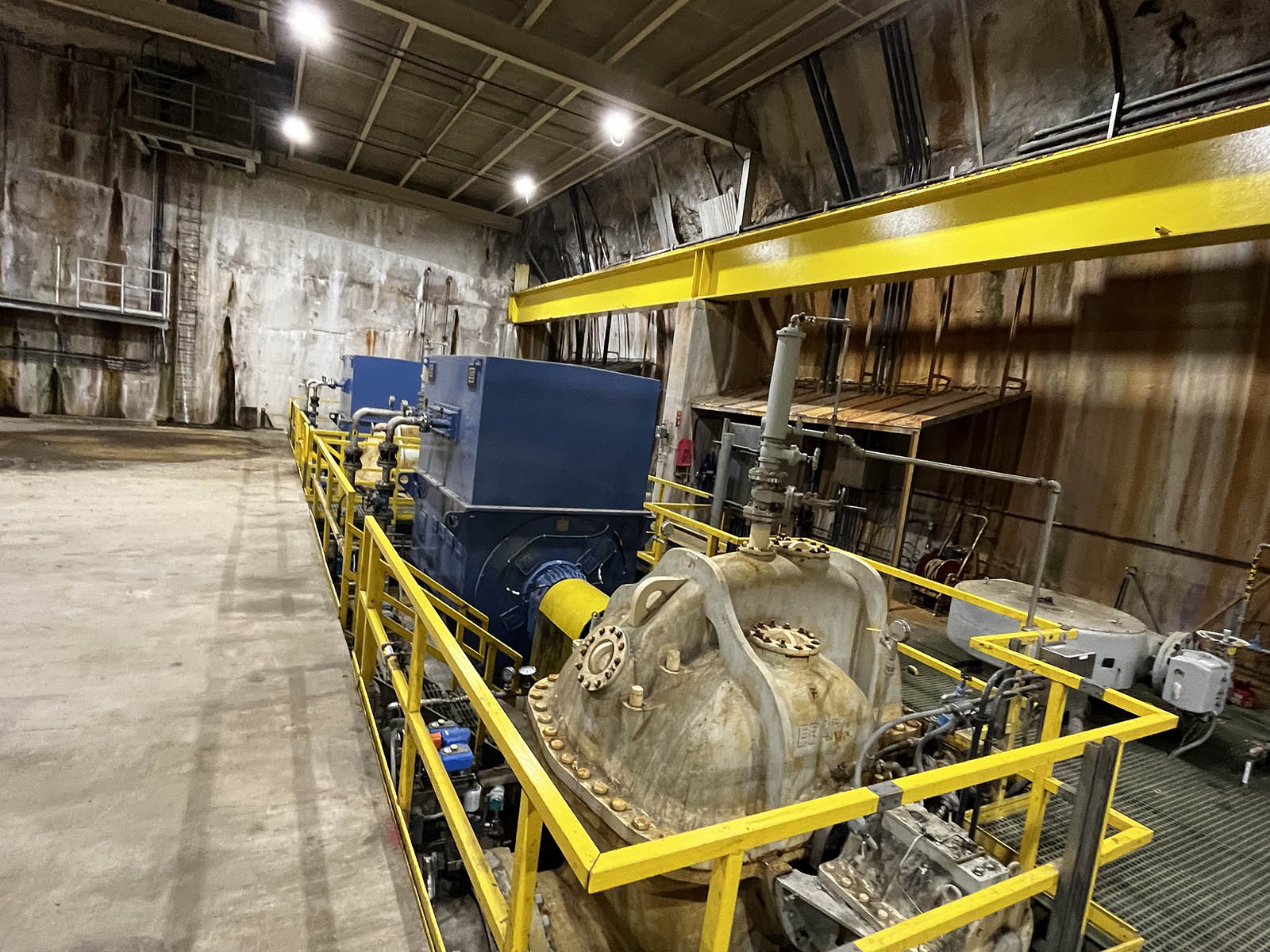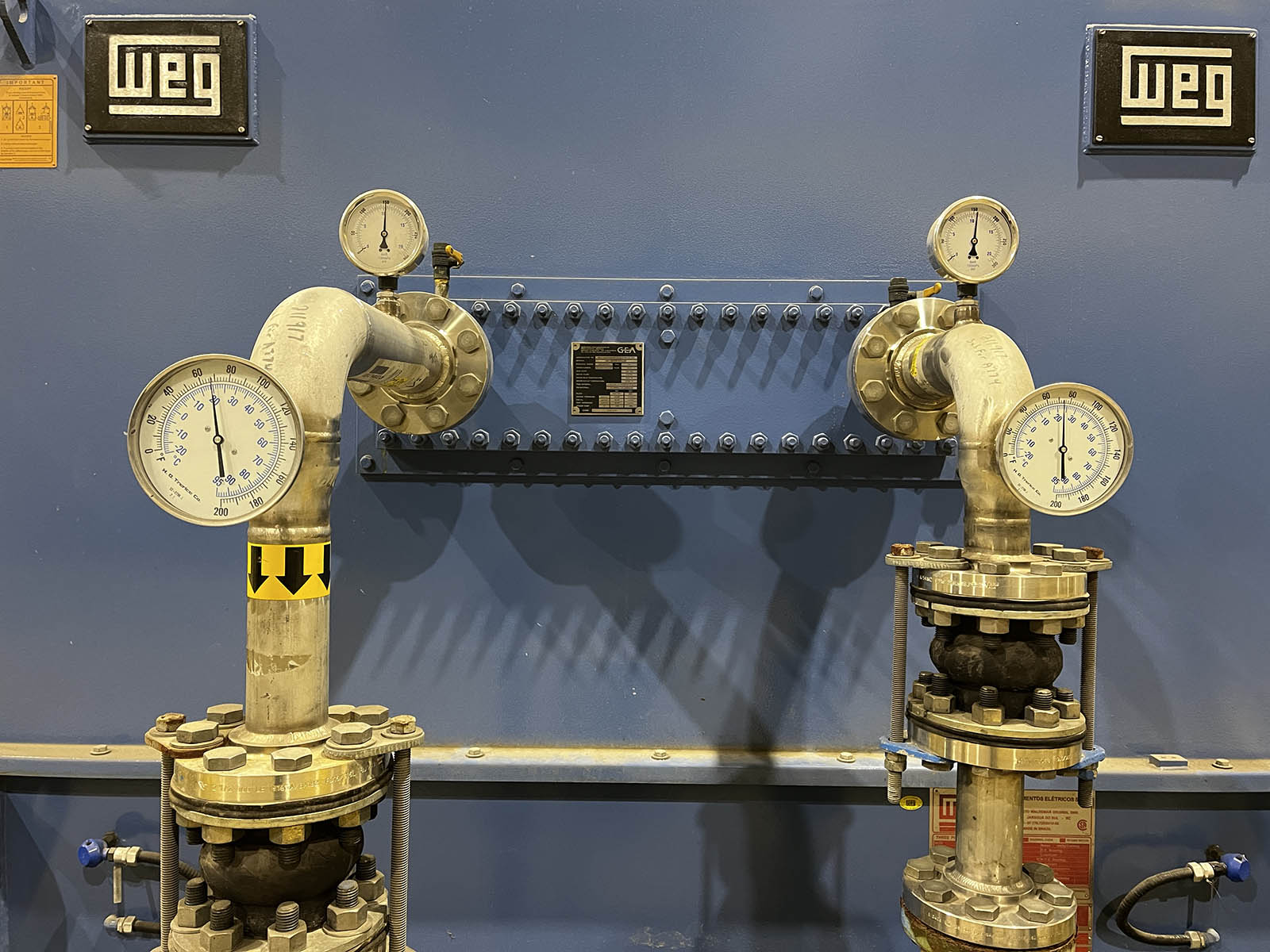 "The motors are water cooled. Potable water comes down, makes one pass through the motor, and it goes back up, to a tank up on top (where we got on the elevator). That sends the water back down, and that's for the seal water that keeps all the H2S (hydrogen sulfide) gas aside. Once it makes one pass through there, it goes in a trough and gets pumped up into the head tank again."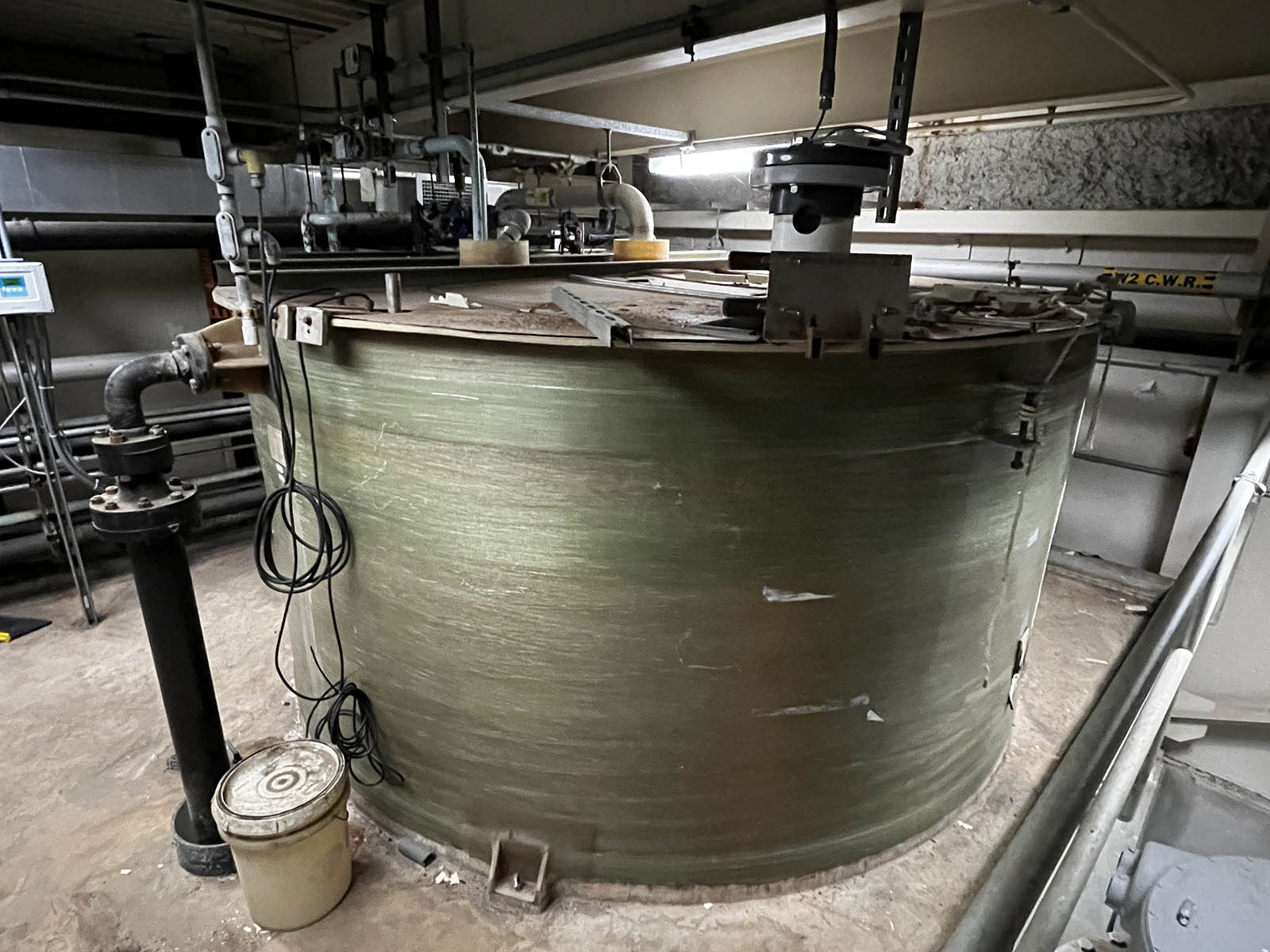 That water gets reused over and over again.
"The way that they generally try to run the pumps is they'll rotate them," says Wittlieff. "The silt in that, that winds up down here, builds up in front of each one of the suction lines, and if that builds up too high on one and not another, it creates vibration. So they try to run them equally."
Occasionally the silt is removed with a high pressure water line to prevent the vibration damaging the pumps.
"These are well over a million dollars each, and it's obviously the only way we have to get water out of the tunnel," Wittlieff says. So they're very critical and important."
"They're absolutely crucial," adds Graffin. "The amount of maintenance and stuff that goes into it, people wouldn't believe it. These guys do a great job at Veolia and helping out and making sure that it's ready when it's needed.
Graffin says that most of the time there is at least some water in the deep tunnel, but it's when there are big rain events that it really goes into action.
"There's always a few million gallons in there until we get enough in there to justify spending money on the electricity and the energy to the turn pumps on," he explains. "The treatment plants can only clean so much a day, and that's about 300 million gallons each. We have some other techniques we can do that improve that capacity, but they can only clean so much a day.
"When you get more water into the system than the treatment plants can handle, well, you've got to put it somewhere until you have time to clean it. Otherwise, it's going to end up backing up in the whole system and into people's basements, and that's the last thing we want. Our highest priority during a storm is to reduce the risk of basement backup."
With what appears to be more intense storms later, the tunnel has been a key part of the system.
"There's no question that we're seeing more intense storms," Graffin says. "And that's the toughest part. If we get an inch two of rain over 12 hours or 24 hours, that's typically not a problem. When you get two inches of rain in 20 minutes, it's been a tough problem.
"But we're also seeing periods of drought. So it's really been a challenge from a planning standpoint. You've got to keep in mind that everything we build is big and expensive and takes a long time for approvals and design work and you're talking years and years. You can't just flip a switch and make something bigger."
When the plants are at capacity, the pumps are not working. They kick in once there is room up above to treat the water.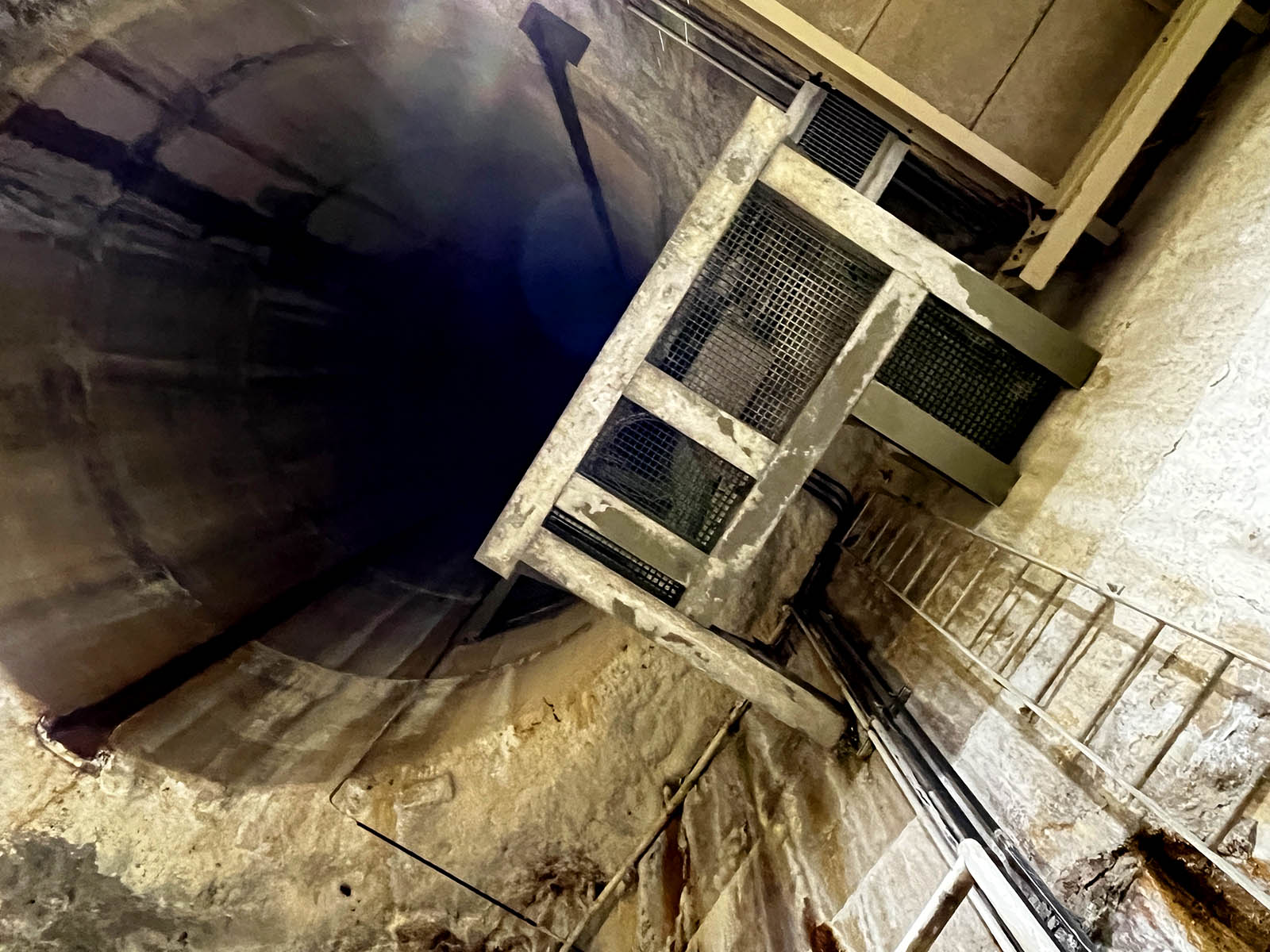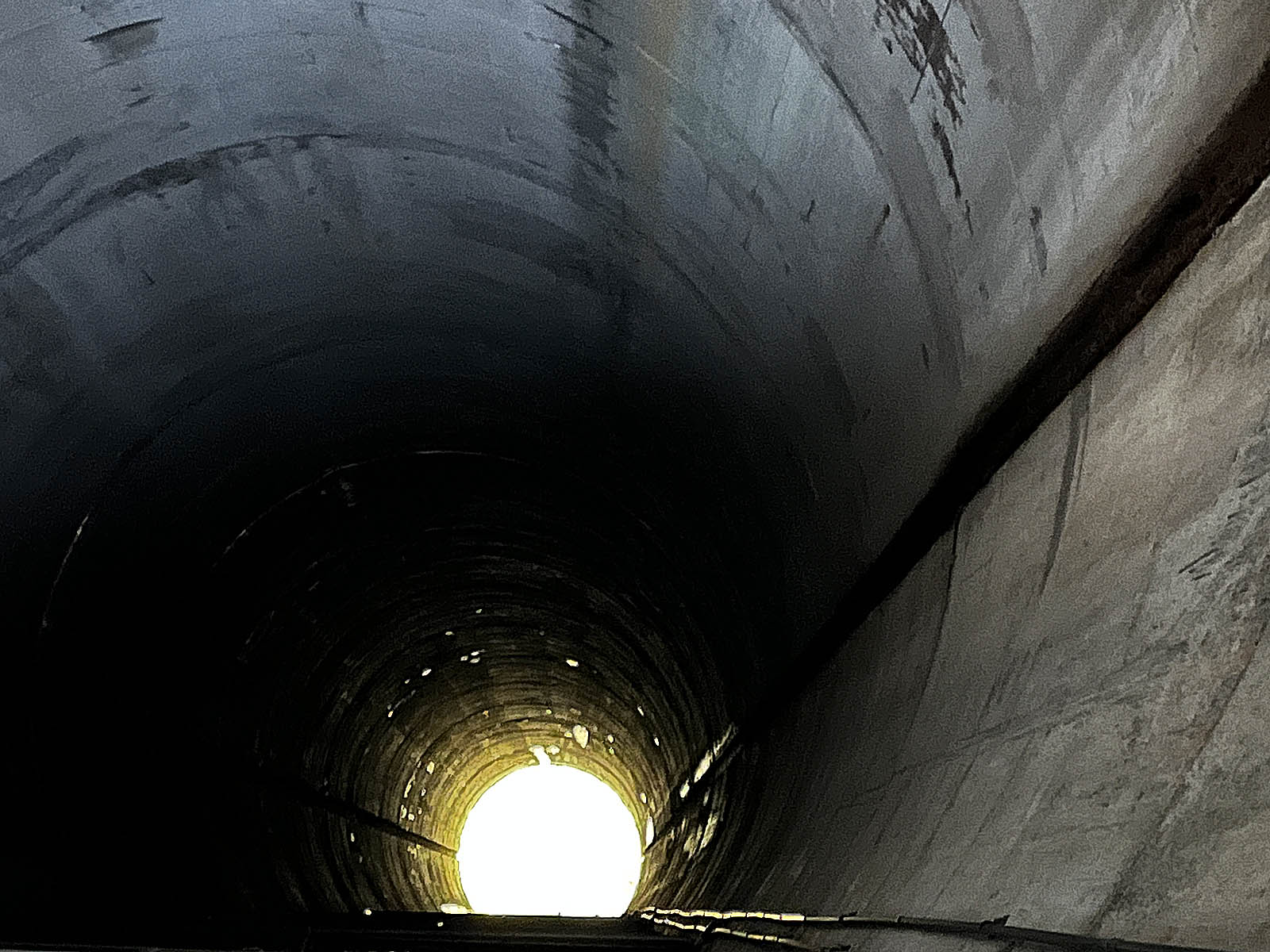 "When we get heavy rain, if this plant is maxed out at 300 million gallons, just by the flow coming in, we can't run these pumps to empty the tunnel," Graffin explains. "So you constantly have to factor all that in. And South Shore always ramps up much slower during a storm. So we can send two pumps down to South Shore, one pump right at the beginning of the storm, but then the flow catches up at South Shore and that maxes out.
"Then if it's still raining really hard, sometimes you still can't turn these on because the plants are just at capacity and you can't send more water. We're constantly looking at the (weather) radar and hoping that the forecast is right.
It's difficult not to be drawn to the bottom of the gaping drop shaft, at the top of which a pinhole of daylight can be seen. Naively, I think it could be fun to try and climb the ladder, but I'm sure I wouldn't get far before regretting that decision. (NOTE: One contractor told me he climbed the ladder and it took about 25 minutes.)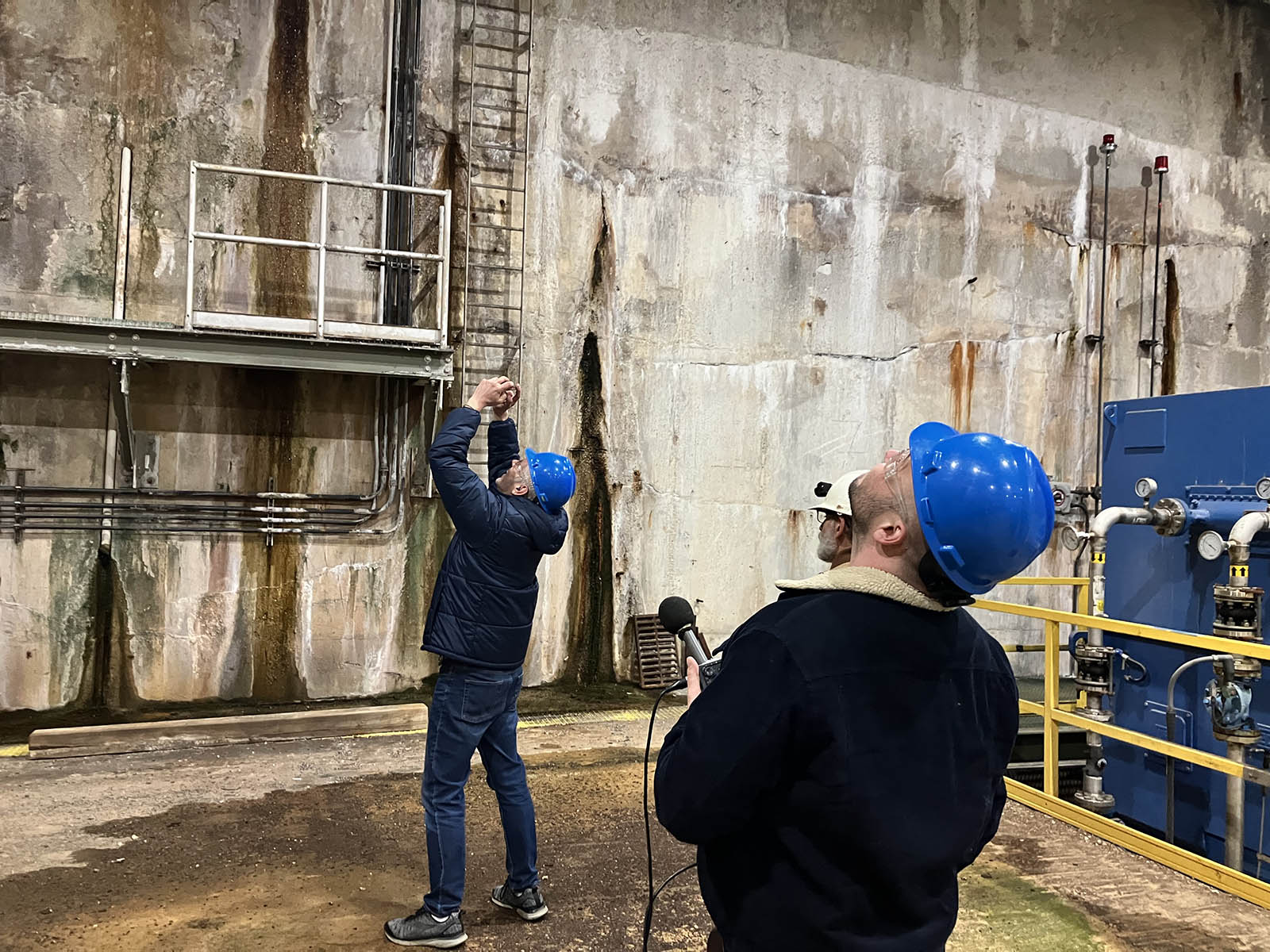 Later, when we go back up to the surface, we get the opposite view, looking down from above and it's dizzying.
Before we leave to return to daylight, I can't help but snap a few pictures in the northeast corner of the room, where streams of water – there is constantly the sound of running water down here in the pump room (in addition to the roar of the pumps when they're running) – have leached minerals and compounds along the way and created a beautiful variegated striping that looks almost like cave art.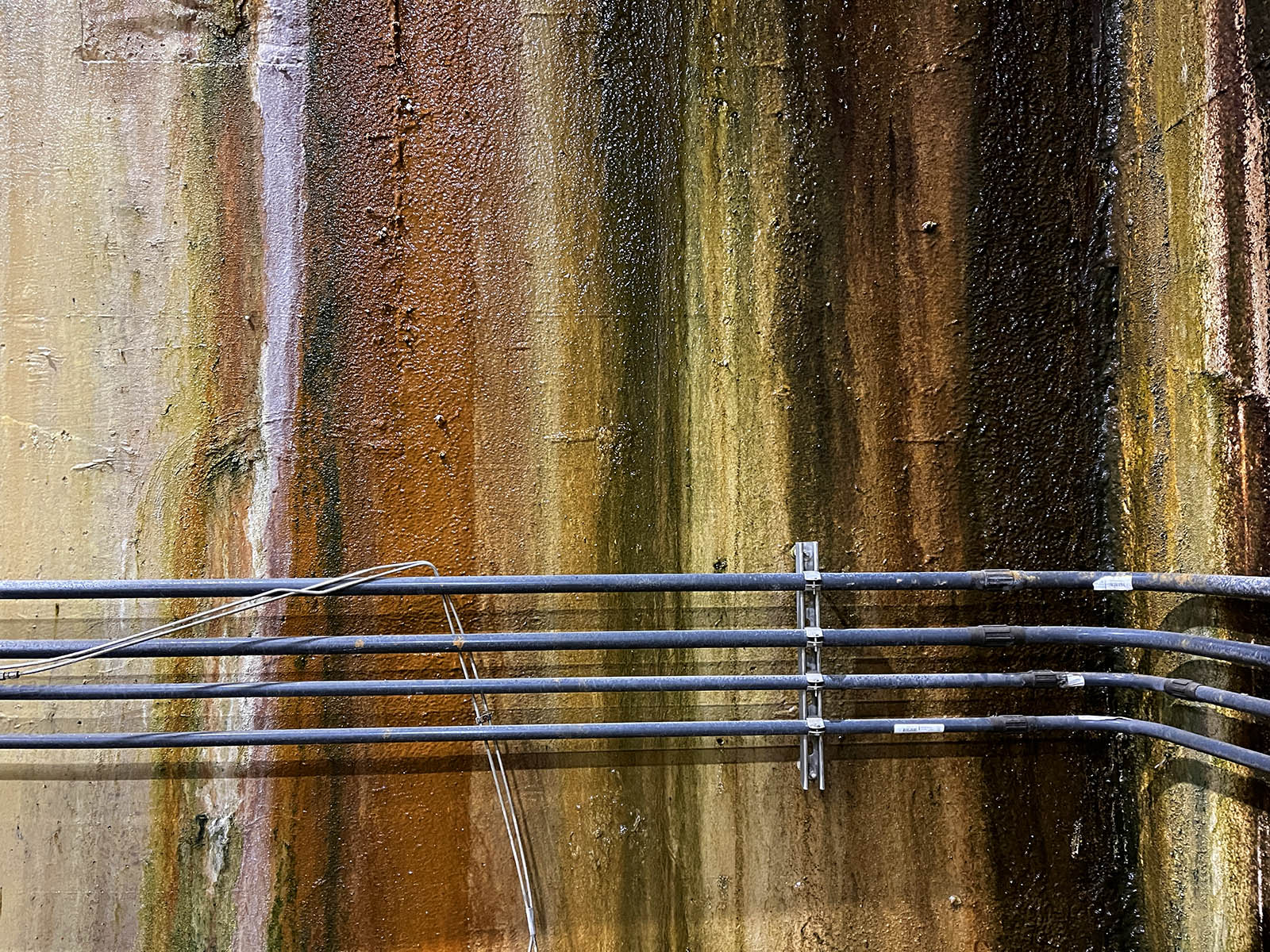 Before we leave the facility, we take a peek at the treatment facilities outside and go inside the Milorganite plant to see the path of the water, which you can follow in this story, written a few years ago.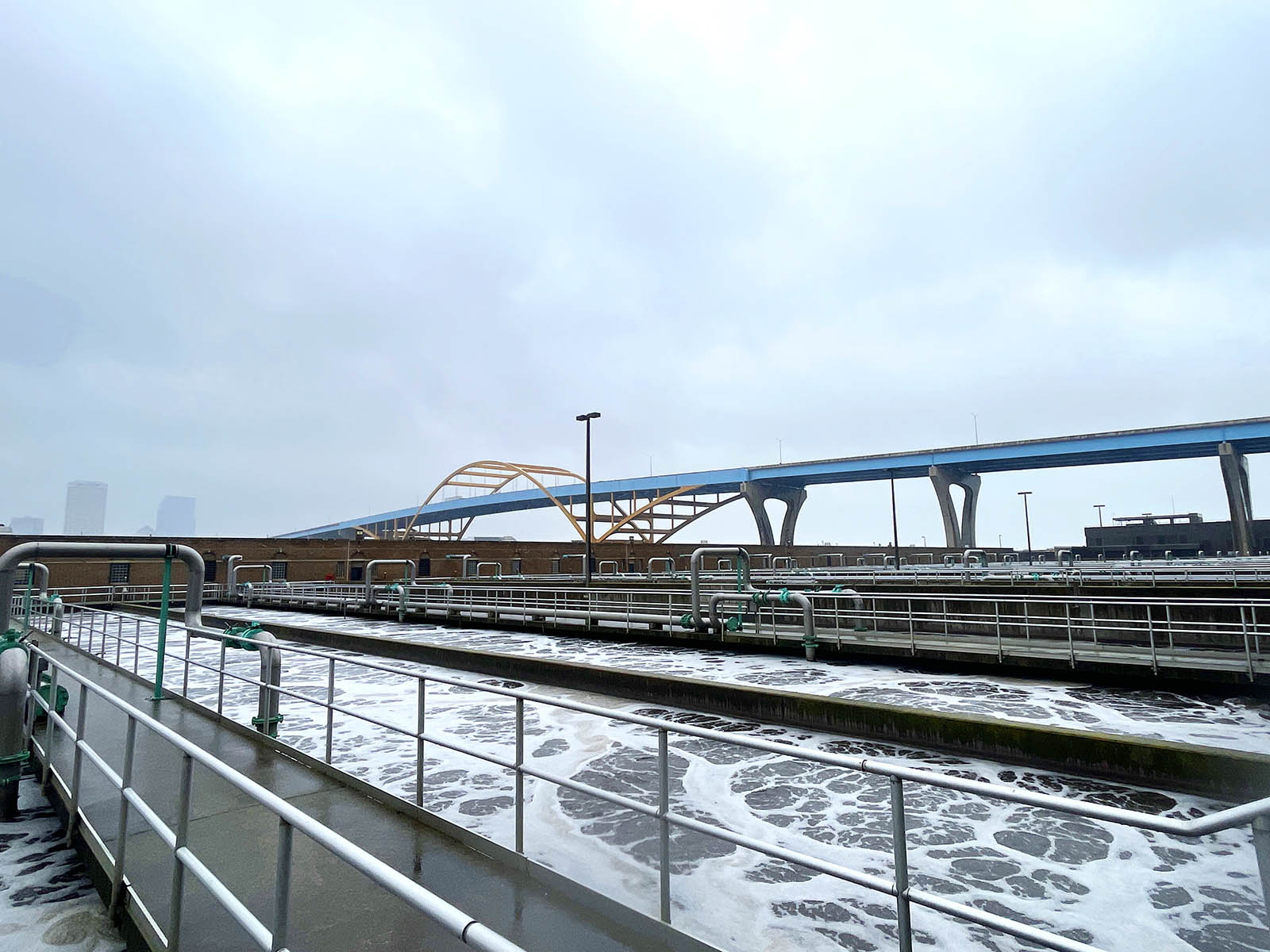 I also ask Graffin if there are any plans to expand the Deep Tunnel system.
"Currently we don't have plans to expand it," he says. "It comes down to, if you only have a dollar, where do you spend that dollar to improve water quality? That's the ultimate goal: to protect Lake Michigan and improve the rivers and aquatic life and tourism and all that stuff that goes with it.
"Right now, the biggest remaining threat to clean water is polluted runoff – the stuff that runs off the streets and parking lots, every single time it rains and the snow melts. That's the same nationwide.
Graffin says that the only area where water quality has improved in the combined sewer.
"That's because of the tunnel and other improvements," he says. "Not only do we have fewer overflows, but the overflows we have are much cleaner. All that dirty runoff is getting into the tunnel or into the treatment plants before there's an overflow. So the amount of pollution in the overflow is significantly reduced, thanks to numerous investments, including the tunnel."
Born in Brooklyn, N.Y., where he lived until he was 17, Bobby received his BA-Mass Communications from UWM in 1989 and has lived in Walker's Point, Bay View, Enderis Park, South Milwaukee and on the East Side.
He has published three non-fiction books in Italy – including one about an event in Milwaukee history, which was published in the U.S. in autumn 2010. Four more books, all about Milwaukee, have been published by The History Press.
With his most recent band, The Yell Leaders, Bobby released four LPs and had a songs featured in episodes of TV's "Party of Five" and "Dawson's Creek," and films in Japan, South America and the U.S. The Yell Leaders were named the best unsigned band in their region by VH-1 as part of its Rock Across America 1998 Tour. Most recently, the band contributed tracks to a UK vinyl/CD tribute to the Redskins and collaborated on a track with Italian novelist Enrico Remmert.
He's produced three installments of the "OMCD" series of local music compilations for OnMilwaukee.com and in 2007 produced a CD of Italian music and poetry.
In 2005, he was awarded the City of Asti's (Italy) Journalism Prize for his work focusing on that area. He has also won awards from the Milwaukee Press Club.
He can be heard weekly on 88Nine Radio Milwaukee talking about his "Urban Spelunking" series of stories.